KGS Home > Fossils > Invertebrate Fossils > Corals
In Devonian strata, some horn corals grew to large lengths. The horn coral Siphonophrentis giganteas may have reached lengths of 6 feet!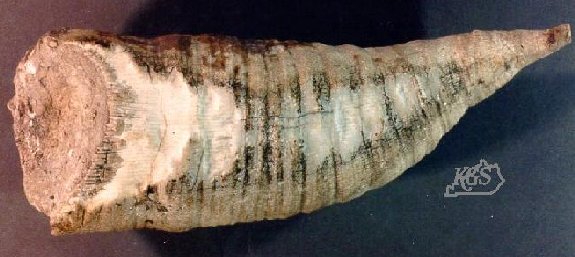 Siphonophrentis
Siphonophrentis is a common type of horn coral in the Jeffersonville Limestone at the Falls of the Ohio near Louisville. This specimen is 18 cm long, but specimens as long as 1.8 m (6 ft) have been reported. Most Siphonophrentis corals are relatively thick, compared to other rugose corals. This specimen was donated to the Kentucky Geological Survey by R. Todd Hendricks and shown in Greb, 1989, p. 14, Fig. 17-3.
| | |
| --- | --- |
| | Siphonophrentis as it appears in the Jeffersonville Limestone at the Falls of the Ohio near Louisville. Some of the calices of these corals are very wide and indicate that they were occupied by large coral animals (polyps). There is some debate as to whether these corals stood upright off of the sea bottom or were curled up on their side, laterally across the sea floor. Many are straight suggesting they stood upright. Other genera are curled or irregular in shape and definitely layed on their side as they grew. |
| | |
| --- | --- |
| | Siphonophrentis as it appears in the Jeffersonville Limestone at the Falls of the Ohio near Louisville. Some of the calices of these corals are very wide and indicate that they were occupied by large coral animals (polyps). There is some debate as to whether these corals stood upright off of the sea bottom or were curled up on their side, laterally across the sea floor. Many are straight suggesting they stood upright. Other genera are curled or irregular in shape and definitely layed on their side as they grew. |