KGS Home > Geologic Hazards
Magnitude 8.8 Maule Region of Chile earthquake on January 12, 2010
A great earthquake occurred at 03:34:14 (UTC) on Saturday, February 27.The magnitude 8.8 earthquake occurred at a depth of 35 kilometers (21.7 miles). The earthquake caused significant damage and casualties in the region.
For more information on this event, see this USGS site: http://earthquake.usgs.gov/earthquakes/recenteqsww/Quakes/us2010tfan.php
A tsunami warning was issued for Hawaii after the earthquake occurred; however the tsunami was not destructive. Data for the tsunami created by this earthquake at Hawaii are as follows:
HAWAII MEASUREMENTS OR REPORTS OF TSUNAMI WAVE ACTIVITY
GAUGE LOCATION LAT LON TIME AMPL PER
------------------- ----- ------ ----- --------------- -----
KAWAIHAE HAWAII 20.0N 155.8W 22:11 0.52M / 1.7FT 24MIN
BARBERS PT HI 21.3N 158.1W 21:40 0.19M / 0.6FT 76MIN
KAUMALAPAU HAWAII 20.8N 156.9W 21:36 0.18M / 0.6FT 56MIN
KAHULUI MAUI 20.9N 156.5W 21:47 0.98M / 3.2FT 22MIN
NAWILIWILI KAUAI 22.0N 159.4W 21:51 0.28M / 0.9FT 44MIN
PAGO PAGO AS 14.3S 170.7W 21:32 0.66M / 2.2FT 12MIN
LAT - LATITUDE (N-NORTH, S-SOUTH)
LON - LONGITUDE (E-EAST, W-WEST)
TIME - TIME OF THE MEASUREMENT (UTC/GREENWICH TIME)
AMPL - TSUNAMI AMPLITUDE MEASURED RELATIVE TO NORMAL SEA LEVEL.
IT IS ...NOT... CREST-TO-TROUGH WAVE HEIGHT.
VALUES ARE GIVEN IN BOTH METERS(M) AND FEET(FT).
PER - PERIOD OF TIME IN MINUTES(MIN) FROM ONE WAVE TO THE NEXT.
The earthquake was recorded on instruments in the Kentucky Seismic and Strong-Motion Network, operated jointly by the Kentucky Geological Survey and the Department of Earth and Environmental Sciences at the University of Kentucky.
The graphic below is the actual record of the earthquake made by 8 Network instruments.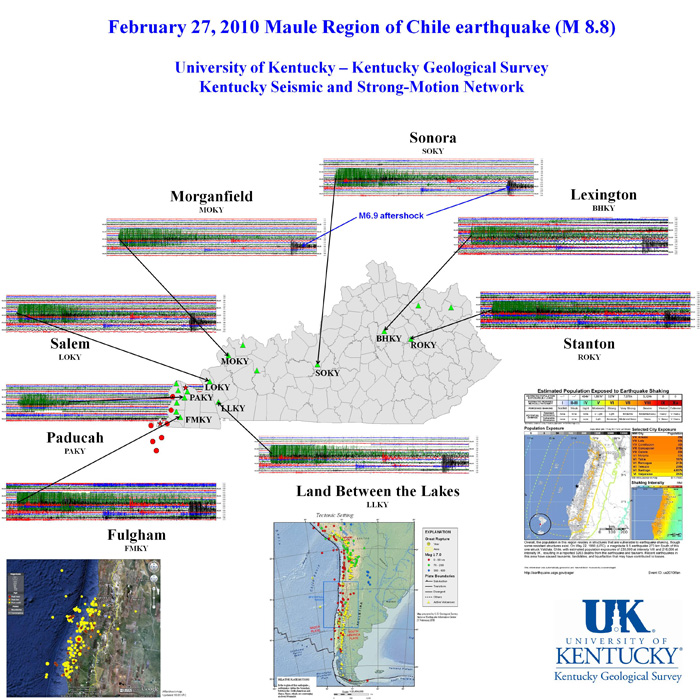 Download PDF version of this poster