KGS Home > Geologic Hazards
Magnitude 7.0 Haiti earthquake on January 12, 2010
A major earthquake occurred at 21:53:10 (UTC) on Tuesday, January 12, 2010 just 25 km (15 miles) off the coast of Port-au-Prince, Haiti. The magnitude 7.0 earthquake occurred at a depth of 13 kilometers (8.1 miles). The earthquake caused significant damage and casualties in the Port-au-Prince region.
For more information on this event, see this USGS site: http://earthquake.usgs.gov/earthquakes/recenteqsww/Quakes/us2010rja6.php
The earthquake was recorded on instruments in the Kentucky Seismic and Strong-Motion Network, operated jointly by the Kentucky Geological Survey and the Department of Earth and Environmental Sciences at the University of Kentucky.
The graphic below is the actual record of the earthquake made by 7 Network instruments.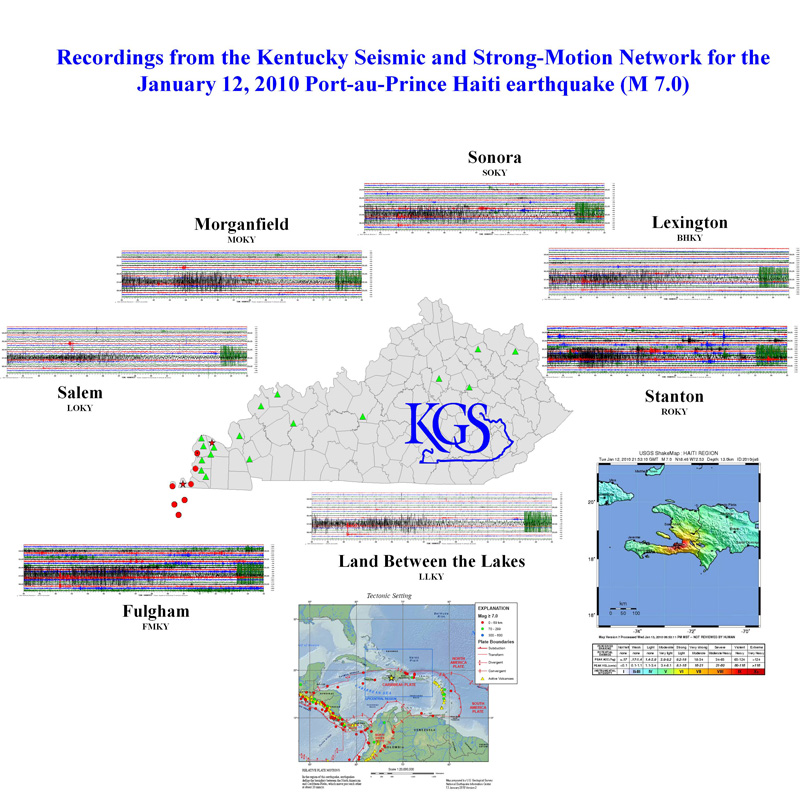 Download PDF Version of this graphic.