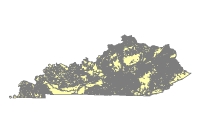 Keywords
Theme:
geoscientificInformation, geology, economics, environment, hydrogeology, tectonics, karst, mineral resources, land use, planning
Description
Abstract
Geology of Kentucky. Based on Geologic Map of Kentucky,1988, scale 1:500,000. Compiled by Martin C. Noger, Kentucky Geological Survey, from the Geologic Map of Kentucky, scale 1:250,000, 1981 by Robert C. McDowell, George J. Grabowski, and Samuel L. Moore, U.S. Geological Survey. Tectonic and karst interpretations added by Claude S. Dean, 2002.
Purpose
Simplified regional geology to provide for broad-based planning and geologic studies.
_________________
Status of the data
Time period for which the data is relevant
Publication Information
_________________
Data storage and access information
Details about this document