KGS Section Head Chuck Taylor authors chapter of classic hydrology book update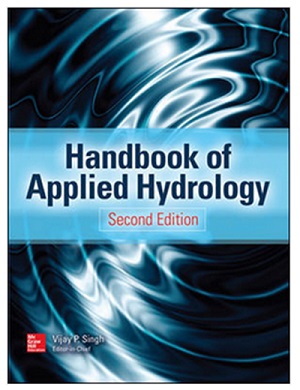 KGS Water Resources Section Head Chuck Taylor is the lead author of a chapter in a newly released update of a classic publication, "Handbook of Applied Hydrology." The book was first published more than half a century ago, and is considered an industry-standard resource on a wide range of hydrologic information, methods, and applications. Hydrology is the study of the properties and distribution of Eart's water, including its environmental and economic aspects. The 1,440-page second edition of the publication was compiled by Vijay P. Singh of Texas A & M University and published on Nov. 1 by McGraw-Hill Education.
"I served as the lead author on the karst chapter, which includes information about types of karst, unique hydrologic complications presented by karst, and a summary and critique of methods of investigation," Taylor says. "This is the first major revision of this classic hydrology reference book, and it is the first to incorporate a special chapter on karst hydrology." Dan Doctor of the U.S. Geological Survey was co-author of the chapter.
"Handbook of Applied Hydrology, Second Edition" is intended as a technical reference on various hydrology-related topics and practices for professional engineers, scientists, and students. Chapter topics range from hydrology fundamentals and methods to modelling and the future of hydrology. According to the publisher's website, the new edition "covers scientific and engineering fundamentals and presents all-new methods, processes, and technologies. Complete details are provided for the full range of ecosystems and models. Advanced chapters look to the future of hydrology, including climate change impacts, extraterrestrial water, social hydrology, and water security."
Taylor joined KGS in 2013 as head of the Water Resources Section after working 21 years with the USGS. At KGS, he oversees hydrogeologic and water-quality research projects as well as water-related data collection.