Energy
The Western Regional Office has supported many energy and energy related research projects that have had western Kentucky as a focus.
The Western Kentucky Coal Resources Project
The Hancock County CO2 Deep Storage Project
Enhanced Oil Recovery
Tar Sands

Tar Sands make up a huge petroleum resource in Western Kentucky. The Western Kentucky Regional Office in Henderson has worked several coring projects collecting cores and analyses. We have done field investigations and led field trips for persons interested in learning more about our tar sand resources.
The Petroleum Records housed at Henderson have several sources which makes this collection unique. We are in the process of comparing our collection to the one in Lexington. Records not already in our on-line data base will be scanned and uploaded. Holly Kreimeg who joined the office this year is continuing the archiving of our oil and gas drilling files. A new scanner and computer has improved the production and quality of the images that are placed into our online records at KGS.
The office has a computer station for the public to view the KGS digital databases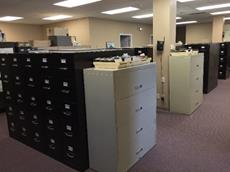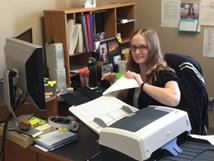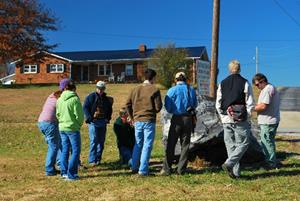 Petroleum Records and Maps Available in Henderson
KGS Well Records
Microfiche

-- Illinois and Indiana Petroleum Well Records until year 2000

Microfilm

-- Sun Oil Co.
-- Scout Check
-- Carter Oil Co.

-- Kentucky Natural Gas
Production Records until year 2000

-- Kentucky
-- Illinois
-- Indiana

Keller Maps
Plat Maps
Laughton & Simmons Maps
Mid-Continent Maps
Scout Tickets
Sun Oil Co. Records for Illinois
Paleochannel Investigation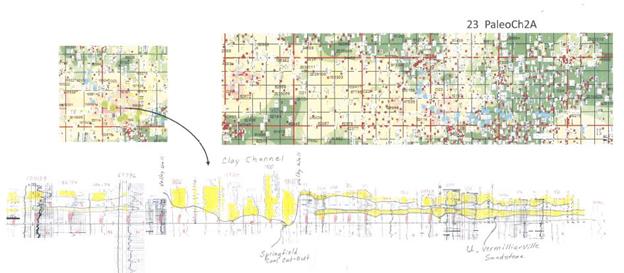 Dave Williams is currently working to map paleochannel deposits in the upper part of the Carbondale Formation and the Shelburne Formations that contain the most economic coals in the Western Kentucky Coal Field.