European Vacation 2010
Part Two: May
Austria, Czech Republic, and Germany
All images and associated pages copyrighted © by Don Chesnut, 2010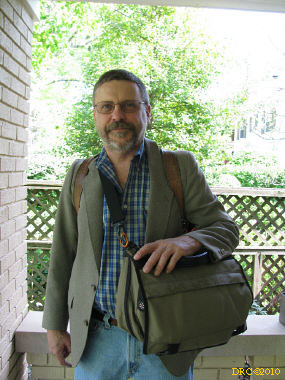 This is all I took on this trip.
I went to Salzburg, Austria and Prague, Czech Republic with some of my siblings and their families. Afterwards, I traveled through the Czech Republic and Germany alone. The following is composed of my daily journal and photographs taken during the trip (please excuse the tedious nature of the journal). Or you may rather go through my thumbnail catalog (pages A, B, C, D, E, F, G, H).
30 April 2010, Friday
I said goodbye to my family and headed for northern Kentucky early evening. I checked in at the Comfort Inn in Erlanger, Kentucky. They have a Park and Stay rate where one can leave a car at the motel and they provide shuttle service to the airport. It's cheaper than long-term parking (depending upon the length of your absence).
I went to Karlo's Italian Bistro for dinner. I had Cajun grilled snapper and a side salad and a glass of Chianti (I drink red wine with fish). The meal was excellent. I've eaten at this restaurant before when I was travelling with my parents.
I got back to the hotel by 8:30 and watched CNN for awhile and went to bed around ten.
1 May 10, Saturday (Derby Day)
At 5:45 am a thunderstorm rolled through. There was hail, rain, thunder and lightening. This is the start of a two-day, heavy rain and thunderstorm event. We may get four inches of rain and today is Kentucky Derby day. It could be miserable for those attending. I took a shower and went down for breakfast. I had three hard-boiled eggs and coffee. I checked out at 8:15 and caught the 8:30 shuttle to the airport.
I got to the airport and there were no lines at check-in, or security. I got to my gate area about 9. The flight doesn't leave till noon, although it could be delayed by all the storms. I went to a gate area shop and bought some floss, mixed nuts and fruit, and the book "Robin Hood" by David Coe. It was written for the upcoming movie starring Russell Crowe. I filled out my journal and waited for my siblings. Once again, I'm only bringing my small day pack, camera bag and a sport jacket; no sweater this time, and no long-sleeve shirts (see photo above).
Steve, Annie, Rebecca, Lucy, Frank and Susan walked up to the gate about 11:30. They had been eating at the food court. We boarded the plane and flew to Atlanta. There were several other people on the flight attending the Laurel Grocery vacation, as well.
In Atlanta, we took the train to the international concourse. Here we have a 3-hour wait and will meet Philip here. As it turned out, Philip didn't arrive at the airport in time for our flight, so he will take another, later flight, I hope. The plane took off at 4:20 pm. I sat next to an interesting lady that was going to film a documentary on World War Two. She would be filming American veterans who were at Hitler's Eagle Nest. She also teaches videography at the University of South Carolina at Columbia. I told her I took my kids to Columbia every year for a couple of days on the way to the beach. At one point, the captain announced the winner of the Kentucky Derby as well as the show and place.
I saw four movies on the plane. They were "Eli," "Pirate Radio,"(I only watched ten minutes), "It's Complicated," and "Sherlock Holmes." For dinner, I had chicken with vegetables, salad, bread, and cheese.
2 May 2010, Sunday
For breakfast, we all had little croissant and egg sandwiches and a banana. We arrived in Munich at around 8 am, and we went fairly quickly through passport control. The Laurel Grocery group is travelling to Salzburg on two motor couches. I got on one and the rest of my family got on the other, for some reason. The buses left at 9. In Munich, it is cloudy with some light rain and about 45 degrees. I saw a pheasant in one of the fields that we passed. Closer to Salzburg, we came close to the Alps range to our south and they got larger as we approached Salzburg.
We got to the Salzburg Sheraton about 11 AM and we went to the Laurel Grocery Welcoming Room where we got our keys, some Euros and a few sandwiches and soft drinks. We found out that Philip (my room-mate for 1.5 weeks) will arrive tomorrow instead of later today. Some arrangements will be made to bring him from Munich to Salzburg. I went to my room around noon and turned on CNN to learn that there had been a failed car bombing on times Square in New York. Because of the jet lag, I fell asleep and slept for a couple of hours.
I forced myself up at 2 and went to the Laurel Grocery desk and asked our Austrian tourist contact, Maya, a lot of questions about the internet, cell phones (for Susan), an Austrian cane (for Frank) and train tickets. She can get the train tickets for us, so I think we'll try that. I sent out a quick e-mail to the family about our arrival. Then I took a walk across the Salzach River into the old part of town. The temperature has warmed up to about 60 degrees. I found a nice outdoor stand (Cafe Stierwascher) next to the Mozart birth house and had two good local beers. I talked with the young man serving beer using my bad German. He asked if I lived in Salzburg (as a foreigner, of course). I said no, but that my daughter was studying in Vienna. He told me that he was from Berlin and I told him that it was one of my favorite cities and that I had been there several times (including this year).
garden behind hotel, St. Andrä church,
Mirabell Garden, fountain and tulips, close-up, colorful flowers, another view, view toward Hohensalzburg castle from garden, Mozarteum university building, close-up of sign
view from Salzach bridge, another view
After the beer, I walked back to the hotel by 4:30, took a shower, and filled out my journal.
Later that evening, we had a banquet dinner.
3 May 10, Monday
I woke up at 1:30 and went back to sleep somewhat later. I woke up for good at 7:30, took a shower and went down to breakfast by 8. It was also an extensive buffet. I had scrambled eggs, sausage, several types of thinly sliced, cooked ham, bread and butter. After that I had a plate with about 8 kinds of cheese, more dark bread, and butter. Hand-made omelets were available, as were many varieties of fruit, cereal, yogurt, jams, sweet pastries, etc. I had a whole jug of good, strong coffee. I sat by myself for a long time and then Susan and Frank joined me.
Philip arrived at 11 AM while we were in the lobby. I took him to our room and then went to the lobby again. Susan investigated places to do yoga and when Philip came down again, Philip, Susan, Frank and I went out searching for a walking cane for Frank. We were finally referred to a place (Tappe) on Linzer Str. where we got Frank a shock-corded, collapsible and adjustable walking cane. We went back to the hotel about 12:40, just in time to gather for our two tours.
At 1 pm (13:00), we went on a short (about 1.5 hours) walking tour of Salzburg from our hotel.
view down Mirabell Garden again, view along the side, flying horse statue, fountain in garden
Mozart's birth house, sign for Mozart's birth house, one of the souvenir streets, St. Peter's church, Stiftskellar St. Peter, view of castle, cliff and catacombs, Petersfriedhof chapel, waterwheel at bakery, movie of water-wheel (YouTube), sign for bakery, fountain at Residenzplatz, fountain at Alter Markt, tiniest house
Back at the hotel, we gathered into five or six buses and went on the "Sound of Music" tour in Salzburg and the surrounding countryside. This tour lasted about 3 or 4 hours. I took lots of photographs during both tours. It has been a very gray and drizzly day. The mountain tops were in the clouds.
castle on hill, mountain in clouds, Susan singing, sign for Hellbrunn Palace, Hellbrunn Palace, mountains, mustard field, lake and houses, yellow castle, Basilika Mondsee church in Sound of Music, bas relief in church, interior of church, alter and vaulted ceiling, altar, pipe organ, refreshments
We got back to the hotel around 6. I talked to the concierge and we got reservations for all 8 of us at the Sternbräu in the old town. The reservations were for the Burgersaal part of the building. I then went to the room and filled out my journal.
At 7:30, we left the hotel and walked across the river to the Sternbräu. I had a roasted leg of pork with sauerkraut and bread dumplings and a beer. Several of us ordered that. Rebecca had venison with a dark gravy. I don't remember what the others had, except for Susan, who had a Knockerl dessert for dinner. It's supposed to be a large, three-peaked meringue with fruit syrup.
After dinner, Susan, Annie, Rebecca, Lucy, Philip and I went to two Irish pubs. The first one had a two-guitar duet. One of the guitarists was phenomenal. The oldsters left the youngins about 11 and we walked back to the hotel. I went to bed about 11:30. Philip made it back somewhat later, 3:30.
4 May 2010, Tuesday
I got up at 6:30, took a shower and went down to breakfast. I was about the first there. I had an omelet with everything, Nürnberg sausage (size of our breakfast links), cooked thin-sliced ham, dark bread with seeds and I had a pot of coffee. My second dish was a cheese plate and dark bread.
I went back to the room and Philip got up. I filled out my journal and watched CNN where I learned that the bomber suspect was caught at the airport trying to leave the US.
I talked to Maya, our tourism coordinator, and she was able to get the tickets for us. We have to pick them up at the train station. I gave Maya my schedule for later train travel and asked her to make seat arrangements for me. I'll pick them up later too, if my credit card works.
I checked my e-mails in the lobby and found that Lexington had 9 inches of rain in one day (11 for two days) and that our basement started to flood. Anne had to buy two wet vacuums to try to gather the water and had to dump hundreds of gallons of water. Only one room was affected. I couldn't read more or send a reply, because the internet connection in the lobby failed and I couldn't connect any more.
Steve, Annie, Susan, Frank, and I walked down to the old town. We stopped at a cafe and Steve and Annie had sausage plates for lunch. We then went to the cliff side and Steve, Annie and I climbed up the steep steps in the hand-carved grotto. The local stone is a massive, cobble conglomerate (a molasse, see Wikipedia Molasse) and appears to be very porous, but well cemented. The rock is used extensively as a building stone here. It is not used as a polished stone.
Sternbräu passageway where we had dinner last night, sign for Sternbräu, flowers at the market (Universitätsplatz), more flowers, closer view, sausages and hams, cheese, Frank and Franciscan Church in background, bell tower of St. Peters Stiftkirche,
cliff composed of molasse (here, cobble conglomerate), another view, grave markers and conglomerate stone, close-up of conglomerate, chapel at Peterfriedhof cemetery, close-up of chapel stone, even closer, stairway in catacombs, fresco in catacombs, altar, cobbles in catacomb wall, view from catacomb window, another view, close-up of cobbles, another altar, Annie and alter
Christian Doppler's house, sign for the Doppler house
I went back to the hotel and at 2 pm, had a massage that I had scheduled earlier. The lady's name was Dagmar and we talked about our families. She has a son studying in Hawaii. The massage was good and I may sign up for another one later this week.
After the massage, I talked to Susan. She told me about the excellent asparagus that she had in the hotel. This is asparagus (Spargel in German) month in this area. So I went to the bar area and ordered a plate of white asparagus with butter and potatoes. The fresh, white asparagus was indeed very good.
After the snack, Susan and I walked around for about an hour. We found a second-hand shop on Linzer Str. and Susan bought an Austrian-style linen blouse for 25 Euros. There were Austrian leather jackets for men, but they were pretty heavy and would be hard to pack. We walked back to the hotel to get ready for the event tonight. The weather, again, is cloudy and is in the 50's. There has been a little rain today.
At seven we gathered in the lobby and took one of four or five motor coaches to the Stiegl brewery, the main brewery in Salzburg. We were served beer and then went to a large room with many tables. We sat down next to the stage where three men in lederhosen, alpine hats, etc. were playing polkas. They played an accordion, a washboard and a stick with pan and cymbals. The music was fun. Each table (of 8 people) got up and went through the salad buffet. There was goat cheese, mashed asparagus in a cream sauce, lots of other things including fresh figs. I could have lived off just this buffet and been very happy.
The entertainment started. Four men got up and did the slapping (of feet and thighs) dance and would occasionally kick the fellow in front of them. [This was a little different from the very hard kicking and face slapping that I saw in 1972 in the Bavarian Alps.] It was quite entertaining. Then four ladies in dirndls joined them and danced. After this dance, the lead man grabbed Steve and brought him up on stage. They sat him on a box and made him hold a sort of May pole with red and white ribbons. The eight dancers then danced around Steve and wove an interesting red and white braid around the pole. Then they danced in the opposite direction and un-braided the ribbons. I took photos and a video. There were other novelty dances with benches. Then they grabbed several men from the Laurel Grocery audience and they did the hat-trading dance and then they were made to yodel. Quite funny. Then they got four ladies from the Laurel group and they went on stage for dancing. They also got the ladies to do their best Alpine yell. Everything was very entertaining. They brought out two long alpenhorns. They asked me to play one. I tried all sorts of horn noises and notes. I had always wanted to try one of these horns. Anyway, it was all a lot of fun. The dinner that was served us was the best that we've had so far. It was a roasted chicken on asparagus risotto and gravy. Dessert was a chocolate soufflé with a fruit syrup.
the band, movie of the band (YouTube), at our table, another view, movie of table and band (YouTube), movie of kick dance (YouTube), men and ladies dancing, Steve holding maypole, movie of May-pole dance (YouTube), maypole weave, movie of May-pole un-weaving (YouTube), bell ringer, movie of bell ringer (YouTube), movie of Alpenhorns (YouTube), at the gift shop
After dinner, we re-boarded the bus and returned to the hotel. We went to the bar and Susan, Steve, Annie and I had a drink (I had a Bitburger beer) and then went to our rooms. The younguns went out; Philip, my room-mate, got back around 3:30.
5 May 2010, Wednesday
I woke up at 5:30, but didn't get up till 6. I took a shower and went down to breakfast where I had another made-to-order omelet with everything, two pieces of dark bread, butter, and a good blue cheese. And good, strong coffee. I had my notebook with me and caught up on my journal.
Susan, Frank, Steve and Annie took their laundry to a laundromat that will wash and dry one's clothes for 10 Euro per load. The Sheraton charges 9 Euro per shirt! I went with them. We dropped the laundry off and then walked to the Mozarteum Marionette Theatre on Schwartz Str. to pick up tickets. Then we walked to Linzer Str. and looked at shops. Susan and Annie tried on some Alpine jackets but didn't buy anything. After that, we walked back to the laundry and picked up most of the clothes and then returned to the hotel. I went to the room by noon and filled out my journal. It's still cloudy, gray and cool with a cool breeze; temp about 50-55 degrees.
Susan, Frank and I ate a lunch in the lobby bar. Susan had asparagus and sauerkraut, Frank had a club sandwich which also contained egg, I had Nürnberg sausages, sauerkraut, potatoes and mustard. It was all very good. This is a good kitchen. Annie and Steve joined us and Steve had the sausage plate and Annie had the asparagus.
After the lunch, we walked to the train station to pick up our tickets to Vienna and then Prague. It's about a half mile away. Susan made reservations at the restaurant Saran, recommended by Anne, Mary, and Rick Steves. I took a nap in my room for an hour.
At six, the Laurel group met for drinks and snacks. At 7:30, we left the hotel and walked to the Saran restaurant (www.saranessbar.at). There were eleven of us; our eight family members, plus Griff, Kerry and Kerry's brother. I had chicken curry (I ordered sehr, sehr scharf). Frank ordered the veal schnitzel, several others ordered the chicken curry, several ordered the vegetable curry, Kerry ordered the goulash. I talked to the fellow who waited on us. He is the son of the owner, Mr. Saran. They were Punjabi, but he also spoke a little Hindi. My curry was good. We walked to the Sacher Hotel (same owners/family as the Sacher Hotel in Vienna) and Frank, Susan, Steve and Annie had dessert. Frank had the apfelstrudel with ice cream, Annie had the Sacher torte, Susan had another torte (I forgot what it was). I didn't order anything. The younguns didn't stick around with the olduns.
We walked back to the hotel and had drinks in the lobby for a little while. The oldsters then went to their rooms, but the younguns started their evening. While brushing my teeth, I pulled a sharp piece of broken tooth from my gums. It was the size of a match-head. I had a molar removed a couple of weeks before the trip and it was a piece of that.
6 May 2010, Thursday
I got up at 6:15, took a shower and went down to breakfast by 6:30. [Einschinken means "to pour in."] I had coffee, lox ("lachs"), pickled herring, two kinds of blue cheese, and a dark bread and butter. I then had a granola with some dried fruit and I added several varieties of seeds. The weather is cloudy, gray, and rainy. According to the news, we may have excessive rain and large hail today.
I still have one rail segment that I have to resolve, my trip from Prague to Olomouc. I also owe Frank 128.50 Euros for my part of the train tickets. All the tickets were put on his credit card (except for my seat reservations).
Susan went to a yoga class near the train station and Frank took a walk around the new town when she left. I got the seat reservation that I needed with Maya's help. I'll have to go back to the train station to get the reservation.
Annie, Steve, and I walked to the Thursday morning (only) open market across from the Mirabell Palace. I took a lot of photos. We then walked to the Mozart house museum (not the birth house) and spent an hour there. We used audio guides. After that we walked to the old town in the rain (we had hotel umbrellas). It rained for the rest of the day. Temperature was in the 50's.
In the old town, we went to the Salzburg Museum (www.salzburgmuseum.at). We saw amazing paintings and wood-block prints by Josef Stroitmer, as well as Celtic, Roman and later artifacts and other artwork. We also had audio guides here. The man at the desk asked me if we were from France. I said no, and he queried about several other countries of origin. I finally answered that we were from the U.S. Jet lag hit all three of us while in the museum.
We walked to the Bosna wurst shop and had wurst (sausage) covered with curry powder and served in a bun with onions, mustard and parsley. It was tasty. We then walked to the Mozart birth house and had beer and Steve had a bratwurst plate.
We walked northward and crossed the river on a pedestrian bridge that we had not been on before. It was close to the hotel. I went to my room, filled out my journal, and took a nap. It is still raining, of course.
At seven, we boarded a motor coaches and went to the old town. We were let out at the base of the cliff and we took the elevator to get to the modern art museum on top of the mountain. The view was fantastic and I took photos. We took a quick tour through the museum and then went to the restaurant. We were served a very nice green salad with arugula and other greens. Then we had tomato soup with basil and a dumpling. We had a choice of entrees, salmon or steak. Most of us at our table had the steak. It was served with the white asparagus. For dessert we had chocolate mousse. It was a very good meal.
Lucy and Rebecca contemplating painting, dining room at museum, two of our guides, panorama of Salzburg from museum terrace, movie pan of Salzburg (YouTube), view of sunlit mountain across Salzburg, view of castle and old town, clouds and mountains, another view, closer view, Maya and Frank talking, Maya and Frank
Laurel Grocery group at table, Annie and girls, Lucy, Frank, Rebecca and Steve, the dining room, another area of room
view of river at night, castle and old town at night
We re-boarded the coaches and went back to the hotel. A bunch of the grocery people asked us to meet them at a nearby restaurant. Rebecca, Lucy, Annie and I went with them. We went to the little restaurant Bellini, and then to a dance bar. After a little while, I walked back to the hotel and went to bed.
7 May 2010, Friday
I got up early, took a shower and went to the train station. I got my reservation for the trip from Prague to Olomouc. I then checked out how to get to our platform through all the new construction. I went back to the hotel and had breakfast with Susan and Frank. I had pickled herring, dark bread, butter and a blue cheese and a yellow cheese (and coffee). I went to the room and filled out my journal. We are all concerned about Philip's girl friend. She had to undergo emergency surgery for a brain tumor.
After Steve and Annie had lunch, Steve and I walked to the old town. We found a little hat shop. The man who owned the shop said that he started there about 30 years ago (perhaps I bought my had here in 1983). I bought a nice wool felt alpine-style had for Mary. I also got a feather and Salzburg pin for the hat as well. Then Steve and I found a stein shop (Salzburger Zinnstube). Steve got a hunting-theme stein and I got one with a fishing theme. The steins will be shipped home. After exploring old town, we walked back to the hotel.
At 7 pm, we boarded motor coaches and drove to the southern part of old town. We walked several blocks to the Stieglkeller restaurant. Tables were set up in a large beer hall. We went through a buffet line and I got butterfish, herring, beef and gravy. A three-person band played music and sang while we ate. A few people got up and danced. After dinner, we returned to the hotel. We sat in the bar area and talked awhile. This is the last night for the Laurel Grocery group. Most return home very early tomorrow morning.
I went to the room and packed up. I went to bed about midnight.
8 May 2010, Saturday
I woke up at 5, but didn't get up till 6. At 6, I took a shower and finished packing. I caught up in my journal; I hadn't written in it since yesterday morning. I also feel tired and weak from staying up late two nights in a row. Hopefully, I'll catch up tonight.
We met at the lobby at 7:30 and checked out. At 8 we left the hotel and walked to the train station. Our train to Vienna arrived at 9 and we left at 9:02. We got to Vienna before noon. At the Westbahnhof, we bought our 24-hour transit tickets and took two U-Bahn trains to our hotel area. A nice gentleman offered directions and information about restaurants in the area. We checked into the Hotel Ekazent (www.hotelekazent.at) and are all on the same floor. The manager recognized me from my previous trip. Now he has seen most of my family.
After checking in, we went to a cafe across the walkway and had lunch. I had grilled sausages, kraut, french fries and a small salad. Lucy and Rebecca had mixed grill on fries. Steve had a soup pot. I don't remember what everybody else had.
We then went to the U-Bahn and got off at Stephansplatz, the site of the large St. Stephan's cathedral. We walked down the Graben street and then on to the Hofburg Palace area. Streets were very crowded with tourists and locals (this is Saturday). Lucy, Rebecca and Philip went to the natural history museum and saw the Venus of Willendorf among other things. Frank went back to the hotel. The rest of us went through the Art History museum quickly (we only had 1.5 hours). It is one of the greatest art museums in the world. I'm glad Elizabeth has had a lot of time to be here; she takes a class at the museum.
the base of St. Stephan's Cathedral, the Cathedral, side of cathedral, Hofburg, Josephplatz, main Hofburg (and National Bibliothek), sign for Bibliothek, statue of Prinz Eugen, staircase in Art History Museum, closer view of sculpture, Egyptian exhibits in museum, more Egyptian, ceiling painting, another staircase
We all met at the statue of Marie Theresa between the museums and walked toward the Opera House. We stopped off at the traditional Tivoli (?) coffee house for a snack and then walked to Karlplatz. There we caught the U-Bahn back to our hotel. At the hotel, everybody was tired and most of us took a nap. Philip found out more about his girl friend. Her operation was successful, thank goodness.
At dusk, I went down to the lobby and sent off two e-mail journal entries. They have free Wi-Fi in the lobby. The rest of my family came to the lobby and we went out to eat. Maxims was recommended so we tried to find it, but couldn't. We did, however, find a nice restaurant that I'd been to before with Elizabeth. It was Plachutta (www.plachutta.at). I ordered calves liver on rice, Philip and Frank had the beef goulash in cream sauce, Susan had beef with butter noodles, Steve had beef served in a sort of broth with vegetables as well as hash-brown-like potatoes, Rebecca had fish, Lucy and Annie had schnitzel. Everyone said this was the best meal that we've had. We give it a good review. And then there was dessert. Susan had a knockerl (very soft and tender meringue) with three custard sauces. Frank and I had fresh-made strawberry sorbets, Steve had a chocolate cake-like dessert. I didn't see what the others had. It was all very good.
After dessert, we walked back to the hotel. I sent an e-mail to my colleague in Prague and then went to bed by 11:15.
9 May 2010, Sunday
I woke up a little after five (at daylight) but didn't get up till 5:45. I took a shower and filled out my journal. I went to breakfast at 6:15. I was the first there. I had granola and added seeds, nuts and dried fruit and whole milk. Then I had pimento loaf, bread and two kinds of white cheese. I also had some kind of bread roll with butter, cherry and blackberry jam. Frank came in next and then the rest followed. After a nice breakfast we all checked out and walked to the U-Bahn. We caught two trains to the Wien Meidling train station. We waited on the platform for about 45 minutes, but the weather was pleasant and sunny. We boarded our train to Prague which left at 8:25. We traveled through some heavy construction and the train stopped for awhile near the Sudbahnhof. They are building a new, main train station here.
It became cloudy when we crossed the border into the Czech Republic at Breclav. The windows are a little dirty and the air is hazy. We passed several distant castles on some of the hills. North of Brno, up to Blansko, the train went through a small gorge. There were nice mountain streams and I saw fishermen for the first time. The landscape opened up after Blansko, but there were still pleasant green hills. These hills are part of the Moravsky Kras. We have also seen lots of mustard fields throughout our vacation. It is the season for the mustard bloom.
We arrived in Prague at 1:30 and we wandered around looking for landmarks. I was looking for the Powder Tower to get my bearings. We ran across an elderly man who asked us where we were headed. We told him and he offered to walk us part way. He was headed for a Bingo parlor not too far away. I had a nice conversation with him as we walked. We saw the Powder Tower after a couple of blocks, but we kept following the man till he got to his Bingo place. We thanked him and then made our way (by memory) to our hotel.
We checked into the Hotel Maximilian (www.maximilianhotel.com) and quickly got to our very nice rooms. Because I was a repeat customer, I guess, we received a bottle of wine and a plate of fruit for each room with a note saying "welcome Chesnut family."
We then gathered near the lobby and walked to Kolkovna Restaurant and made reservations for dinner later. Then we went to the Josefov Quarter, the old Jewish Quarter and basically followed Rick Steves' guide for the area. We took lots of photos and admired all the Art Noveaux architecture. On the way back to the hotel, we stopped at the Marcel Cafe, a French cafe next to our hotel. We ordered drinks and a snack plate of cheese, salami, prosciutto, grapes, walnuts and bread. Then we went back to the hotel.
At 7:30, we met at the lobby and walked to Kolkovna Restaurant (www.kolkovna.cz). I ordered the huge Bohemian Platter which included 4 kinds of meat (sausage, ham, beef and duck), 3 kinds of dumplings, and two kinds of sauerkraut. Everyone else ordered something too. We all passed our dishes around several times. We didn't have room for dessert. When we left, it was raining steadily and only a couple of us had umbrellas. We were all pretty wet by the time we got to our hotel. I went to my room and filled out my journal. Philip, Rebecca and Lucy went out to an Argentinean restaurant and dance bar where they played tango music. I watched CNN for awhile and sent some Mother's Day e-mails and then went to bed.
10 May 2010, Monday
Philip was up almost all night working on the computer. I got up at 6, took a shower, and went down to breakfast by 6:15. I was the first there. I ordered eggs Florentine and coffee. The buffet is extensive although I didn't get anything from it this time. I sat there for an hour and then Frank came in and then Steve and Annie. Shortly after, Philip came down. Neither Susan, nor the girls came to breakfast while I was there.
It's a cool, rainy and dark day and apparently rained some throughout the night. Stan, Zbynek and Zybnek's wife will join us for early dinner tomorrow at 4 pm at our hotel. I guess we'll use umbrellas today and walk around some.
We walked down Pariske street and to the Old City Hall square. Philip stayed in the hotel room and slept. Everyone else signed up for a 2-hour bus tour (a quick overview) of Prague. I didn't feel like doing that and walked back to the hotel and then walked around for awhile.
Everybody walked back to the hotel by 12:45 and we woke Philip up. We walked a few blocks up Kolkovna St. and went to a pizza restaurant. Frank ordered spaghetti Bolognese and the rest of us ordered pizza. The pizzas were very good. I don't know the name of the restaurant but it was right next to Švejk Restaurant.
After the pizza we walked again to the Old City Hall square and used Rick Steves' guide book. I read the entries. We ended up at Wenceslas Square and from there we walked back to the hotel. We got back by 4:00. The girls got Philip and the three left at 4:30 to go for a walk. I caught up in my journal and then took a nap. I woke up at 6.
At 7:45 we left the lobby and walked to Švejk Restaurant (www.svejk.cz). We sat at two tables not close together. I had crispy pork ribs, Philip did as well. Susan had goulash and Frank had some kind of beef and gravy with dumplings. Steve had a Bohemian platter with different kinds of meat. Rebecca had the duck, Lucy had spaghetti and Annie had goulash. Everybody liked their dinner.
It was raining when we left. We stopped at the Cafe Marcel again and had drinks. I ordered a digestif called Slivovice which was more like vodka than I thought it would be. We talked about movies and our favorite scenes.
After that, most of us went to our rooms. Philip, Rebecca and Lucy went out. I was in bed before midnight after watching some TV.
11 May 2010, Tuesday
Philip didn't get in till about 4. I woke up at 6, but didn't get up till 6:30. I took a shower and went down to breakfast. Steve was already there. We both had Eggs Benedict. Then Annie came in and also ordered the same. I went back to my room to catch up on my journal and e-mails. There is free Wi-Fi at this hotel.
At around nine, the oldsters met in the lobby. Frank took my photocopy of Rick Steves' guide to the Jewish Quarter. The rest of us made our way to Charles Bridge. The younguns slept in. We took photos all along the bridge. After crossing the bridge, I took everyone to the church established by the Knights of Malta (not in most guidebooks; Stan took me here previously). Then we went to the John Lennon Wall and took some photos. We walked to the square that contains the St. Nicholas Church (the St. Nicholas church west of the river). Because everyone had already been to castle hill, we walked around the Wallenstein Palace where the Parliament meets. We walked into the unusual palace gardens as well. We continued our walk onto Kampa Island and re-entered Charles Bridge. Back in Old Town, I took the group to the Smetana statue and museum and then we headed to the National Theatre. From there we walked along the main walking (i.e., shopping) promenade to Revolution Street and then back to the hotel. The sun was out sporadically and it was warm and not raining, for the time being.
At the hotel, we got Frank and went to Kolkovna restaurant for lunch. I had the Kolkovna Special, a pork tenderloin on skewers with sweet chili sauce, cole slaw (like ours) and toasted baguettes. Susan had a goulash, Annie had sausages cooked in beer. Frank had sausages and meat cooked with green beans and everything au gratin. I don't remember what Steve had.
After lunch, we walked back to the hotel. We met Lucy and Rebecca on the way back. Philip has headed in one direction and the girls in another. I went to my room, caught up in my journal, and took a nap.
I went down to the lobby by 3:45 and at about 4, Stan and Zbynek arrived. I introduced everyone and then we all walked to the Krčma restaurant, a medieval-style place in a cellar near Pariska Street. We had drinks and talked awhile, but no one (of our group) wanted to eat. We had just eaten a few hours earlier. I stayed with Stan and Zbynek and everyone else left for awhile. The three of us ordered our food. I had a pork tenderloin larded (stuffed) with ham ("bacon") and marinated. It was grilled and served with baked and then grilled potatoes in their skins. We all three thought our food was good. We finished and walked out and my family had just come back and had been seated (they were now hungry). I said goodbye to my Czech friends and went back to sit with my family. They had dinner and I just sat with them.
After dinner, we walked to Chez Marcel near our hotel. I had a digestive called Fernet. It was medicinal and sweet. At that point, I was very tired. I went back to my room, filled out my journal and packed. I leave tomorrow for Olomouc; my family flies back to the US tomorrow.
12 May 2010, Wednesday
I got up at 6 and took a shower. I went down to breakfast about 6:15, but the doors were locked. I waited in one of the sitting rooms with Susan and Frank and the breakfast room opened at 6:30. I was not at all hungry and had granola and milk and a pot of tea. The others came in and sat with us. Most ordered eggs Benedict or eggs Florentine.
My family checked out and took a specially ordered bus to the airport at 7:30. I went to my room and got my train tickets and pack in order and then filled out my journal. About 8, I went down to the desk and checked out. Frank had already paid for Philip's half. I then walked to the train station. The temperature was nice, about 55 or 60 degrees F. I got to the main station at 8:30 and had my German-Czech rail pass activated at the ticket office. My train doesn't leave until 9:26, but this is the start of the line, so the train was at the platform by 9:00. This is a Pendolino train, the Czech railway's fastest express between major connections. I don't believe I've been on one before.
The train, indeed, is very fast. I had a window seat, but it faced backward. The waiter came by and gave me a complimentary croissant with a sweet cream filling and a cup of coffee. He also offered a baguette sandwich, but I'm just not hungry. The vibrant yellow mustard fields are very striking. It is amazing that there is this much demand for mustard, but it is grown everywhere. We passed a large rail yard at Česka Trebova. The last half of this trip is in a much rugged and mountainous region than the first. There are more forests too. At Zabreh, we entered the valley of the Morava River.
I arrived in Olomouc about 11:30 and walked down Masarykova Třida street about a mile to my hotel, Hotel u Domu (www.udomu.3dpano.eu). Halfway there, it started raining very heavily. I got out my umbrella, but it wasn't enough to keep out all the rain. I checked in and went to my room on the third floor (really our fourth floor). This is a charming little hotel, I think there are six rooms all-together. It seems to be designed for visiting professors. This is a big university town. I found that there is free Wi-Fi in the rooms, so I should be able to send e-mails if my computer is not wet. [I actually have a rain cover for my pack, but I was caught by surprise by the rain and didn't use it when I should have.]
Olomouc station sign, train leaving station, inside the station, Masarykova třida (street), Morava River, Morava River canal (in the rain)
the hotel, my room, another view, entry area of room, bathroom, shower, view from room, another view
I walked through the old town using Rick Steves' guide. The Old Town is surrounded by a bastion or wall, a good portion of which still exists. The Old Town is not very big, but there are several interesting squares, the largest pipe organ in Europe (the receptionist told me), and the tallest Plague Column in Europe. There are many fountains as well. This is a very comfortable-feeling town. I like it here.
After spending the afternoon doing the tour, I went back to the hotel. The receptionist listed several good restaurants and marked them on the map for me. The first, the Konvict (meaning Convent, not criminal) was busy with some special event, so I went through St. Michaels church nearby and then walked around the corner to another recommended restaurant, "Restaurace u Andela" (www.uandela.cz). I ordered "Basta of Sailor Pepek" which was a plate of several pork chops covered by cook onions, bacon, spinach and cheese. It also came with some roasted vegetables including fennel. It was good, but I couldn't eat it all. I also had a Krusovice beer.
I walked back to the hotel along a park (Park Bezručovy sady) at the base of the city wall for about 20 minutes. It was a very pleasant end to the day (and it wasn't raining). I got back to the hotel around 7:30, went to my room and filled out my journal. I was very tired for some reason, so I just surfed the satellite TV channels and then went to bed about 9:15.
They tell me that May is the rainy month and that it rains every day and is usually cloudy. One must always carry an umbrella in May.
13 May 2010, Thursday
I woke up at 5 and listened to the nearby cathedral bells every quarter hour. The bells pealed a long time at 6 (the town wake-up call). I got up at 6:15 and took a shower. I checked my e-mails and then went down to breakfast at 7, when they opened. I had "hemenex" (ham and eggs) that filled the plate. The slab of ham and eggs are fried all together so that the eggs hold the ham together. The hemenex were garnished with cucumber, tomato and pepper slices. There were rolls, all sorts of spreads, a sweet roll (which I didn't eat), orange juice, a container of fruit, and a container of yogurt. I ordered breakfast the night before. You can choose between six or seven breakfasts and tell them what time you want it. They will also deliver it to your room, if you want. I was the first in the breakfast room, but three ladies in a group came down, so I'm not the only person staying here.
The day is dark, cloudy and rainy, as usual. I walked to the nearby Archdiocese Museum, but it didn't open till 10. I went back to my room to type out my journal entries and will go to the museum later.
After awhile, I went out walking in the rain (with umbrella). I went down to the sports stadium and then back up to St. Moritz (Maurice) church. It looks like a fortress. I went inside and took some photos including the ornate pipe organ. I don't think it is the largest in Europe, but it is ornate if you can see it in the gloom.
After St. Moritz, I went to the Olomouc Art Museum. However, they were closed; the lady said "geschlossen," perhaps thinking I was German. So I went next door to another museum labeled the "Muzeum." It was a collection of all sorts of antiques. I thought it was going to be a natural history museum. One room did have archaeological artifacts, but most of the rest were antiques. A couple of rooms had nice exhibits on clocks. This museum is largely unorganized and very confusing. I think some of the exhibits are temporary. I didn't see any geology, paleontology, or biology apart from three or four cabinets up the stairwell which had details about specific trees. There was no audio guide, no English brochure and no specific directions about which rooms were offices and which contain exhibits (many of the doors are closed). The ladies chased after me when I entered the wrong area. I may have missed some exhibits because I though the doors were to offices. This museum needs some work.
Then I walked to the Archdiocese Museum (and it wasn't raining). This museum was a complete reverse of the last; it was very organized and was elegantly put together with the viewer in mind. There was an English audio guide and an English brochure. I didn't take any pictures here except for one view of the university area and the church (St. Michael's) on the highest hill.
I went next door to Wenceslas Cathedral (Katedrála Svateho Václava), the large, impressive cathedral in Olomouc. I took several photographs inside and out.
I went back to my room by 4 pm and filled out my journal and typed it out. By 6 pm it was getting darker (from the clouds), so I knew it was time to go for a walk. I went down to the opposite side of Old Town and found some existing city walls and took a picture or two. Then I wandered around the Lower Square and found a restaurant with Moravian food recommended by one of the receptionists. It was called Hanacka Hospoda (the Hana are the Moravian people and Hospoda means pub). It had an outdoor part which was closed due to the weather and an indoor part filled with wooden benches. It seems to be a university hangout. I ordered "Granddad Matej's peasant delicacy" which consisted of baked neck of pork, smoked chop, home-made sausage, red and white cabbage and roll dumplings. I also had a Starobrno beer which is also Moravian and made in Brno. The food made me sleepy. I left the restaurant while it was still daylight and went back to my room. It was dark by 8:30. I filled out my journal and typed it up. I also packed up and got ready to leave again tomorrow. I watched a little TV, a Chinese historical movie, all in Mandarin. I could understand every tenth word, but got the gist of the movie.
14 May 2010, Friday
I woke up at 4:45 (at daybreak), but stayed in bed and listened to the birds and the bells pealing. At six, the cathedral bells pealed for maybe five minutes. I got up at 6:30, took a shower and finished packing. I went down to breakfast at 7. Last night I ordered hemenex again for breakfast. It's raining, of course, but not heavily. That will happen when I walk to the station.
At 8, I put the blue rain covering over my backpack. I bought it for my trips during monsoon in Indochina, but this is the first time I've used it. I checked out of the hotel at 8 and walked the mile to the train station in the rain. This is the kind of rain that lasts for hours, if not all day. I got to the station about 8:20 and waited for my train. They didn't show the platform on the schedule board until about 5 minutes before the train arrived. Apparently they don't have established platforms for a lot of the trains. I guess it's first come, first serve. I am in a compartment with a window seat facing forward. There is one other fellow in the compartment as well. I tried to nod a hello, but he refused to acknowledge me.
When we got to Prague a little before 12, it was still raining, but lightly. At the station, the large schedule boards were not working. I found a flat panel screen that was working and went to my platform. The cleaning crew were mopping and cleaning the train car so I waited a minute and then boarded. There was a fellow sitting in my seat. he was bewildered but finally got up and left the compartment altogether. I hadn't meant for him to leave the compartment. I did, however, have to pay extra for the seat reservation. This train goes to Ceske Budejovice. This leg of the trip is about 2.5 hours long and we head due south from Prague.
The countryside is rolling to hilly and there are tracks of mixed forests and large areas of farmland. Lots of mustard apparently. Many yards have a fruit tree (plum, cherry, apple) and a lilac, judging from the blooms.
We got to Budějovice a couple of minutes before three o'clock. It's still cloudy, but not raining. I only had a few minutes to catch the train to České Krumlov and I was worried that I would miss the connection. However, the schedule board in the train station was working and I hurried to my platform. The train was already there. This is a 2nd-class only stop train and stops every 3 to five minutes. It is filled with young people and a few soldiers. I got on a car specially designed for carrying bicycles. There were seats as well, but not many. I sat down across from another fellow. It is actually hot in this car. I don't know if it's the weather or engine heat of some sort (it was the engine, we are right behind it). The owner of my hotel said that he would cancel my reservation if I were late; that's why I was anxious about this connection. I don't want to be caught in a town I don't know with no place to stay. This area looks very much like Kentucky, rolling hills and lots of green. After a few stops, the fellow left and three soldiers sat with me.
I got to Česke Krumlov about 4 PM in a light, steady rain. I made a 20-minute walk down the hill and crossed a fast flowing, large creek. This is a very picturesque place and the topography reminds me of Whitesburg or Pikeville, but with lots of old buildings. I made my way to the Pension Lobo (www.pensionlobo.cz) and it is very nice. They wanted me to pay for both nights in advance and they don't take credit cards. Luckily, I had the cash, 2,400 kc for the double room. The owner(?) asked me why I booked a double because I am only one person. When I made my reservation, he told me that only the double was available. Looks like the story has changed. I deposited my gear in the bright orange and yellow room, filled out my journal and then went exploring in the rain.
This is an amazingly picturesque town (I know, I said it before). Medieval and Renaissance buildings and squares packed into such a small place. I took a few pictures in the light rain and cloudy skies. I hope the weather is better tomorrow. All the little side streets are full of shops, restaurants and museums. This place must be packed in the summer. I'm glad I'm here now. I did most of Rick Steves' guide except for the castle side.
Vltava River from Lazebnický most (Barber's Bridge), view downstream, the Round Tower (Zâmecká věž), the Main Square (Náměstí Svornosti) and plague column, Church of St. Vitus (Kostel sv. Víta), lady posing for photograph, panorama, the castle in the background, former Jesuit college (now a hotel), close-up of sgraffito at college, view of Eggenberg brewery, monastery next to brewery, movie pan of town (YouTube), side street
At 6:30, I went to a recommended restaurant, the "Two Marys," but right next door was a nice vegetarian restaurant "Laibon" [www.laibon.cz] with an interesting menu. I've been eating meat every meal and have had few vegetables, so I decided to do the vegetarian one. I couldn't make up my mind (which is typical) so the waiter (from the US) suggested the "Labyrinth of tastes," a selection of their specialties. There were about six different items covering the plate, including a chili, bulgur wheat dish, cutlets of smoked tofu, and several other things. It was great. I also had a salad and a pot of Granny's Garden tea, a fruit tea blend. For dessert, I had a Bernard beer, a natural unpasteurized beer. Altogether, it was 350 kc. They didn't take credit cards.
After dinner, I walked back to the pension in the light rain and it was much colder than before. I went to my room and filled out my journal, typed it out and watched a little Czech and German TV on the tiny television across the room. They get four channels.
15 May 2010, Saturday
I woke up around 5, but breakfast doesn't open till 8:30 (very late to me). I stayed in bed till 7:30, got up and took a shower. I went to breakfast and the owner(?) showed my table. There was a plate of cold cuts and a type of white cheese at my place. I went to a counter and poured myself a cup of coffee, got a roll, butter, hard boiled egg and a bowl of granola. I ate about half of the cold cuts and cheese and all of the rest. This is a typical pension or B&B breakfast. Nothing hot is prepared except for the boiled egg and coffee.
After breakfast, I walked a short distance to the castle (Krumlovský Zámek). It is cloudy and pretty cool, around 45 degrees. A light rain started as I walked. I got a ticket for an English speaking tour for 9:30. I was the only native English speaker on the tour. This was a very interesting tour and I recommend it. No pictures were allowed in the castle interior. Photos were alright in the courtyards and exterior areas. This is a UNESCO World Heritage site, maybe the whole town is too.
the Round Tower (Zâmecká věž), Main Gate, first courtyard, another view, stag and boar door frame, view from lower part of castle, water race on river, next courtyard, movie pan of town from castle (YouTube), another view, yet another, covered entry, view of Old Town, another view of the river from span higher up, similar view, view on other side of span, taking pictures from span
walk to garden, Old Town from arch in wall, river from the arch, on way to garden, garden, garden steps, edged hedges (hedged?), view of garden from top, more hedges, steps and fountain, spring flowers, hole in clouds
covered walkway below garden, courtyard again, map for castle
After the tour and walk around the gardens, I walked along the side streets where the buildings are still decorated with their Medieval and Renaissance frescoes, etc. The streets are all curved to correspond with the tight meanders of the Vltava which surrounds the Old Town. This is the headwater area for the Vltava (Moldau, Elbe). The tight, gorge-lined meanders are called entrenched meanders. Meanders are formed in flat flood plains. At some point, the land rose (or the base level dropped) and the meanders dug straight down through the bedrock. The Kentucky River Palisades were formed the same way. I took a lot of photos along the side streets.
one of the main streets, another view, interesting alley, side street near the main square, varied building facades, building frescoes, ornamented by frescoes, false facade fresco (fff), close-up, Main Square, puppet shop, movie of small band on street (YouTube), roaring creek at Budějovická brána (gate)
I went to the Regional Museum which is supposed to be very good, but it was closed for technical reasons. Perhaps they were preparing for tourist season. So I meandered (literally) back to my room at noon-thirty to warm up and catch up in my journal.
I went back out again and walked through several streets and along the river bank. I passed one of several niches where "trdelnik" were being prepared and sold. These are dough cylinders coated in cinnamon and sugar. The dough is rolled into long pieces and this is then wrapped around a metal rod about 2 inches in diameter. This is then rolled until the dough is flattened into a cylinder. The metal rod and dough are put on a special grill over a flame. The metal rod turns as it cooks over the flame. Then the roasted dough is slipped off the rod and rolled in the sugar-cinnamon mixture. You hold it with a napkin and your thumb in the middle. I took photos. A couple of Chinese fellows were trying to see. I spoke to them in Chinese and told them that it was very interesting. They asked how many times I had been to China and where I was from, etc. I ended up buying three trdelniks; I kept one and gave them one each.
people lining up for trdelniks, sign for trdelniks, ladies making trdelniks, two coated with cinnamon and sugar, another view
kayakers and canoers in Vltava, part of city wall, view of span at castle, water wheel, two outdoor restaurants
street with Laibon and Two Marys restaurants, two frescoes of Mary, another view, menu board, sign at start of street
The local, and historically important, brewery in town is Eggenberg, owned by one of the families that occupied the castle. I found a little market that sold the beer, so I bought a bottle to try. I'll try to save the label too. After I bought the beer, I went back to the room by 3 PM to relax, fill out my journal and try the beer. I made arrangements to check out early tomorrow. I will miss breakfast because I leave before it opens.
At about 5:30 or 6 , I went out to the Old Town to the "Two Marys" (Krčma u Dwau Maryí, www.2marie.cz) mentioned earlier (see above). It is an old house with two frescoes of Mary on the outside. Krčma is a medieval restaurant. I ordered the Bohemian vegetarian platter which included six or seven items on a large plate, including barley (with spinach and garlic), a millet dish, kraut, and several casserole-type dishes. It was hearty and interesting. I also ordered the bread with cheese cooked on it and a Ranger(?) beer. I sat alone for a short while and then the waiter asked if others could join me. I said sure. Then six Austrians in the upper 20's sat at my table. I showed them what I had and they ordered the same. They all talked with each other, but at the end of the meal, we had a lot of discussions. They were very nice. They were from a town near the border and came for the weekend. They had special ties which I asked about. These were scout ties. Even the ladies wore them. I told them about my affiliation with the scouts. I also told them about my daughter in Vienna. I spoke in German and English. They asked where I had learned German and I said here and there (pretty evident). I told them about where all I'd been in my two trips and where I was going. I enjoyed the discussions.
sign for Švejk restaurant (I've been to two in Prague)
Then I left and went to the Roma ("Gypsy") bar and restaurant (Cikánská Jizba) not too far away. The pension owner told me about it and that on weekends, they have entertainment. There was only one table left and it was reserved, I didn't know it. I ordered a Fernet. Then the people came for the table. They said I could stay there and not to get up. Very nice of them. The band started playing. There was a violin, clarinet, bass fiddle, accordion and a little six-year-old boy who was sort of an understudy to the adult violinist. It was enjoyable music. It was getting late, so I left after the first set. I gave my thank-you's to the people at the table and left.
It was raining lightly when I left. I went to my room, filled out my journal and went to bed about 9:30. This is Saturday night and there is a lot of boisterous noise from the street.
16 May 2010, Sunday
I woke up around 4, but went back to sleep, off and on, till 6:30. I got up, took a shower, and did final packing. I locked my room and left my keys at the reception desk by 7:20 and walked up the hill to the train station. There is a nice, but steep, cobbled path up much of the hill. Someone put a lot of work into it. I got to the station by 7:40. I over-estimated how long it would take me to get there. I walked around the station and went into the waiting room. I bought a moccaccino from a coffee machine and filled out my journal. My train leaves at 8:30. The temperature is in the lower 40's, but not raining. It is overcast. Everything is very quiet this early Sunday morning. I can hear all the song birds singing.
I got on the little two-car-diesel engine combo train and headed for Ceske Budějovice. This is more like a bus than a train and the shocks were bad, so it was a jolting ride. I don't think we went any faster than 35, maybe 40 mph. I saw several small deer here and there. I got to Ceske Budějovice at 9:30. My train to Plzen starts here, so the train was at the platform early. I boarded at 9:45 and the train left at 10:01. I am in first class, which is half of a second class coach. This appears to be an old communist era set of coaches. The springs in my seat seem to have been through a lot.
The train started on time. I found the bag of mixed nuts and dried fruit that I had bought in Cincinnati and snacked on some of that. I am facing backward. No one else is in my compartment, so I switched seats. After a few miles I saw a solar panel field. At Razice, the train stopped and changed directions (and presumably tracks), so I changed seats again. Several miles before Plzen, I saw a large castle on a hill in the distance It was near Stare Plzenec. I tried a few photos. There was another castle ruin nearby, closer to the tracks, as well.
I got to Plzen around noon. Dr. Josef Pšenička, a paleontologist colleague, was waiting for me on the platform. We went to his car and he drove me to my hotel, Hotel Continental where I checked in. It's an old type hotel with marble and nice wood. I put my stuff in my room and went back to the lobby. Josef took me to the Západočeské Muzeum (West Bohemian Museum, www.zcm.cz) where he works. He is head of the paleontology department there. He showed me exhibits on Ice Age mammals for children (Josev put this together), the armory collection, the Jan Saudek gallery of his original photographs (Wikipedia entry, and www.saudek.com), and the porcelain exhibits. The museum building is a very nice old stone building with lots of marble, limestone, granite, etc. My hotel is directly behind the museum and both are in the Old Town.
model of Pleistocene Irish Elk, side view of elk, saber-tooth lion, full view, Glyptodon, giant beaver, giant ground sloth, mammoth?, aurochs (Wikipedia entry), wooly rhinoceros, side view, Elasmotherium rhinoceros, sign for rhinoceros, cave bear, Moa, Josef with lion, another view
armory collection, muskets, muskets and small cannons, Josef and lycopod fossils, Jan Saudek poster, another poster, porcelain room, ornate chest and painting, large porcelain horse and rider, petrified wood and modern garden next to museum
Then we went to the extensive Pilsner Urquell brewery (www.pilsnerurquell.com), one of the best breweries in the world. We went on a tour of the brewery and then stopped at the restaurant at the brewery for a meal. We had beef in a cream gravy with sour cream, cranberry sauce and dumplings as well as Urquell beer.
gate entry to brewery, Pilsner Urquell brewery, another view, view of train, old truck, barrels and our guide, bottle processing area, movie of bottle washing machine (YouTube), bottle washing, another movie of bottle-washing machine (YouTube), Radegast poster, Kozel poster, Gambrinus poster, Pilsner Urquell poster, copper vats, schematic of process, stirring the wort, empty vat, Josef and vat, new copper vats, stainless steel vats, one of the original vats, diorama showing how underground chambers were dug, diorama (I hope) show how barrels were put together, map of underground chambers, large barrel of fermenting beer, sampling the beer, small slot for cleaning of barrel, only small people can climb through to clean barrel, restaurant at brewery
Later we went to a government protected outcrop of rocks nearby to the brewery. There was a nice exposure of massive, conglomeratic arkosic sandstone (Týnec Formation, mostly Late Pennsylvanian1). I took several photos. Some low-angle trough cross beds were evident.
Then we returned to the hotel where he dropped me off. I went to my room, filled out my journal and gathered my things for tomorrow.
At 7, I went down to the lobby and met Josev again. We walked across the Old Town to a medieval Krčme restaurant (Stará Sladovna, www.starasladovna.cz). It was in a dark cellar and had a large with a fire in it. We ordered a large pigs knuckle (actually the knee) and it was large. it came with potato pancakes, sauerkraut, pickled red and green chilies, a lot of horseradish, good mustard and dark bread. We had Pilsener Urquell beer. We made a pretty good dent in the meal, but we couldn't eat it all.
After the dinner, we said our goodbyes and Josef walked to his tram stop and I went back to my hotel. I get up early tomorrow, so I went to bed. My room has Wi-Fi, but I could never get it to work.
17 May 2010, Monday
I woke up about 4, but went back to sleep off and on till 5:30. I got up, took a shower, finished packing and checked out by 6. I walked about one-quarter mile to the train station. I noticed some frozen puddles of water, so it must be colder than I thought. I got to the station by 6:30 and found my platform. My train to Nurnberg leaves at 7. I took a few photos inside the main station building. The artwork looks to be Communist Era. The line to Nurnberg starts here, so I boarded the train early. This is a modern, sleek coach.
hotel lobby, hotel exterior, park area (actually the wall and moat area around Old Town), another view of the park, magpie, bridge over the Radbuza River, the Plzen main station, inside the station, communist-era art, statue of worker, decoration over arch
my train car
At about 7:45, three or four guards with a dog came through the coach. They only stopped at me and asked me a series of questions and looked at my passport. They asked where I had been and what I was doing, and then they left. They didn't do this to any one else. I don't know what triggered that. On the train, I got a cup of coffee and a ham, cheese and salami sandwich from the cart person. We crossed the German border at Furth im Wald where a new crew came aboard.
I arrived in Nürnberg about 10 AM and walked a short distance, maybe a quarter mile to my hotel, Hotel Garni Probst (or simply Hotel Probst)(www.hotel-garni-probst.de). I was in my room by 10:30.
After a few minutes, I went back outside and followed Rick Steves' walking tour through the Old Town. It turned our to be the best day I've had in a while. The sun was out and it was almost warm. I was going to take an English walking tour, but on such a nice day, I didn't want to follow a bunch of people around. Rick Steves' guide was just enough. Nürnberg has a fairly large Old Town, even with 90% of the old city walls still existing. There are many medieval buildings still existing as well as large churches, old government buildings, and a large castle complex on the high point of the town. There are many side streets full of shops and restaurants. I went from the south end at the Frauenturm and walked to the opposite end where the castle is located. I went all through the castle compound (though not the building interiors) and took lots of photos. I ended the tour at Albrecht Dürer's house. Today is Monday and most museums all over Europe are closed on Mondays.
I walked back to the restaurant that I passed earlier, the Bratwursthausel and had an asparagus salad (actually fresh, white asparagus in cold marinade and nothing else with it) and a plate of six roasted Nürnberger bratwursts with a very good sauerkraut (with spice seeds, juniper berries and bay leaves), mustard and a bread roll as well as a Lederer pilsner. It was very good. I sat outdoors, but in the shade and it was a bit too cool with the breeze (about 50 degrees F). The Nürnberger brats are small, about the size of a large breakfast link.
I retraced my steps and took photos of places that I couldn't before because of sun position. I bought two local beers in a market to take back to my room, a Lederer pilsner and a Tucher Urbrau. I also bought a Nürnberg hat pin for my alpine hat. I went back to my room by 4 PM to rest, have a beer and fill out my journal. What I hadn't noticed before was that my hotel is in the midst of about six or seven strip clubs. The hotel is very nice, so I'm not worried about that, but I'm wondering what the night will bring to this short street. My room opens to the back of the hotel, so it should be quieter, at least.
I left my room again and walked around some areas that I hadn't been to before. I found the natural history museum and the German history museum. I also found several of the other gate towers, Jakob's Platz and some interesting fountains.
Weisser Turm (White Tower), another view, sign for tower, Marriage Merry-Go-Round Fountain (Ehekarussell) in front of tower, closer view, another view, east view, front of fountain, marker next to fountain, St. Jacob's Church (Jakobskirche), St. Elizabeth's Church (St. Elisabeth Pfarrkirche), another view of church with Weisser Turm, sign for church, Ludwigstor (aka Spittlertor), Staatstheater (Opernhaus)
About 7, I started looking for restaurants. I wanted something other than European. I found two Thai restaurants and an Indian one. I decided on the Indian one (Sangam Indisches Restaurant). I ordered a vegetarian Jalfrez. I asked for sehr, sehr scharf and the waiter said, no problem. I spoke some Hindi later but he didn't understand a word of it. Anyway, the dish came and it was good and hot, exactly what I wanted. The sauce was very good. It was served with Basmati rice and I ordered nan and a Paulaner beer.
It started to rain while I was in the restaurant. I'm glad it held off that long. After dinner I walked back to my room in the light rain without my umbrella, but it was only about two blocks away. I got to my room before 9 in the fading light. I filled out my journal. If the weather is good tomorrow, I'll go to the Nazi Party Rallying Fields, if not, I'll go to the museums. The food, beer, early morning and long day made me tired, so I went to bed and immediately fell asleep.
18 May 2010, Tuesday
I woke up at 5:30 to the sound of rain. Breakfast doesn't open till 6:30, so I stayed in bed for awhile. I got up a little after 6, took a shower and went to breakfast at 6:30. It was the usual assortment of cereals, fruit juice, some fruit, yogurt, cold cuts, variety of bread, boiled egg, cheese, etc. I also had a pot of coffee with cream, granola (muesli) with added nuts and raisins, salami, dark bread with seeds, butter and some kind of little sausage patty.
I went back to my room to fill out my journal and to study the city guide for museum information. There are a large number of museums here. Some that I considered were the Pigeon Museum, the Wheat Beer Glass Museum, the Garden House Museum, Hangman's Residence Museum, Dialysis Museum among many others. It's so hard to choose.
I left the hotel a little after ten and took my umbrella. I found a Thai massage place and got a back-breaking massage. It was difficult to understand German with a strong Thai accent and I've forgotten most of my Thai.
After the massage, I went to one of the best museums I've been to (I know that I say that a lot, but it is a must-see museum), the Germanisches National Museum. It covers all aspects of Germanic history and culture. I could spend days in this museum. However, I got an English audio guide and spent the day going through the late Medieval to Renaissance collections. They have original works of art by Dürer, Cranach, two by Rembrandt including the famous self-portrait, and Breughel. I saw the original painting of Martin Luther by Cranach that everyone copied. I also saw the oldest existing globe. It was constructed in Nürnberg in 1492 and includes most everything except the New World and Australia. Unfortunately, they pushed me out the door at 5 PM and I'd only been in one hall of many. Maybe it is just as well; I had nearly finished the hall and I don't believe they have an English guide to the other halls and they had run out of English brochures. Perhaps the labels in the rest of the museum have German and English as did the part that I was in. I don't know.
After being expelled from the museum, I went to a Thai restaurant that I had found earlier. It was closed and wouldn't open for half an hour so I walked to another near the museum. I was the only customer. I ordered a chicken, chili, basil, green bean, etc dish and a König beer. I asked for sehr scharf. The meal came and I had to add dried Thai chili powder to it. The dish came with rice, of course. The meal was good, not great. The place lacked qi.
I went back to the hotel and talked to the owners for about an hour. They gave me a Kulmbacher beer, the owner's favorite. It's a dry beer with a nice hoppy flavor. It was good. I told them I had to check out early, so I went ahead and paid for my stay. They accept credit cards. I told them that two days for Nürnberg were not enough and they agreed. I hope to come back. Next time, I'll see the Nazi Rallying Ground, the Albrecht Durer House, the Natural History Museum, and, of course, the Pigeon Museum.
I went to my room and filled out my journal. I went back out to walk around before dark. I found the Turkish side of town and more shopping areas. Nürnberg was bombed during the war. Many of the buildings in the tourist area that were destroyed were re-built in the old medieval style, some were built with a blend of medieval and modern styles, and some are completely modern. Most of the artwork and antiquities were placed in vast underground chambers under the castle hill. There is even a museum where one can tour these chambers.
I went back to my room after dark and went to bed. Tomorrow is an early day.
19 May 2010, Wednesday
I woke up at 5, but stayed in bed till 5:45. I got up, took a shower and finished packing. They opened breakfast early for me (from our discussions last night) and I went down at 6:15. I had the same things as yesterday. After breakfast, I gave Mr. Probst my key and told him that I hoped to come back and bring my family the next time.
I was at the train station in five minutes (the hotel is great for train travel). I found my platform and boarded my train at 7:05. The train left at 7:22. The temperature seems to be in the upper 40's; almost everyone is wearing winter coats or jackets. I only have short-sleeve shirts and a sports jacket, but I am fine for now. It is another overcast morning. It is easier catching German trains, because they publish the platforms early. In other countries, the trains are assigned tracks as they arrive, so one most wait till the platforms are posted on the schedule boards, before you can board. With tight connections, it's a big help in knowing which platforms you need to rush to.
For some reason, my train was late leaving one of the stations on our way, and so we were late arriving at Steinach. When I got to Steinach, I rushed to my next platform and the train left about a minute after I disembarked from the first train. It is sprinkling now and there are mud puddles here.
I arrived in Rothenburg about 9 AM in a light rain. I hoisted my umbrella and made my way to the Altfränkische Weinstube Restaurant and Hotel (their website). It was a little hard to find because MapQuest mapped it to the wrong street. Anyway, I found it and checked in. This hotel and restaurant is amazing. It's like a tightly-packed museum with many cubby-holes. Paintings and knickknacks are everywhere. This would be a charming getaway for a couple.
Rothenburg (ob der Tauber) train station, my train, front of train station, gate entrance to Old Town, bridge over moat and next gate, view through second gate, another bridge, gate and tower, inside the main city wall, Markus Tower in background, Town Hall and Market Square, Councilors' Tavern on Market Square
my hotel, my room, another view, yet another view, shower, small bathroom, view from my room, hallway, another hallway, top of stairs, fireplace room in main level, wall of same room, breakfast room, front dining room
The town of Rothenburg (i.e., the Old Town or Altstadt) is about the same size as Česke Krumlov and the streets and side streets and shops are similar. This seems to be a great place for ambling about. In getting here, I crossed a wall or two, old city gates, and an old moat.
I went back out and did Rick Steves' walking tour. It rained constantly, the temperature now is in the lower 40's and the wind is blowing and blustery. It feels like it's in the 30's. By the end of the afternoon, my shoes were wet. This trip is the most I've ever used an umbrella; it's getting a real work-out. And I could have used a heavy sweater in my layering.
Anyway, I went into the St. Jakob's church and paid extra to photograph. There is a famous, carved-wood altarpiece that is extraordinary. After the church, I went to the Reichstadt Museum (Imperial City Museum) which is in an old cloistered nunnery. After leaving this museum, I came across one of many Schneeball (snow ball) shops where they make baseball-sized pastries out of strips of dough. The dough strips are put in a ball-shaped iron and then baked. Then the layered ball is covered with a topping, such as sugar, cinnamon, chocolate, etc. I bought a cinnamon one and a cup of coffee to keep warm. I didn't finish either.
Then I went back out. I found a shop that sold souvenir hat pins and I bought a Rothenburg pin for my alpine hat. Nearby, I went to the Kriminal Museum, recommended by Rick Steves. If you like torture, you might like this museum, but it's not really for me. Don't get me wrong, I like torture, but just not in a museum.
By about 3:30, I was very cold and tired of the weather, so I went back to my room. I filled out my journal, typed it out, and watched some CNN. I haven't watched English-speaking television in a while and I don't know the latest news.
The day was about to change. What had started out to be one of the worst weather days, the evening turned out to be one of the best. I went down to the hotel restaurant at 6 PM. The owner asked me to sit at the big table in one of the rooms. There were several people already there, so I sat down with them. This is the table where the famous English Conversation Club meets every Wednesday. Rick Steves talked about it in his book. It meets at 8, but people were starting to filter in to eat before the meeting. Early on, it was mostly Americans, but later a couple of Brits came in and a couple of Canadians arrived and we were balanced with an equal number of local Germans, the more famous being the jovial "Hermann the German." I ordered the delicious white asparagus soup and a local beer from Landwehr Brau. Several of the older Germans had been in WWII. One fellow learned English from a British soldier when he became a very young orderly to the officer. My end of the table happened to be loaded with Americans, mostly working or living in Germany, but as people came and went, I ended up being closer to more of the Germans. It was a very fun and enjoyable evening. At about 9, I ordered a smoked trout appetizer plate which came with two fillets of very nice smoked trout, buttered dark bread, horseradish, lemon and fruit. It was a nice meal to eat while conversing. The Germans asked us to sign their guest book and most of us did. It was almost midnight by the time we dispersed. I went to bed immediately after that.
20 May 2010, Thursday
I woke up about six. Breakfast isn't open till 8, so I stayed in bed awhile and watched CNN. South Korea, after months of study, is claiming that one of their ships was sunk by a North Korean torpedo.
I took a shower and went down to breakfast at 8. I was joined by several Americans that I met last night, a couple from Alaska, a couple from Arkansas, and two brothers from Oregon. Breakfast was the usual assortment of cold cuts, cheese, nice breads, cereals, fruit, yogurt, etc. We all talked awhile and then I went to my room to pack up and fill out my journal. I just found out that Wi-Fi is available here, so, after several attempts, I got the correct password and sent out several days-worth of journal entries.
I checked out at 10:30 and walked in the misty rain to the train station. I caught the 11:07 to Steinach. This is a nice, smooth, modern two-car train (combo). The rain is so misty that it's like a fog; visibility is about a half-mile.
At Steinach, I caught the 11:31 to Wurzburg. And from Wurzburg, I caught the 12:27 to Frankfurt on an ICE train, one of the fast trains that connect major cities. I arrived in Frankfurt about 1:30 and checked into the Hotel Paris (www.hotelparis.de) nearby (I stayed here a month ago) and was in my room by 1:45. It is also raining here.
I took my umbrella and walked around in the old town (the part behind the old walls, now gone). I probably walked about 4 to 6 miles. On the way back I stopped at an Indian restaurant (Gaylord India Restaurant) near my hotel. I ordered Lamb Vindaloo, acchar, garlic nan, and a local beer. After I finished eating and while I was drinking my beer, a young fellow was seated next to me. He is from Boston and travels all over the world helping businesses cope with international complexities. I asked him what he studied in school to get such a job and he said finances and Chinese. So, we talked a lot about Chinese and our various travels. He had been trying to arrange for his wife to join him, but the volcano had ruined their planned trip.
After dinner, I returned to my room, and repacked with airline travel in mind. I fly out of Frankfurt tomorrow and it's going to be a very long day. I was in bed by 10.
21 May 2010, Friday
I woke up about 5, but stayed in bed till 6:30. It was raining when I woke up. I took a shower and did final packing. I went down to breakfast at 7 when they opened. I had coffee, a sesame bread roll, butter, cherry jam, two slices of black pepper salami, and a warm, hard-boiled egg. I checked out at 8, and walked to the train station I caught the S-Bahn 9 to the Flughafen (airport) train station, and there, caught the shuttle train to my terminal. I waited in line about 45 minutes at check-in and then went through passport control and then security. I was at my gate area by 9:30.
I spent time typing out my journal and playing solitaire. I boarded the plane around 11 and we took off a little late, around noon, due to runway inspection. I was served a non-descript chicken dinner with potatoes, tomato sauce, bread roll, salad, cracker and cheese. The cracker and cheese was the best part. I watched a tear-jerker movie first (I don't recall the name and don't wish to), then I saw the movie "Young Victoria," which wasn't too bad for a historical novel. Then there was Sandra Bullock's "Blind Side," which was better than I expected. Following that was "The Day the Earth Stood Still." Instead of the screen in the seat in front of you, there were several small screens hanging down from the ceiling. We all watched the same movie.
We landed in JFK around 2 PM. It was daylight the entire flight because we followed the sun. I passed through passport control, then customs, and then security again. And it is very warm here and the sun is shining. I've moved from a gray, cold, rainy climate to a tropical one. The airport feels to be in the 80's and humid. I'm carrying my jacket for the first time. I found a quiet gate area and sat down to fill out my journal. My eyes feel like corn flakes.
I went to my gate area at 4, the plane was supposed to board at 4:20, but it was about 4:50. We sat on the tarmac for 45 minutes, therefore the plane left an hour late. This plane files to Cincinnati and they have had some severe thunderstorms. I could see some huge thunderheads. We landed and I caught the shuttle to the Comfort Inn. I checked in and got to my room by 8:30 and there are new thunderstorm warnings and even some tornado warnings scattered from Cincinnati down to Lexington. The plane must have landed between two waves of thunderstorms.
I didn't eat dinner, I was too tired to go out. For some reason, I had carried a bag of microwave popcorn through Europe and I still had it with me. I took it to the breakfast room and popped it in their microwave. I ate the popcorn and then went to bed.
22 May 2010, Saturday
I got up about 6:30, took a shower and went to breakfast. The Comfort Inn doesn't offer much of anything that I would want for breakfast. I had two hard-boiled eggs and a cup of coffee. I then checked out and drove home. I got to our house by 9:00 AM. Anne was at work and the girls asleep. Snoopy greeted me at the door.
The End
References
1
Opluštil, S., Martínek, K, and Tasáryová, Z., 2005,

Facies and architectural analysis of fluvial deposits of the Nýřany Member and the Týnec Formation (Westphalian D – Barruelian) in the Kladno-Rakovník and Pilsen basins

. Czech Geological Survey, Bulletin of Geosciences, v. 80, no. 1, p. 45-66.