Russia and the Baltic Countries, 2014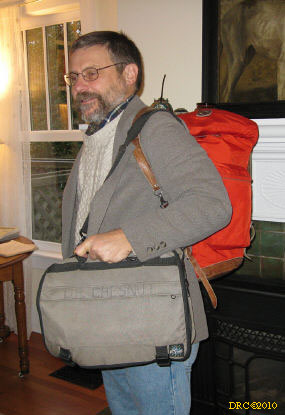 This is all I took.

I went to St. Petersburg, Russia to visit my daughter, and then took a tour from Helsinki, Finland to Tallinn, Estonia, then to Riga, Latvia, then several places in Lithuania, and then to Warsaw, Poland and finally Berlin, Germany. The following is composed of my daily journal entries and photographs taken during the trip (please excuse the tedious and poorly-written nature of the journal). You may rather go through the thumbnail catalog: St. Petersburg, Helsinki, Tallinn, Riga, several places in Lithuania, Warsaw, and Berlin.

6 October 2014 Monday

It's been rainy all day. I finished uploading my motorcycle videos this morning. Nora and Jackson came at 2:30pm and picked me up to take me to the airport. We got to the airport about 2:50 amid off-and-on heavy rain. I hugged Nora goodbye. I checked in one piece of luggage for my daughter Mary. She is studying a year abroad in St. Petersburg, Russia and I'm bringing her some winter clothes. I got checked in and got through security by 3:15. I went to my gate area and started filling out my first entry in my travel journal.

For this trip, I'm visiting my daughter for a few days in St. Petersburg. She is there to study and I don't want to take up much of her study time. I have been to St. Petersburg before on a Volga River cruise with my parents and Anne. We spent several days in St., Peterburg and I have seen most of the top sights. This time, I just want to see Mary, her apartment, her school, her friends, and her favorite places to hangout.

On Friday, 10 October, I will take a train to Helsinki, Finland. My hotel in St. Petersburg (I will call it Peterburg from now on) is within easy walking distance to the train station and is one metro stop away from Mary. From Helsinki, I start a two-week tour by Intrepid Travels through the Baltic countries. From Helsinki, we go to Estonia, Latvia, Lithuania, Warsaw, Poland and end up in Berlin. I'm spending several extra days in Berlin. I've been to Warsaw before and to Berlin many times. Berlin is one of my favorite European cities. I've studied some of the collections in the natural history museum there several times. And then I come home.

I'm only taking, for myself, my forty-some-year old red backpack (sort of a day pack) and my camera bag, all carry-on. Except, of course, Mary's luggage with her winter clothes (and peanut butter). I will try to send journal-entry emails home with my little notebook computer. Its operating system is Ubuntu, so, hopefully, it will be resistant to hacking. For the first time, I am taking a Kindle e-reader. In addition to literature, I have it loaded with two Rick Steves' travel guides, one a guide to Helsinki-and Peterburg, and one for Germany. I'll see how it works. I plan to start reading the Master and Commander series on this trip. My Dad really liked the series.

Hopefully, I'll be able to upgrade some of my flights to Business Class. I have a lot of Skymile points from all of my travels.

To keep space down to a minimum, I am not taking an overcoat or parka. I will use layers. I have a travel sports jacket, a sweater, flannel shirts, and T-shirts. I have an army surplus wool knit cap and gloves which I will leave behind in Germany. I will also leave behind an old pair of jeans. I wanted to leave behind an old pair of sneakers, but Anne wouldn't let me wear them. Anyway, I should be alright with my sweater-sport jacket combo, I've used this in Europe in the winter and in Tibet for field work. If it gets too cold, I'll buy a cheap coat. I look like a street person anyway. My forty-some-year-old back pack has been with me all over the world. Like me, I don't think it has another forty-years of travel left in it.

I boarded the plain a little after five, should have boarded at 4:30. I hope I won't miss my connection in Minneapolis.

We arrived in Minneapolis pretty late, 6:30 and my flight to Amsterdamm was already boarding. I had to take a tram and then a long series of walkways. My gate was not marked. I asked an airport worker where it was and he said it wasn't working. I was getting desperate. I looked at the information board again and now it was different. The board in the first terminal was incorrect. I had to go back several walkways and finally found my gate. The last of the passengers was boarding. I made it on board and was able to fly in international business class.

I found my (luxurious) seat and received a glass of champagne. I was given a menu and ordered the eggplant lasagna. I also filled out my journal. We have noise-canceling headphones and I plan to watch a lot of movies. I hope the masseuse will arrive soon.

This flight is eight-hours long. I first watched "Noah," a stupid movie. Dinner came while I was watching. I was first served three boiled shrimp on avocado slices with seafood sauce on the side. Next came tortilla-corn soup and an apple-pecan green salad, butter and a selection of bread. The lasagna was hot and in a casserole dish. It was spinach lasagna, not eggplant, as advertised.

The flight is an over-night flight.

7 October 2014 Tuesday

I stayed up and watched "Godzilla," another stupid movie, and then watched "21 Jump Street." This was a funny movie and I laughed out loud several times. Everybody else was asleep.

When the stewards came around for breakfast, I declined. It looked very good, but I was still full from dinner just a few hours ago.

It was cloudy all across our flight in North America and over most of England and Amsterdamm.

We landed about 10:30am, but had to wait on the tarmac until our gate was clear. It was a long walk to my next gate. After about five or ten minutes, I was the first into the gate enclosure. We had to go through gate security, emptying pockets, etc. I finally boarded at 12:30pm and sat next to the window. I was served a lunch with nice salad, cut vegetables, cheeses, bread, veal chunks in dark gravy and seasoned rice. I had red wine to drink, but only drank a quarter of it, too early in the day.

It was raining off-and-on in Amsterdamm, and we've had continuous cloud cover. When we got over Russia, it was clear, however.

We landed at Peterburg a little after five pm. I got through passport control and customs with no problem. I have a multiple-entry visa and will be back to Russia next year for a conference. Anyway, I exited the control area by 5:45. I saw a man holding a sign with my name on it. He was my ride to my hotel. We walked outside to the van. The sky is clear and sunny and the temperature seems to be about 45 degrees F, with a slight breeze.

On the way to St. Petersburg I noticed forests of densely-packed, spindly birches and maybe aspens.

Guess what? Everybody is wearing brightly-colored sneakers. I could have brought mine and fit right in.

I got to the hotel, Hotel Saint Petersburg (their website) around 7:30 and checked in. It's a small room. They do have wifi. I was able to connect with my notebook and WhatsApp on the cell phone. I contacted Mary and she is coming over to the hotel. I took a quick shower and feel so much better.

I went to the lobby bar and ordered the only Russian draft beer that they offered, Bocharev, I think. After awhile, I saw Mary walking in the lobby. I was so happy to see her. We talked for awhile and then went to the hotel restaurant, Beringa(?). We had a type of borsch and pelmeni, which also came with bread, duck paté, an orange marmalade sort of thing, and some more Russian beer. We had a good time, but I was very tired. Mary returned to her apartment.

I was up at my room by 10:45. I brushed my teeth and went to bed by 11pm.

8 October 2014 Wednesday

I woke up several times in the night, but otherwise slept well. I got up for good at 9 am and brushed my teeth and took my pills.

I went to floor B for breakfast, it's in the Bering Restaurant again. What a great view overlooking the Neva River in the early light of morning (it gets light at about 8:45am). I can see the Church of the Spilt Blood and a number of other historic buildings. I had coffee with milk, a wiener, cut bread, a pancake-like thing, fried cucumbers, cauliflower with cheese sauce, and a pineapple pastry with cherry sauce on top. There was a large selection, a hot table, a cold-cuts table, a pastry table, a drinks table and a series of smaller tables. Tomorrow, I will try the cold cuts.

Perhaps now, over breakfast, I should mention something else. I encountered my first bedbug this morning, in my bed. I took it to the window and examined it closely. I killed it and it was full of my blood (presumably). I'm sure every hotel has to deal with them on occasion. After breakfast, I went to the front desk and told them about the bedbug. They changed me to another room, and a bit nicer too. I sent a text to Mary about the room change.

I went out for a walk. The temperature was around freezing and there was a constant breeze. I wore a flannel shirt, my sports jacket and my Teva sandals with socks. Most of the locals were bundled up a lot more than I. I figured that I needed to harden myself up a bit. I walked to the Lenina metro station (also known as the Finlandskaya Station)(metro-system Wikipedia entry) and searched for the international train station within the building. I finally found it, the entrance is on the outside, way back on the left side of the building. I went inside to check it out. I will be leaving St. Petersburg on Friday to go to Helsinki.

I walked back to the hotel on a different route and was back in my room by 12:30. I used the time to fill out my journal.

I met Mary in the lobby around 2pm. We walked to the Lenina Metro and went downtown. We walked for several hours, stopping at various coffee shops. We stopped at one, Soviet Restaran, very charming. I ordered a seasoned-lard platter with three types of lard, bread, onions, and garlic. We had a pot of Assam tea that came with small bagels (unsalted pretzels). Mary ordered pelminis and we shared our dishes.

We continued our walk as the wind increased and the sky became cloudy. Eventually, we stopped at the Bonch Café and had coffee s'molokum (with milk) and talked to the waiter there. Mary called two of her friends to join us, Will and John. We first walked to the Restoran Teplo, but they refused us because we didn't have reservations. We next went to the Restoran Idiot (like Dostoevsky's book)(their website) and they accepted us. It was another very charming place (I recommend it). We placed our order and then were given four shots of vodka (i.e., one each). I enjoyed talking to Mary's friends. They have all had an interesting time here in Peterburg. Our dishes came out, they all ordered a variety of pelminis. I ordered the Russian herring platter. The platter had pickled onion, slices of roasted potatoes, and slices of salted herring. Most of us had beer to drink. We had lots of interesting discussions.

After we finished, we walked back to a metro and returned to our places. Mary and I returned to my hotel and we had a glass of red wine at the hotel lobby bar. Mary and I talked for awhile. Mary then returned to her place and I went to my room. I filled out my journal and went to bed by 11:30. I checked for bedbugs first, of course.

9 October 2014 Thursday

I didn't sleep well through the night. Perhaps it was the coffee and lard, or the fact that I keep thinking about bedbugs. I checked several times, no bugs.

It gets daylight very late here, about 8:45. I finally got up at 9 and did my morning ablutions.

Mary came to the hotel at 10:30 and we went to the breakfast room. They closed at 10:30. We walked down Komsomol Street and stopped at a bakery. Mary had an eclair and coffee and I had a Napoleon torte and coffee. Very nice. We then walked a few blocks to the Harley Davidson store. Mary bought me (for Christmas) a Harley T-shirt that had St. Petersburg, Russia on it, no Cyrillic alphabet though.

We then walked back to the hotel and picked up her luggage to take back to her apartment.

We left the hotel around 1pm and took the red-line metro several stations north of the Lenina Ploschad station. From her station, we walked several blocks to her apartment building. Her sponsor mother was home and she greeted me. I took off my shoes. I gave her a box of Sharps' chocolate as a gift for taking care of Mary. I would have given her bourbon, but she doesn't drink. I also took several photos.

Rita insisted on serving us vinagret salad and a dish of roast beef. They were both very good. The vinagret is composed of chopped pickled beets, peas, potatoes, pickles, olive oil and salt. It was served cold. I like it. Rita is a kindergarten music, dance and performance teacher. Her school has won awards as being the best in Peterburg. She was a very charming lady.

We left the apartment and took two metro lines to Nevsky Prospekt, the popular tourist and shopping area of Peterburg. We went to the same "Soviet" cafe as before, very nice atmosphere. Mary and I had two lattes and Mary had a plate of blinis with a wonderful cherry syrup with cherries. I had a bite or two.

We then walked around some more. Mary found a bookstore with some supplies that she needed for her classes. Mary has been so generous with her time and has energetically taken me all over Peterburg. I have already seen the tourist sights, this time I am enjoying the life of Peterburg.



I went to my room and filled out my journal. I have been able to use a lot of my Russian and I'm becoming faster at reading the signs.

When Mary arrived we went to the Bering Restoran. I had a large dark beer and a sausage platter. Mary had a Caesar thin crust pizza and a light beer. She taught me how to play a Russian card game called Durak ("Loser") with cards she bought today at a souvenir shop. Our order came and we had too much food. I had three kinds of homemade sausage, beef, lamb, and chicken in a salsa and thinly sliced, toasted bread. Mary's pizza came with a sort of salad on the top. After we ate, we played one more hand of the game.

We went to my room. I brushed my teeth and went to bed. Mary watched her computer a bit and then went to sleep.

10 October 2014 Friday

During the night I opened the window to help cool the room. I got up at 8am and finished packing. Mary got up about 8:10. It is still dark.

We went to the Bering Restoran. I showed my hotel card and paid for Mary's breakfast (zoftruk). Mine was included with the price of my hotel stay. It's a very nice buffet, I described it previously. I had fried summer squash (not cucumbers as I first thought) with sour cream, wieners, cut bread, honey, smoked cheese, salami and coffee. Mary had pancake things (not blinis), bread, cheese, dates, prunes, cherry juice, coffee and a few other things.

After breakfast we went down to the lobby and had our tear-full goodbye. She is heading straight for school. I thanked her for being so generous with her time and I told her I had a great time.

I went back to my room, filled out my journal and took a shower. At 10:10 I went to the lobby and checked out, no additional charges. Outside it was cool, breezy and foggy. The sidewalk was wet, I suspect that they'll get some rain off-and-on today. I got to the train station by 10:30 and sat in the waiting area which was already filling up. I filled out some more of my journal. I have about 50 minutes to wait.

At 11am I went through passport and ticket check and entered another waiting room. After about five or ten minutes, a door opened and we put our luggage through x-ray machines. That went quickly. I went to car (wagon) number 2 and found my seat next to the window. This is a second-class car but would be a first-class car on most trains. I lowered my sturdy tray table and caught up in my journal. There are electrical outlets for every seat so I will also type out some of my entries. There is also free wifi on the train, so I connected my cell phone and computer.

Passport and customs control people went through the train, one for customs declaration and one for passport control. In my seat, I am facing backwards as the train moves. The Russian fellow directly behind me is a very loud talker, especially when on the cell phone. The two Russian fellows behind me got drunker and drunker and they got to the point where I thought they were getting abusive. Luckily, we got to Helsinki before I found out.

I got off the train about 2pm local time. It was cloudy, foggy, faint drizzle and about 50 degrees F. Not bad, really. I walked north-eastward across a plaza and after about two blocks, I found my hotel, Hotel Arthur (their website). I checked in, went to my room, logged on (free wifi) and did some maintenance on my e-reader and computer (it didn't recognize the file system of my SD card; I fixed it though). I then downloaded the photos from my SD card onto my hard-drive as a backup. I have a 64G SD card, so should not have to remove anything on this trip.
Helsinki train station, another part, main room, another view, outside of station, another view, Ateneum art museum, another view, Finnish National Theatre, another view, statue of Aleksis Kivi (Finnish author, Wikipedia entry), Nepalese restaurant
I decided to explore a bit. I got a map at the front desk and the lady suggested an area to walk around. I took my camera bag with umbrella and poncho and set out heading south. Tomorrow, I will use my guidebook. I walked past a lot of interesting architecture, old churches, plenty of plazas, etc. There is a large shopping district as well and there were some pedestrian only streets. I saw several parks with outdoor sculpture. This is a lively place despite the occasional light rain. I feel very comfortable here. The most interesting area that I went to was the waterfront. There are lots of old-style multi-masted wooden sailing boats and ships.
granite (and other) boulder foundation, Helsinki Lutheran Cathedral, another view, church on north side of cathedral, restoration of National Library at Senate Square, sign, another building at square, pan of Senate Square (video), Senate Square, monument at square, another view, yet another, close-up, another, cobbled street adjacent to square
I walked past a number of outdoor stands selling fruit, vegetables, mushrooms, and fish. Several of the tents had large wok-like skillets and they were frying fish and vegetables. One wok was filled with fried fish that looked about the size of sardines. The lady told me that they were "vendace," and pronounced as "wendahss"(Wikipedia entry). She said they are like "white bait." I have had white bait in Scotland, although these were larger. She offered me a sample and I tried it. You eat the whole thing, head and all. The larger ones may have been gutted. They were seasoned with a little salt and cooked in oil. I ordered a plateful along with potatoes and other cooked vegetables. She asked if I wanted garlic sauce added and I said yes. Her name was Maria, and I told her I had a daughter with that name (almost the same). I also got a beer to go with it, which is a great combination. I ate most of everything, but couldn't eat all of it.
I thanked her and swam over to an interesting brick and stone building. It must have been the old fish market. Inside, it was completely refurbished and there were many up-scale stalls. It reminded me of the indoor part of the gnoshmarkt in Vienna. There were stalls for cheese, hams, sausages, smoked fish, wine, beer, pastries and dessert. I took lots of photographs.
I took another round-about-way back to my hotel. I'll do a Rick Steves' walking tour from his guidebook tomorrow and find out what everything was. There should be more sunlight for photography too.
At the hotel, I went to the bar and restaurant and had a half-litre of the local Harhu beer and filled out my journal. I won't eat again tonight, the vendace was enough. I was pretty tired and actually nodded off once while sitting there.
I went back to my room, brushed my teeth and went to bed. No sign of bedbugs, so far.
11 October 2014 Saturday
I woke up several times through the night, but got up at daylight, about 8am. I brushed my teeth, took my pills, and went down to breakfast.
Breakfast is included and it's buffet style. I had coffee with milk, dark sour-dough-like bread, a savory crunchy pastry, little wieners, bacon, and a spoon of industrial scrambled eggs. I then went back for different bread, honey, and a bowl-full of fruit compote. The fruit was cranberry, blueberry, and some sort of larger round, red berry. The broth was only slightly sweet which was great for me.
It's cloudy today, but no sigh of rain yet. The weather is not unlike that at home, I imagine.
I headed to the waterfront again where the Rick Steves' walking tour starts. There were many more tented stalls and many more people today, it's Saturday. The Kindle version of the guidebook was very handy. I walked through the entire tour and made many side excursions down interesting streets. I took lots of photographs.
I took a very round-about way back to my hotel. On the way, I stopped at Henry's Bar, a local's bar. I ordered their draft beer, Lapin Kulta, 0.5 litre. It was good to sit down and relax. I usually save beer bottle labels, but most of the beers have been drafts or in cans. I skipped lunch entirely.
The people in Helsinki all look healthy and fit. I've seen very few obese people. I think fish is a big part of their diet too. The people appear to be bundled up more than I and yet, I am a bit warm. Perhaps the "praise the lard" platter is still keeping me warm.
Helsinki is at the same latitude as Nome, Alaska, however, the weather so far is like Kentucky, which has the same latitude as Turkey. Latitudinally, the weather on the North American continent doesn't match that of Europe.
While I was there, a fellow came in and ordered a beer, in English. I asked where he was from and he said Dublin, Ireland. He was a professor in industrial design at the Helsinki university.I told him about the Kentucky and Ireland connection (horses) and he knew that. While we were talking another fellow joined in. He was also a professor, but in political science. So in one small room we had three professors talking. We had interesting conversations over our beers. Markos, the Finnish professor is a little bit younger than my son Donald. He is expecting his first baby in May and was very excited about it. I told him about being a father and that he should read to his children all the time. He was very enthusiastic about it all, and hoped to meet us in the future. I took his photograph.
After that, I returned to my hotel as a large bus unloaded a large number of kids at the hotel. Should be an interesting night.
I went to the hotel restaurant, and wrote in my journal and typed it out on my notebook computer.
At 6pm I met with our group in the back of the restaurant. There were 12 in all, the maximum for these tours. There is an American couple from Virginia, another couple from Ontario, and the rest, I believe, are all Australians (Melbourne, Adelaide, Sydney, Brisbane, etc). Our guide is Mirek ("MeeRok") from the Czech Republic. Our guide went over everything for little over an hour.
Afterwards, we all walked down town a bit to the restaurant Zetor (tractor brand) for a Finnish dinner. I had reindeer fillet (medium rare), with some kind of grain, a semi-sweet purple gravy and some vegetables. It was excellent. I had a red wine with it. I sat at a table of four with Jim, and two ladies, all Aussies. We all had a good time. We paid individually and walked back to the hotel. I was in my room by 10pm.
I worked on my journal and typed it out. I did my evening ablutions and then went to bed. We go to Estonia tomorrow morning. No bedbugs.
12 October 2014 Sunday
I slept well through the night and had an open window which helped. I got up at 7am, did my morning ablutions and took my pills. I went down to breakfast but they weren't open yet (they open a bit later on Sunday). I went back upstairs and managed to send off one e-mail journal entry.
I went back to breakfast about one-half hour later. I had coffee with milk, sausage patties, wieners, industrial scrambled eggs, potato pastry, bread, toast, honey, and a bowl of yogurt with fruit compote (lingonberries, blueberries, and strawberries). I really like the fruit compote, it's not too sweet.
Jim from Australia sat down with me. He was telling me about the ice sculptures in Harbin, China. He has bicycled all over Europe. He's 72, so just a bit older than I.
I went back to my room, filled out my journal and took a shower. I also packed up.
We all met at the lobby a little after 10 and walked a little ways to a tram stop. We got aboard the tram with all our luggage and proceeded to the ferry dock. Thousands of people were waiting to board the Viking Express ferry to Tallinn, Estonia. Some were tourists, but most were locals going to spend a Sunday at the much cheaper city of Tallinn.
After about two or three hours we arrived at Tallinn and disembarked the ferry. We caught a passenger van or small bus a short distance to our hotel, GoHotel Schnelli (their website). It's right next to the train station.
The rooms were nice and clean and they had free wifi. After a few minutes, we met again and started our walking tour of the Tallinn old town. This has to be one of the best preserved and interesting old towns that I have been to. I took lots of photos. There are so many interesting side-streets and beautiful views.
the walled Old Town of Tallinn (foreground park is part of moat), climbing up to the wall, another view, Mirek and the Old Town plan, cobbled streets of Old Town, another street, yet another, souvenir shop, passage way to Pikk jalg (alley), another view, looking back, artists along the way, cafe, Russian Orthodox Cathedral (Alexander Nevsky Cathedral), another view, closer view, restoration work, another view, city walls and tower, Dome Church (St. Mary's Church), another view, souvenir shop, view from overlook near the church (remnants of moat), view of lower Old Town (to the north), another view, pan of Old Town (video), yet another, gull, another view of lower Old Town, another one, pan of Old Town (video), St. Olaf's Church, Dome Church again, tower door, walking down Luhike jalg (Short-Leg Lane), St. Nicholas Church, another view of church, purple hair, side street to Town Hall Square, medieval restaurant, side street, Town Hall, cow statue, Viru Gate, "Sweater Wall," closer view, Katariina alley, another view, yet another, tombstones, sign for tombstones, cobbled street, Great Guild Hall, closer view, archway near Guild Hall, restaurant at Town Hall Square, another view, Town Hall and Town Hall Square, pan of the square (video), Town Hall Pharmacy, Town Hall
The weather was chilly, about 50 degrees F, but I was fine. Mirek suggested several places for dinner. I ended up in a group of four, Jim the Australian and Maria and Jack, a couple from Canada. We walked along Pikk street till we came to Restoran Wirulane at 41/2 Pikk. I ordered blood sausage as did Jack. Jim ordered pork ribs, Maria ordered lamb stew pot. I had the locally made dark Estonian beer that was probably made by this restaurant. It tasted like a stout. Two others ordered the non-dark version. The crockery was all handmade, including bread dishes, plates, water glasses and two different styles of beer mugs. I have had blood sausage with more distinct seasonings, but mine was very good, home-made I think. It came with roasted potato wedges, lingonberry sauce on the side, sauerkraut, pickled squash rind(?), and caraway bread. It was a good meal and everyone liked theirs.
We walked back to our hotel and met up with some of the others in the bar. We had a drink and some interesting discussions, and then all went off to bed by 9:30.
I went to my room, filled out my journal, brushed my teeth and then went to bed by 9:45.
13 October 2014 Monday
I woke up at 6:30, but got up at 7:45. After morning ablutions, I went downstairs for breakfast at the breakfast buffet. I had industrial scrambled eggs, wiener, sausage patty, smoked salami, local cheese, dark-bread toast, mixed-grain toast, jam, butter and coffee. I went back for a yogurt, mixed fruit, and cereal concoction of my own. Jim came down about halfway through and joined me. I didn't see any of the others.
I went back to my room. I noticed that it had rained sometime during the night. After re-organizing my stuff, I typed out part of my journal, sent it out, and then took a shower.
At about 10am, I took off across Old Town to the Fat Margaret tower at the north end. I started my Kindle and followed Rick Steves' walking tour which starts there. This is a real handy combination. The Kindle can be read in bright sunlight.
statue in moat park, city walls (northern part of lower Old Town), another view, St. Olaf's Church, old buildings, tower along wall, St. Olaf's again, Horse Mill, sign for mill, walkway on city wall
ferry-disaster memorial, sign for memorial, Fat Margaret Tower, another view, gateway, Three Sisters hotel, carved door nearby, close-up, back of St. Olaf's Church, carved panel, Wirulane Restoran where we ate last night, entrance to restaurant, Brotherhood of the Black Heads (business fraternity), closer view of doorway, upper view, Art Nouveau building, Great Guild Hall steps, clock at Church of the Holy Ghost, another view, close-up of clock, Maiasmokk coffee shop, Town Hall Square, restaurant at square, Wheel Well, St. Nicholas Church, another view, gate at tower in Short-Leg Lane, carved niche in tower, Russian Orthodox Cathedral, Tall Hermann Tower, another view, yet another, Dome Church, view from Patkuli viewpoint, Kohtuotsa viewpoint, St. Nicholas Church
I went through the entire tour, but occasionally paused it to check out a side street or two along the way. I took lots of photographs. For lunch, I stopped at a brew pub a couple of blocks from the main square. I had a glass of their pilsner. By then I had finished the tour and just wandered around for the rest of the afternoon. I never did get anything to eat. There was a light rain most of the afternoon so I wore my cap to keep the drizzle off my glasses. I had an umbrella but didn't need it.
carved doorway at Town Hall Square, overview, Town Hall, interesting courtyard, Katariina lane, tombstones, another view of lane, Sweater Wall, Harley Davidson shop (I bought a T-shirt), statue in pedestrian area of road, interesting building supports, flower stand, city wall, deer statue, puppeteer, Noorus cafe, statues on building, Art Nouveau building
About 6 pm I stopped at another brew pub, Hell Hunt (their website). It appeared to be a local hangout. I had one of their Munich-style beers, a small one. I sat down next to the window and filled out my journal in the fading light. I imagine that the weather in Kentucky is just like this. Almost everyone here in the brew pub is wearing jeans and tennis shoes.
I didn't run across many of the others today. I saw two of the Australian ladies in a coffee shop and waved to them. In the afternoon, I ran across Jim and took him to the place where he could walk along the wall, then resumed my walk.
We all met in the Old Town square at 7pm amid a healthy rain, I used my umbrella. We walked a few blocks away to the Kuldse Notsu Korts restaurant. Dan (one of the Australians) and I shared a pork knuckle special for two. His wife had boar with gravy. Others had blood sausage and other items that I didn't see. I had the "dry" Estonian red wine. The pork knuckle came with potato wedges, sauerkraut and strong horse radish mustard sauce on the side. It was good and filling.
After we ate, we walked back to the hotel by nine. I brushed my teeth, filled out my journal and typed it up. I also started packing because we leave early tomorrow to Riga.
14 October 2014 Tuesday
I woke up at 6:30, took a shower, took my pills and brushed my teeth. I went down to the lobby and checked out. At 7:45 we caught a tram to the bus station. We got on a very nice Lux Express bus. It had individual display screens with movies, gps, etc. just like on the airlines. I watched the Dictator which had a couple of funny moments. I think I laughed out loud a couple of times.
We arrived in Riga, Latvia about 1:15. It had rained pretty heavily, but as we arrived, it reduced to the occasional drizzle. We walked an additional 15 minutes till we got to the Tia Hotel (their website). We checked in and unpacked.
At 1:30 Jim and I walked several blocks to a wine and coffee bar. They didn't understand English, so I ordered in Russian. We both had coffee with cream and a very nice hummus platter. The hummus was fresh and handmade and the vegetables were freshly grilled. It was served with three kinds of bread. It was an excellent lunch.
At 3 pm we met in the lobby and started Mirek's tour of the Old Town. This city also has an extensive and interesting old town that you don't usually hear about. It has a lot of old and remarkable buildings within the former walls of the city. Remnants of the original moat can be seen in city parks surrounding the eastern part of Old Town. Water forms the boundary of the western part. The walls have long been demolished.
Orthodox Cathedral, another exposure, building near park, Monument of Freedom, closer view, yet another view, one of the panels, statue on top, park and old moat, shield emblems at barracks-wall buildings, Powder Tower and military museum, closer view, line of shops along Torna lela and the barracks, another view, Fairy Ring in the grass (Wikipedia entry), the Swedish Gate, alley behind second wall, shop near gate, lane at Swedish gate, head outside art museum, another head, several rows of heads, another head, Castle Square history museum, Dome Cathedral (Rigas Doms), another view, Three Brothers, another view, restaurant at Dome Square, Dome Cathedral at Dome Square, pan of square (video), side street, another view of cathedral, buildings at Dome Square, outdoor restaurant with

Brugmansia

(poisonous) plants, view of St. Peter's bell tower, another view, Church of St. Peter, Musicians of Bremen, Maria and the musicians, convent passageway, front of church, another view, yet another, sign for church, bell tower, House of Blackheads, another view, closer view, St. George and the dragon, pan of square (video), statues, metalwork at top, statue in square, mirror mobile (video)
We finished our walking tour around 5pm and most of us wandered to the Lido beer house. I had several varieties of house-made draft beers. We were going to go somewhere else for dinner, but we could see what was offered here. Everybody decided to eat here. I had a lighter and cheaper meal than most, I had a small, fried potato pancake with a salmon and sour cream spread and a large portion of roasted peas with seasoning, plus a fillet of salt-cured herring. It was a good meal.
We then all walked about a mile back to the hotel. I get to my room about 9:15 and filled out my journal.
I brushed my teeth and was in bed by 9:45.
15 October 2014 Wednesday
I slept very well with the open door of the balcony to keep the room cool. I got up at 8 and went down to breakfast buffet. Jim, Dan and Sarah were there. I got ham, cheese, tomato, cucumber cold cuts, scrambled eggs with tomato, bacon, wiener, coffee with milk, then cereal, jam, yogurt, milk and also toast with raspberry jam. As I was eating, the two Australian ladies, Jo and Liz, joined us, and then Narelle and finally the Canadians, Maria and Jack.
After breakfast, I went to my room, took a shower and changed clothes. I met Jim and we started our walk. We went to the interesting KGB museum. We next walked to the Jugend neighborhood filled with Art Nouveau architecture (Wikipedia entry). I took lots of photos. Jim and I then stopped at a coffee shop. I had a Flat White coffee and filled out my notebook.
former KGB building and museum, closer view of sign, courtyard of KGB building, elevator, hallway
Albert Street sign, Art Nouveau buildings along the street, tan building with maroon panels, close-up, sphinx, gray building, light-gray building, lower part, three faces, tan-and-blue building, close-up, lower part, yellow building, two-tone tan building, upper part, close-up, figures, gray-and-blue building, upper part, figures
Jim and I wandered around the northern part of Old Town in the sporadic drizzle. We came across the "Garlic Pub"(their website) which smelled wonderful. We went in and had two garlic and herb beers, each with three cloves of garlic. We had a baked cheese, garlic, tomato tapas as a side dish.
We walked south and paid to enter the Rigas Dome. It supposedly has the largest pipe organ in Europe. There are several of these, I think.
sign for Rigas Doms (Dome Church), floor plan, interior, stained-glass window, two more, another pair, pipe organ, walkway around courtyard, cannon, mortar, view from courtyard, another view, Rigas Doms, interesting buildings in square
The we proceeded further south and entered the huge indoor and outdoor Russian Market. Jim bought an Uzbeki loaf of bread fresh out of the oven and we split it. I bought some nice dried apricots.
statue near railway bridge at southern end of Old Town, unusual building (Latvian National Library) across the Dougovo River
fish shop in first building of Central Market, more fish, yet more, wide variety, smoked eel, smoked sturgeon, smoked flat fish, Uzbek bread store, Jim's bread, vegetable section, root vegetables and squash, outdoor stands, strawberries, meat in meat building
Orthodox Church near park, locks on bridge at park
We next headed north to the southeastern part of Old Town. We ran across Narelle and asked her to join us. We found our way to the Lido and had a beer. I took the opportunity to catch up on my journal. It has been drizzling all day long. This may be the standard weather for here, this time of the year.
At seven, we met at the Laima clock tower and walked about five or ten minutes to the Folkklubs Pagrabs restaurant (their website). I had seasonal sautéed beef dish with vegetables and melted Latvian cheese on the top. It came in a little skillet. I could only eat one-quarter of it but it was very good. I had a local beer with it.
We all then walked back in the drizzle about two miles to our hotel and talked a lot on the way back.
I got to my room by 10:15, and filled out my notebook. I brushed my teeth and set clothes out for tomorrow, another travel day.
16 October 2014 Thursday
I woke up throughout the night but finally got up at 7:45. I took a shower, brushed my teeth and took my pills. I finished packing and carried my pack and bag down to the lobby. I went to the breakfast room, but didn't eat, I don't usually eat or drink when traveling. I did join the others and talked.
While the others were packing, I waited in the lobby and filled out my journal and typed some.
At about 9:30, we all boarded a small bus and headed for Lithuania. It is not raining at the moment, which is noteworthy.
We were stopped at the Lithuanian border. The driver opened the bus door and Mirek told the border guard that it was a tour group of Australians, Americans and Canadians. They let us on through without looking at passports.
It rained off-and-on for the day. The road was two lanes, but there was a lot of construction and one lane was often closed. It made for pretty slow going. We stopped briefly at a currency exchange place, but I will get Lithuanian money at an ATM later.
Every place I've been so far has been relatively flat. Helsinki had a few granitic low hills and Tallinn Old Town castle was built on a small hill, but everything else has been absolutely flat. I think this is due to continental glaciation. I saw glacial striations on the granitic rock at the orthodox church in Helsinki.
We passed a reindeer farm at about 11:30.
At noon, we stopped at the Hill of Crosses (Wikipedia entry). We got out and walked about 100 meters to a small hill covered with large and tiny crosses. There must have been a million crosses. They were first put their as a memorial for the people who went missing after an uprising against the Russians. The temperature was much colder, but not freezing and there was a breeze. With the drizzle, it seemed pretty cold.
The country-side also had more low hills than what we had seen. However, as we proceeded, the hills are becoming more larger and the landscape is now looking more like the gentle hills around Lexington, Kentucky. I haven't seen any rocks or rock outcrops except for glacial erratics. I suspect the hills are also of glacial origin, although I haven't seen any till or obvious moraines.
The forests are mostly birch and conifers. I've seen fields of mustard, winter wheat, dairy cattle, and even a "Bison Ranch" according to the sign. It has been too rainy and gray for photographs.
At about 2 we stopped at a gas station-restaurant so that the driver could take his mandatory break. I ordered a pastry that had sausage in the middle and I had an Eskimo bar. Others had larger meals, Ardis had french fries and shredded beets, cabbage and carrots. Maria had blinis wrapped around cottage cheese plus jam and a sweet cream. Jack had chicken fillet with gravy, rice and something else. I paid using credit card because I don't have any Lithuanian money yet.
We arrived at Litinterp B&B (their website) in Klaipeda (Wikipedia entry) about 2:45. I have a small room and share a bath with another room. None of our group are in that wing. My room is nice and clean though.
At 3:15 we gathered at the front of the B&B. We walked to the small and not very ancient Old Town. On the way, I stopped at an ATM and got Lithuanian money. This town used to be known as Memel from WWII and back. I took several photos but there isn't much light in the overcast skies.
park along river in Klaipeda, memorial structure in park, three-masted sailboat, sailboat and river, cobbled street and wooden doors in Old Town, mouse sculpture, giant chessboard, another view, Simon Dach monument (Prussian poet)(Wikipedia entry), close-up, square in Old Town, close-up
We ended up at a restaurant in Old Town that Marek suggested, it was "Friedricho Pasaza,"(their hotel and restaurants, website) on Tiltu street. I had a nice borsch and a special fried potato cake with some meat in it, "Kedainiu blynai su mesa" and two Svyturio Extra beers. Everything was local. I couldn't eat all of mine again.
We walked back and stopped at a grocery. I bought two bananas for tomorrow. Tomorrow may be a cold day, so I'm going to add my sweater to my day bag.
We walked back to our rooms. I filled out my journal and typed it out. I brushed my teeth, prepared for tomorrow and went to bed by 9pm.
17 October 2014 Friday
I slept very well last night, the best of this trip. It wasn't so hot in my room for a change. All the other beds must have had polyester sheets or mattresses. I woke up about 7 am.
I brushed my teeth and boiled a pot of water. Outside my door was my breakfast basket. It had two slices of rye bread, two of white, butter, jam, white cheese, four slices of salami, Activia cherry yogurt, banana, and orange juice. I had instant coffee to drink.
I met the others in front of our little hotel. We met our local guide, Rasra. She is from Klaipeda. We walked to the ferry and took a five minute ride across the narrow inlet to the Curonian Spit (Wikipedia entry). The Spit is about 100 km long and separates the Baltic Sea from the freshwater lagoon. The northern part of the Spit belongs to Lithuania and the southern part, to Russia (the isolated Kaliningrad state). Much of the Spit (the part in Lithuania) is a park called Neringa, and I assume it is protected.
We got on a bus and had a bumpy ride southward. We rode along the Spit till we got to Nida, only a few km from the Russian border (Kaliningrad border). We stopped at various places along the spit. We walked along sand dune trails and visited a World Heritage village (part of Nida). The temperature was about 40-45 degrees F with a constant breeze, but it never rained. It was nice to be able to walk in a forest for a change. We picked mushrooms for our guide who will take them home tonight to cook for supper. They were yellowish brown with netting instead of gills. We also saw other mushrooms including the Fly Amanitas (Amanita muscaria) which is poisonous.
walk to the dunes, red mushrooms, another, tan mushroom, large white mushroom, small mushrooms, yellow mushroom (this were the kind that we picked), other side, dwarf conifer trees, large sundial, Lithuanian symbols for the months, sculpture, sign for sundial and dunes, fresh-water harbor at Nida, dune plants, dune field, dune field on eastern side of spit (fresh-water bay on left, Baltic Sea on right), sign for dunes, walkway and dune top, edge of dune top and bay and mainland in background, windward side of dune field, Fly Amanita (

Amanita muscaria

, poisonous), heavy-duty swing, see-saw, avalanche slope of dune field, walk back to Nida, Mallards, mostly seagulls, another view, swans, family-specific weather vanes and mastheads, thatched roof at Nida (World Heritage site), lane in Nida, another roof, red house, tending her yard, fisherman's house?, nice yard, interesting landscaping
This is not tourist season and most of the restaurants and cafés were closed. We found a good one for lunch (I don't remember the name). I first had Spicy Bean Soup which was excellent and had a lot of flavor. I then had the local specialty called zeppelinas with a mushroom sauce. My plate came with two large zeppelinas. The zeppelinas are American football-shaped potato dumplings filled with meat. I could only finish one of the two. I had a local wheat beer for drink. After lunch, we visited an amber museum.
We went to the Hill of Witches (Wikipedia entry) which was a hiking trail in the forest. There were many wooden sculptures along the way and there was a story for each. Our guide did a good job entertaining us with the stories.
carved totems
entrance sign to Hill of Witches, girl with basket, our guide at entrance, swiveling fish, old man, sorrel flower, carving with towers, long bench, group photo, multi-paneled carving, our story-teller (each carving had a story), reclining mermaids, Narelle in log throne, detailed carving, carving with roofs, Rasra and carving of a king, tree with birds, man with shovel, hill with carvings, wife with lantern, several carvings, kissing log, Sarah and Dan, Gates of Hell, dancing party, Dan on climbing structure
Toward the end of our excursion, we stopped at a café-bar. Several of us had hot mulled wine. I also ordered a sampler of five local spirits. These were different kinds of spirits, some sweet, some medicinal, and some very strong. They ranged from about 35 to 50% alcohol. I passed these around to all three of our tables, so everyone got to try them. One was made from spiced honey, one from local berries, one from fruits, leaves and roots, one from 27 different items, and one from kvas. They were interesting.
When the time came we caught the bus back to the ferry. We loaded onto a low, fast ferry, entirely different from the first one. The ride just took a couple of minutes. It was 6:20 by the time we got to the mainland.
We walked directly to the Old Town for dinner. The first restaurant we wanted only had room for five and we were a party of nine, so four of us went on to another restaurant on Friedrichs Passage. Narelle chose an Italian restaurant there. Two of us had lasagna and two had spaghetti with meat sauce. I had their house red wine. The dish also came with a nice salad and two slices of garlic bread. I was the last to finish, but we had interesting conversations.
We walked back and I got to my room by about 8:15. I finished filling out my notebook for today and typed it out. I brushed my teeth, got ready for tomorrow (a travel day), and went to bed by 9:30.
18 October 2014 Saturday
I woke up at 7, but got up about 7:45. I made instant coffee and then took my pills and brushed my teeth. By then, my breakfast basket had been delivered. It was almost exactly like yesterday's, except that there was a fruit bar instead of a banana. Although, I normally might not eat before a travel day, I did eat this morning. After breakfast, I took a shower and finalized packing. I also filled out my journal and backed up my photos. According to WhatsApp messages, Mary is in Moscow with 2.5 inches of snow. It is in the 30's and 40's F here, so not as cold as Moscow. I think the Baltic Sea moderates the climate here.
We met outside at 9:45 and walked about 20 minutes to the bus station. It is bright and sunny, we haven't seen the sun in many days. The temperature is in the low 30's and there is frost on the ground. After a twenty-minute wait, we loaded onto a large bus to Vilnius. I had a seat to myself. The bus had been freshly washed and there was free, but slow wifi.
We made a quick bus stop somewhere. The temperature was 3 degrees C, but bright and clear. The temperature within the bus is in the 80's F. The sun is so bright, I had to use the curtains at my window. I had a box of apple juice from breakfast, some breakfast fruit cookies and a banana.
Except for the Hill of Crosses region and the dunes of the Curonian Spit, the landscape remains very flat except for some low river valleys. There were orchards there. As we went south-east, things changed a bit. With the wifi and the GPS on my phone, I was able to follow our progress on a map. The closer we got to Vilnius, the hillier it got. Perhaps these are large continental moraines, although I haven't seen any exposures.
We got to the Vilnius bus station around 2pm. We walked to a tram stop and took the tram several stops to near Old Town. We walked a short way to our hotel, another Litinterp (their website), and got there by 3pm. These hotels are clean and simple. My room was small but larger than my previous one. I do have a bathroom this time.
At 4pm we met on one of the streets close to our hotel and Mirek gave us a two-hour tour of part of the Old Town. I took some photos.
Pilies Street, our street with teapots, more teapots, sundial at Cathedral Square, Belfry and balloon at square, alley with art, close-up, St. Anne's and Bernardine Churches, another view, statue, another view of churches, creek (border of Uzupio Republic), sign for republic (a semi-mock republic), monument for republic, another view, Uzupio articles of constitution, St. Kasimirz Church, archway at Holy Trinity Church, close-up
After the tour, Jim, Narelle and I walked up the spiral walkway to the upper castle and took photos at sunset.
cathedral square, another view, lower castle, Neris River, another view, Gediminas Tower, Vilnius at sunset, pan of Vilnius (video), lower castle, Old Town, Narelle and Jim, upper castle ruins
After that Jim and I went to get a coffee. He had been to one that he liked and suggested it again. It was a chocolate place. They made chocolate drinks, ice cream, cakes, candy, etc. He suggested that we each get a hot chocolate, so I did. It was basically a cup of the hot chocolate fondue. Very rich and warm. I think Jim is addicted to chocolate. After that, we found a store which we will have to use when we go to the national park in a couple of days.
At 7:30 we all met on the street and walked a very short distance to Restoranus Forto Davaras. I had Chilean red wine, wild mushroom soup in a rye-bread bowl with lid, and a regional specialty of plaice fish, mashed potatoes and salad. For dessert, several of us had mulled wine. It was all good.
I was back in my room by 9:30. I filled out my notebook, washed my socks, brushed my teeth and went to bed by 10:45. I'm either getting a cold or allergies.
19 October 2014 Sunday
I think I have either a sinus infection or a cold. Probably sinus infection. I tended to my nose all night. I didn't get as much sleep as I would like. I got up at 7, brushed my teeth and took my pills. I brought the breakfast tray of food that had been delivered outside my door. I made a rye-bread sandwich with butter, white, sliced cheese and ham slices and a white-bread sandwich with butter and strawberry jam. I had German strawberry yogurt, a thermos of coffee with cream and a dash of sugar (the coffee was strong and bitter).
I took my morning shower and put on my day's clothes. According to a weather app, it is 28 degrees F, so it will be another chilly day outside. I filled out my notebook and looked at messages from my family.
At 8:30 we met in the street outside our hotel. We walked 20-30 minutes to the bus station and caught a bus to a castle about 45 minutes outside of Vilnius.
We stopped at Trakai and walked 30 minutes to the Trakai castle (Wikipedia entry). It was cold with a constant wind. There was a lake surrounding the castle and the wind was blowing the heavy mist across the lake. We bought our tickets and spent two hours wandering through the exhibits of the castle. Most of us stopped at a cafe and had coffee to warm up. We met at the footbridge and then walked back to the bus at 12:45 and headed back to Vilnius.
walking to the castle, church, another view, grocery, mist at Lake Galve, mist on lake video, wall tower?, Maria at bridge
mist and castle (video), bridge to castle, castle mist, fisherman, his catch, students on tour, castle and bridge, another view, castle front, girl in black posing, courtyard, another view, balcony walkway, courtyard entrance, student group, souvenir corner, students and courtyard, moat area, another view, entrance to upper castle, drawbridge and gate, inner courtyard, chain mail, mortar, thrones, throne room, shield and pikes, life-size figurines, model of castle, another model, another view, inner courtyard from above, more figurines, another, lower castle, bridge back, shops and cafes
In the future, I would not hesitate to come to any of these Baltic countries on my own. Most people know some English, so I don't think anyone would have a problem getting around, getting a hotel or ordering food. A few times people would think I was Russian or German and so I would just respond to them in those languages.
As we headed to Vilnius, I noticed that it was 3 degrees C, so just a little above freezing. We arrived at the Vilnius bus station. We walked back toward the hotel in the light rain. On the way, we stopped at the supermarket to shop for food and drinks for the next two days. We took the items back to our room.
Jim and I then walked to the Restoranus Forto Davaras again. I ordered the mushroom soup in rye-bread bowl and a traditional zeppelinas with meat in a crackling gravy. I had a half-litre Svyturys Ekstra beer for drink.
After the late lunch, I waked back to my room to take a nap, I wasn't feeling well. I was there by 3:45. I slept for about an hour.
About 5, I got out and walked around town in the drizzle.
I met the others at dinner, but I only had hot, mulled wine. I left early and found a drug store that the others told me about. It mostly had cosmetics. I talked to the ladies there and they said that saline nose spray was all they had, so I bought it. I went back to the room by 9, brushed my teeth and took the nose spray. I hope it helps. I filled out my notebook and typed it out. I went to bed by 9:30.
20 October 2014 Monday
My nose was somewhat acting up in the night and I'm starting to cough some. I got up at 8am. I brushed my teeth, took my pills, and started packing. Breakfast came and it was much the same as before, but less, only one cup of coffee and not enough bread for the jam and cold cuts, no fruit, and no juice. I may have gotten someone else's breakfast, because we pre-order breakfast.
Mary is in Turkey now and she really likes it.
We gathered at the street at 10:30 and walked about 1/2 mile to a tram stop. We caught the tram for a couple of miles and got off at the train station. We boarded a train to Aukštaitija National Park at 11:35. There is open seating, but we were all able to get in the same car. Today is mostly cloudy with a little blue here-and-there, but it is very warm, about 55 degrees F (13 degrees C). I packed my sweater away and put up my flannel shirt and I'm wearing my St. Petersburg Harley Davidson T-shirt that Mary got me. Fenton and I are both wearing Harley T-shirts and Jack also has a Sportster, so we have our own bikers' club. Narelle bought me a tin of Harley Davidson mints that I've been passing around. The train ride is very pleasant. The car is simple, but clean and the windows are clean, so it's easy viewing.
We pulled into our station and a couple of shuttle buses were waiting. We drove for about 20 minutes till we got to a lake and woods. This is part of Aukštaitija National Park. We are all staying in two cabins. My room is on the bottom floor next to the tiled wood over and it is very warm.
After 15 minutes (2:15), most of our group met at the edge of a flowing creek and got into several two-person open kayaks. They were going paddling for a couple of hours. I didn't feel up to it, and two others stayed back as well. It did rain some, so the kayakers probably got wet.
I stayed in the cabin, coughed a lot, and filled out my journal. I tried to play some music, but the speakers on my notebook computer are just too little and I didn't bring my external speaker.
The lady that tended to our cabins didn't speak English and I didn't speak Lithuanian, so I used Russian to ask her questions about our stay.
I was starting to feel steadily worse. We had all bought sausages, cheese, bread and other snacks, so we set these out for the group to snack on. I had gotten some kind of pepperoni sausage (but not spicy), a Memel blue cheese, a sunflower seed dark bread and a box of Spanish red wine.
Dinner was served by two local ladies. There was a bowl of cooked mixed vegetables, a bowl of nicely seasoned chunks of port and potatoes, slices of fresh tomatoes and cucumbers, and bread. I had a little bit but was feeling worse. I excused myself and went to bed about 7:45.
I didn't sleep a wink all night long, because of the constant dry cough that I had. I got up numerous times throughout the night to get more tissues and water. This is the worst cold I've had in years.
21 October 2014 Tuesday
I've been up all night. I got up at daylight, brushed my teeth and took my pills. I had a cup of tea and filled out my notebook. I hope I didn't keep anybody up last night, but I'm sure I did. My face feels swollen and my rib cage is sore from coughing.
At 8:30 the two ladies started bringing food for breakfast. We had pancakes with thick cream and a really good homemade jam of red berries, beetroot, and pears.
At about 10, Marek took the group out for a 2-3-hour hike. I stayed back at the cabin to rest. Fenton and Ardiss also stayed back. I was actually able to sleep some and my coughing was reduced. One of the local ladies heard me coughing and said to wait. After about 5 minutes, she came back with two items, a box of thyme tea bags and some frozen raspberry jam. I had to speak to her in Russian and I didn't understand everything, but basically I put a large spoonful of jam in a tea cup with the thyme tea bag and added hot water. I drank this combination throughout the day. I don't know if it helped, but it was good and I wanted to add lots of fluids to my system.
We had lunch about 2pm, lots of cold cuts, farmers cheese, toast with garlic, and cut vegetables.
I rested in the afternoon and at 5 we had appetizers made up of the items we bought earlier in Vilnius, so it was sausage, cheese, dark bread, peanuts, etc.
At 7, we were served dinner. We had a nice sauerkraut potato soup, cut vegetables, rice-stuffed eggplant, pounded-chicken thighs, rice, bread and roasted apples from the apple tree in the back. It was a very nice meal.
I went to bed directly after dinner, about 7:45.
22 October 2014 Wednesday
I slept through the night with no major coughing spells. I got up at 8, brushed my teeth, took my pills and tried to fill out my journal based on memory.
We had porridge, omelettes, toast and raspberry jam for breakfast. After breakfast, I started packing. I noticed that I was missing a flannel shirt. I only had three shirts originally, now only two, so this is unfortunate. I must have left it in a hotel room somewhere.
At 10:30, we loaded onto our small bus. I said goodbye to the ladies that took care of us and hugged the lady that brought me the local medicine. She walked with her arm around me to the bus. She knew that I appreciated her care. It is much colder and there is frost on the ground.
We got to the bus station in Vilnius around 12:30 and stored our luggage. Most walked with Mirek to a restaurant for lunch. I was not hungry so I stayed at the bus station. I went to a café in the station and ordered a coffee in Russian. I still had a few Lithuanian coins, enough to pay for the coffee. I had to ask beforehand how much it cost to be sure I had enough.
We boarded the bus about 2:45. We had assigned seats and I was next to the window. The bus was full. It had slow wifi and movies at each seat. I watched a series of non-descript movies on the very long bus ride. We got to Warsaw, Poland about 11pm Vilnius time (10 Warsaw time) so it was about an 8-hour bus ride. There was a bathroom stop after the first hour, but none after that. There were some desperate people on the bus. I didn't eat, drink or move from my seat.
At Warsaw (Warszawa) we caught three taxis to our hotel, Hit Hotel (their website), of the TIA hotels. I got to my room about 11 local time. There are many young people hanging out and it is somewhat loud all the time. The room appears to be neat and clean, but the hotel seems to cater to the hostel and blue collar travelers.
Anyway, it was pretty hard to move around after sitting in a cramped position for 8 hours on the bus.
I filled out my notebook, had a glass of wine, brushed my teeth and went to bed.
23 October 2014 Thursday
I got up at 6:50. Several men in the courtyard have been talking loudly all night long. My missing shirt was in my camera bag. I'm glad I found it.
I went down to breakfast at 7 when they opened. I got a sort of jam-filled blini, farmers cheese, cold cuts, seeded bread, sliced cucumbers, white cheese, and lots of instant coffee.
We met in the lobby at 8:30 and took a tram to Old Town. Marek gave us a one-hour tour of the northern part of Old Town. I had been here before and had seen most of the sites.
front of hotel, Sigismund Pillar at Castle Square, colorful buildings and wall at square, buildings with sgraffito designs (Wikipedia entry), sign for Royal Castle, rose-and-tan church, doorway to church, St. John Baptist Church, red building in Old Town Market Square (Rynek Starego Miasta), sign for square, mermaid fountain in square, another view, colorful buildings (sgraffito on one), cobbled side street, Barbican (Barbakan) fortification, sign, between walls, another view, outer wall and moat area, outer wall, statue of child soldier (Little Upriser), one of the soldiers, statue and sign, clock on wall, outer wall, another view
We then took another tram west to the Warsaw Uprising museum (for uprising, Wikipedia entry) which was very interesting and very well done. I had not heard anything about this event prior to the museum visit.
sign for Warsaw Uprising museum
After the museum, Jim and I walked several miles eastward, back to Old Town (Stare Miasto) but this time we walked along the southern part (along the Royal Way). We walked into one of the big churches and saw a memorial plaque (or burial marker) for Chopin, who was from Warsaw. There was also a large monument for Pope Paul who was from Poland.
statue, close-up, sign for statue, Adam Mickiewicz monument (Wikipedia entry), Church of the Visitandines, sign for church, statue of cardinal, memorial and sign, Church of Holy Cross, memorial plaque for Chopin, pipe organ, altar, monument to John Paul and sign, view from church stoop, statue of Copernicus and the Polish Academy of Sciences, close-up
Jim and I walked back to the northern part of Old Town and found a nice little café called Shabby Chic. We both had the same lunch, soup and sandwich. The soup was a homemade cream of tomato with herbs and croutans. The heated sandwich came with a seeded bread, prosciutto, sun-dried tomatoes, Camembert, mixed greens, herbs, etc. A very nice combination. I had a local dark beer made with honey. Then we had mulled wine. The temperature is in the thirties Fahrenheit. I also filled out my notebook.
Jim went shopping and I walked around. We all met at the Old Town square with the Warsaw Mermaid (Old Market Square). We walked a short distance to the Barbakan Restaurant. I had Zurek soup (pork-based with some amount of rice and spices) and mushroom pirogies. I had a Zywiec draft beer. I couldn't finish my pirogies. Some people had dessert, but I couldn't. We had a lot of good conversations.
At the end of the meal, we walked to a tram stop, took the tram a couple of miles and walked the rest of the way to our hotel by 8. It's been a cold day.
In my room, I realized that my window doesn't really shut and that my radiator doesn't work. It may be a cold night. I think the partiers are going to be up all night again. I went to bed by 9:15. We have an early start tomorrow.
24 October 2014 Friday
I got up at 4am, took a shower, took my pills and brushed my teeth. I also finished packing.
I went down to the lobby by 4:30 and picked up my bagged breakfast that Mirek had arranged for us. We walked to a tram stop, and caught the tram to the train station. We had a few minutes so several of us bought some coffees. We caught our train to Berlin at 5:35. It is a nice, clean train, no wifi though. I took the opportunity to type out my journal and eat some of my breakfast of two cold cut sandwiches, yogurt, orange, banana and juice. I gave the sandwiches and juice to a German fellow sitting and talking to Jim. He is from a town near Leipzig and studied journalism and English. He has an internet newsletter on multi-national finances.
We pulled into the Eastern Berlin train station and then took an S-Bahn to Warshauer Strasse. We walked a short distance to our hotel Friedrichshain Hotel and Hostel. The funny thing is, this hotel is just half a block away from Hotel Klassic where I stayed the last time I was in Berlin.
The rooms weren't ready so we went to a neighborhood with numerous restaurants. Jim, Jack and Mariah and I went to a Thai restaurant. I ordered a spicy Thai dish with pork and rice and had a Warsteiner beer.
We walked back to the hotel and our rooms were ready, so we checked in and carried our luggage to our rooms. The rooms are small, but nice and clean.
At 2, we met in the lobby and walked to the S-Bahn. We got tickets and went to the central part of Berlin. We walked to the Brandenburg Gate and took photos. Mirek started his walking tour that lasted about two hours. It was cold, windy and overcast, but never rained. We walked to lots of interesting sites including the location of Hitler's bunker, the Berlin Wall, the Wall Museum, the Occupation of Terry museum about Nazis, Check-Point Charlie, Humboldt University and the site of the book burning, the Berliner Dom, Museum Island and Alexander Platz. I was first here in 1972 and everything has changed since then.
Brandenburg Gate, chariot at top, Reichstag Building, Holocaust Memorial, another view, Jack standing over site of Hitler's bunker, remnant of the Berlin Wall, Deutscher Dom (Neue Kirche) at Gendarmenmarkt Square, another view, yet another, Gendarmenmarkt, video of square, Concert House, statue of Schiller in front, the French Cathedral, old library at Bebelplatz (where famous book-burning occurred, Wikipedia), St. Hedwig's Church, Neue Wache and memorial, another view, Spree River (Museum Island on right), Berliner Dom and Alexanderplatz TV tower, fountain at Alexanderplatz, St. Marien Church, famous East German TV tower
We then grabbed an S-Bahn and returned to our hotel by 6 pm. I tried to connect to the hotel wifi, but could not after many attempts, I even tried in the lobby. It is a shame to be in a modern city and not have access to a reliable wifi network. I would not stay here again, just for this reason. I will have to use cafés tomorrow for internet access. I went back to my room and filled out my journal.
At 7, we met in the lobby. We walked a short distance to a street full of neighborhood full of international restaurants (I had been here several years ago). Marek made reservations for our last dinner together at the only German restaurant on the street, Ruchen Rausch. Before our meal, the chef gave us complimentary pumpkin soup which was very good. I had Wiener Schnitzel with sautéed potatoes and onions and a nice mixed-green salad. My portion was big enough for three people. I also had two Warnesgrunner beers. The meal was very good, but I could only eat half of it. We had several toasts and we all mentioned what a wonderful trip it was, and how good Mirek was as a guide. And we all talked quite a bit.
After dinner we walked back to our hotel rooms. I brushed my teeth and went to be about 10:30.
25 October 2014 Saturday
I got up at 7:30. I took my pills, brushed my teeth and took a shower. The shower worked well, but the cheap fixture that held the shower wand didn't work at all. This is a common fail in many hotels that I have been to. I washed out several pairs of socks in the sink. The drain stopper that was supplied didn't fit the drain, so I had to improvise. I hope my socks dry before it's time to leave.
Jim and I met in the lobby at 8:30 and walked to a bakery nearby. They didn't have wifi, but we had coffee. Jim had breakfast there, I had a small pecan pastry which was nice.
When we finished, we walked to a café that had wifi near the hotel. I had another coffee with wifi. I managed to check my plane tickets and send out three e-mail journal entries. I 'll be using this café daily.
Jim and I walked to the nearby S-Bahn station and bought a Day Card for 6.70 Euro. We caught the S-Bahn to Friedrichstrasse station. We spent most of the day in the same area as yesterday, but went into museums, stores and cafés. Jim especially liked the Fassbinder and Rausch chocolate store (their website). We went into some churches as well. I stopped at a sausage stand and had a Berliner currywurst with fries and a Berliner beer. Jim had fries. We went to Museum Island to scope out what to do for tomorrow.
We worked out way to Alexander Platz by 3:30. We stopped at a street-side bar to use the WC and I had another Berliner beer. It is cold and overcast, but brighter now than this morning. I filled out my notebook while at the bar. We sat outside even though it was cold. Jim had a red Berliner Weisse, a beer with fruit syrup. He liked it.
We hopped onto the S-Bahn at Alexanderplatz and went to our hotel stop. However, we next headed to Tegel Airport to see how to get there and to time it. We took two lines to Jungferheide and then caught the XL bus to the airport, total time, about one hour. We found our respective terminals and then returned to our hotel by 6:45.
We met again at 7 and walked to the international-restaurant neighborhood. We found a nice Indian restaurant owned by a Sikh fellow. I ordered lamb vindaloo, garlic naan, achar, and a Warsteiner beer. It was nice to have some spicy food.
We went back to the hotel in a very light sprinkle. I got to my room, filled out my journal, brushed my teeth and went to bed by 9.
26 October 2014 Sunday
I woke up at daylight, but got up at 7:45. I brushed my teeth and took my pills. My socks were still damp, so I dried them out with a hair-dryer. I also took my morning shower. After that, I typed out my journal.
I knocked on Jim's door at 9:10. He answered and said that the time changed overnight and that it was really 8:15, so consider my times for earlier this morning to be incorrect by one hour.
We met in the lobby and walked to the S-Bahn and got a day pass.. We rode to Alexanderplatz and walked to Museum Island. We bought a three-day Museum pass good for 50 museums, plus we go to the head of the line at the entrance, and get free audio guides.
We first went to the Pergamon Museum, one of my favorites. In 1972, I was the only person in this museum (it was in East Berlin). I spent two hours walking around with the audio guide. I was allowed to take photos, so I took lots (no flash). This museum has Nebuchadnezzar's Palace, ruins from Ur, Uruk, Pergamon, etc.
At 1:30, I met Jim in front of the Egyptian museum (Neues Muzeum). We walked a couple of blocks north and found a series of restaurants. Jim wanted to eat at the BBQ Restaurant, so we went there. Jim got a quarter chicken and I got spare ribs. The meat was roasted, not smoked and not seasoned either. A sweet BBQ sauce was added to the ribs when they brought it to me. The chicken came out with sauce on the side which Jim didn't use. We also had french fries and I had a Berliner beer. It wouldn't pass as BBQ back home and wouldn't make it as a BBQ restaurant. I did fill up on it though.
We went back to Museum Island and went into the Neues Muzeum. This museum is most famous for the Nefertiti bust and the Egyptian collection, but it also contained Greek, Roman, and other ancient items. I took photos here as well. Photos of the beautiful Nefertiti bust are forbidden, but I believe I took a photo in the 70's or 80's. It's amazing how beautiful that bust was.
Jim and I met back outside and walked to the Alexanderplatz station and took the S-Bahn back to our hotel. I went back to my room and took a short nap. After that, I filled out my journal.
At 7, Jim knocked on my door. We went to the international neighborhood looking for a restaurant. I still wasn't hungry. We found a Viet Namese restaurant that I had seen last night. We went in and I had a soup with coconut milk, chicken, thick noodles, lime juice, lemongrass, scallions, etc. I also had home-made spring rolls and a Warsteiner beer. It was all very good, but I could only eat part of it.
We walked back to the hotel. It is much warmer now, perhaps in the 50's F. I brushed my teeth and then watched a little German television. This is the first time I've had the television on for the entire trip. Nothing was in English, so I still don't know what is going on in the rest of the world. I went to bed at 9:30.
27 October 2014 Monday
I got up at 7 am and did my morning ablutions. I also typed out my journal.
I knocked on Jim's door at 8:30 and we walked to his favorite bakery. He had breakfast and a coffee. I had a large coffee and the small pecan pastry. After that, we walked to the café next to the hotel, it has wifi. I ordered a large coffee and a croissant. I sent off one e-mail journal entry, and located the Berlin Harley Davidson.
At 10, Jim and I jumped on the S-Bahn and went to Alexanderplatz. We walked to the Museum Island hoping to go to the alternate collection of the Pergamon Museum, or the Art museum, only to find that both were closed on Mondays. So much for our 3-day pass. I won't be here tomorrow.
The we decided to visit the Harley shop near the western end of the Tiergarten park. It was a nice walk on a beautiful day. We got to the Harley shop and I looked over the T-shirts. I found one I liked and bought it. They had a coffee shop within the Harley store. Jim got a coffee and I got a beer.
On the long walk back through the southern part of Tiergarten park, Jim said he wanted to tour a museum along the way. I was not interested in that museum, but walked him to it and then went on my way for several miles to Unter den Linden. I walked across Museum Island and crossed to the area north of there and walked along the streets. It is a pleasant day to walk.
At 5, I met Jim at a designated area on Museum Island. We took the S-Bahn back to the hotel. We dumped our gear and went to the Indian restaurant that we previously visited. I had a beer, I didn't want a heavy meal before my early travel day tomorrow. Jim had a lamb curry and rice.
I went back to my room and started re-packing everything. I left a pair of old jeans and two pair of cotton socks. I also left a pair of cheap wool gloves and a wool knit cap that I never wore. I was through by 7:30 and went to bed by 8.
28 October 2014 Tuesday
I got up at 5 am, took my pills, brushed my teeth, and took a shower. I left clothes for the cleaning lady. Today is the 25th anniversary of the end of the Cold War (especially for Berlin), and there are ceremonies going on today. I finished packing and left the hotel before 5:30. I walked to the S-Bahn and caught two trains and a bus to Tegel Airport. It was all very smooth. I checked in and went to the First-Class lounge of Air France. I sat next to the window and watched a beautiful sunrise.
Berlin remains one of my favorite cities in Europe. It reminds me a bit of Washington DC. It has an efficient and cheap metro system, lots of high-quality museums, and a lot of international neighborhoods and restaurants. And everyone is wearing brightly-colored sneakers.
In the lounge, I typed out my journal and sent out an e-mail. I had several cups of coffee and small sweet rolls. The lady in the lounge came and told me when my flight was ready and then I went through security and boarded.
The flight to Amsterdamm was late in landing due to very dense fog at the airport. I hurried to the next terminal and did not have time to go to the lounge. I boarded the flight and sat next to the front, my seat has its own little cockpit or cocoon. One can actually lie flat. I'll be watching movies. I was given a glass of champagne and a menu and I ordered dinner.
We were a little late taking off, again due to the backlog from the dense fog. I watched 22 Jumpstreet (I watched 21 Jumpstreet on the way over). I was served a series of dishes, shrimp, smoked salmon, beef tenderloin, spinach, scalloped potatoes, ice cream, cheese, crackers, and I had red wine. Then I watched Anchorman 2, Bad Grandpa, and Snowpiercer. We were served breakfast, but I declined, I was too full.
We arrived in Detroit a little after 5 pm. We didn't have to fill out the little cards like we used to. You now go to an electronic kiosk, slide your passport into the reader, you then get your photo taken and a receipt is printed out. You take the receipt and passport to the officer. I didn't even have to wait in line. It's the easiest entry I've every had.
I walked to my next terminal and gate and filled out my notebook. I texted home to let them know that I was on schedule.
My plane to Lexington boarded about 7:10 and took off about 7:50. I must have fallen asleep because we landed after what seemed to be 15 minutes. It was 9 pm. I was the first off the plane and headed to the baggage area. Anne was waiting there for me. We walked out into the light rain and drove home. The dogs seemed to miss me too. It's always good to get home.