Forest and Natural Resource Sciences encompasses a wide variety of social and natural science disciplines while addressing issues that range from molecular to landscape and societal levels. This broad scope creates a stimulating atmosphere for graduate education and research, leading to innovative approaches in the sustainable management of forest and other natural resources.
Graduate study can be conducted in a variety of disciplines and interdisciplinary topic areas including plant physiology, genetics, forest management, forest soils, economics, invasive species, natural resource policy, wood utilization, wildlife biology and management, conservation biology, forest ecology, silviculture, hydrology, natural resource policy, restoration ecology (including mine reclamation), and watershed management.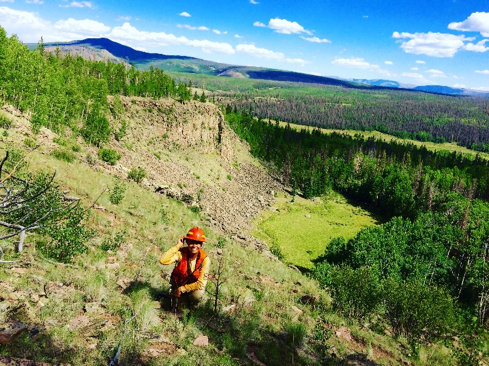 Working as a forester on the Grand Mesa, Uncompahgre, and Gunnison National Forests has been an amazing experience. I have been actively mitigating spruce beetle damage in subalpine stands for sustainable timber products, fuel reduction, and regenerating a healthy new age class. The skills and education that I received in the undergraduate and graduate forestry programs at the University of Kentucky have granted me the opportunity to refine and expand my love for our nation's forests.
Application Requirements - MS
Fall application deadline - Same as graduate school, unless applying for an assistantship; if applying for assistantship, contact DGS
Spring application deadline - Same as graduate school, unless applying for an assistantship; if applying for assistantship, contact DGS
Summer application deadline - Same as graduate school, unless applying for an assistantship; if applying for assistantship, contact DGS
CV
Personal Statement - This should describe one's academic and professional goals and interests. Applicant must indicate in personal statement: (a) which faculty member s/he wishes to have as the major professor, and (b) whether or not s/he is applying for an assistantship.
GRE
Three letters of recommendation
---
Admission Officer Contact Information
mary richardson
201C Gillis Building
859-257-4618
mrich6@uky.edu
---