Notes from 2016 Summer Academy@UK
Here are updates from Matthew Deffendall, Director of First Gen Initiatives, who is the Summer Academy @ UK 2016 site director - in partnership with Tony Bartley of the CPE's Gear UP Kentucky program. See more about the Summer Academy @ UK 2016 here.
Day 1 - July 10
Thank you to everyone for today's successful move in day for the 2016 GEAR UP Summer Academy @ UK. It was truly a team effort.
We had several no-shows. The CPE GEAR UP KY staff will contact these families to find out why their students did not come. I also made the call in communication with Bruce Brooks, Executive Director of GEAR UP KY, to allow two students to participate despite being on their "no response" list. Therefore, our final headcount is 98 students (21 male and 77 female). UK's goal is to retain 95 of those students to graduation.
We started tonight after orientation with Human Bingo, Ultimate Rock Paper Scissors Championship and team games/ banner creation.
Monday's theme is "Getting Connected" where we focus on LINKBLUE ID, Canvas, getting started in GUK 101. We finish with a traditional Chinese dinner at Panda Cuisine with a program led by the UK Confucius Institute, International Center.
Let's get started.
Day 2 - July 11
Today was mostly spent in the computer lab getting all 98 of our students onto Canvas, setting up their UK Link Blue, and posting their first blog.
Students loved the flexibility of choosing where they want to eat on campus for lunch and the hard lesson of budgeting your allocation for the week.
Our first GUK 101 session led by Tony Bartley covered GUK expectations, True Colors personality led by Victoria, presentation from UK financial aid regarding KEES and FAFSA to talk about scholarships and deadlines.
We culminated the day essentially filling up the entire Panda Cuisine restaurant filled with a buffet of food, Chinese music and some Chinese  Karaoke. 
Day 3 - July 12
Today 2016 Summer Academy @ UK students spent the morning with UK Campus Recreation and there are some great pictures on their Facebook page.  Yoga seemed a bigger hit than the rock climbing wall.
After lunch Karen Slaymaker from the UK International Center led an activity on diversity.  Then we adjusted our schedule due to weather.  The Amazing Race was postponed til the weekend in lieu of more time in the Hub to get Canvas set up.  
Tonight I walked the students through the next 3 days of the schedule before breaking up into CORE course sections with their section leader. 
Finally, we closed with Kroger Mania.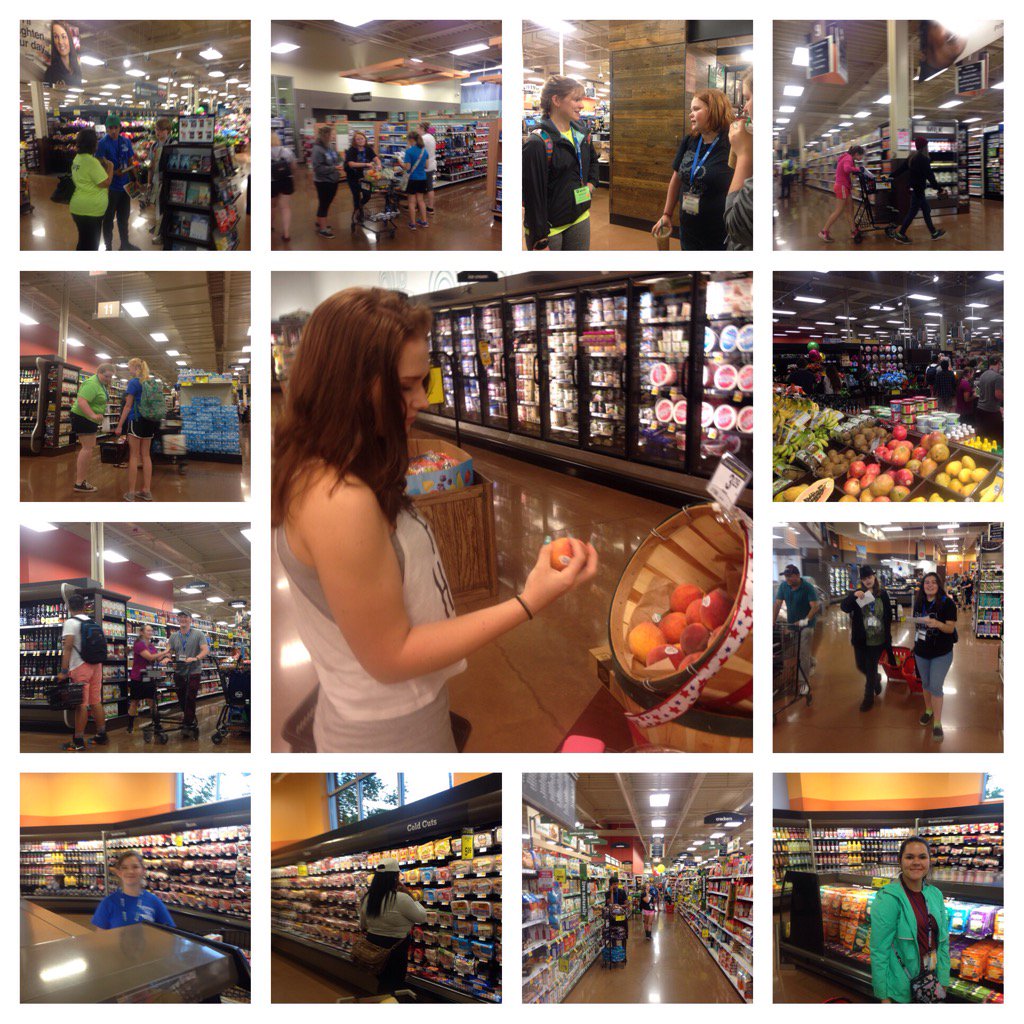 Tomorrow is our first day of classes and we have 100% retention. 
Day 4 - July 13
Today was the first day of classes for the 2016 GEAR UP Kentucky Summer Academy @ UK.  Students were great about getting to and from classes despite the walking and the heat.  As a result we had two medical issues today one a direct result of dehydration. 
After lunch students learned Digital Video 101 from the UK Media Depot, how to use the libraries research resources and public speaking tips from a Presentation U student panel.
Students enjoyed an evening of games and free time.  They are exhausted but pushing themselves to complete their assignments in Canvas. 
We had 2 parents call today because their students wanted to go home.  Tony and I conducted an intervention along with their team leader. Our communication protocols worked well and both students agreed to stay. 
A special shout out to Martina Martin and Dr. Laurie Henry for spending half a day in the UK Emergency Room with one of our students.   The student is better and remaining at the Academy.  
We hosted 42 individuals from the CPE Teacher Leader Academy today. They observed Academy classes, toured the residence hall and observed campus facilities/resources. Finally, they engaged in a broader discussion about how best to promote the GUK Academies across the state and plan for the CPE's GUK 4.0 program. 
Check out our Twitter feed and #GEARUPatUK.
Day 5 - July 14
Despite the exhaustion from the conversations and actions last night regarding a student dismissal from a major infraction of the Student Code, our leadership team loaded up on coffee and powered through. Students completed their CORE class rotations. I have heard positive reports from instructors.  
All students are blogging and Dr Hollingsworth will share snippets of those with you (or you can follow them yourself). The students are thoughtful and honest.
We moved GUK 101 to a large lecture classroom in the Chemistry-Physics building. Tony and I agreed this was a positive change.   Today they worked on ACT profiles and UK Career Center staff guided them through the "Do What You Are" assessment. 
Dr. Laurie Henry led a Pokemon Go! adventure group after study time that included a stop at Sav's Chill. The 8 students with her enjoyed the trek across campus, and they caught many Pokemon, eggs, power ups, etc. along the way. They even received cheers from a group of people at Blazer and shared the game with folks in line at Sav's.
Dr Henry and Erin led the study time in the Hub before students returned for free time and trivia night.
Tomorrow night is Gallery Hop. We will be traveling on buses arriving at 5:30 pm with Courthouse Square on Limestone. 
Day 6 - July 15
Today marked the end of a long and busy week.  Our students had their second meeting of CORE (MWF) classes.  Dr. Hollingsworth and I were interviewed by WUKY's Alan Lytle for UK Perspectives which will air next Friday at 8:45 am. A WUKY intern is working on a longer piece including student and instructor voices. 
This afternoon students were bused over to see our new building for UK's School of Art and Visual Studies. Lunch  was catered from Qdoba, and students divided into 3 groups for rotations that included a building tour and admissions presentation with College of Fine Arts recruiter Michelle Combs, photo lab dark room session with our photo literacy instructors Dana Clark and Nicole White, and a Chinese painting and calligraphy class led by the UK Confucius Institute.  After all of the rotations, we had a pizza party then headed downtown for Gallery Hop. The students travel with their LLC Team Leaders and an additional volunteer chaperone. We departed from downtown at 8 p.m. and return to campus.
Unfortunately two students decided to go home today.  Despite our best efforts in retaining them, the roommates decided they didn't like the structure and rules of the Academy and wanted more choice about their classes. One of the students said, "I'm used to going to bed at 4 am and getting up at 5 pm. This is hard and a lot of walking everywhere."
Tomorrow is FUSION: our all Academy day of service.  Then free time and laundry as well as lots of napping. 
Day 7 - July 16
Saturday is FUSION, our Academy wide day of community service.   We had students cleaning at the Catholic Action Center, St. Agnes House, ACS Hope Lodge, teaching kindergarteners at Bluegrass Greensource, painting at the STEAM Academy, and outdoor weeding at McConnell Springs Park. In the evening, students focused on laundry and enjoyed a pajama movie night in the classroom.
Unfortunately we had another medical emergency as one student had a serious seizure and was transported by ambulance to UK ER.  Martina spend the day with the student who is much better now but this was not out of the ordinary for her history. 
We also had two more students check out to go home - one whose grandmother needs surgery (and the family wanted her home to help take care of her) and the other was the first one's roommate who just felt like UK wasn't a good fit for her.  Tony and I talked to them both on Wednesday and asked them to give it through weekend.  To date, we have lost 5 students and are down to 93 total.
Day 8 - July 17
Today marked the beginning of the second week of the 2016 Academy@UK. The drama for today began with a student suffering a major panic attack after midnight resulting in a 911 call. The student did not wish to be transported to the hospital but after getting vitals and some fluids she calmed. Attack was caused by stress and anxiety. Breakfast was optional this morning and students enjoyed getting to sleep in.  Our running club went for a morning run.  Vans took students to various worship services across town.  A group of 50 went swimming and a group of 12 went to the library. Others just relaxed and did laundry. 
For the Olympics this afternoon, each Living Learning Community team processed across the lawn to the John Williams Olympic Fanfare thanks to our partners at University Sound & Light. Teams carried their banners as I introduced them. They competed in the ring toss, javelin throw, tic tac toe relay, ultimate frisbee, football toss, disc golf, beach volleyball, and a 3 point shooting contest.  Winners from each heat will be announced on Tuesday with more Olympic Games next weekend. 
Tonight, Martina returned to the ER with a student whose condition worsened because she is out of meds, new meds did not arrive and she should not have been running today She has been discharged.  Student was also dehydrated. A persistent issue among our participants. 
Tony and I agreed to ask residential team leaders to be more proactive in holding students out of certain activities based on their medical needs. However we are seeing a significant number of students with anxiety issues and stress. Maybe tomorrow's baseball game will help them relax. 
Day 9 - July 18
Students started their electives today and seemed to really enjoy picking a class aligned with their interests. 
GUK 101 had a great guest speaker today from HR at CPE to talk about resumes and students will get to begin building their own résumés tomorrow in the Hub at the library. 
We ended the evening at the Lexington Legends baseball game with a buffet dinner on the Pepsi Party Deck. Students loved getting out and it was a beautiful summer night. 
I'm proud of how some students are showing leadership like Messina tonight who cleaned up the entire party deck before we left. On Sunday Tony Bartley (CPE GEAR UP KY staff and site co-director) selected peer leaders and some have really stepped up. 
We are having an all staff meeting in the morning to help reinforce our expectations with student behavior and monitoring infractions like classroom behavior and treating other students respectfully.  We are back on our normal schedule the rest of the week.
Day 10 - July 19
Our second day of electives went much smoother as our students and staff were more familiar with the locations and routine established. Our assistant director Martina Martin spent the day in UK ER with a student who unfortunately had to leave the Academy for health reasons. The student has medicine and is improving but needed to go home and rest.
The "Performing World Music" Level Three class is working on "Treasure" on the steel pan drums and students love it. Students are getting the hang of their CORE classes and everyone is catching up on assignments so they can go to Malibu Jack's on Friday. GUK101 (a college orientation class modeled on our UK101) met in the library so students could work on resumes and their cover letters.
Day 11 - July 20
This was by far our smoothest day yet. Students are engaging in their coursework and we are getting some great reports from their instructors. Our Water, Wildlife and Wilderness elective course took students to collect water samples for research next to Commonwealth Stadium then got the added bonus of going on the field during the Pokemon Go open house. They were in the background of the story on WKYT and you can see their pictures here -
https://www.facebook.com/KentuckyNRES/posts/1201464409872021
https://www.instagram.com/kentuckynres/
GUK 101 focused on the college application process. Admissions counselors/ Recruiters Addison Mills from UK and Rebecca Simms from BCTC came and talked about the difference between a two year and four year degree.
Tony Bartley, CPE GEAR UP KY regional program manager and Summer Academy @ UK co-director, took a small group bowling with the Robinson Scholars College Boot Camp. Students and staff had a great time.
We have issued advisories about the heat and warned students to drink plenty of water. In the future, it may be prudent to require a camp physical for all Academy students to ensure they are physically able to handle the rigors of the Academy experience.
Day 12 - July 21
We are past the halfway point and students are catching up on their assignments to earn the privilege of going to Malibu Jacks on Friday night. 
Our electives for Week 2 wrapped up today. Everyone in the "Water, Wildlife and Wilderness" elective were so excited to travel to the Red River Gorge this afternoon and go rappelling. (Read more about this in Rachel McIntire's blog post: https://rachelmcintireblog.wordpress.com/2016/07/22/chapter-eleven)
GUK 101 hosted representatives from the UK Career Center talking about interviewing and practicing interview skills.
We had three students return to the residence hall after morning classes to rest due to illness. Martina spent another day in the ER with a student who has an infected eye lid. After two episodes today and another 911 call, a student who has a physical disorder that is still not under control was asked to leave the Academy.  Her mom picked her up tonight.  This brings us to 91 out of our original 98 students in the Summer Academy @ UK. 
Students continue to blog and are preparing for next week's showcase. It should be a great night.
Day 13 - July 22
Today we closed out the end of our second full week of classes.  After lunch, students had their choice of activities that included skating, going to the mall, cooking class where students made Chinese dumplings, study time in the Hub, nap time in the residence hall, and two students got to meet with an engineering recruiter to learn more about engineering at UK. 
As a reward for their hard work this week, students were treated to an evening at Malibu Jacks Family Entertainment Center.  They enjoyed three hours of unlimited laser tag, go carts, mini golf and arcade games.  The students had a blast.
Unfortunately we lost two more students. One decided to leave the Academy tonight due her grandmother's terminal illness, a funeral out of state and her desire to get a job before school starts. None of the students who have left did so because of homesickness. In every instance, Tony and I conducted exit interviews and tried to intervene with options. 
The second student leaving is being dismissed for academic and behavioral issues. Ever since the student returned for an out-of-state trip, she has not done her coursework and seemed defiant about not completing any assignments.So far we have been unable to reach anyone to come get her but she was held out of the off-campus trip to Malibu Jacks.
We had to bring another student to the ER tonight due to a low blood sugar episode.  He is fine now, and he was released within hours. 
It was very busy day and our last weekend is here. 
Day 14 & 15 - July 23-24
This weekend we took students to the Farmer's Market downtown.  They  had optional activities from going to the movies, cooking class, swimming, dance class, optional worship on Sunday, and study time.  We took students to Malibu Jacks on Friday night and they had a blast.  We held our dance party on Saturday night and moved Sunday's Olympics inside to combat the heat.
On Thursday and Friday we set aside time for students who were sent to Washington D.C. to represent GEAR UP KY so they could catch up on their assignments.  One of the students since returning from DC was not interested in completing past due assignments and was rude to staff and instructors. Tony, Martina, Vince and I met with the student on Friday morning to reinforce our expectations.  The student was held out of the Friday activity and was asked to write of letter of apology to the instructor who stayed and tried to work with the student on Friday. By Friday evening, Vince, Tony and I made the decision the student should go home. Vince Bingham, Academic Coordinator for GEAR UP KY, repeatedly reached out over the weekend with no returned calls.  Monday morning Tony and I told the student not to go class since no letter of apology.  For the first time, the student seemed to get it.  Immediately afterwards, three other students come to us and said if that student goes home, then they want to go home also. Tony and I met with them, heard their concerns and asked if they would be willing to work with the student so they could stay.
Overall it's the time in the Academy where academic expectations increase and fun activities decrease.  Tony reinforced that with all staff last night and we will do the same for all students tonight at dinner. Week three electives start Monday and unfortunately another student went home tonight -- despite our intervention. The student cited homesickness but staff also wondered about other issues.
Day 16 - July 25
Some days are longer than others. We are entering finals week leading up to our showcase on Friday. The day began with another conversation with a student regarding incomplete work. After several students threatened to go home, we formulated an intervention plan that included peer support. However, that plan failed and the student wanted to go home tonight
At lunch we hosted an admissions representative from Morehead State University and GUK 101 was dedicated to an overview of MSU.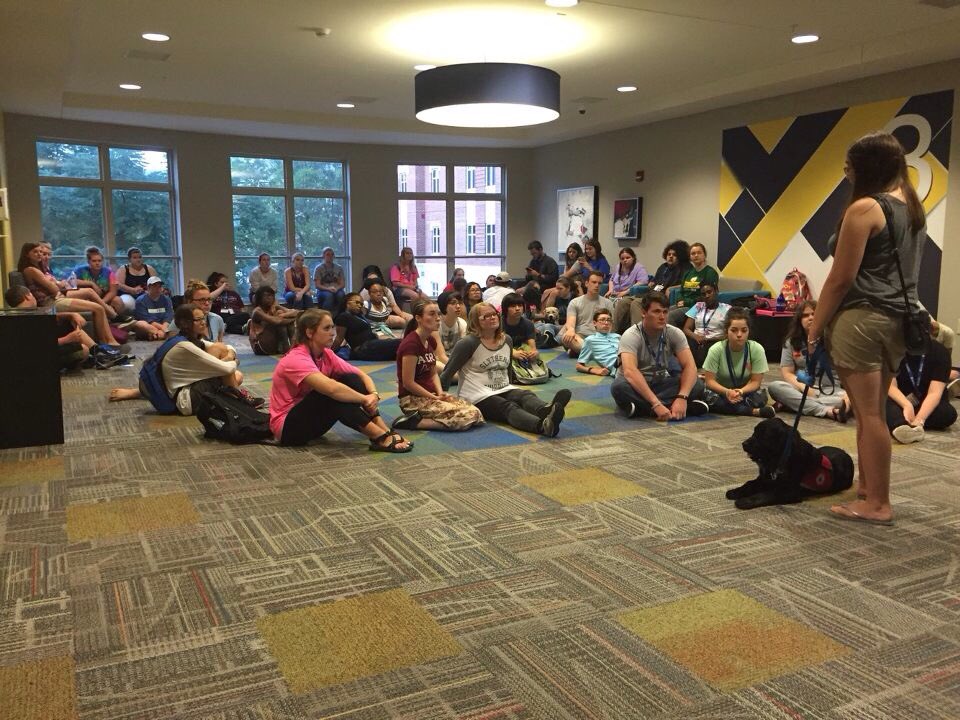 Our new round of electives started this afternoon featuring Problemsolving Utilizing the Tools of Science, Tree Detectives, Walk Across Kentucky, Tell Your Story, Scratch Programming and Chinese Language and Culture (Week Two).
After dinner Tony and I addressed all students to set expectations for the final week, make announcements and explain how the showcase will operate.
Tonight our RAs brought in the PAWS program puppies for a residential program. Students loved it.
Shout out to Vince Bingham for bringing in the 10 laptops to help our students finish their work.
Let's see what tomorrow brings!
Day 17 - July 26
After a student upset at breakfast, things seemed to settle for the day. One of the students who had been in Washington D.C. at the GEAR UP Youth Academy left after lunch, and after talking with Tony tonight another student who had been threatening to leave also finally decided to stay at the Academy.  
With two days of classes left students are buckling down to complete their assignments.
GUK 101 hosted an admission representative from NKU today.  She gave the students some thoughtful insight.  
Students are settling into their week 3 electives and reflecting a lot in their blogs. 
Tomorrow is the last day of MWF classes before the showcase on Friday.  We did a walk through today at the stadium and it's going to be a special night.
Day 19 - July 28
Thursday July 28th marked the last day of classes.  Students were in a flurry completing assignments and presenting final projects.   It's amazing to see the creative and insightful work of our Academy students.  GUK 101 wrapped up with the final survey for GEAR UP and the return of a special guest Omari Gletten to talk about U Mentor.  
Due to the rain, some of afternoon elective field trips were canceled.  Today was the last day for week 3 electives.  
After dinner, we held our annual talent show and as always students truly shined.  Immediately following 24 students stayed for the final BOOIAKA dance class. 
Unfortunately the evening ended with Martina back in the ER with one student who had a major asthma attack while walking back to the residence hall after dance class. The student's family drove down last night and the student was released from UK just before 5 am.
After 3 weeks, the 2016 GEAR UP Kentucky Summer Academy @UK is coming to an end. Our final showcase will take place tomorrow from 5-8 p.m. in the Woodford Reserve Club of Commonwealth Stadium. Students and elective instructors will present posters from each elective week. Then at 5:45 p.m. we will begin our formal program featuring the core classes. Dinner should conclude by 8 p.m. Free parking is available in the Blue Lot and visitors should enter through the doors marked "Commonwealth Tower" between gates 10 and 11.
We have 41 families that accepted our accommodations offer to stay in the residence hall for Friday.  It's a great opportunity for them to get the college experience.  I look forward to seeing you all at the showcase at 5 pm. 
Day 20 - July 29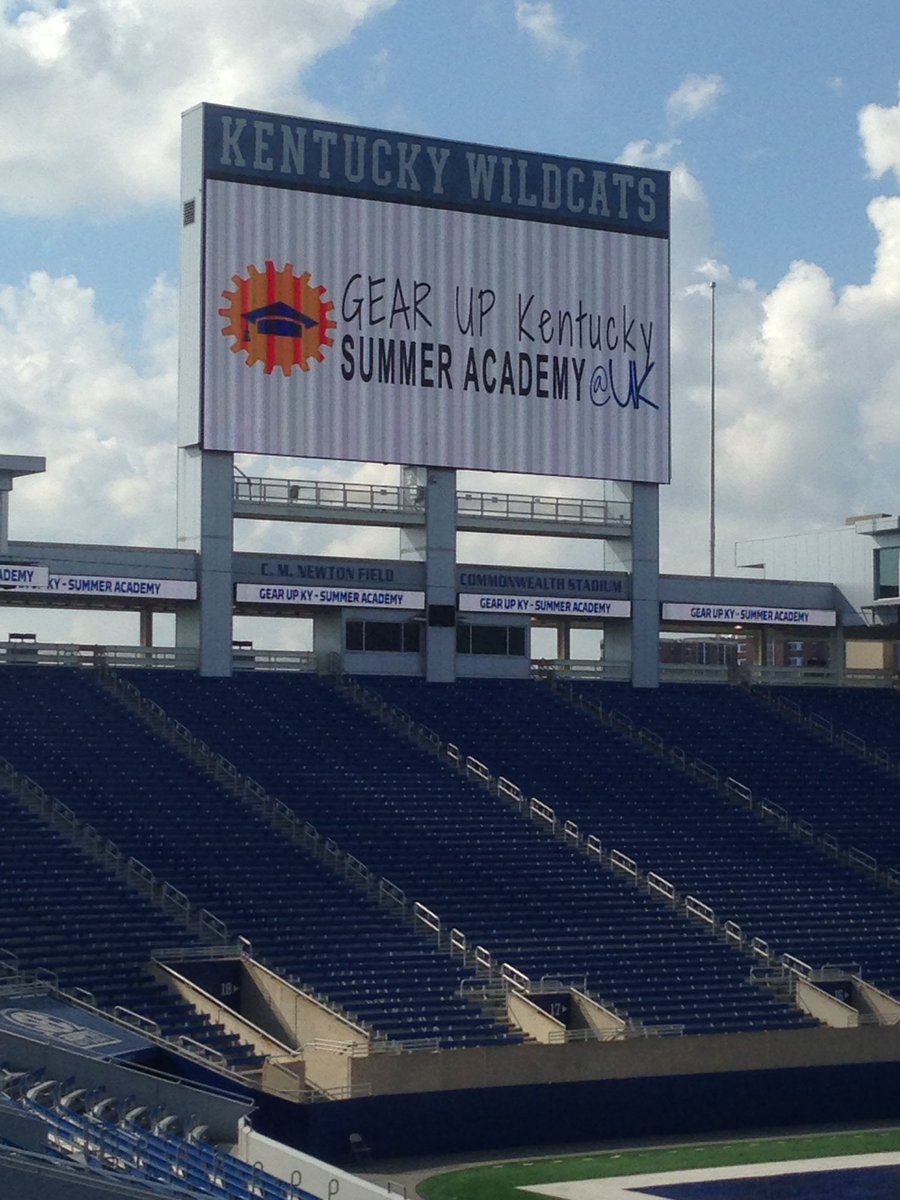 Today culminated in our final showcase but the early part of the day consisted of a flurry of completing assignments and packing.
Students had three hours of library time after breakfast available to complete any missing work to earn their digital badges.  Over the next week badges will be awarded and students will then need to accept them. 
For lunch, students were allowed to travel in pairs and eat at any of the available UK dining locations then return to the residence hall by 1:30 pm to pack.
Parents and families began arriving to campus in the early afternoon.  Families who wished to could stay overnight in WGIV and experience a residence hall for themselves. 
Our final showcase was held in the Woodford Reserve Club of Commonwealth Stadium.  It was an amazing venue and a full night of presentations, performances and a photo on the field.  Just the promotional opportunity to have the summer academy logo on the jumbotron was great. 
Finally, thank you for providing me this opportunity and it was wonderful to see so many GEAR UP Kentucky team members present on such a busy day.