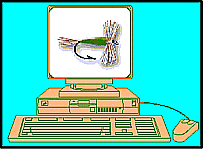 FLYFISHING WITH YOUR COMPUTER
SCREENSAVERS
The following article first appeared in the August, 1996 issue of Currents, the newsletter of the Great Smoky Mountain Chapter of Trout Unlimited. Since that time some of the URL's and information may have changed.
O.K., you've finally gotten that computer and you've learned to stumble your way around on it enough that you don't feel totally incompetent anymore. You've even learned that you can change the screensaver that comes with it, but you've gotten bored with Flying Windows, Mystifying Marquee, etc. Dropped by the local computer store and found that there are all kinds of screensavers out there for everyone from Disney Fans to Science Fiction Buffs, but what you REALLY wanted - a screensaver for a flyfisherman - just wasn't available. The guy in the computer store looked at you like you were from Mars and tried to push you the latest model of Space Warrior or some such thing complete with explosions and raygun zapping aliens.
How about a nice quiet screensaver with some scenes of a pleasant trout stream and maybe a fly or two. Sounds good? Well don't give up yet because there are several options that are available for the flyfisherman. You may have noticed a year or so ago in one of the flyfishing mags that there was a company called The HyperCompleat Angler that offered flyfishing and flytying databases for sale and may have even noticed briefly about six months ago that they also offered a screensaver called Flying Flies. This is a simple screensaver that features about a dozen flies periodically changing on your screen. It comes on a 3.5" disk and is installed just as any screensaver that you would purchase in a store. This screensaver is the only one of the four covered in this review that is available in both a MAC and IBM format. Information on it is avaialble by calling Dunworth & Hagan, Co. 1-800-HCA-7698 or by writing to Dunworth & Hagan, Co., 998 Centre Street, Suite 1, Boston, MA 02130. The cost is around $25.
If you have access to either the World Wide Web (or maybe a friend does) and/or access to a scanner, you can make your own custom screensaver. That's right, you can have a screensaver with whatever YOU decide you would like on it. There are two custom screensavers currently available that can be downloaded from sites on the World Wide Web. You just add your own photo or graphics files and presto, you have your own screensaver. If you have World Wide Web access you can then download the pictures and graphics that you like from the hundreds of flyfishing sites available (if you don't know where these are then drop by my homepage at http://web.utk.edu/~ldecuir/home.htm for links to over 250 of them). If you have access to a scanner then you can also scan in your own photographs of whoppers that you have caught, the kids fishing, etc. Both of these custom screensavers currently available are what is known as "Shareware", which means that while they are not free, they are relatively inexpensive.
The first of these custom screensavers is called VUESAV22 and is available from The Virtual Software Library at The OAK Repository. The URL is http://castor.acs.oakland.edu/cgi-bin/vsl-front This will get you to their opening page where you click on QUICK SEARCH. When the search window opens enter VUESAV22 and click on Search. This will take you to two sites where you can download zipped files of VUESAV22. Before it can be used you will need a Zip/Unzip Program to decompress this file. These programs (such as WINZIP) are availble for free also from the VSL or from TUCOWS at http://203.21.76.5/tucows/ If you've never downloaded a program before the TUCOWS site has more explanations and makes the job easier. TUCOWS also has the latest version of WINZIP. Once you've got VUESAV22 unzipped then you can install it like any other program. VUESAV22 lets you put 100 of your photo or graphic files in a directory on your hard drive and then tell the screensaver where they are. It will then call them up in a random order as a screensaver. It handles .jpg, .gif and .bmp files. The .jpg and .gif files are the most common graphic format used on the World Wide Web and can be created using almost any scanner. VUESAV22 works for 30 days without your doing anything, but if you don't register the software at the end of 30 days it will stop working. In the README.TXT file that accompanies the unzipped program is information on how to register the program. This costs $45.
The second and newer of the custom screensavers available on the World Wide Web is Image Master Plus. Information on this program and how to use it is available at the Accidental Software Homepage at http://www.primenet.com/~accident Image Master Plus is a much more sophisticated screensaver than VUESAV22 or FLYING FLIES. It handles .tga, .tif, .bmp, .jpg, .pcx, .cal, .cmp, .dib, .eps, .img, .mac, .msp, .pcd, .ras, .wmf, or .wpg formats, and in it's latest version .gif. It can read files from any directory in your system and use them as a screensaver rather than having to set up a special directory. You can set up 15 different screensavers each with 1000 images, as well as set the duration of the image, select up to 100 transitional effects, build a custom frame around them, add Midi music files to accompany your screensaver, attach WAV files to each picture, add text to each picture, and has a collage feature. It will also allow you to post a message to your screen to accompany the screensaver, and access a calendar, datebook, date alarm, calculator and cardfile. All of this for a $20 registration fee. With Image Master Plus you download a .exe file (no unzipping necessary) that sets up the screensaver program, run the .exe file and then call a 1-800 toll free number for a code that will unlock the software. The $20 registration fee (they take Visa, Mastercard, American Express, and Discover) will also allow you to use the screensaver on both your computer at work and at home and get you any upgrades free. Jane who answers the phone at Accidental Software is also one of the nicest and most helpful people that you will ever encounter when dealing with software companies. No question that this one is the best buy of the bunch.
There is also a freeware (no cost) animated screensaver available on the World Wide Web for the flyfisherman called Flysavr. This one is a simple animation of a flyfisherman fishing and catching fish - and sometimes a tree, and sometimes falling in. There are a variety of options available so you can set it up to have a more or less experienced fisherman, more or less fish, etc. Daniel Hall over on the Isle of Mann made this one up and it is available for downloading at no cost from his homepage at http://homepages.enterprise.net/danielhall/index.html It comes as a .zip file and you will need a zip/unzip program such as Winzip to uncompress it. Instructions for installation are contained in a README.TXT file that accompanies the program.
The easiest to install and use of these four screensavers is Flying Flies, but it only has about a dozen flies on it and does not offer you the option of customization. It is, however, the only one of the four that is available in both a MAC and IBM format. The least expensive is Flysavr which costs you nothing, but you will have to download and learn how to use a zip/unzip program to make it work. The other two screensavers both let you create a screensaver to your own tastes, but require something beyond the most basic familiarity with computers. If you've never downloaded software off of the WWW before you should be sure to read the instructions that accompany each of these custom screensaver programs very carefully and follow them completely. The instructions available at Accidental Software's Homepage for Image Master Plus are much easier to follow than the README.TXT file that you will find after you unzip VUESAV22, but figuring out how to correctly set up either of them is not for someone totally inexperienced with computers. Like all software instructions that I've ever read they are written in some language that only computer geeks seem to understand rather than English. Both VUESAV22 and Image Master Plus offer you the opportunity to set up your own screensaver with images that you have downloaded off of the WWW or scanned yourself. I've used all four of the screensavers mentioned in this article and am currently running Image Master Plus with about 200 images of flies that I have either shot myself and scanned or downloaded off of the WWW. With either of these latter two programs you can design your own flyfishing screensaver.
---



---
ldecuir@utkux.utcc.utk.edu