The Debertin Family Genealogy Page
If you have a family name of Debertin, please visit this page. It traces what we know about the Debertin family name. My name is David Debertin . I am interested in getting in touch with anyone with the last name of Debertin who wants to contact me, as well as anyone who is related to someone with Debertin as the last name. A logical place to start a search for the people with a last name of Debertin in the U.S. is with the Debertin, David 937 Wishbone Circle Lexington KY 40502 (606) 266- 4433 (This is my snail mail address)

Debertin, Harold PO Box 81 Plaza ND 58771(701) 497-3442 (also listed at the farm at Parshall North Dakota 58770 (701) 862-3526 Harold is married to Margaret Debertin (same address). Harold and Margaret are my Father and Mother.

Debertin, Richard PO BOX 202 Berthold North Dakota 58718 (701) 453-3651 Richard is Married to Rosemary Debertin (same address) and is my brother, also Harold and Margaret's son.

Kyle Debertin PO Box 202 Berthold ND. Kyle is Richard's son.

Tamara Debertin PO Box 202 Berthold ND Tamara is Richard's daughter

Debertin, Everett 424 7th St. NW Minot, North Dakota 58703 (701) 839-2976 Everett is married to Cora Debertin (same address)

Debertin, Steven P. 21 21st St. NW Minot ND 58703. (701) 839-2083 Steve Debertin is Married to Nita Debertin (same address)

(All of the above are descendants of Paul and Mollie Debertin, now deceased)

Debertin, Dale 519 13th Street NW E.Grand Forks, Minnesota 65721 (218) 773-1093 Dale is Married to Marge Debertin and his father was Andy Debertin, a brother of Paul Debertin, so he is Harold and Everett Debertin's cousin

Debertin, Karl R. 1903 Norma Rd NE Tacoma, WA 98422 (206) 927- 8442 Karl is Dale and Marge's son, above. Karl is married to Phyllis Debertin (same address)

Debertin, Jack 319 N 80th St. Seattle, WA 98103 (206) 706-9314 (I believe) this is Karl's son.

Debertin, Jay D. 1315 Hartford Ave St. Paul, Minnesota 55116 (612) 690-3803 This is Dale's other son.

Debertin, Maridee Minneapolis MN (612) 871-3547 This is Dale's daughter

Dale debertin is a son of Andy Debertin, Paul's older brother.

The above is the entire list of people now living in the U.S. with a last name of Debertin, and they are all close relatives of mine. All of the above share a common ancestor Frederick Debertin, who migrated from Germany in 1873, initially settling in Baltimore, Maryland, but shortly moving to Pepin, Wisconsin. The following map shows the location at Oberhoechstaedt where Frederick Debertin was born.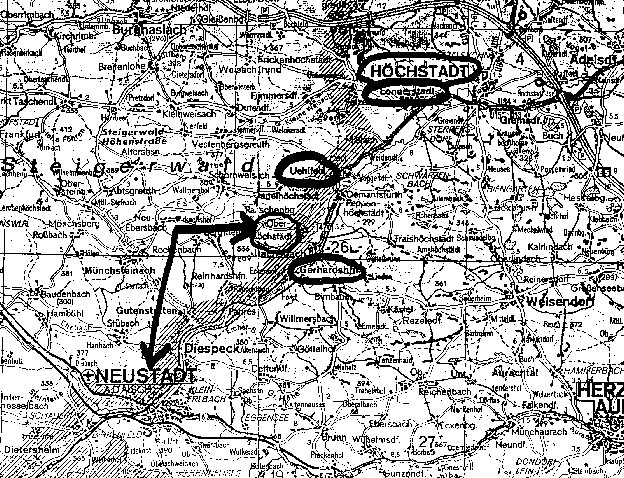 Frederick Debertin's two sons, Paul and Andy Debertin, both moved to western North Dakota when free land came available because of the homestead act--Andy homesteading south of Plaza, and Paul north of Parshall.
Ocassionally we here of other Debertins located in the U.S., but none have contacted us. No others are currently listed on Switchboard.
We are looking for a Thomas Debertin we have heard about. My Grandfather Paul made the following notes before he died in 1966.
"Frederick Debertin [his father] was born on Oberhoechstaedt, Bavaria, on March, 20th, 1836. He married Anna Margaretha Keller on October 18, 1868. Daughters Kuni and Margaretha were born in Oberhoechstaedt Bavaria and it is believed a baby boy was born and died on the ship when they migrated to America. Frederick was an officer in the Franco- Prussian war and suffered a leg injury. The family migrated to baltimore in 1873, where a husband of who we believe was a cousin of Frederick's had a brewery. Her name was Mrs. Minnie Summers. Frederick also had a cousin named Marie Kreit who lived there. While there Frederick worked in foundry.
In 1874 the family moved to Pepin, Wisconsin. A brother of Frederick, Conrad, also moved to Mondovi, Wisconsin, but later moved back east [we have found no trace of relatives of Conrad's still in the U.S.] Frederick was a cobbler by trade--he made shoes, not just repaired them. They had a store building with the shoe shop in front and lived in the back and upstairs. He was a member of the village council a number of times. He owned 40 acres of land close to pepin, and raised a large garden, had two horses, a few cows, a sow and some chickens.
Frederick died in Pepin ion march 21, 1905 and was buried in the cemetery at Pepin. His obituary says 'Mr Debertin was an honest, hard working man and enjoyed the highest respect of all.'"
Margret DeMars, a daughter of one of my grandfather's sisters, supplied the following information, starting with the earliest generation for which we have records.
Michael Debertin: Michael Debertin is my great great great grandfather born in Neustadt/Aisch We do not have the exact date, but probably between 1765 and 1775. died in Neustadt/Aisch Date not known
Michael Debertin married a woman named Barbara, (we will call her Barbara #1). Barbara #1 was also born and died in Neustadt/Aisch. We do not know what her maiden name was or have any dates.
The marriage of Michael Debertin and Barbara #1 produced one son that we are aware of. There could have been others. The son we are aware of was Johann Jakob Debertin born February 16, 1795 in Neustadt/Aisch and died May 3, 1871 in Oberhoechstaedt.
Johann Jakob Debertin is my great great grandfather.
Johann Jakob Debertin married a woman named Barbara Daumenlang (we will call her Barbara #2) on February 14, 1832 in Oberhoechstaedt. Barbara Daumenlang was born March 20, 1805, also in Oberhoechstaedt.
The father of Barbara #2 was Johann Leonhard Daumenlang, who was born in Bad Windsheim. We do not know the date. We also do not know when or where he died.
The mother of Barbara #2 was named Kunigunda. Her maiden name was Weib. She was born February 9, 1770 in Oberhoechstaedt, and died August 3, 1853 in Oberhoechstaedt. Johann Daumenlang and Barbara (#2) Weib were married on March 13, 1803.
Johann Jakob Debertin, my great great grandfather, was a master shoemaker. Baptismal records reveal the following children from the marriage of Johann Jakob Debertin and Barbara (#2) Daumenlang. (Source: KB Oberhoechstaedt 103-4)
1. Magdalena Barbara Tebert, born November 8, baptized Nov. 14, 1832 (from above reference, pg. 81,number 29)
2. Johann Frederich (Frederick in my grandfather's notes, above) born March 20, baptized March 27, 1836 (pg 108, number 7, 1836)
Johann Frederich migrated to the US. All of the Debertins in the US share this common ancestor. He is my great grandfather. He landed in Baltimore Maryland, and subsequently moved to Pepin, Wisconsin, where he also made shoes, as his father Jakob did. He also farmed, but this was a side activity
3. Margaretha Kunigunda born August 31 and baptized September 8, 1839 (pg. 139 Number 23, 1839) So far as we know, Margaretha Kunigunda stayed in Germany. We have no further record of her.
4. Ludwig born June 15, and baptized July 3, 1841 (pg. 170, Number 12, 1841 Ludwig apparently stayed in Germany as well. We have no further record of him.
5.Johann Tebert born March 14 and baptized March 21, 1845 (pg. 192, number 8, 1845) Johann Tebert apparently stayed in Germany as well. 6. Johann Conrad born Feb. 23 and baptized March 4, 1849 (pg. 224, number 6, 1849) We know that Johann Conrad was in the US at one time and spent time in Baltimore, Maryland, as indicated in my grandfather's notes. However, we have not found any offspring of Conrad's named Debertin in the U.S., and I am quite convinced there are none. Either he never married, married but had no male offspring or subsequently returned to Germany with his family.
Up until 1860, there were no further baptismal records of any additional offspring from the marriage of Johann Jakob and Barbara Daumenlang.
This information was supplied by Margret DeMars, whose great grandfather is also Frederich Debertin, and. whose mother spent time in Germany. Margret DeMars' mother was at the house of an Elsie Debertin, Westring 7 91462 Dachsbach (telephone 09163/8151), then a very old lady. Her daughter, Irmgard Heinich phoned another relative, Henriette Ammerbacher, 91462 Oberhochstadt, Post Dachsbach (Telephone 09163/8285) who supplied most of this information. Henriette undoubtedly is a grand daughter or great granddaughter of one of Frederich's brothers or sisters, and Margret DeMers is in the process of trying to find out which one. We also do not know if Elsie Debertin is a blood relative or was simply married to a grandson of one of Frederich's brothers who remained in Germany,
We know relatively little about Frederich's brothers and sisters who remained in Germany. Some may not have lived to adulthood, or perhaps did not have children.
I would be surprised, however, if the majority of the males with the last name of Debertin in Germany were not offspring of either Ludwig or Johann Tebert, the two Debertin brothers of Frederich's who remained in Germany.Another possibility is the Johann Jakob (the father) had one or more brothers that we do not yet have any record of.
Frederich Debertin married Anna Margaretha Keller October 18th 1868 in Oberhochstadt Germany. They had the following children:
1. Kunigunda b. June 24, 1869, Oberhochstadt. died June 14, 1952 St. Cloud MN Married George Schwab, a farmer at Pepin, Wisc.
children:
Theresa
Dora
Clemens
Maria
Elenor

Margret Demers, the lady who supplied the information, is a granddaughter of Dora Schwab.
2.Margaretha (Maggie) born Nov 16, 1871 died 1940
Married, John Bartell, a saloonkeeper in Pepin Children:
Frederick
Ray
Rosalia
Myrtle

Frederich and Anna (Keller) Debertin migrated to the US in 1869. There is a record of another son, born in Germany, who died en route on the three-week trip.
3. Andrew F (Andy) born Oct. 17, 1874 died May 22, 1958. Married Julia Anderson
children:
Mildred
Dale
Mildred died a number of years ago.
4. Ricka born in Pepin Wisc. May 16, 1877, Died Aug. 14 1940
Married Charles S Sewall. one Daughter Marian Merle Divorced and married Theodore Smith in Calif. I know very little about this part of the family
5.Mary born in Pepin Wisc November 30, 1879.Died May 15, 1958. Married Charles F. Kircher, a farmer at Pepin, Wisc.
Children:
Paul
Wilma
Marion
Helen
Arthur
all of these are deceased except for Arthur, whom we see fairly regularly. 5. Paul Born February 18, 1884 Died 1966 Married Mollie Berg Paul moved from Wisconsin to North Dakota around 1910, when the federal government gave away farmland under the homestead act to encourage settlement. children Harold b. March 13 1911, Plaza N.D. a farmer at Parshall North Dakota, he retired to the same town he was born in 1993.
Married Margaret Ahlgren Nov 24 1941
children I. Richard Debertin b. Dec 9 1942
Married Rosemary Dittus 1967
Teaches vocational agriculture in Berthold ND children
Tanya Debertin Married Dan Olson 1991
lives in Berthold
Kyle Debertin
Tamara Debertin
II. David Debertin (me)
Single. College professor in Lexington, KY

2. Madeline
Married Elvin Kavli, Bottineau, North Dakota
Children
Patricia (Max, ND)
Rebecca (deceased)
Christine (Houston TX)
Robert (Denver, CO)

3. Donald
Married Louise Torgerson no children
both are deceased, but last lived in Orofino, ID

4. Doris
Married Peter Yri. For many years Doris and Peter farmed the Debertin/Berg Homestead. Peter is deceased, Doris lives in Plaza, ND

5. Everett Debertin (retired and lives in Minot ND.)
Married Cora Fiskum
Children
Linda (Burlington, ND)
Steve Debertin (Minot ND)
Mollie

Debertins in Germany
In internet searches, I have been able to contact a Klaus Debertin Klaus is a physicist at Braunschweig. His mailing address is Homburgstr. 14, D- 38116 Braunschweig, Germany. We are trying to determine whether or not we share a common relative, but so far, no luck.

Klaus is responsible for supplying the information that follows on Debertins in Germany

Those with the name of Debertin appear to be concentrated in two locations in Germany. One group is within a few miles of the location where my great grandfather Frederich was born, near the city of Neustadt. I presume that many of these individuals are relatives of mine. Another group is concentrated around the town of Goslar, farther north. Klaus' relatives come from this group. We do not know if the two groups share a common ancestor. There are others with the name of Debertin in many other locations in Germany, but no other large concentrations. Here is a list of Debertins appearing on the German CD phone directory. I do not have complete addresses or phone numbers for these but I would appreciate hearing from any of those listed. I would especially like to know which of those on this list you recognize as your relatives.

Klaus Debertin has supplied a map which shows black dots for the locations where people with the last name of Debertin are currently located. Note the concentrations in the North, around Goslar, and in the South, near Oberhoechstaedt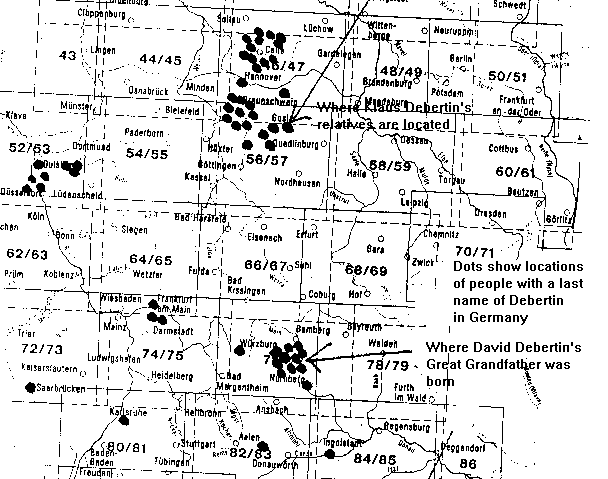 Group I
Those currently located near where my grandfather was born
Anita Debertin (Uhelfeld)
Gerhard Debertin (Uhelfeld)
Gernot Debertin (Uhelfeld)
Hermann Debertin (Gerhardshofen)
Magdalena Debertin (Lonnerstadt)
Maria Debertin (Nuernberg)
Sabine Debertin (Uehlfeld)
Group II
Those located elsewhere in Germany
Adolf Debertin (Harsum)
Andreas Debertin (CE)
Andreas Debertin (CE)
Andreas Debertin (BR) Klaus' son
Annemarie Debertin (Braunschweig) Klaus'wife
Barbara Debertin (CE)
Barbara Debertin (CE)
Bernd Debertin (Gerhardshofen)
Bernhard Debertin (Ratingen)
C. Debertin (Bad Lauterberg im Harz)
Chr. Debertin (CE)
Dirk Debertin (Karlsruhe) Klaus'son
Erna Debertin (CE)
Erna Debertin (CE)
Frank Debertin (HI)
Frank Debertin (?)
Friedrich Debertin (Markt Einersheim)
G. Debertin (Hildesheim)
Gerd Debertin (Gerhardshofen)
Gerhard Debertin (Saarbruecken)
H. Debertin (Zorneding)
Hannelore Debertin (Noerdlingen)
Heinrich Debertin (Hannover)
Heinz Debertin (Hohenlinden)
Helmut Debertin (Duesseldorf)
Herbert Debertin (Ueberlingen Bodensee
Hildegard Debertin (Selingenstadt)
Irene Debertin (Frankfurt am Main) Klaus' sister
Joseph Debertin (Hildesheim)
Haete Debertin (Trittau)
Klaus Debertin (Braunschweig)
Klaus Debertin (Wurzberg)
Klaus-Peter Debertin (Seesen)
Leonhard Debertin (Ingolstadt Donau)
Ludolf Debertin (Goslar)
Paula Debertin (Seligenstadt)
Rainer Debertin (Ratingen)
Roland Debertin (Kircheim am Reis)
Ruprecht Debertin (Hildesheim)
Ulrich Debertin (Hildesheim)
Ursula Debertin (CE)
Ursula Debertin (CE)
Uwe Debertin (Gladbeck)
Ulktoria Debertin (Garmisch-Partenkirchen)
W. Debertin (HI)
W. Debertin (HI)
Walter Debertin (?)
Walter Debertin (?)
Werner Debertin (CE)
Werner Debertin (CE)
Werner Debertin (Ratingen)
Wilhelm Debertin (Pennebig)
Winfried Debertin (?)
Winfried Debertin (?)

If your name is on the above list please contact me, David Debetin If you have a last name of Debertin and are not on the above list, please contact me as well. I am perticularly interested in solving the mystery as to whether the Debertins now living around my great grandfather's birth site at Oberhoechstaedt are somehow related to the ones located around Goslar. Klaus Debertin claims that a family member once traced the origins of the Debertin name to a Huguenaut French country squire who propbably migrated to Germany 200-300 years prior to when my Great grandfather was born. If this story isd true, that would explain the "French" sound to the name. Any independent verification of this story would also be appreciated Thanks, David Debertin.