Ancillary Manuscript Illuminations
This example of a historiated initial R from the frontispiece of a 12th-century manuscript of St. Gregory's Moralia in Job closely resembles the dragon fight of Beowulf and Wiglaf.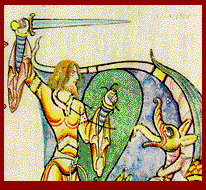 Dijon, Bibl. Municipale, MS 2.
"Waves of fire swept at his shield
And the edge began to burn. His mail shirt
Could not help him, but before his hands dropped
The blazing wood Wiglaf jumped
Behind Beowulf's shield; his own was burned
To ashes. Then the famous old hero, remembering
Days of glory, lifted what was left
Of Nagling, his ancient sword, and swung it
With all his strength, smashed the gray
Blade into the beast's head. . . .
And then when Beowulf needed him most
Wiglaf showed his courage, his strength
And skill, and the boldness he was born with.
Ignoring
The dragon's head, he helped his lord
By striking lower down."
(Burton Raffel translation, ll. 2672-99)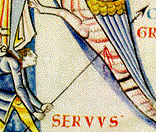 Dijon, Bibl. Municipale, MS 2.
Scan from Sabrina Mitchell, Medieval Manuscript Painting, Compass History of Art (New York: Viking Press, 1965), 67.