Current AIUK events

This semester we will be doing more work with the coalition to abolish the death penalty. This Thursday, the local KCADP chapter will hold their meeting immediately after ours in room 228, so please stick around and get involved! This semester we will be showing the film Too Flawed to Fix, about the anti-death penalty work done in Illinois, we will be tabling and calling/sending petitions to state reps and senators about two bills pending in the house that would help to eliminate unfairness in the death penalty. March 1 is International Abolition day, so I think we should shoot for tabling then, and March 4 there will be a rally in Frankfort, so we need to start planning those things.

Check out the Ky Abolition website at www.kcadp.org



We will also be continuing our SOA work, as there will be legislation to close the school yet again. We have another film to show, courtesy of Maggie, and more letters to write! WE had a great turn-out at the last film, so let's get even more people there!

To learn more about the SOA, and the work to shut it down, visit www.soaw.org



The AIUSA Week of Student Action will be held in April, the theme being to end Discrimination and Violence against women. This is a great opportunity for us to work with other campus and community groups, but we should start planning now!



There will be another Hate-Free Lexington Rally, in response to a visit from "Rev" Fred Phelps. If you don't know this guy, check out his website, www.godhatesfags.com I think you know what he's about, just from that. Anyway, a local gay couple will be having their daughter baptised, and Phelps will return to lexington, to spew his hate-filled message once again (his first visit was when the same couple had their quadruplets baptised a year and a half ago). No date has been set (it will be posted as soon as a date is set), but this will be a great opportunity for us to support the Lexington community and maybe even get new members!



Also of potential interest is a workshop to be held at the University of Cincinnati at the end of February on International Law and Human Rights. We can check if this will be of interest to us, as students, or if it is just for people of the legal profession, and maybe take a little daytrip.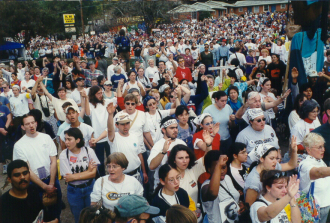 News Coverage of Past AIUK events
November 17, 1999

December 8th, 1999
Jan 31, 2000


November 20th, 2000
December 8th, 2000


February 27th, 2001


March 20th, 2001
Sept 18th, 2001