Core of the Month: May 2022
Oil from Shale: The KGS-IMMR Mississippian-Devonian Black Shales Cores
Dave Harris, Energy and Minerals Section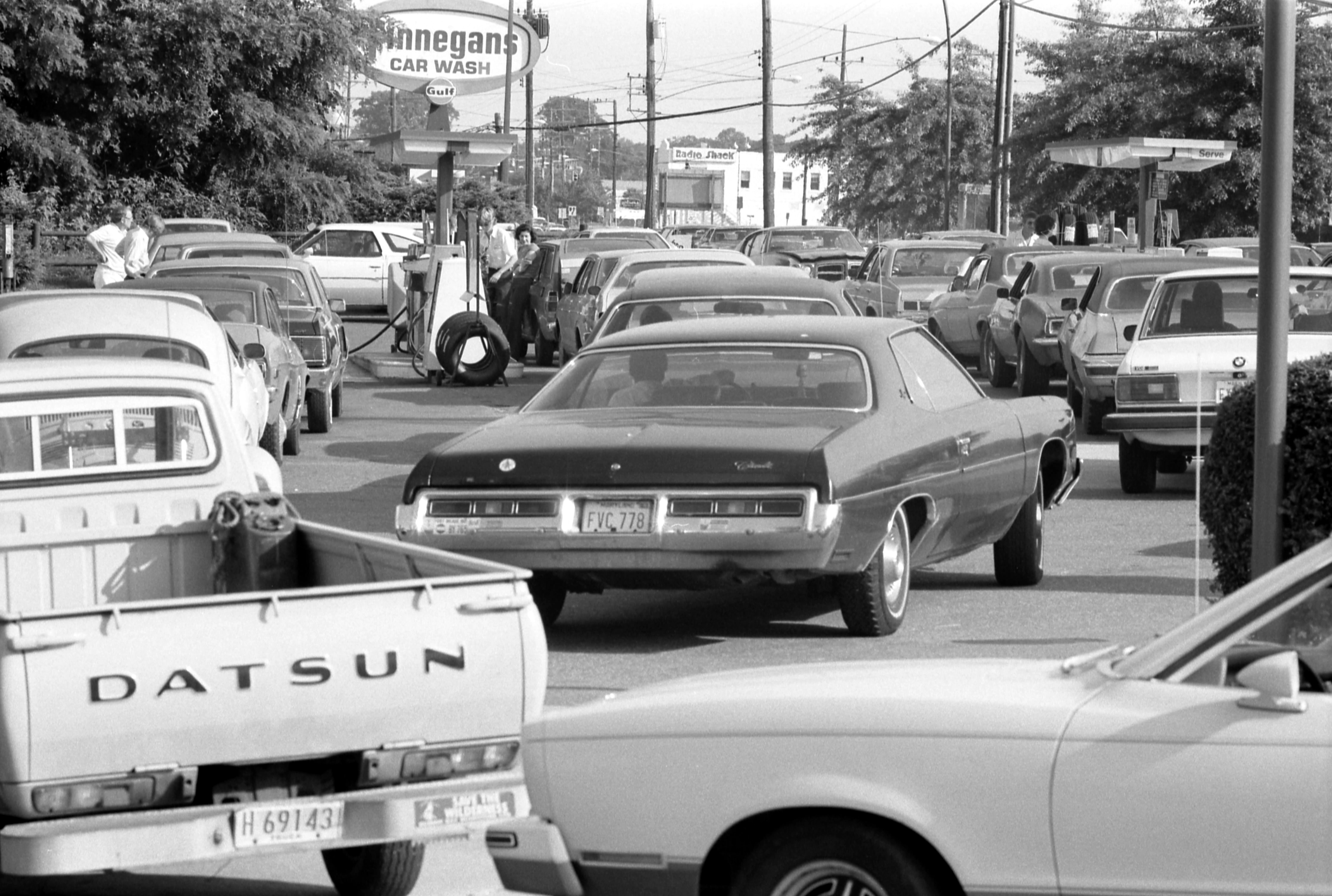 This month we highlight an important collection of research cores gathered in response to global political crises resulting in oil price spikes, the 1973-74 Arab oil embargo, and the 1979 oil crisis.
The recent increase in gasoline prices in response to the Russian invasion of Ukraine brings back memories of rationing, long gas lines, price controls, and reduced federal speed limits to improve gas mileage. The 1970s oil shortages spawned new interest in energy efficiency, energy security, and decreasing the United States' dependence on foreign oil.
In Kentucky, this led to new research on the extensive outcrops of Mississippian and Devonian black shales. Organic-rich black shales had been studied as potential sources of synthetic crude oil since the early 1920s (McFarlan, 1943; Barron and others, 1984; Pollock and others, 1981). Kentucky has extensive outcrops of Mississippian and Devonian black shales with organic content of up to 15 percent. These shales have generated hydrocarbons where buried more deeply in the Appalachian and Illinois Basins. Research on the potential to generate commercial oil from the shallow and less thermally mature shales began in 1979 at the Kentucky Center for Energy Research Laboratory (KCERL), managed by the Institute for Mining and Minerals Research (IMMR) at the University of Kentucky (UK).
The IMMR oil shale research included topics such as shale oil processing, mine design, resource assessments, and environmental impacts. As part of the resource assessment, 75 shallow core holes were drilled along the horseshoe-shaped black shale outcrop belt from eastern Kentucky across the Cincinnati Arch into west-central Kentucky. In addition, the outcrop belt extending south along the Cumberland Saddle in south-central Kentucky was cored (Fig. 1). Much of this research was presented at the Eastern Oil Shale Symposium held in Lexington annually. These findings and other related papers are published in 13 proceedings volumes from 1981 to 1993, available as PDF files on the KGS website.  
The 75 cores from the IMMR research program are housed in the KGS collection at the Earth Analysis Research Library. As part of an ongoing archival project, and thanks to the continued stewardship of the EARL staff, high-resolution box photographs, location information, and related documentation are available online. Links to the archive, funded by the Institute for Museum and Library Sciences (IMLS), are included in the table below.
Research on oil shale continued into the early 1990s with funding from the Kentucky Energy Cabinet, U.S. Department of Energy, and various industry partners (Pollock and others, 1981; Barron and others, 1984). In 1988 KCERL was renamed the Center for Applied Energy Research, which conducts a broad range of energy-related research.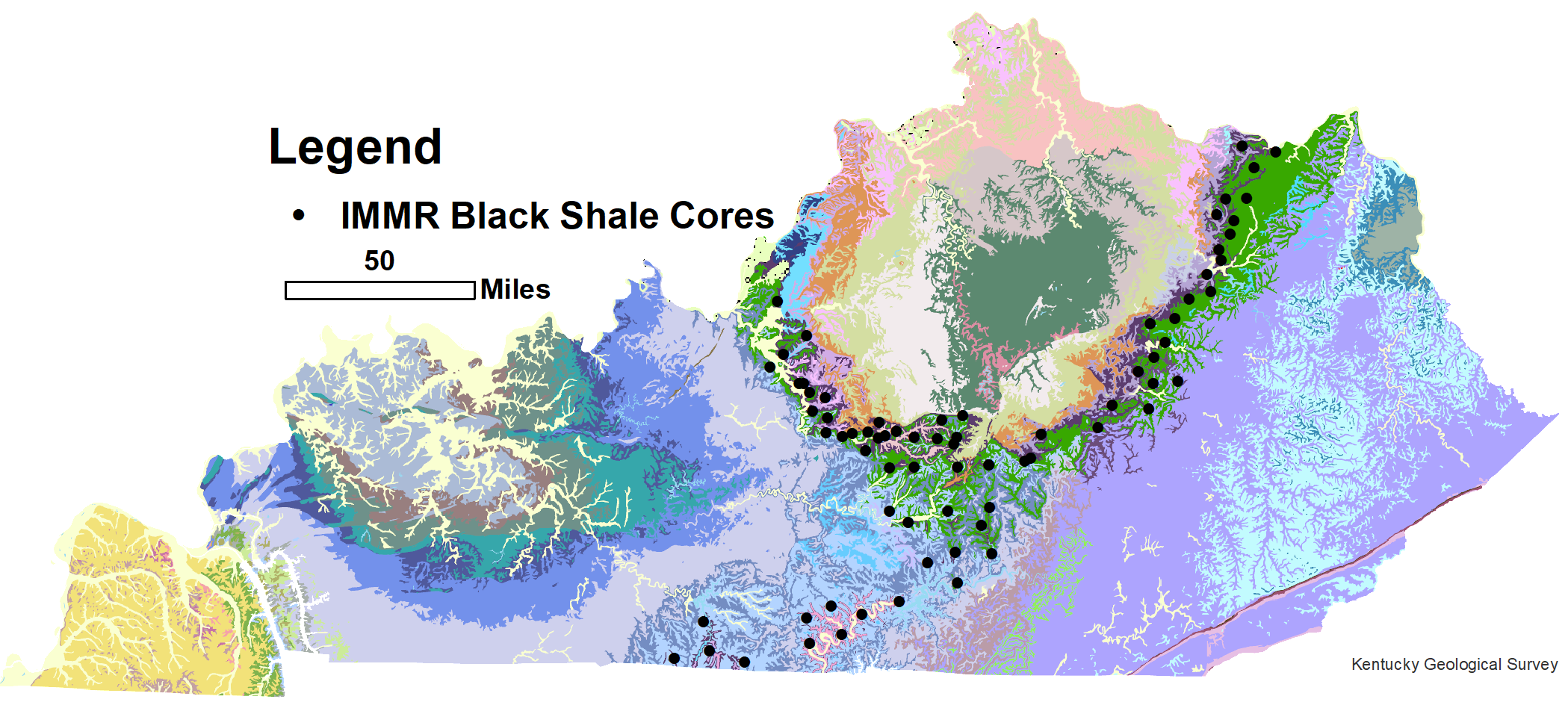 Figure 1. Locations of IMMR shallow black shale cores along Devonian outcrop belt in Kentucky.
The shale cores collected span the stratigraphic complexities and nomenclature changes from the Mississippian Sunbury Shale and Devonian Ohio Shale in northeastern Kentucky, the Chattanooga Shale in south-central Kentucky, to the New Albany Shale in central and west-central Kentucky. They have provided unweathered continuous stratigraphic sections and rock material for a wide variety of geologic studies over the years. The cores also include partial sections of formations above and below the black shales, including the Borden Group, Fort Payne Formation, Berea Sandstone, Bedford Shale, Boyle Dolomite, Bisher Dolomite, Sellersburg Limestone, Jeffersonville Limestone, and Laurel Dolomite.
Downhole gamma-ray and electric logs are available for some of the core holes, and a few cores have core gamma logs made from scintillometer readings. These help to correlate the cores with deeper oil and gas wells.
These cores have been used extensively over the years, first in the original oil shale research, and later for a broad range of studies, including:
· Shale oil and shale byproducts
· Regional stratigraphy
· Sedimentology and paleoredox studies
· Thermal maturity and organic geochemistry
· Trace and rare earth element content
· University education and industry training, workshops
Their significance continues today in ongoing research at KGS to determine the critical mineral content of black shales, especially rare earth elements. Funded by U.S. Geological Survey under their Earth Mapping Resources Initiative (Earth MRI), this 3-year study will focus on mineral resources in central Kentucky, including possible economic levels of trace metals and REE in black shales. Principal investigator for the overall Earth MRI project is Dr. Gina Lukoczki, with Dr. Drew Andrews leading the black shale research. Of particular interest are Devonian phosphate-rich intervals and nodules that are known to have high concentrations of REE in other areas.
References
Barron, L.S., Robl, T.L., Kung, J, and Obley, J, 1984, Devonian-Mississippian Oil Shale Resources of Kentucky: A Summary: Proceedings, 1984 Eastern Oil Shale Symposium, University of Kentucky Institute for Mining and Minerals Research, p. 347-363.
McFarlan, A.C., 1943, Geology of Kentucky, University of Kentucky, Waverly Press.
Pollack, D., Barron, L., and Beard, J, 1981, Stratigraphy and Resource Assessment of the Oil Shales of East Central Kentucky: Proceedings, 1981 Eastern Oil Shale Symposium, University of Kentucky Institute for Mining and Minerals Research, p. 195-212.
Selected core photos from the KGS-IMMR collection: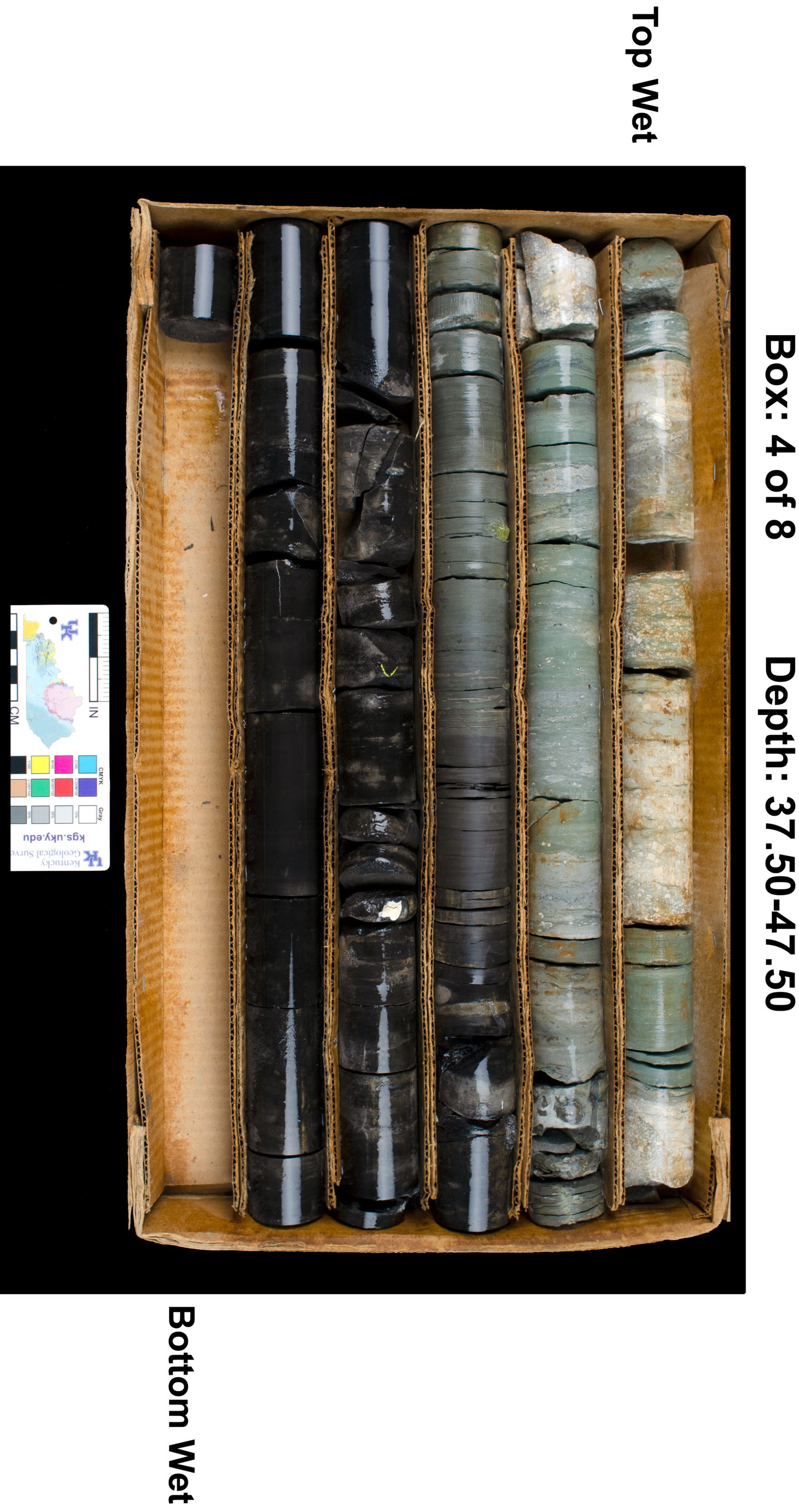 KGS-IMMR L-17, Marion County, Contact of Miss. Fort Payne
Formation (right) with Dev. Chattanooga Shale (left)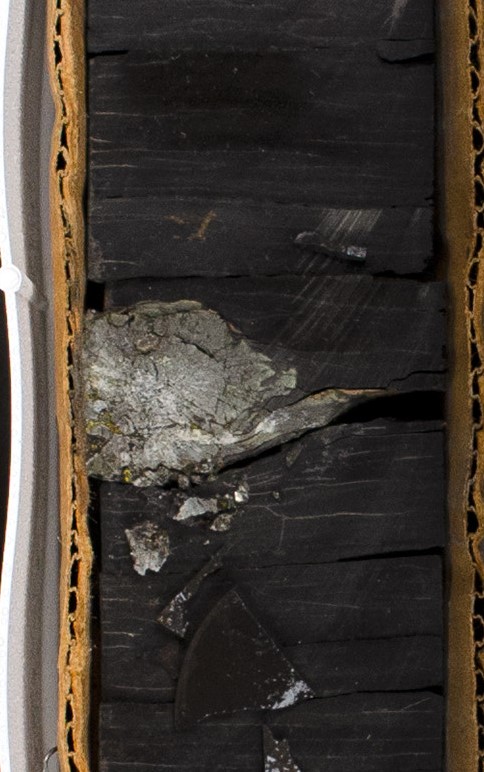 KGS-IMMR D-3, 134 ft., Bath County. Large pyrite framboid in Ohio Shale. This cropped KGS box core photo illustrates the high resolution of images now available for many KGS cores. Width of core is 2 inches.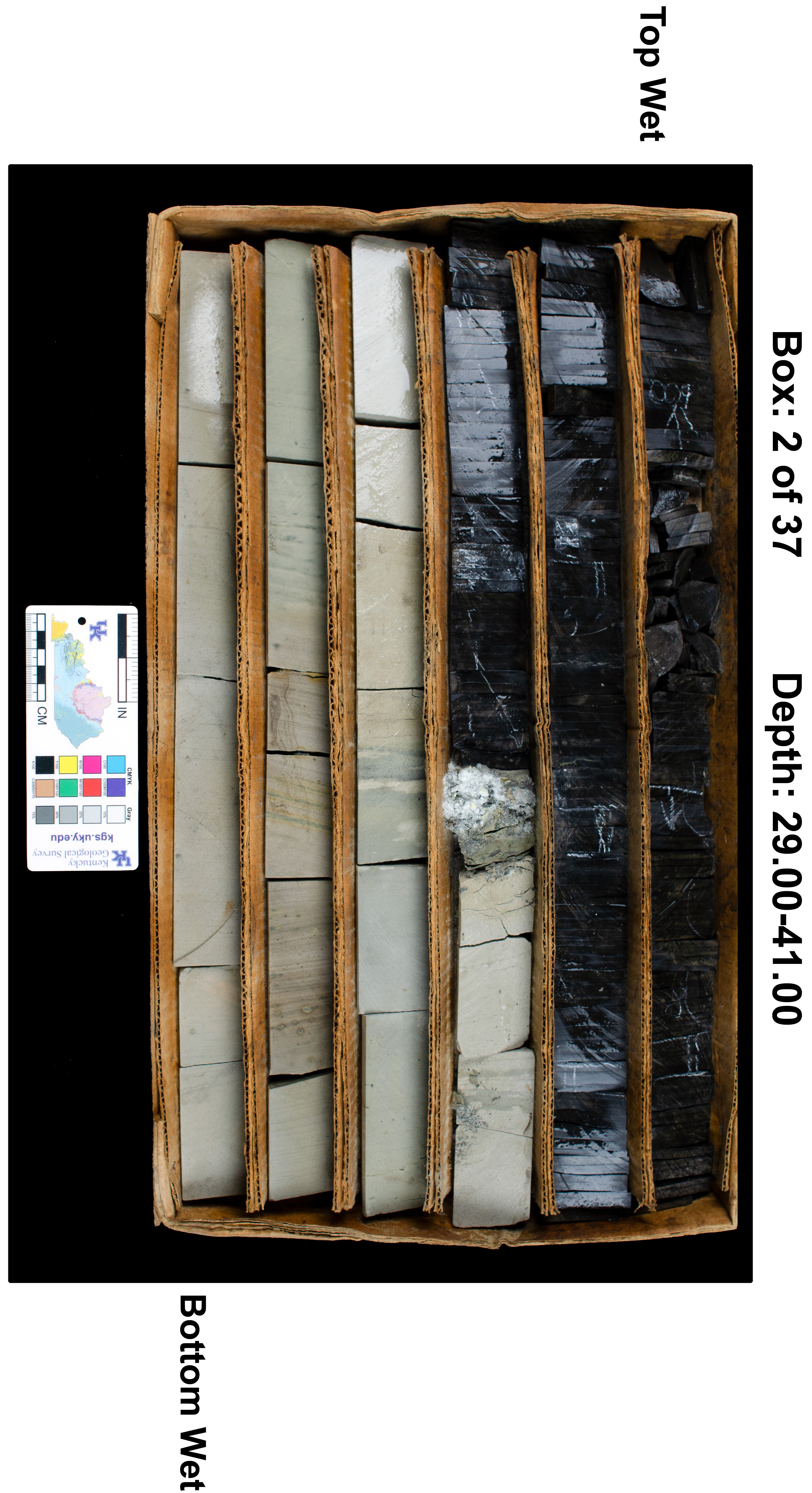 KGS-IMMR KEP-2, Lewis County, Contact of Sunbury Shale (right)
and Berea Sandstone (left)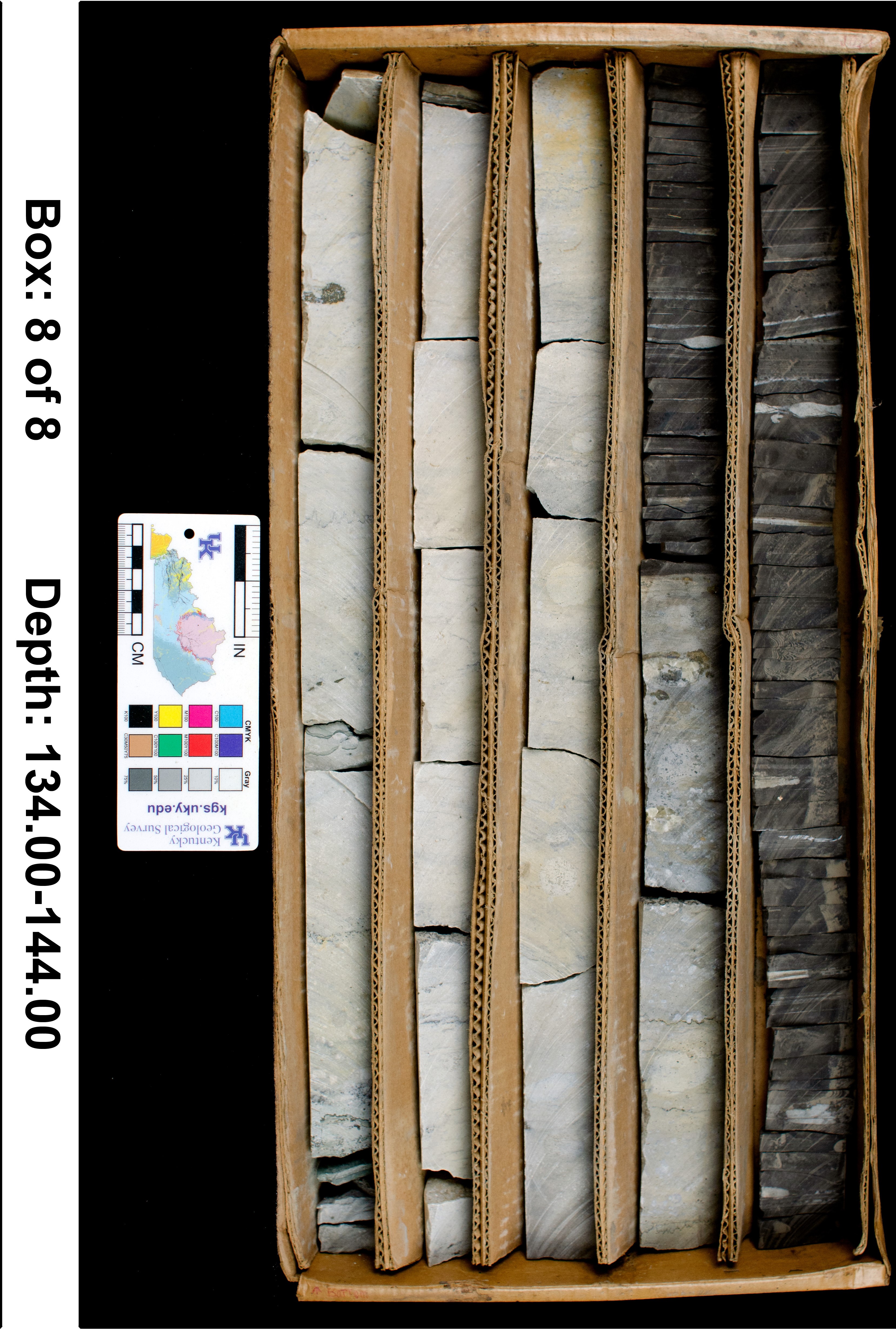 KGS-IMMR A-13, Hardin County: Contact of New Albany Shale (right) with Devonian Sellersburg Limestone and Silurian Louisville Limestone.
KGS-IMMR black shale core list with links to high resolution core photos
County

Latitude

Longitude

Call No. &

link to photos

Hole No.

Cored_Interval (ft)

Adair

-85.183378

37.233469

L-7

10-70

Adair

-85.093417

37.188964

L-8

14-80

Adair

-84.859701

36.95584

L-9

8.8-70

Allen

-86.073481

36.810692

L-13

15-110

Allen

-86.209194

36.670487

L-14

15-72

Allen

-86.042354

36.69849

L-15

17-68

Bath

-83.638634

38.120866

D-2

15-237

Bath

-83.620746

38.056397

D-3

15-247

Bath

-83.728038

38.027114

D-4

15-222

Boyle

-84.829388

37.595767

T-3

9-111

Boyle

-84.929907

37.57951

T-4

15-85

Bullitt

-85.691429

37.835045

A-12

61-127

Bullitt

-85.719404

38.038343

B-8

10-122

Casey

-84.951334

37.507489

A-3

152-202

Casey

-84.858603

37.514081

A-4

64-114

Casey

-84.904073

37.23061

L-2

10-80

Casey

-84.855286

37.397551

T-1

14-75

Casey

-84.872202

37.486177

T-2

15-94

Casey

-85.062008

37.400854

T-5

9-80

Cumberland

-85.31791

36.837516

L-10

1.5-88.9

Cumberland

-85.413105

36.761323

L-11

13-60

Cumberland

-85.465418

36.870297

L-12

14-75

Estill

-83.980685

37.75578

B-1

10-165

Estill

-83.788435

37.715188

B-2

14-160

Estill

-83.932728

37.612579

D-10

15-167

Estill

-83.910291

37.707497

D-9

15-166

Estill

-84.110288

37.62908

T-15

9-149

Fleming

-83.576149

38.214359

D-11

15-287

Fleming

-83.538829

38.408041

KEP-4

10-322

Fleming

-83.502176

38.324983

KEP-5

3-292

Fleming

-83.584031

38.34824

KEP-6

7-279

Fleming

-83.519189

38.27471

KEP-7

10-278

Garrard

-84.452953

37.521624

T-13

8-119

Hardin

-85.754718

37.785484

A-13

64-144

Jackson

-84.180047

37.544265

T-14

14-165

Lewis

-83.395545

38.52435

KEP-2

17-142

Lewis

-83.437255

38.409002

KEP-3

5-356

Lewis

-83.288835

38.582669

KEP-8

15-471

Lewis

-83.452448

38.610029

KEP-9

25-382

Lincoln

-84.532875

37.419425

A-1

33-97

Lincoln

-84.706004

37.405186

T-11

15-60

Lincoln

-84.705109

37.405296

T-11A

10-28

Lincoln

-84.502865

37.431029

T-12

14-110

Madison

-85.146915

37.537246

T-16

4-120

Marion

-85.203149

37.522336

A-5

7-57

Marion

-85.295525

37.464593

A-6

10-52

Marion

-85.359393

37.53053

A-7

11-65

Marion

-85.236171

37.511875

B-3

15-75

Marion

-85.285605

37.536968

B-4

5-75

Marion

-85.477674

37.590536

B-5

15-87

Marion

-85.485281

37.534768

B-6

16-80

Marion

-85.229996

37.572498

B-7

14-25

Marion

-85.061333

37.515175

T-7

15-84

Marion

-85.406084

37.519134

T-8

5-75

Metcalf

-85.582352

36.823179

L-18

5-60

Monroe

-85.877043

36.654979

L-16

14-60

Monroe

-85.568256

36.726888

L-17

11.5-86

Montgomery

-83.797123

37.955847

D-5

15-212

Montgomery

-83.917107

37.938082

D-6

15-182

Nelson

-85.550653

37.617277

A-10

9-66.5

Nelson

-85.616452

37.72255

A-11

14-84

Nelson

-85.592871

37.722138

A-8

21-73

Nelson

-85.48865

37.668925

A-9

11-21

Nelson

-85.579012

37.904044

T-10

7-94.7

Nelson

-85.564993

37.689025

T-9

7-90

Powell

-83.848664

37.864636

D-7

15-177

Powell

-83.901305

37.807702

D-8

5-182

Pulaski

-84.703723

37.241773

A-2

21-79

Pulaski

-84.694412

37.065581

L-1

15-78

Pulaski

-84.74246

37.175807

L-3

21-81

Pulaski

-84.870684

37.073969

L-4

9.3-71

Rowan

-83.568404

38.175398

D-1

15-297

Russell

-85.004236

37.033953

L-5

15-79

Russell

-85.13953

36.885391

L-6

14-70

Taylor

-85.180532

37.397654

T-6

14-85