Coal Occurrences in Kentucky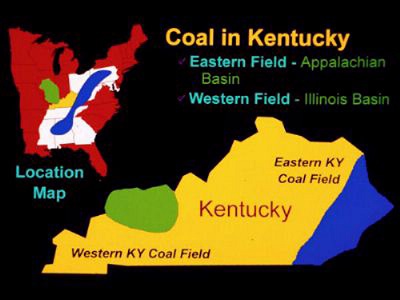 Bituminous coal in Kentucky is concentrated in two regions: the Eastern Kentucky Coal Field and Western Kentucky Coal Field. The Eastern Kentucky Coal Field is the larger of the two, and is a part of the Appalachian Basin. The Western Kentucky Coal Field lies within the Illinois Basin.
Coal occurs in 57 of Kentucky's 120 counties: 20 counties in the Western Kentucky Coal Field and 37 counties in the Eastern Kentucky Coal Field. There are small deposits of lignite in the Jackson Purchase Region in extreme western Kentucky. Although the lignite is not economically important, it is associated with commercial-grade ball clay deposits. Coal is mined from approximately 45 different seams in eastern Kentucky and about 10 seams in western Kentucky.