Major, Minor, and Trace Elements

The elements in coal are shown on the table below. Major elements are elements that constitute more than 1 percent of the coal by weight: carbon, hydrogen, oxygen, nitrogen, and sulfur. The relative percentage of carbon increases with rank, whereas the percentages of oxygen and hydrogen decrease with rank.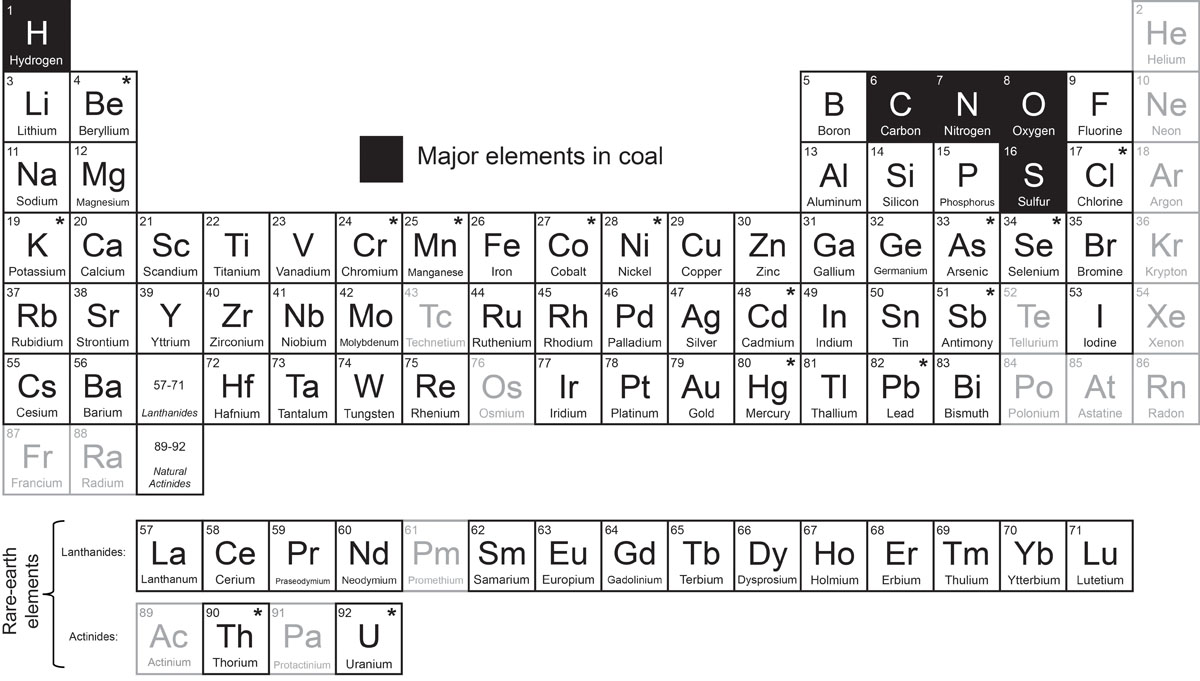 Minor elements ae elements that constitute 1.0 to 0.01 percent of a coal by weight. Common minor elements in coal are sodium, magnesium, aluminum, silicon, phosphorus, potassium, calcium, titanium, manganese, and iron. Most of the minor elements are associated with the minerals in coal, although phosphorus also is associated with the organic coal matrix. Minor elements are relatively common in coal. Not all of these minor elements occur in all coal seams, and those that do occur will do so in different concentrations in different seams. In fact, the concentrations of minor elements may change vertically and laterally within a single coal bed (see, for example, Finkelman, 1981, 1995; Schweinfurth and Finkelman, 2003; Swaine, 2013).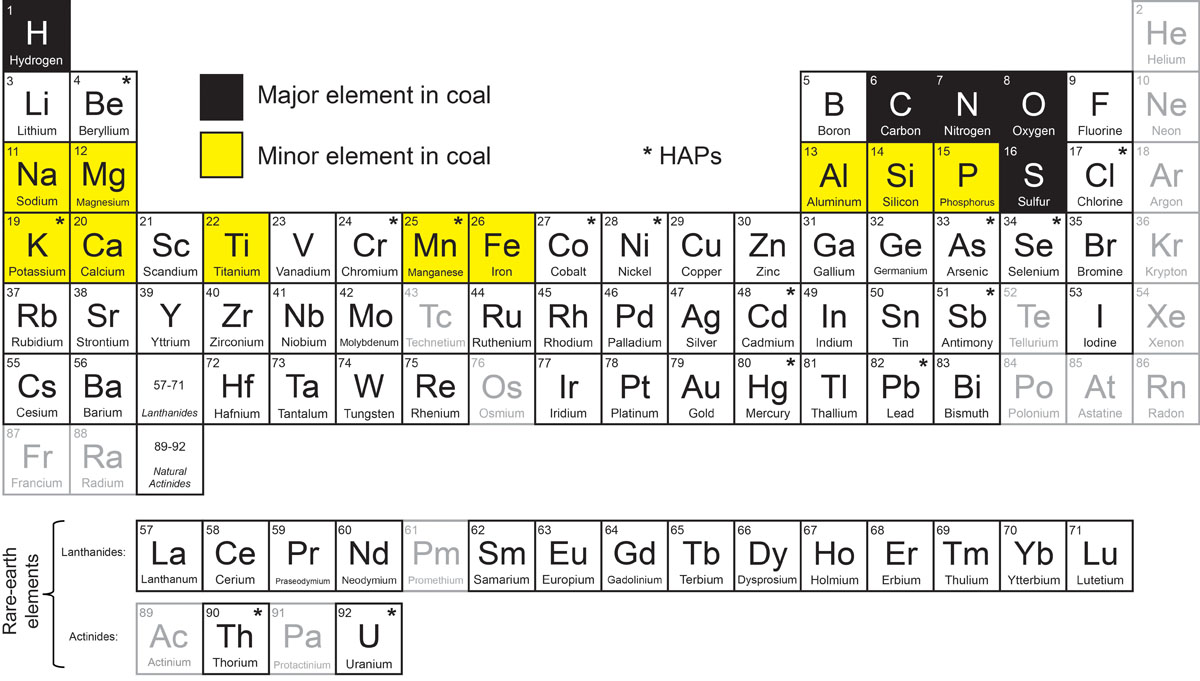 The rest of the elements outlined in the periodic table occur in concentrations of 100 parts per million or less. These are called trace elements. Not all coals contain these elements, and their concentrations vary greatly among and within coal beds. Similar to mineral matter, trace elements may be introduced during peatification (syngenetic) or at any stage of coalification (diagenetic).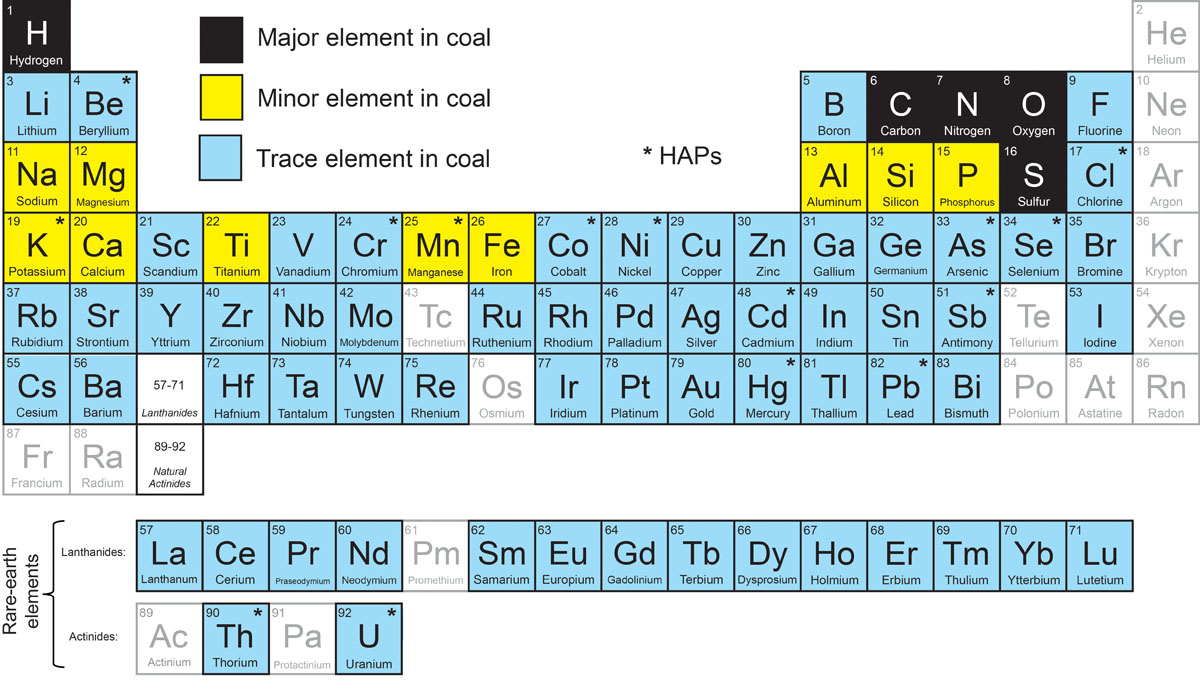 An important aspect of trace elements is chemical association. Trace elements can be organically bound to the coal matrix or associated with mineral matter. Antimony, beryllium, boron, gallium, and germanium are usually organically bound; this means they are intimately attached to the coal matrix. Arsenic, chromium, nickel, selenium, titanium, uranium, and vanadium, among other elements, may be either organically bound or occur in mineral matter, depending on the coal (Gluskoter and others, 1977; Miller and Given, 1986; Given and Miller, 1987; Goodarzi, 1988; Finkelman, 1995; Swaine, 2013).
Understanding the chemical associations of trace elements in a coal can aid in determining (1) if the elements can be or need to be removed or diminished from the coal prior to utilization, (2) where the elements will end up (emissions, solid residues) during and following coal utilization, and (3) the best mechanisms for mitigating any potential technological or environmental issues an element may have in the utilization process based on best practices and regulations.
Of the trace elements in coal, 15 are listed as hazardous air pollutants by the U.S. Environmental Protection Agency. Mercury is currently the only HAPs element regulated and monitored from coal-fired power plant emissions in the United States (U.S. Environmental Protection Agency, 1997, 1998, 2016b). Many of the other HAPs (arsenic, cadmium, cobalt, mercury, lead, some selenium, and antimony) are commonly associated with sulfide minerals such as pyrite, so removing (or at least reducing) sulfide minerals from the coal prior to combustion in preparation plants, and removing or transforming sulfurous flue gases after combustion, aids in mitigation.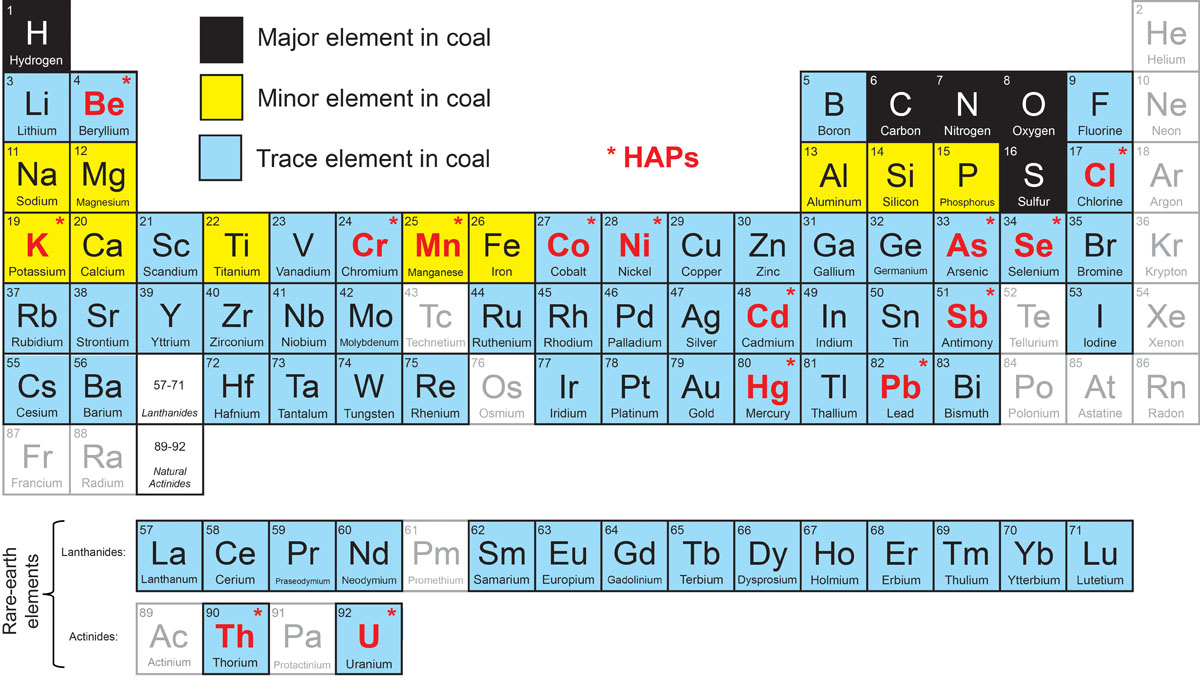 Coal and coal beneficiation products are also potential sources of useful trace elements. Coal has recently been investigated as a potential source of rare-earth minerals.
Learn more