Thomas Jefferson and the birthplace of North American vertebrate paleontology

A common misconception is that the bones from Big Bone Lick are the bones of dinosaurs. This is likely a case of lumping all ancient creatures into the category "dinosaurs." Dinosaurs were reptiles that lived more than 65 million years ago in the Mesozoic Era. The fossil bones from Big Bone Lick are from mammals that lived during the much more recent Pleistocene Epoch of the Cenozoic Era, often called the ice age, and are distinctly different than dinosaurs. Dinosaurs were long extinct when mammoths and mastodons roamed the earth. Fossil-bearing layers at Big Bone Lick have been dated at 11,000 to 12,000 years old (Tankersley and others, 2009).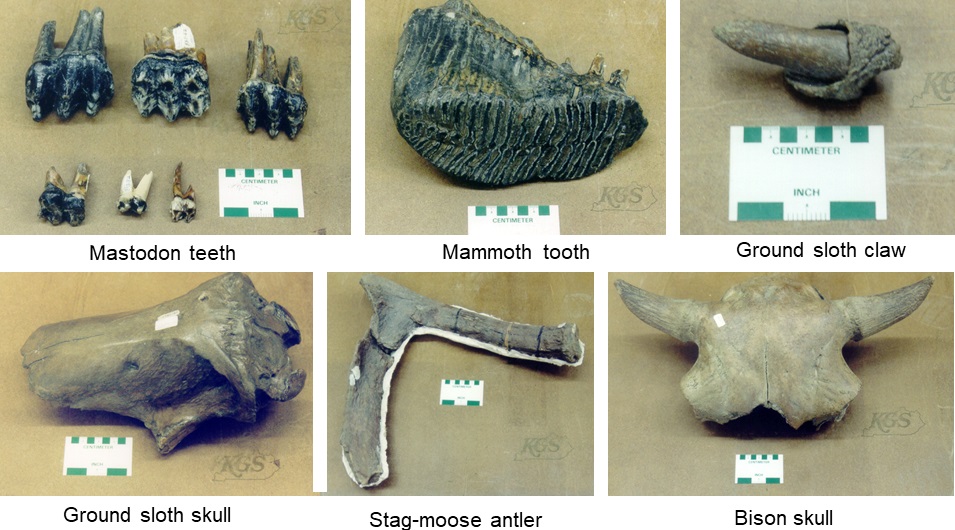 Fossils of extinct Pleistocene mammals found at Big Bone Lick (Cooper, 1931; Schultz and others, 1963; Jillson, 1968; Tankersley and others, 2009) include:
Bison antiquus
ancient bison or ice age bison
Bootherium bombifrons
helmeted musk ox, sometimes called Harlan's musk ox
Cervalces scotti
Scott's stag-moose, sometimes called an elk-moose
Equus complicatus
complex-tooth horse
Mammut americanum
American mastodon
Mammuthus columbi
Columbian mammoth
Mammuthus primigenius
wooly mammoth
Megalonyx jeffersoni
Jefferson's giant ground sloth
Paramylodon harlani
Harlan's ground sloth, historically reported as Mylodon

Fossils of animals that survived the late Pleistocene extinctions of large mammals in North America and whose descendants are still alive today, including modern bison, black bears, caribou, deer, elk, tapirs, and wolves, have also been found at Big Bone Lick. In fact, bison bones are probably the most commonly found in past excavations.
Bones of some of the ice age mammals and life-size reconstructions of some of the ancient animals can be seen in a small museum at Big Bone Lick State Park. The nearby Cincinnati Natural History Museum also has reconstructions of the local ice age.
Related Topics: