Perhaps the most sought-after fossils in Kentucky are the attractive, but extinct trilobites. Trilobites lived in ancient seas during the Paleozoic Era, but became extinct during the Permian Period.

Trilobite fossils have been found in Ordovician, Silurian, Devonian, Mississippian, and Pennsylvanian rocks in Kentucky, but are perhaps most commonly found in the Ordovician and Silurian rocks. One of the most abundant trilobite fossils is Flexicalymene meeki, which is typically found in the rolled-up form. Fossils of the large Isotelus gigas (up to 1 foot long) have also been found in the Ordovician rocks in the Blue Grass Region. The Silurian Calymene trilobites found near Bardstown are beautifully preserved by crystalline dolomite.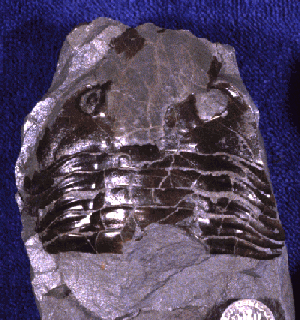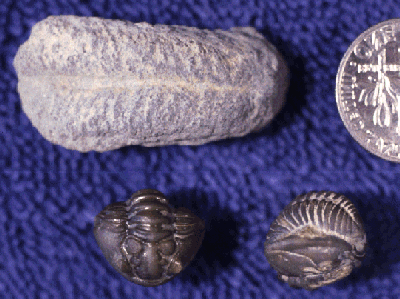 Because trilobites are arthropods, they shed their exoskeletons, a process called molting, as they grew. This is why broken fragments of trilobites are common in Ordovician rocks. The fossils below are fossil molts of Ordovician trilobites. See if you can find the fossil molt fragments.