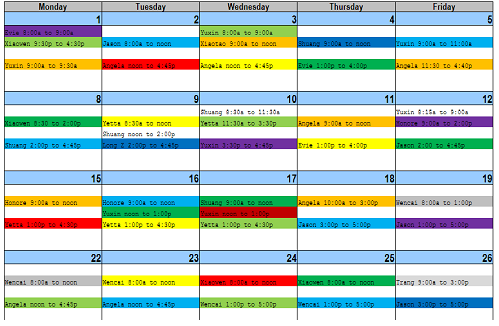 KGS X-Ray Diffraction Instrument Schedule
2023
To reserve time on the XRD instrument located in room 369 of the Mining and Mineral Resources Building
First follow the link above to the XRD schedule and locate an unscheduled time you wish to reserve.


Second, send an email with the date and time to us by clicking the link below the XRD schedule, and we will update the schedule to indicate your reservation.


If you need to cancel your scheduled time, please do so as soon as possible.


Please direct questions regarding X-ray diffraction scheduling to: Jason Backus.


Instrumentation and Standard Services
The KGS laboratory specializes in environmental analysis of:
water
coal
rocks and minerals
other natural resources
List of KGS Services
This service is provided primarily to researchers at KGS, but also to representatives of academia, government, industry, and the private sector who study the environment and natural resources of Kentucky. As part of our mission to serve the public, we require that results of analyses run for non-KGS researchers enhance our publicly available databases.
We offer trained professional staff and state-of-the-art automated equipment, and use the latest techniques to efficiently analyze samples. Our goal is to provide quality and timely analytical service to meet any specific requirements. We also train UK students in the principles and practice of various analytical techniques and instruments, including total organic carbon, X-ray diffraction, and X-ray fluorescence. Graduate students from a wide range of studies use the lab facilities and experience of the lab personnel.
KGS uses a laboratory information management system to track sample status from log-in to final reporting. This LIMS technology is based on current EPA recommendations for ensuring data integrity in an automated laboratory operation. We also provide electronic data transfer using various types of media and database formats.
Quality Assurance and Quality Control
The KGS laboratory maintains a quality-control program to assure reliable results. This comprehensive program provides the highest confidence in precision as well as in accuracy for all our analyses. All analytical instruments are calibrated regularly, and complete calibration records are maintained.
Results accuracy are verified using certified calibration standards, traceable to National Institute of Standards and Technology and American Association for Laboratory Accreditation sources when possible.
In an effort to continually improve the quality of our service, we have adopted an intralaboratory performance testing program. We participate in intralabratory proficiency testing programs offered by the U.S. Geological Survey, Quality Assurance Resources, Quality Associates International Ltd., and Analytical Geochemistry Laboratories.
Each test method follows established quality-control measures that are clearly defined in all standard operation procedures. These SOPs, as well as the laboratory quality-assurance plan, may be reviewed by interested parties. A written summary of all quality-control data associated with a group of samples will be made available upon request.