Clay
Kentucky has several major areas that produce high-quality clays, which are shipped to customers around the world. Clay from numerous sites in Kentucky not discussed here have been analyzed in some way.
Eastern Kentucky
The Olive Hill Clay Bed is a Pennsylvanian bed that occurs in seven counties in northeastern Kentucky. The bed has been mined for many years, but currently there is no active mining in it. Remaining reserves may be small. The bed was famous as a source for refractory and firebrick clays. Another nearby clay bed called the Hitchins Clay has been mined in Carter and Boyd Counties for common brick.
Eastern Kentucky has several brick plants that mine clay for common brick. Many of the clays beneath coal beds (called underclays) have potential for various types of brick, including common clay. One plant near Grayson has been in operation for many years and produces clay from Pennsylvanian rocks. Another brick plant near Corbin also produces clay from Pennsylvanian rocks.
Western Kentucky
The Jackson Purchase Region contains several deposits of ball clays. Two major mining companies there extract Eocene clay suitable for ceramic, porcelain, refractory, tableware, and sanitary ware. These clay beds occur in lenses in the Eocene rocks in Graves, Carlisle, and Hickman Counties. A Kentucky Society of Professional Geologists (now known as the Geological Society of Kentucky) field trip made stops at the clay mines.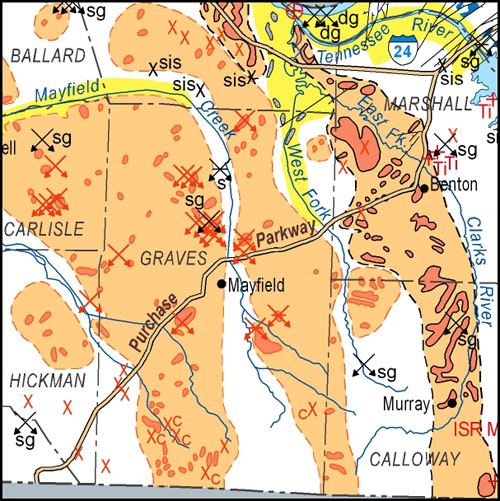 The Porters Creek Clay also occurs in the Jackson Purchase Region and has been mined for absorbent and fuller's earth products. Fuller's earth can be used as an industrial absorbent for a variety of purposes, most commonly in kitty litter. There are also many potential sites for fuller's earth, ceramic, ball, and common clay in Ballard and McCracken Counties.
A brick plant near Louisville produces clay from the New Providence Shale, a Lower Mississippian rock. This plant also produced expanded aggregate, for use in lightweight concrete.
Central Kentucky
Central Kentucky has some montmorillonite clays, although they are thin and not mined. The zone at the top of the High Bridge Group contains several small bentonites; the two largest are called the Mud Cave and Pencil Cave. Some clay pits near Lexington were exploited in the past, but are currently removed by urban development.
The Bybee Pottery clay operation continues to mine and produce clay pottery in Madison County. They recover clay from the Pleistocene Irvine Formation and produce ceramic earthenware.
Other clays in the Borden and Crab Orchard Formations have potential for brick, ceramic, or earthenware products.