KGS Awarded $222,974 USGS Geoscience Collections Grant
This year, the Kentucky Geological Survey (KGS) received its largest award to date from the National Geological and Geophysical Data Preservation Program (NGGDPP) to fund the work of four priority data stewardship projects. KGS maintains an extensive collection of geophysical data like rock cores, soil samples, and water quality measurements gathered over a century of research and exploration in Kentucky. However, with more than three million objects and more than one hundred collections, keeping the resources up-to-date and publicly accessible is an ongoing challenge.

The NGGDPP is an initiative of the U.S. Geological Survey focused on the preservation and exposure of geoscience collections. The most recent KGS award will support four new projects to digitize, standardize, and modernize existing materials. Specifically, the grant will directly fund four temporary employees dedicated to stewardship of rock and soil core data, organization of karst hydrology dye-trace data, and the development of a cold storage system. Three KGS staff members, Liz Adams, the archive manager of KGS's Earth Analysis Research Library (EARL), along with geologists Dr. Ben Tobin and Dr. Gina Lukoczki, will co-lead the initiative.

Project 1 funds the identification and assessment of 3,000 feet of soil cores and associated plugs and the creation of a new cold storage system. This work will ensure soil samples from Kentucky are discoverable and accessible online.
Dried soil core collected by KGS staff in 2014.
Project 2 aims to modernize the point (3,000+), line (2,800), and polygon (400) features in the KGS dye trace dataset, which helps identify groundwater basins and springs for karst regions of Kentucky . Focused on improving data management, this work will implement FAIR data principles and ensure the publicly accessible data is accurate and usable.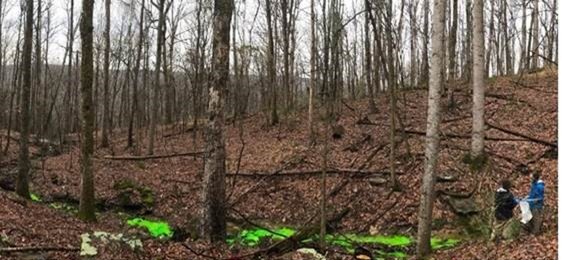 KGS researchers performing a dye trace study in the field.
Project 3 focuses on cataloging and digitizing paper documents representing 2,888 rock cores in the KGS collection. The goal of this work is to help researchers identify useful cores for topics such as rare earth elements, energy production, and paleoclimates.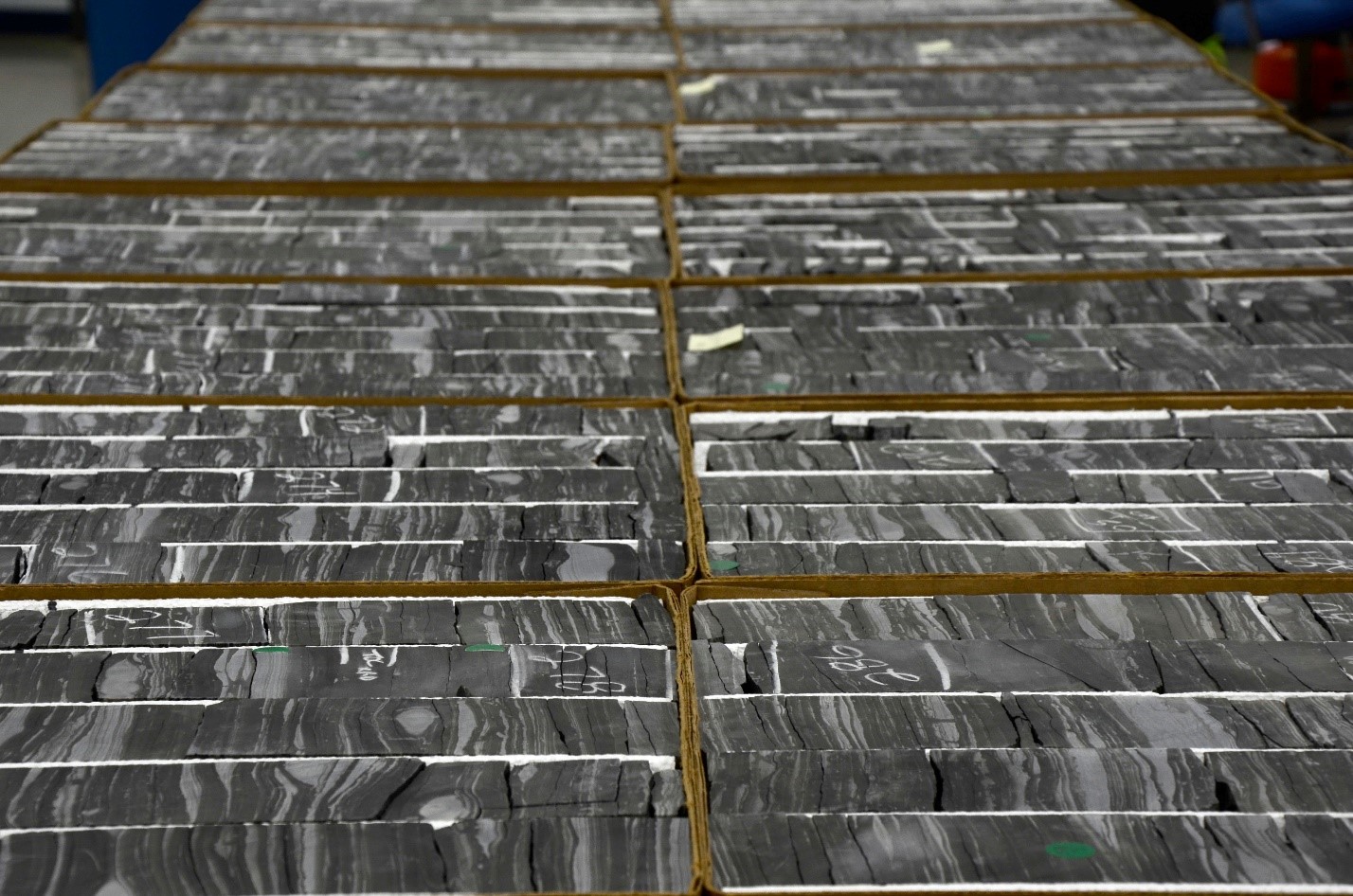 A newly accessioned core at the EARL from Lawrence County, KY.
Project 4 will add 646 digital files containing geochemical and mineralogical data to the 4,300 geo-referenced digital files available through the Kentucky Minerals Resources Information Map Service. Project tasks include identifying data relevant to current KGS databases and projects such as the 3D modeling of the Illinois–Kentucky Fluorspar District.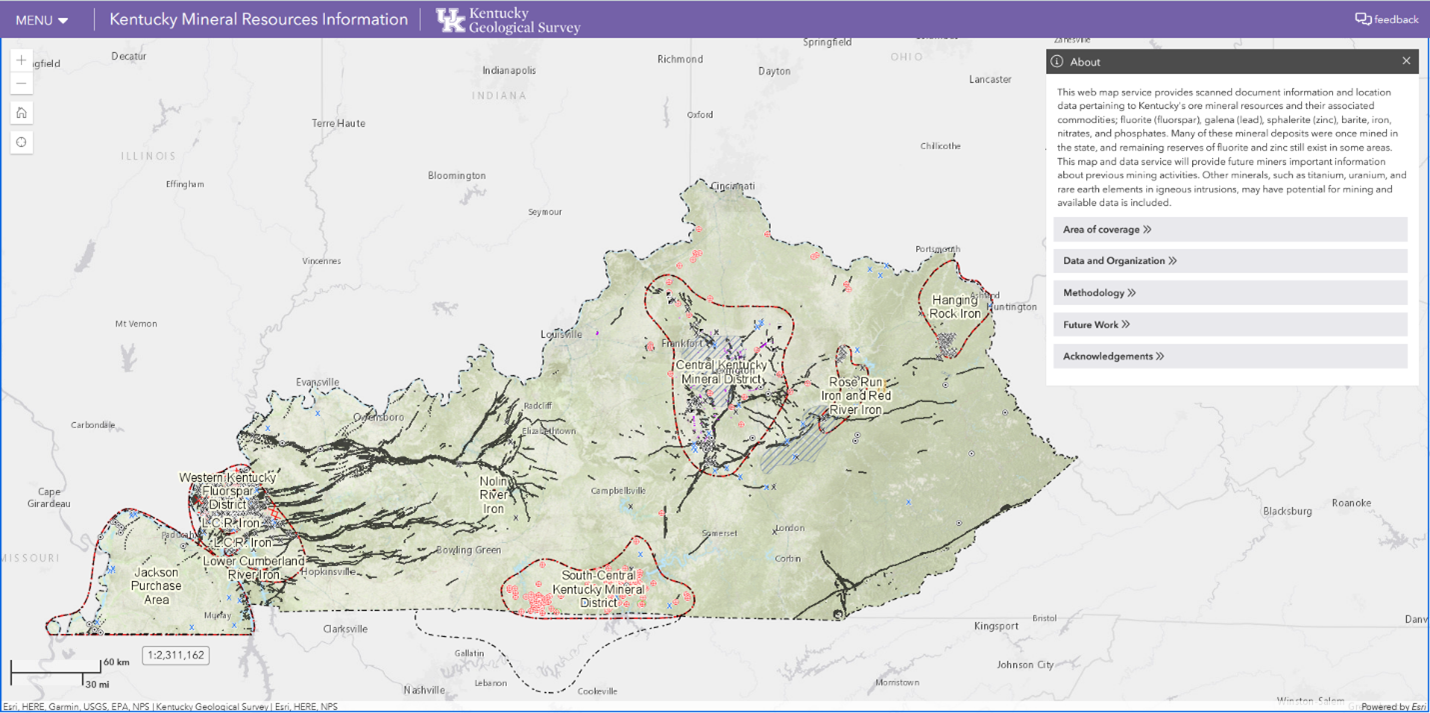 Homepage of the KGS-hosted Kentucky Minerals Resources Information Map Service.
Collectively, the project results will support the Survey's commitment to providing accessible, unbiased, and high-quality Kentucky geologic resources. This work builds on previously funded archival initiatives, including the core photography and the oil and gas well cuttings assessment. More information about the NGGDPP is available on the
USGS website
. To learn more about the KGS collections and ongoing preservation initiatives, visit the
KGS website
.