KGS Releases New Landslide Susceptibility Maps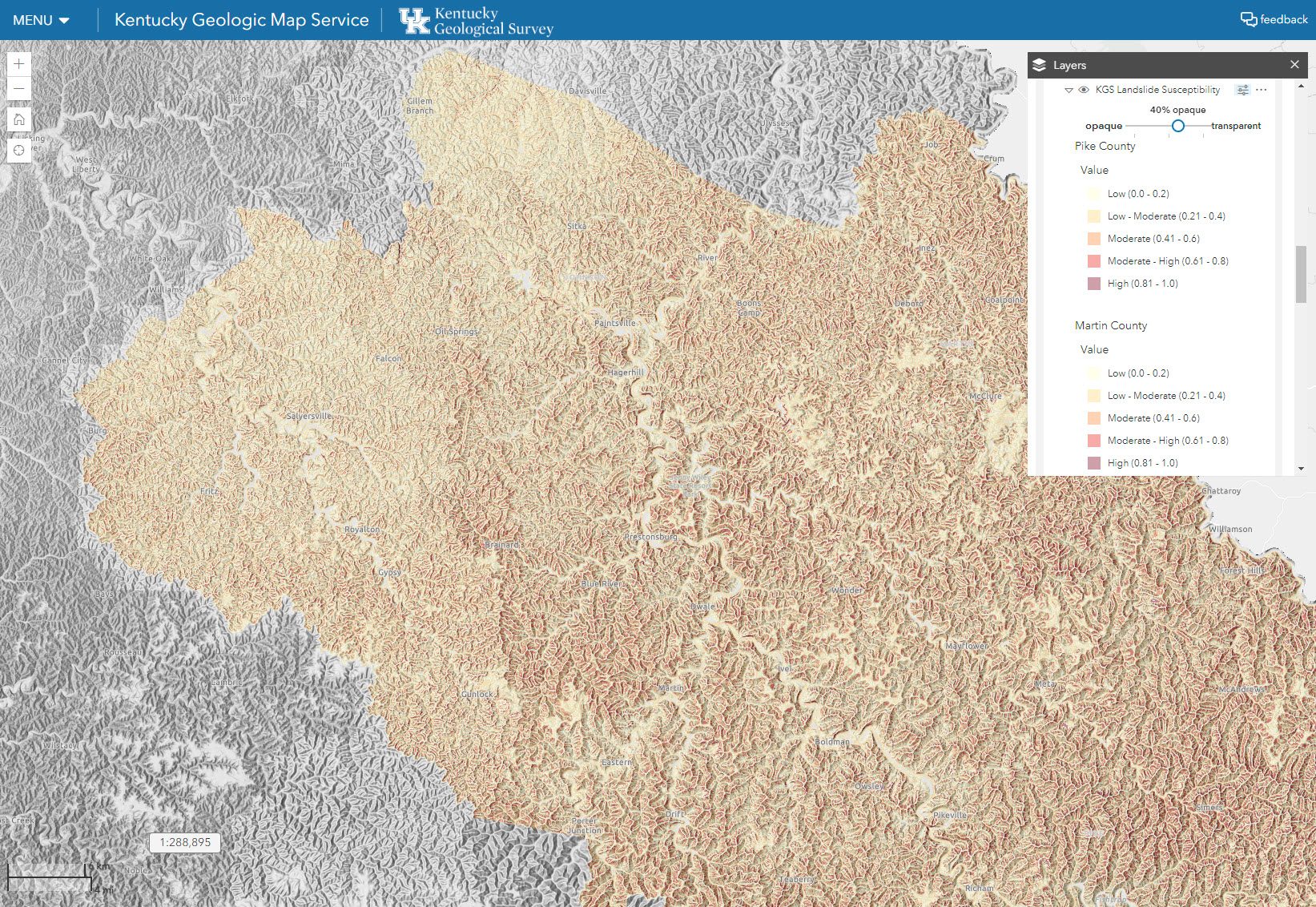 Landslide succeptibility map of Magoffin County from Kentucky Geologic Map Service
The Kentucky Geological Survey (KGS) announces the release of newly developed landslide susceptibility maps that highlight high-susceptibiity areas across five eastern Kentucky counties. Available as online KGS publications, these maps represent a new, proactive approach to landslide assessment and supplement the Survey's existing statewide landslide inventory work. Funded by a Federal Emergency Management Agency (FEMA) planning grant focusing on the Big Sandy Area Development District, the maps cover Floyd, Johnson, Martin, Magoffin, and Pike Counties.
Combining machine learning and geomorphological statistics, KGS researchers developed a model that calculates the probability that a landslide either has occurred or may occur in an area. This method only tracks relative susceptibility and cannot definitively predict when or if a landslide will occur. However, the classification system is an important tool for regional emergency managers and hazard mitigation planners who evaluate infrastructure needs, land-use planning, and potential landslide responses across counties and regions.
In addition to posing a risk to life, landslides in Kentucky cause significant damage to property and infrastructure with estimated costs as high as $20 million annually. Landslide damage is also typically not covered by homeowner insurance policies in the United States. Because rainfall is the primary trigger for landslides in Appalachia, increasing annual precipitation rates in Kentucky means the potential for increasing frequency and intensity of landslides.
"We created these maps because we are interested in working with communities to generate good and practical science," says geologist Matt Crawford. "Landslides are shared problems, and we all benefit from reducing disaster risk."
Community members and stakeholders who are interested in engaging with the KGS research on landslides should visit the landslide susceptibility map help page. Crawford and his collaborators have begun a second round of landslide susceptibility and risk assessment work for the Kentucky River Area Development District.