A Virtual Geologic Tour of the Mantle Rock Nature Preserve Added to the KGS Collection
May 27th, 2022
Hikers and naturalists exploring Kentucky trails this summer have a new resource: a KGS story map detailing the geology of Mantle Rock Nature Preserve in western Kentucky. The virtual tour is the result of a UK Cooperative Extension pilot project to connect KGS with the Riverlands Alliance, a non-profit organization promoting public lands in western Tennessee and Kentucky. KGS geologists Steve Martin and Steve Greb, along with cartographer Emily Morris, developed a trail guide that explains geologic features along the preserve's 2.8-mile trail.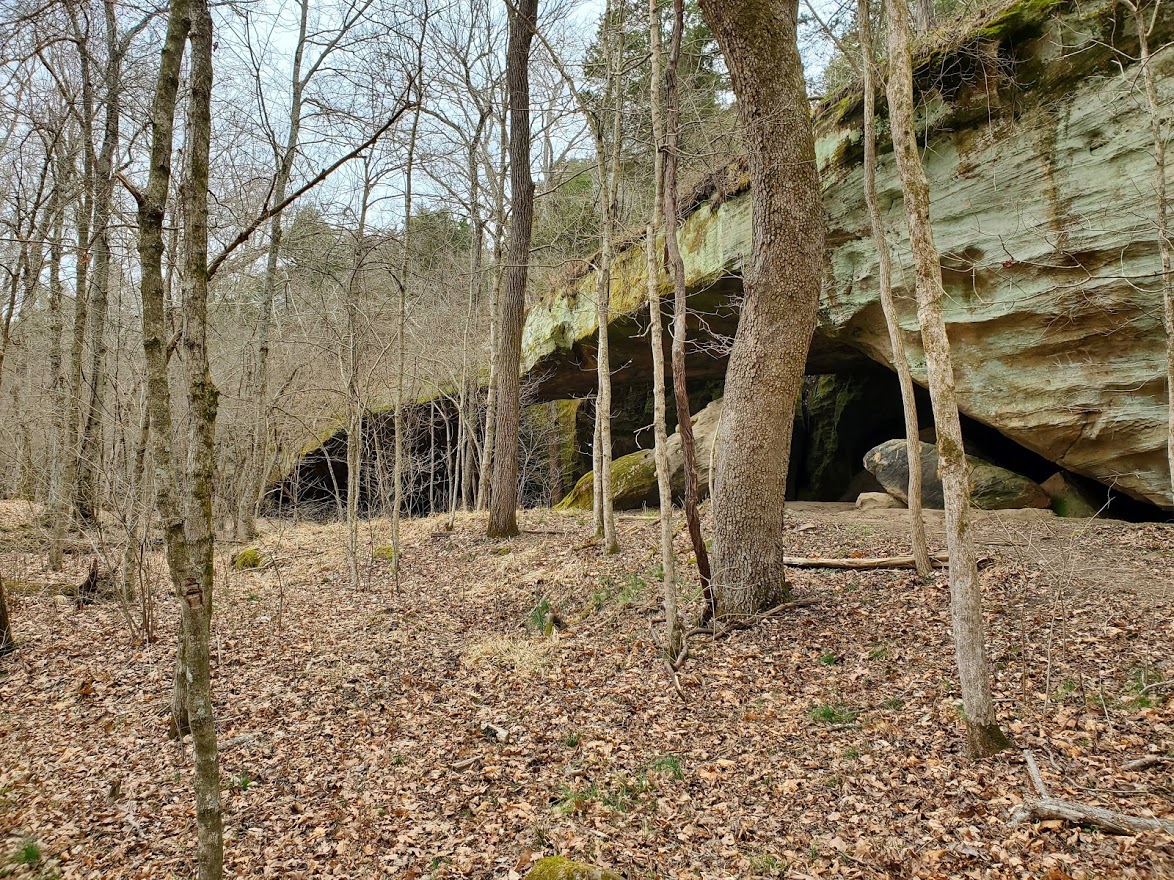 Photo of Mantle Rock by Steve Martin, KGS.
Mantle Rock Nature Preserve is in Livingston County, Ky. near the Illinois-Kentucky border and approximately 45 minutes north of the Land Between the Lakes National Recreation Area. The land was acquired by The Nature Conservancy in order to protect the fragile sandstone glades, upland forests, and rare wildflowers such as June grass and Buckley's goldenrod. The preserve trails and the adjoining Livingston County Wildlife Management Area and State Natural Area lands are open to the public.
The central attraction, Mantle Rock natural arch, has the longest span of any natural rock opening in the state at 165 feet. This rock opening formed in the Pounds Sandstone Member of the Caseyville Formation because of weathering and erosion caused by the action of water, temperature variations (freeze-thaw), and tectonic stresses on the rock. The Mantle Rock trail is an ideal setting to learn about depositional (crossbedding), tectonic (joints), and weathering (natural rock openings, honeycombs) features that can be observed in the sandstone. Additionally, hikers can see common landscape features such as loess and residual soils in upland areas, colluvium along hillsides, and alluvium along the streams along the trails. The
Geologic Tour of Mantle Rock Nature Preserve story map
includes photos and illustrations of the area and is accessible on the KGS website. Information about the conservation goals, visiting hours, and links to trail maps for Mantle Rock Nature Preserve is available at
The Nature Conservancy website
. Public information requests or comments about the trail map are welcome and can be directed to KGS geologist Steve Martin (
steven.martin@uky.edu
).