KGS Releases New Report about the Landslides and Debris Flows Associated with the July 2022 Flooding in Eastern Kentucky
KGS's latest report of investigations explores the landslides and debris flows associated with the July 2022 flooding in eastern Kentucky. In July, a series of storms generated record-breaking rainfall rates, with hardest-hit areas experiencing more than 10 inches of rainfall in a 24-hour period. KGS identified more than 1,000 new landslides and debris flows triggered by the rainfall. Both field reconnaissance and remote sensing techniques were used to document and inventory the landslide data associated with the storm events. Read excerpts and access the full publication through the KY Geode, the KGS online publications and data repository, or through UKnowledge, the University of Kentucky's digital scholarship collection.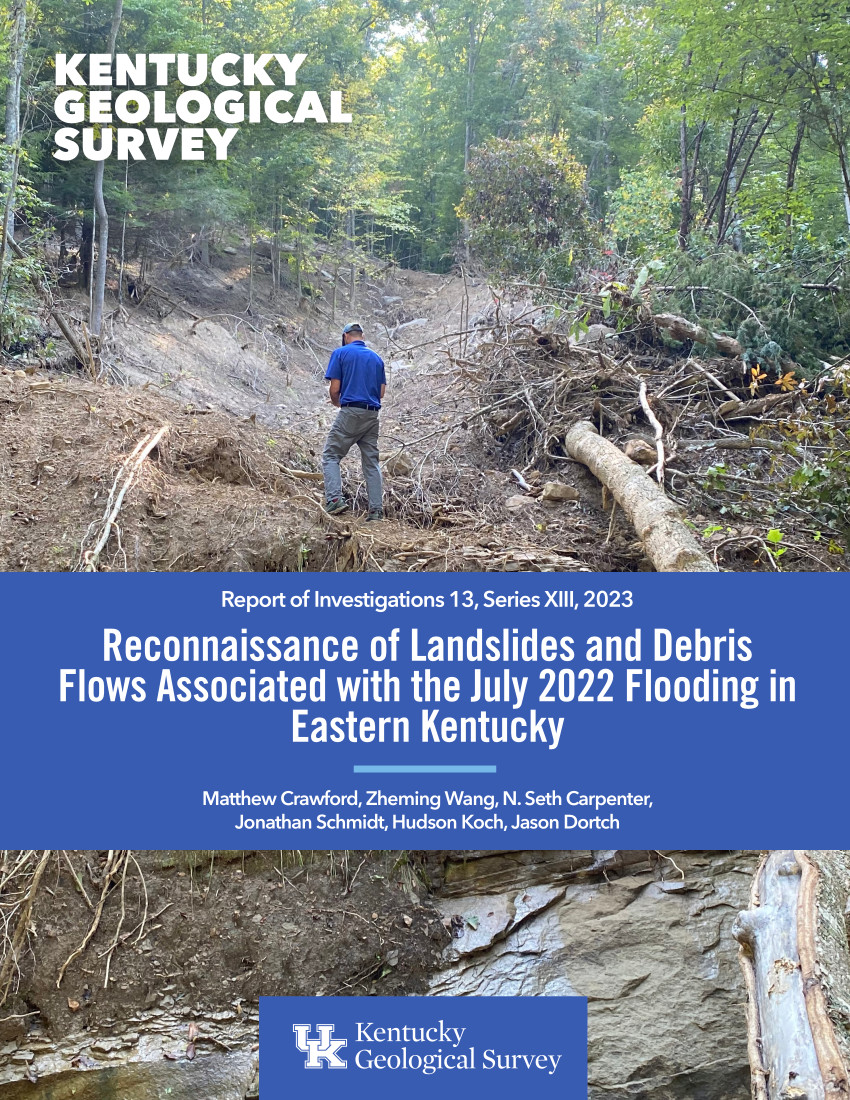 Summary
Between July 25 and July 30, 2022, a series of convective storms generated approximately 14–16 inches of rainfall across parts of eastern Kentucky, predominately in Clay, Leslie, Perry, Breathitt, Knott, and Letcher Counties. The historic rainfall led to catastrophic flooding along many rivers and streams and triggered widespread landslides and debris flows that damaged roads, homes, property, and other infrastructure. KGS documented landslides from late August to early November 2022 using visual inspection methods and a remote sensing technique called normalized differencing vegetation index (NDVI). Visual field inspection occurred primarily along roads through documentation of landslide type and location. The NDVI technique allowed identification of larger landslides and debris flows not easily accessible in a vehicle. KGS identified more than 1,000 new landslides and debris flows triggered by the July event. As an increase in landslides have occurred with increased precipitation, KGS anticipates future increases in precipitation will lead to more landslides in Kentucky.
Why is this research important?
Documenting landslides in the field while they are easily identifiable is important for future hazard assessment modeling. Landslide inventories associated with large storm events, and large impact areas, will improve our understanding of landslide occurrence and rainfall rates, and potentially our ability to forecast landslides. These results will help geologists better understand how landslides in Kentucky are related to rainfall and climate change and hopefully increase the public awareness of landslide dangers. The data is intended for use by both scientists and non-scientists, such as emergency managers and public safety decision-makers. Kentucky landslides have an annual direct cost of $10 - $20 million.