EARL Staff Complete Phase One of Assessing Oil and Gas Well Cuttings Collection
Well cuttings are broken bits of rock brought up to the surface while drilling into the Earth. Oil and gas drillers donate sets of well cuttings to the Kentucky Geological Survey for storage and research. The cuttings are stored in bags or vials according to their depth and grouped in boxes according to their well. Cuttings are a valued source of geologic information. Scientists use destructive and nondestructive techniques to analyze them and answer questions about rock layers below the Earth's surface. Well cuttings are also lightweight, making them a portable and accessible tool for teachers to explain differences in the rock color and texture of different layers below the Earth.
Frozen pipes caused flooding at the Kentucky Geological Survey's well sample and core library in 1992, damaging 2,465 sets of well cuttings. The cardboard boxes they were contained in deteriorated over time and mold began to grow, making the sets unsafe to handle. KGS received funds from the U.S. Geological Survey's National Geological and Geophysical Data Preservation Program to strategically assess the 2,465 sets and an additional 2,691 sets of unprocessed cuttings. The goal of this assessment is to remove damaged and surplus cuttings that degrade the quality of the overall collection and put a strain on EARL's resources.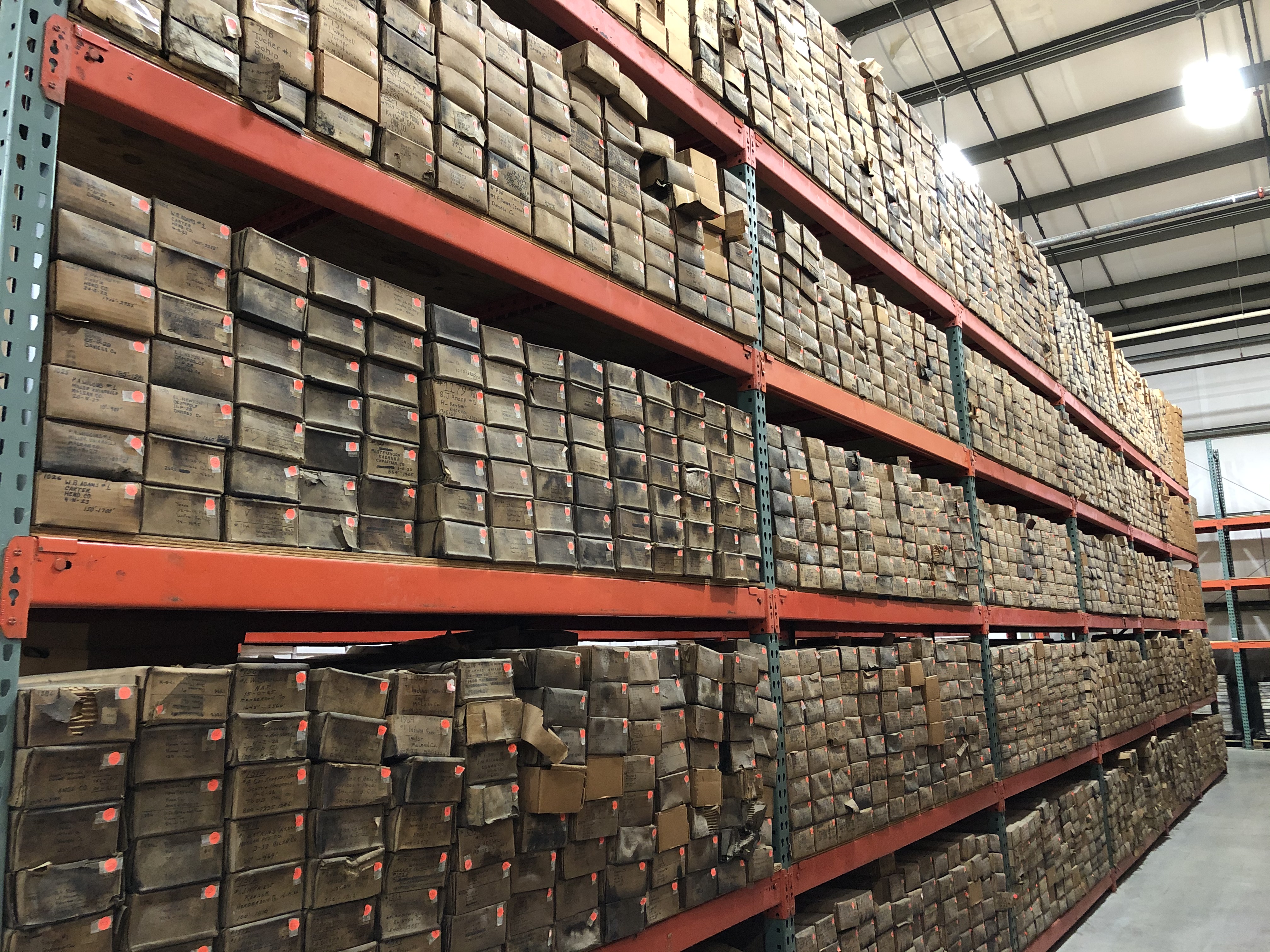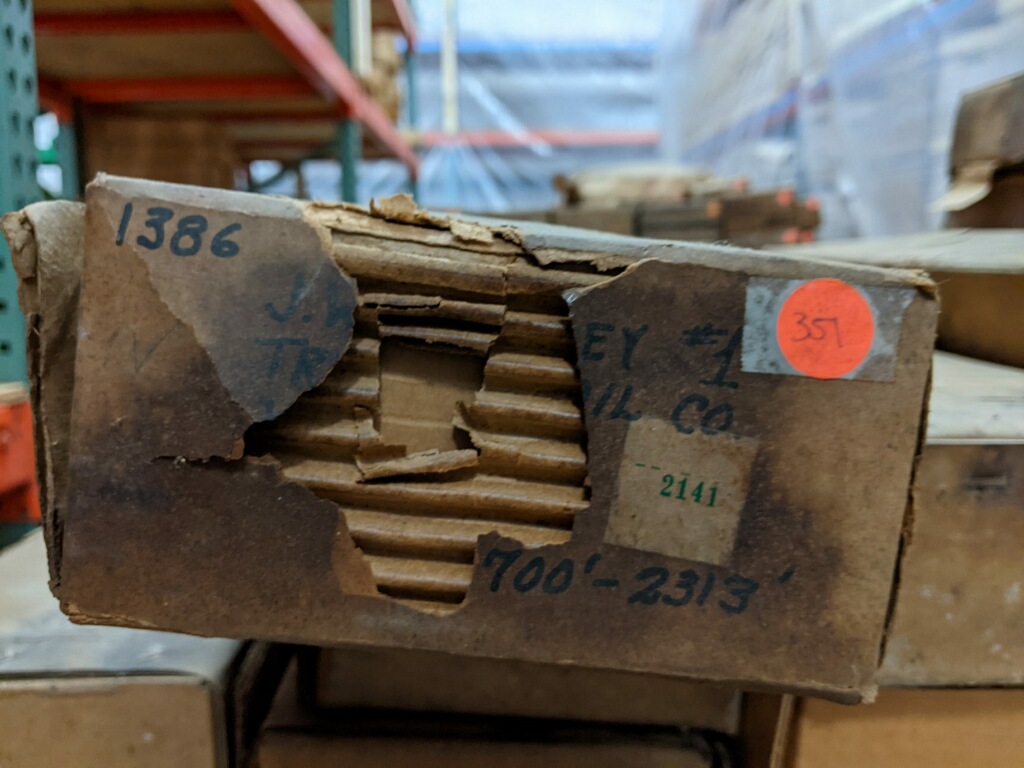 EARL staff members Clayton Gullett and Gordon Dowell used inventory documents, scanned oil and gas well records, and physical assessments to collect missing metadata for each damaged set. These data were then uploaded to the collection's database before KGS geologist Dave Harris made final recommendations about deaccessioning or rescuing, based on the following criteria:
Deaccession Criteria
Rescue Criteria

Sets without geographic information

455

Sets obtained from wells that:
1. Were drilled deeper than 5,000 feet
2. Had total depth in or deeper than the Cambrian Series
3. Were within 1 mile of a well that is the deepest in its county and therefore selected for upcoming research

72

Water-damaged sets from a well that is within 1 mile of another well from which we have a clean set of cuttings

1,618

Damaged sets were from wells more than 1 mile from a well from which we have any washed sets

320

Total

2,073 (84%)

Total

392 (16%)
EARL staff made plans to remove the cuttings in January 2021, when the temperature in the non-climate-controlled facility would be cooler so there would be less active mold spores. A local mold remediation company, Servpro, was hired to build a negative pressure containment area around the damaged sets to protect our employees and geologic collections while the moldy boxes were being processed. Dowell and Gullett wore Tyvek suits, disposable gloves, N95 masks, eye protection, hard hats, and steel-toed boots to protect them from the mold spores and falling material. The resourcefulness and supportive dynamic of the staff improved the project's efficiency. Wooden pallets were modified into reusable disposal boxes, and facility manager Ryan Pinkston helped with sample disposal. These steps significantly reduced the amount of time staff had to spend outside the structure and limited downtime. Dowell and Gullett processed the damaged boxes by physically assessing and accounting for every set flagged by Harris for deaccessioning and rescue. Obstacles including illegible writing on boxes, unaccounted-for sets, and commingled sets were quickly identified and addressed. Servpro came back, after the water-damaged sets were removed, to thoroughly clean the shelves and other material left inside the containment area.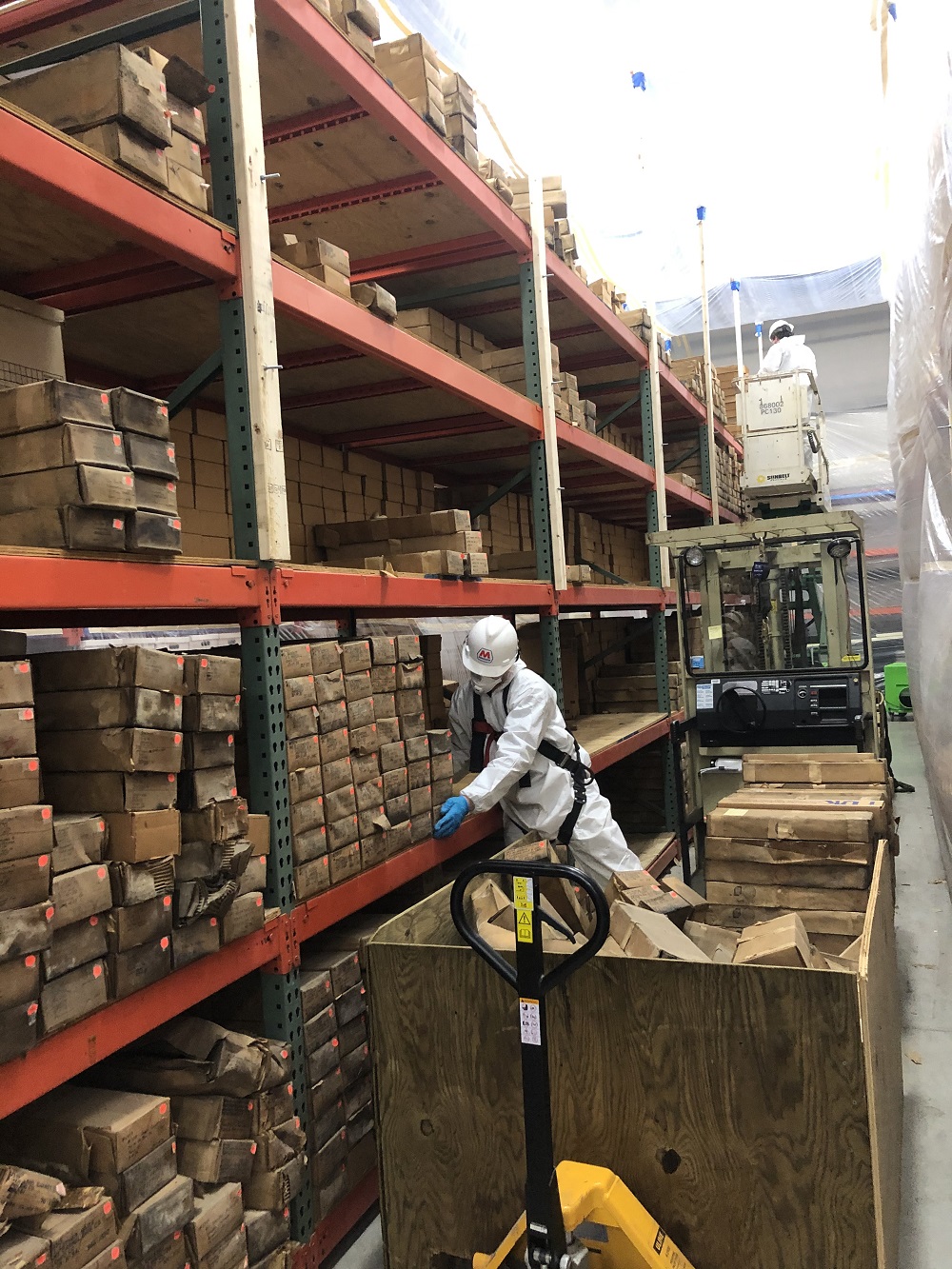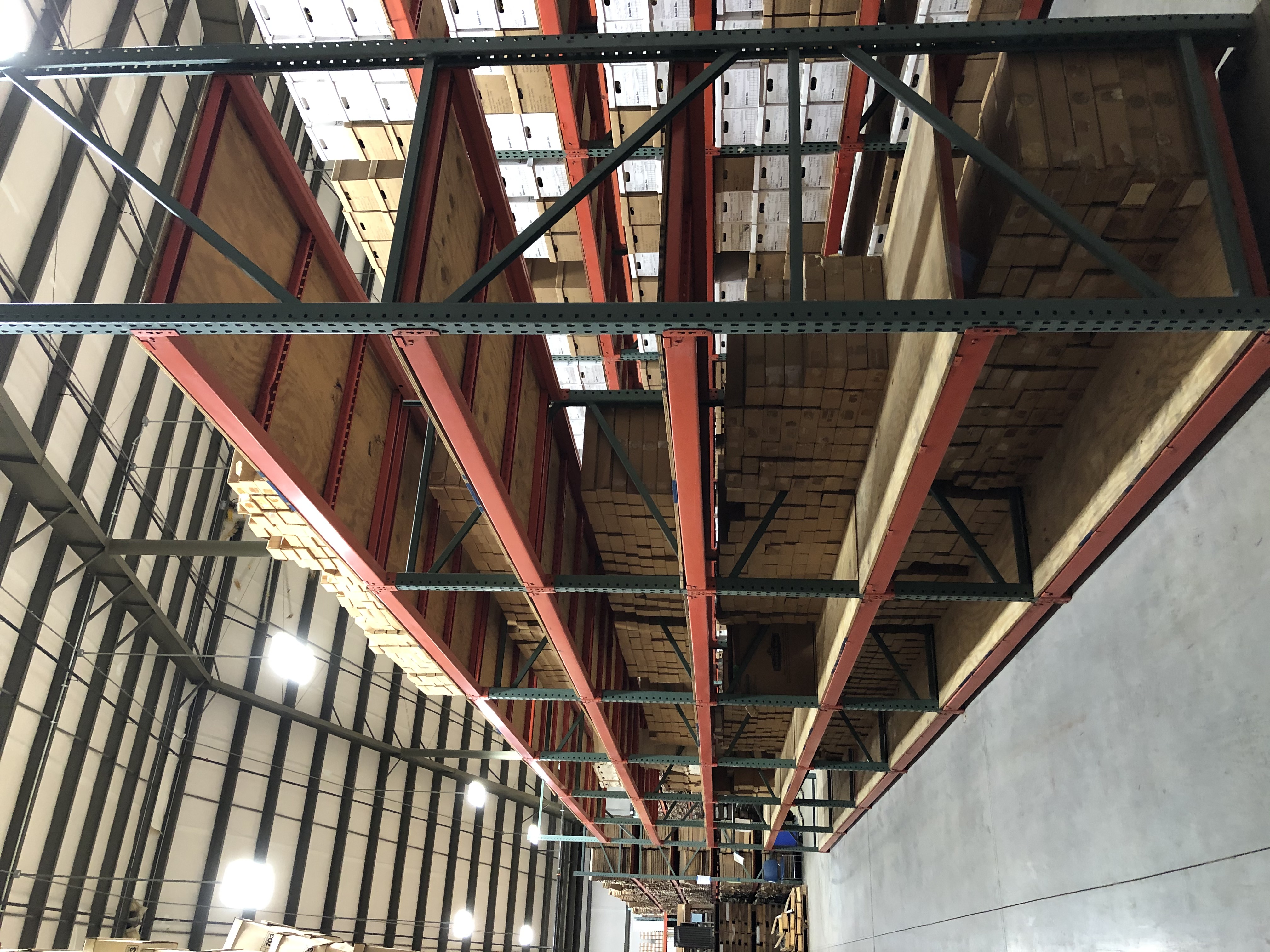 We have now turned our attention to Phase Two, during which cuttings from drill rigs that have been waiting to be processed will be assessed. The damaged sets from Phase One that were designated for rescue will be reboxed before they are placed back on shelves for public use.
This project will save important geologic material and ensure our resources are being used more effectively. As a result, shelving capacity has improved and will continue to improve, and provide protection for other geologic specimens that can contribute to new research.
Read more about the overall project here.