Join us for the 2020 KGS Annual Seminar: Meet Keynote Speaker Dr. Marc Caffee
Annual Seminar
Elements of Change: Innovative Applications of Geochemistry
Date: Thursday, May 14
Time: 1:00 p.m. — 4:10 p.m. ET
Location: Virtual via Zoom
This year we're having a virtual seminar to help keep everyone safe and healthy. Please join us for the 2020 Kentucky Geological Survey Annual Seminar as we explore how scientists are utilizing innovative approaches in geochemistry to better understand our changing world. From investigating mineral resources, to documenting environmental change, dating geological events, solving water-related issues, and exploring relationships between contaminant exposure and health outcomes, geochemistry helps us comprehend, and appreciate, the complex world around us through space and time.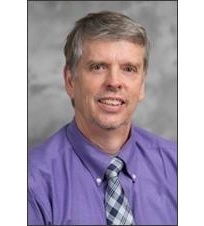 We are pleased to welcome Dr. Marc Caffee, professor of physics and director of the Purdue Rare Isotope Measurement Lab at Purdue University, as our keynote speaker. Caffee, pictured at left, is a leader in cosmogenic isotope geochemistry and will present the 2020 Donald C. Haney Distinguished Lecture titled "Cosmic-ray-produced nuclides: tracers for terrestrial and extra-terrestrial geologic processes." He and his research staff have been at the forefront of determining the relationships between Himalayan mega-landslides, climate change, and earthquakes; tectonic uplift and river erosion rates in mountainous regions; the timing of glacial advances and retreats; the age of Mammoth Cave; and the age of sediments at an early hominid site in Africa.
Full Agenda and Speakers:
Time

Title

Speaker

1:00 PM–1:10 PM

Welcome and Introduction

Dr. Bill Haneberg
Kentucky Geological Survey

1:10 PM–2:10 PM

Haney Distinguished Lecture: Cosmic-ray-produced nuclides: tracers for terrestrial and extra-terrestrial geologic processes

Dr. Marc Caffee
Purdue University

2:10 PM–2:40 PM

Integrating geochemistry with health sciences: improved understanding of contaminant source and transfer into animal and human populations

Dr. Amy Wolfe
Kentucky Geological Survey

2:40 PM–3:10 PM

Noble gases of the Appalachian Basin and Mid-Continent: implications for crustal fluid sources, migration, and economics potential

Dr. Tom Darrah
Ohio State University

3:10PM–3:40 PM

Geochemical tools and applications in carbonate research in Kentucky

Dr. Gina Lukoczki
Kentucky Geological Survey

3:40 PM–4:10 PM

Geochemical analysis of groundwater methane occurrence in areas of fossil fuel development, Eastern Kentucky

Cristopher Alvarez
Department of Earth and Environmental Sciences, University of Kentucky
**Please note: The seminar is free, but registration is required to help us manage the meeting efficiently. If you have already registered, you do not need to register again. If you registered before we decided to have the seminar virtually, you do not need to re-register as we are using the same event page in Eventbrite. Information about accessing the virtual seminar will be sent to all registrants before May 14.