Kentucky Geological Survey schedules open house at its rock and sample facility, looking for new research partners
Kentucky's most comprehensive collection of rock cores and subsurface samples is curated by the Kentucky Geological Survey at its well sample and core library on Research Park Drive in Lexington. Cores and samples are collected when holes are drilled for oil and mineral exploration, groundwater supplies, scientific research, and site investigations supporting large engineering projects. The KGS collection, assembled over many decades, is a unique and invaluable resource that is freely available to scientists, engineers, and others who need to know what lies beneath the surface of the commonwealth.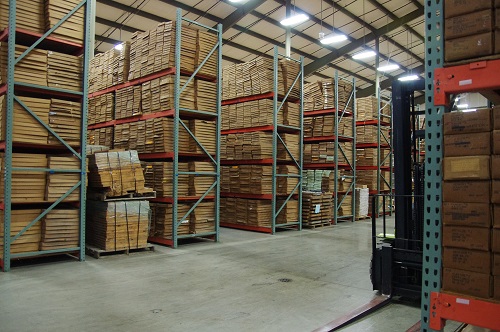 KGS, a research center within the University of Kentucky, has spent the past six months improving operations at the 48,000-square-foot building. "We have plans for upgrades, and we have reorganized the space," says the library's manager, geologist William Andrews. "We've rededicated the library to its designed purpose of supporting research on physical samples." Staff at the facility have also updated safety procedures and equipment, revised its management structure, and documented procedures and policies to make the library more useful to stakeholders. Its status as a pilot project for occupational safety management with the UK Health and Safety Department has helped the core library staff to address quality, fall protection, and overall safety awareness issues.
KGS has scheduled an open house at the facility on Friday, February 15, 1–4 p.m. Eastern Time, to showcase changes to current and prospective users and solicit suggestions for future improvements. A new name for the facility will also be announced during the open house. "We want more academic, industry, and government researchers to learn about our collections by attending the open house and suggesting how to blend their expertise with ours to solve problems critical to sustainable and robust economic growth in Kentucky," Andrews explains.
A key component of the new direction for the library is a three-year project to repair thousands of storage boxes so that they meet current archival standards, photograph 10,000 core boxes, and make the photographs available online. By the end of January, 25 complete cores had been photographed and 745 boxes relabeled. This nearly $500,000 project, directed by KGS Archive Manager Liz Adams, was funded in part by a grant from the Institute of Museum and Library Services.
Andrews says staff at the facility will be able to handle information requests to examine cores or samples more efficiently. "In the past, we've required a couple of days' notice from anyone who wants to look at a box of core or samples, because we have had to clear space in the aisles between storage racks to get to the heavy boxes of rock core. As we have become more efficient, we've been able to reduce that time to a couple of hours. What we ultimately want to be able to do is have it ready within 30 minutes to an hour."