Patrick Gooding retires after more than 40 years at KGS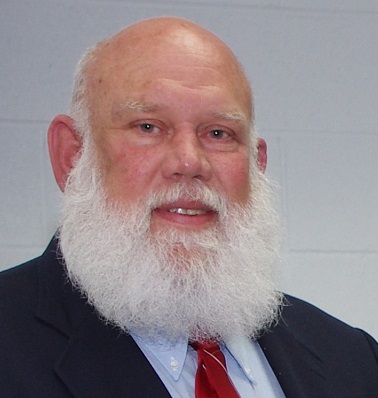 Patrick Gooding, geologist in the Energy and Minerals Section, is retiring in February after working for KGS since 1977. Born in Port of Spain, Trinidad, Gooding received a track and field scholarship in 1971 that enabled him to study in the U.S. He became a U.S. citizen in 1987.
During his more than 40 years at KGS, he worked on a variety of projects. He served for several years as the manager of the KGS Well Sample and Core Library located on Research Park Drive. While manager, he organized and coordinated three moves, dealt with a flood at one of the locations, and developed a system for washing core. He designed the floor plans for the present core library and assisted with inspections during its construction. Gooding also traveled all over the country to acquire rock and mineral collections for the library.
Recently, Gooding co-authored with Frank Ettensohn, professor in the Department of Earth and Environmental Sciences at the University of Kentucky, "Mississippian-Devonian Black Shales of Kentucky: East-West Transect in Five Cores from the Appalachian Basin to the Illinois Basin." The publication depicts how black shale formations in the Appalachian Basin of eastern Kentucky are connected to shales in the Illinois Basin, located in western Kentucky, Indiana, and Illinois. Ettensohn and Gooding used five rock cores housed in what is now the KGS Earth Analysis Research Library to create a cross section derived from data for each core.
Gooding gave testimony at a congressional hearing in 2014 held by the House Natural Resources Subcommittee on Energy and Mineral Resources to reauthorize the National Geological and Geophysical Data Preservation Program Act of 2005–2019. The program has helped archive geological, geophysical, and engineering data and samples; provide a national catalog of archived materials; and assist state geological surveys and some federal programs with archived materials.
During his career, Gooding has made nearly 70 oral and poster presentations at professional meetings such as the Geological Society of America and the 28th International Geological Congress. He also facilitated core workshops and wrote a field trip guidebook. Gooding authored a chapter, "Unconformity, Karst, Hydrocarbons, Minerals, Environments and Structures Present in the Cambrian-Ordovician Knox Group in Kentucky" for "The Great American Carbonate Bank: The Geology and Petroleum Potential of the Cambrian- Ordovician Sauk Sequence of Laurentia" (American Association of Petroleum Geologists Memoir 98).
Gooding is a member of several professional and scientific organizations, including the American Association of Petroleum Geologists (the Energy Minerals, Environmental Geosciences, and Professional Affairs divisions). He has been a member of AAPG's Preservation of Geoscience Data Committee for 42 years, during which he has served as chair and co-chair; he has also been a member of numerous other AAPG committees. He has been the Kentucky delegate to AAPG's House of Delegates for the past 16 years, during which time he served as secretary/editor of the House. In 2015, Gooding received recognition for his service to the House of Delegates of AAPG. He is also a past-president of the Eastern Section of AAPG.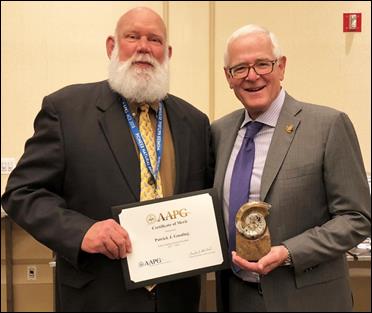 Gooding is certified as a registered professional geologist and is a member of the Geological Society of Kentucky since 1971, serving in numerous positions, including president. He is also a member of the Kentucky Academy of Science.
Throughout his career, Gooding received several awards, including the 2018 Distinguished Service Award from the Eastern Section of AAPG, and Recognition of Service Awards from the AAPG House of Delegates in 2010 and 2011, as well as the Distinguished Member Award in 2008; the Outstanding Service Award from the Kentucky Society of Professional Geologists in 2001; the Dedicated Service Award from the Kentucky Geological Survey in 1999; and the Outstanding Staff Award from University of Kentucky Research and Graduate Studies in 1997.
Gooding has been involved in K-12 outreach efforts such as earth science fairs, teaching 4H members about geology, and assisting with fish and wildlife summer camps. For 15 years he served as an assistant scoutmaster with Boy Scout Troop 74 in Berea, Ky., and chaired several committees of the Boy Scouts' Blue Grass Council; he was awarded the Boy Scouts of America's Silver Beaver Award for his volunteer work with the Blue Grass Council. He has also helped several Boy Scouts earn their geology merit badges.
Gooding has prepared displays of various rocks, minerals, and fossils collected throughout the country, along with historical items, at several public libraries. He prepared geologic interpretation signs for the Legacy Trail in Lexington. And when KGS contributed items for display at the Headley-Whitney Museum's celebration of the Breeders' Cup in 2015, Gooding (along with fellow KGS geologist Richard Smath) retrieved a sample of the Grier Member of the Lexington Limestone for the display.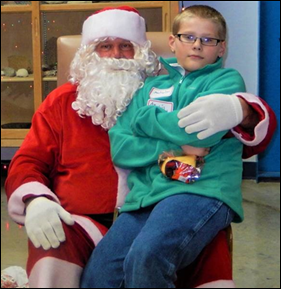 Several KGS staff recalled entertaining stories that Gooding has shared about growing up in Trinidad—his family members had roles as pirates in the "Swiss Family Robinson" film, for example. Over the years he and his family have traveled extensively throughout the U.S. and Canada, camping at 48 National Parks. And for many years, he played the role of "KGS Santa" at staff Christmas parties, entertaining co-workers and their children.
Reflecting on his time at KGS, Gooding says, "My years working at KGS were both rewarding and challenging—I loved my career and looked forward to work each day." Gooding also shared that throughout his career, "many individuals contributed to my success." After years of commuting to Lexington from Berea, Gooding knows exactly what he will do during retirement: He plans to spend more time with his wife of 46 years, Betty; visit with his son, Timothy, and three grandchildren; and take cruises to various destinations throughout the world. He also plans to continue his volunteer work and to complete some home improvement projects.