Grant funds received to preserve and improve public access of KGS collections
4/21/2021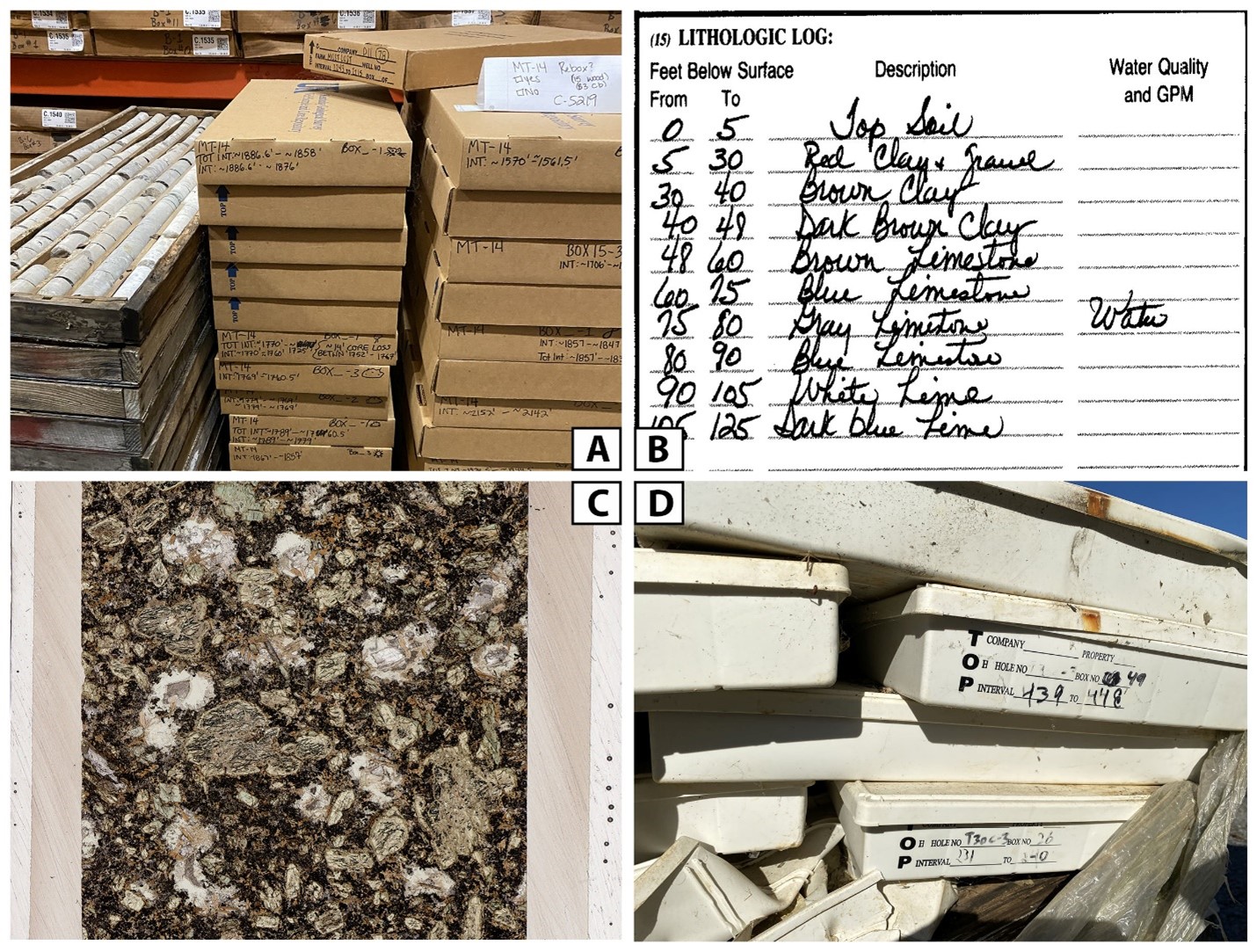 The Kentucky Geological Survey has received $103,752 from the U.S. Geological Survey's National Geological and Geophysical Data Preservation Program. This new funding will help KGS address three priorities: increased digital access, long-term preservation of KGS collections, and better data to the public. To address these priorities, Principal Investigator Liz Adams, the archive manager of KGS's Earth Analysis Research Library, along with Sarah Arpin of the KGS Water Resources Section and Dr. Gina Lukoczki of the KGS Energy and Minerals Section, who are also principal investigators on the project, will supervise the progress of four objectives:
Photograph and preserve 1,500 boxes of mineralized rock cores from Kentucky and create new lithologic data. The results will help reveal mineralization characteristics of Kentucky strata and assist researchers in better understanding critical mineral distributions crucial to the security and economy of the United States.
Enter lithologic information from at least 5,000 scanned water-well records into the Kentucky Groundwater Repository. This new information will improve the description, management, and protection of Kentucky's aquifers and groundwater resources.
Catalog, scan, and rehouse the KGS collection of 1,500 petrographic thin sections and create new lithologic data. Preserving this collection will help researchers better understand the source, distribution, and economic value of geologic features in Kentucky.
Rescue 3,708 boxes of mineral cores from the Tabb Fault System in the Western Kentucky Fluorspar District and reunite them with documents and photos, which will improve our understanding of the distribution and characterization of critical minerals.

As part of this project all thin sections and cores will be registered with SESAR, the System for Earth Sample Registration to receive International Geo Sample Numbers, metadata will be created and validated for all items, and all products will be disseminated through the KGS website.
This improved accuracy and completeness of our public data will provide better resources to our users. Increased access to our collections, especially digital access, will modernize our infrastructure and improve our users' decision-making abilities as well as provide a means to sustainably research energy and natural resources. The products and results from this project will improve access and descriptions of Kentucky's geologic features and have the potential to advance goals in industry, research, education, and resource management.
Staff from three KGS sections with various expertise will work on the project. Key staff will be Ryan Pinkston, Doug Curl, Carrie Pulliam, and student and temporary employees including Madison Preece, Stephanie Vicroy, and Natalie Fields. They will begin work in July 2021 and wrap up by June 30, 2022.
Learn more about KGS collections at EARL.