Welcome to the 62nd Annual KGS Seminar!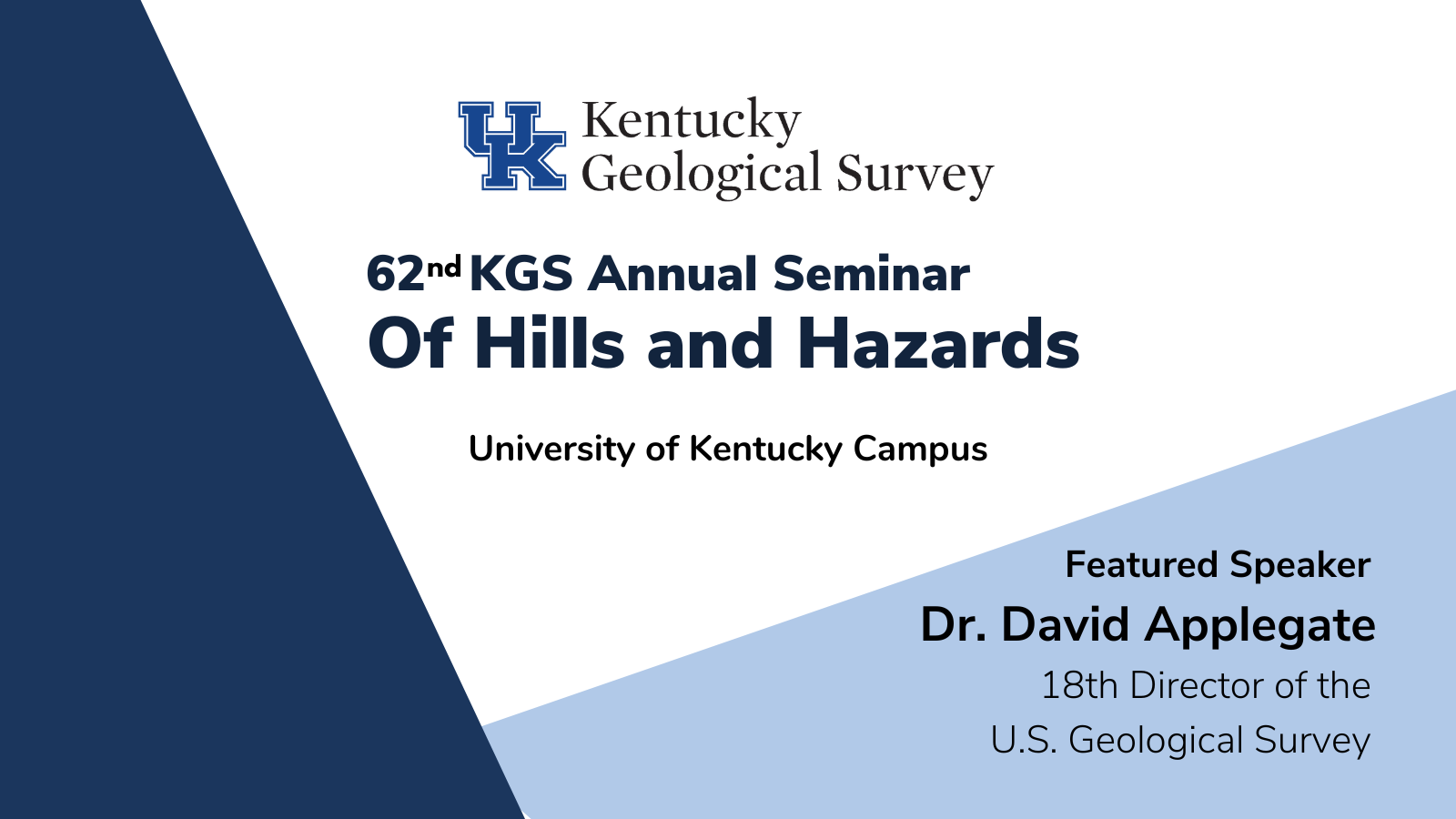 Thursday, May 25th, 2023
Jacobs Science Building, University of Kentucky
Parking: Parking Structure No. 2, 301 Hilltop Avenue, Lexington, KY 40506
Venue: 305 Huguelet Drive, Lexington, KY 40506
Check-in starts at 8:00am with the welcome address starting at 9:00am

Welcome to the the 2023 Kentucky Geological Survey Annual Conference: of Hills and Hazards. This year's program will highlight the work KGS, and our partners, do to monitor, assess, and conduct research on a wide range of geological hazards impacting Kentucky. Geohazards potentially threaten lives, livelihoods, and communities and may cause millions of dollars in damage. Our speakers will address various Kentucky geological hazards in topics such as post-flood landslide reconnaissance, Google Earth for geohazards, seismic hazards research, geologic controls on radon, and methane monitoring. in addition to oral presentations, we will also have a poster reception featuring KGS research and time for discussion and networking.

We are honored to welcome keynote speaker David Applegate, 18th Director of the U.S. Geological Survey. His talk is titled 'Geohazards and Geological Surveys: Bringing Science to Bear When and Where It Matters Most.' KGS Director and State Geologist William C. Haneberg will also speak on 'Geohazards in the Anthropocene: A Risk Assessment, Climate, and Environmental Justice Perspective.'

the KGS annual seminar will be held in person only in the Jacobs Science Building on the University of Kentucky campus. The seminar is free to attend, but registration is required.

Registration is now closed.

You can also follow us on Facebook or Linkedin for updates and speaker announcements.
Full Agenda
Registration and Posters
Bill Haneberg

KGS
Welcome, Safety and Logistics
David Applegate

USGS
Geohazards and Geological Surveys: Bringing Science to Bear When and Where It Matters Most
Martha Park

Freelance Journalist
Washed Away: Using Comics to Tell the Story of Kentucky Landslides
Break and Posters
Matt Crawford

KGS
2022 Post-Flood Landslide Reconnaissance
Jason Dortch

KGS
Eastern Kentucky Flood Project Update and Future Research
Sourav Saha

KGS
SHADE-C: A Google Earth Engine App for Statewide Geohazard Analysis and Synthesis
Seth Carpenter

KGS
Advancing the Understanding of Earthquakes and their Effects in Kentucky Through Research and Seismic Monitoring
Lunch and Posters
Bill Haneberg

KGS
2023 KGS Director's Award Presentation
Junfeng Zhu

KGS
Karst and Sinkhole Hazards in Kentucky
Mary Kay Rayens

UK College of Nursing
Geologic, Seasonal, and Atmospheric Predictors of indoor Home Radon Values
Marty Parris

KGS
Kentucky Orphan Well Methane Montoring Program
Break and Posters
Kent Anness

KY Division of Geographic information
GIS Dashboards to Support Emergency Response
Bill Haneberg

KGS
Geohazards in the Anthropocene: A Risk Assessment, Climate, and Environmental Justice Perspective
Poster Viewing
Posters
| | | |
| --- | --- | --- |
| Num | Presenter Name | Poster Title |
| 1 | Koch, Hudson | Physics-Based, Probabilistic, and Practical: Landslide Susceptiblity Modeling With Pisa-m |
| 2 | Taylor, Chuck | Karst-Related Flooding Hazards |
| 3 | Martin, Steve | Fracture Map of Hardin County, Kentucky |
| 4 | Schmidt, Jonathan | Classifying Central and Eastern U.S. Seismic Events in the Earthscope Database Using Machine Learning and Lg-wave Spectral Ratios. |
| 5 | Koch, Hudson; and Zhu, Junfeng | Karst/Sinkhole Hazard Score Evaluation for LTADD |
| 6 | Greb, Stephen; Harris, David; and Hickman, John | Revisions and Clarification of Basal Cambrian Sandstone Stratigraphy in Kentucky |
| 7 | Massey, Matthew; and Swallom, Meredith | Mapping Group Surficial Mapping in Hardin County |
| 8 | Hickman, John; and Pearson, Anna | Integrating 3D Structural Geology Datasets Across Regions With Variable Elevation Datums |
| 9 | Koirala, Dibya Raj; Andrews, William; and Harris, David | 3D Stratigraphic Framework of Western Kentucky, Illinois Basin |
| 10 | Robinson, Devan; Andrews, William; Curl, Douglas; Hickman, John; and Koirala, Dibya Raj | Current Status of Geoframework Datasets and 3D Databases at the Kentucky Geological Survey |
| 11 | Tobin, Benjamin; Arpin, Sarah; and Link, Adam | Updates to Kentucky's Dye Trace Database |
| 12 | Eastridge, Emily; and Adams, Elizabeth | SAT Update and South Central KY Research Proposals |