KGS Annual Seminar takes an interdisciplinary approach to geological hazards in Kentucky
The Kentucky Geological Survey (KGS) hosted its 62nd Annual Seminar on Thursday May 25th. This year's theme was Of Hills and Hazards and all the presentations revolved around Kentucky geological hazards. U.S. Geological Survey (USGS) Director Dr. David Applegate, the seminar's keynote speaker, set the direction for the day with his presentation Geohazards and Geological Surveys: Bringing Science to Bear When and Where It Matters Most. Dr. Applegate emphasized that both the USGS and KGS had a commitment to unbiased scientific geohazard research in support of society. The two organizations shared the goal of translating hazard research into meaningful and actionable information about geohazard risks and potential impacts.
Dr. Applegate also highlighted the need to partner with experts in other disciplines, including social and economic sciences, environmental justice, and communications professionals to help bridge the gap between science providers and science users. He believed that including expertise from other fields helps increase stakeholder and end-user engagement and when applicable, participatory citizen research.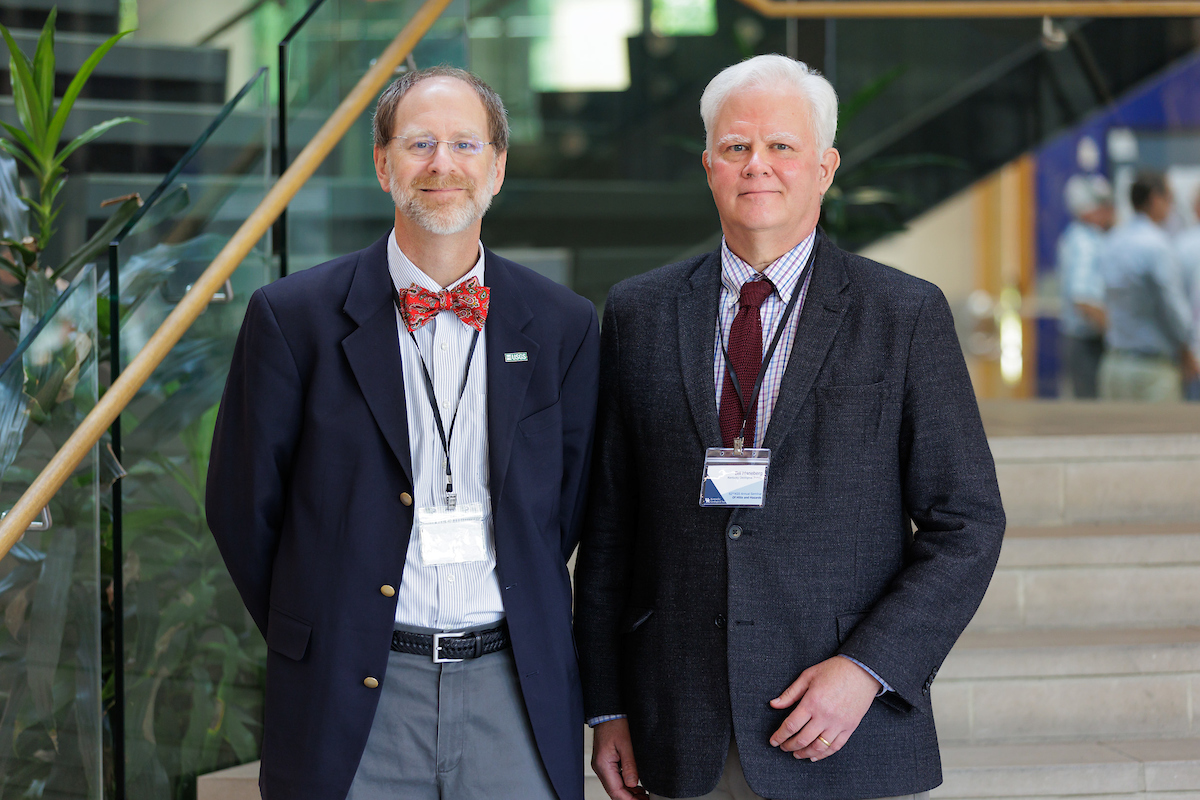 One such expert, illustrator and author Martha Park, discussed her experience illustrating the comic Washed Away, which she created collaboratively with author Austyn Gaffney. The comic is set in eastern Kentucky and tells the story of a Kentucky family dealing with the impact of a landslide triggered by the July 2022 floods. The comic stresses that with climate change, more flooding and landslides are expected, and most homeowners' insurance plans do not cover "earth movement" – mudslides, mudflows, floods, earthquakes, or landslides. This leaves homeowners with big bills and little recourse. KGS's landslide susceptibility map was featured in the comic and highlights areas susceptible to landslides in a geologic and geomorphic context in five eastern Kentucky counties.
Following the July 2022 floods in eastern Kentucky, KGS researched the associated landslides and debris flows and published the report Reconnaissance of Landslides and Debris Flows Associated with the July 2022 Flooding in Eastern Kentucky. At the seminar, seven KGS staff members were awarded this year's Director's Awards for their excellent analysis and work on that project: Seth Carpenter, Matt Crawford, Jason Dortch, Hudson Koch, Rachel Noble-Varney, Jonathan Schmidt, and Zhenming Wang.
The next presenter, Kent Anness, is a geographic information officer at the Commonwealth of Kentucky's Division of Geographic Information. He discussed how geographic information system (GIS) dashboards can turn geospatial data into accessible, actionable information for the public. Dashboards are visual interfaces that efficiently and effectively organize and display data, typically with charts and gauges. Most recently, GIS dashboards were used to gather and disseminate information about the July 2022 eastern Kentucky floods to responders from all levels of government and other public stakeholders. In geohazards, dashboards visualize complex data and provide situational awareness to all interested parties.
The slate of KGS geohazard presentations included talks from scientists Matt Crawford, Jason Dortch, Sourav Saha, Seth Carpenter, Junfeng Zhu, and Marty Parris. The presentations focused on a range of geohazard issues pertinent to Kentucky: post-flood landslide and debris flow mapping, earthquakes, karst sinkhole hazards, measuring and monitoring methane emissions of orphaned oil and gas wells, and a new KGS-developed Google Earth Engine application that provides easy, public access to statewide satellite imagery for change detection and hazard analysis.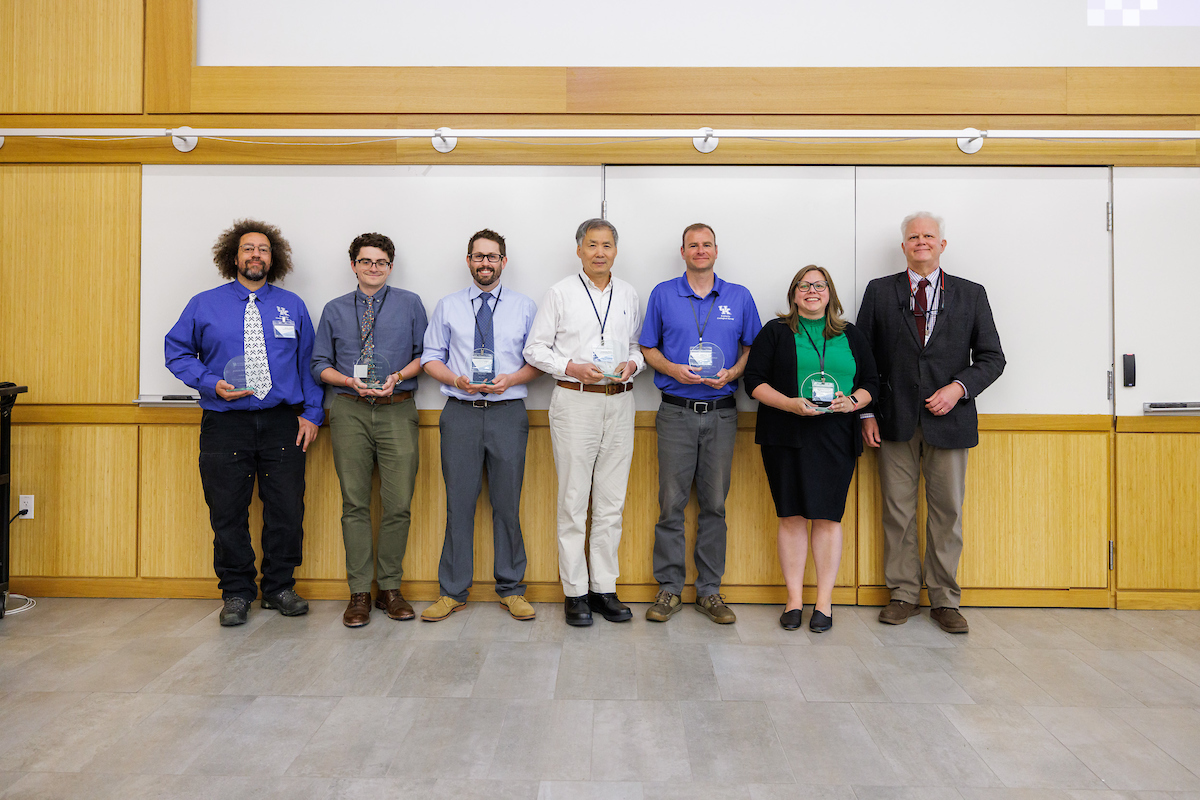 In the afternoon, UK colleague Mary Kay Rayens from the College of Nursing presented Geologic, Seasonal, and Atmospheric Predictors of Indoor Home Radon Values. She discussed the ongoing National Institute of Environmental Health Sciences (NIEHS)-funded citizen science project Radon on the RADAR. The study investigated seasonal indoor radon variation across geographic regions in four rural Kentucky counties with different bedrock geology: Rowan, Christian, Logan, and Pulaski. Among the outcomes, the study found that homes built in the last 40 years and those built above carbonate bedrock had higher indoor radon.
KGS Director and State Geologist Bill Haneberg closed the seminar with his talk titled Geohazards in the Anthropocene: A Risk Assessment, Climate, and Environmental Justice Perspective. The Anthropocene is an unofficial term used to describe the Earth's most recent geologic time in which humans have had a significant impact on Earth's geology. Haneberg explained that while hazards have always existed, the risks to humans are increasing because of population growth and the increased severity of the geological hazards due to climate change. Unfortunately, the exposure to, and impacts of, geological hazards are inequitably distributed. In Kentucky, low-income communities with increased social vulnerability and decreased community resilience bear disproportionate geohazard risks
Haneberg acknowledged that Kentucky has had a tough couple of years, from the floods in Beattyville, to the western Kentucky tornadoes, and last summer's eastern Kentucky floods. He added that "hazards are not solely an engineering problem—there are a lot of human aspects." Summarizing the current research, Haneberg suggested the following ways to reduce geohazard risks: decrease exposure to geohazards (avoidance or mitigation) and decrease vulnerability (better infrastructure design, construction, and maintenance). Risk is also reduced by limiting or reducing the driving forces behind some geological hazards, such as global temperature (climate change), induced earthquakes (oil production), and land subsidence (exploitation of underground water). Haneberg ended his presentation with a thought and a question, "applied geoscience helps reduce risk through knowledge and avoidance, but one of the big challenges that we will face in the near future is how we communicate hazard science meaningfully."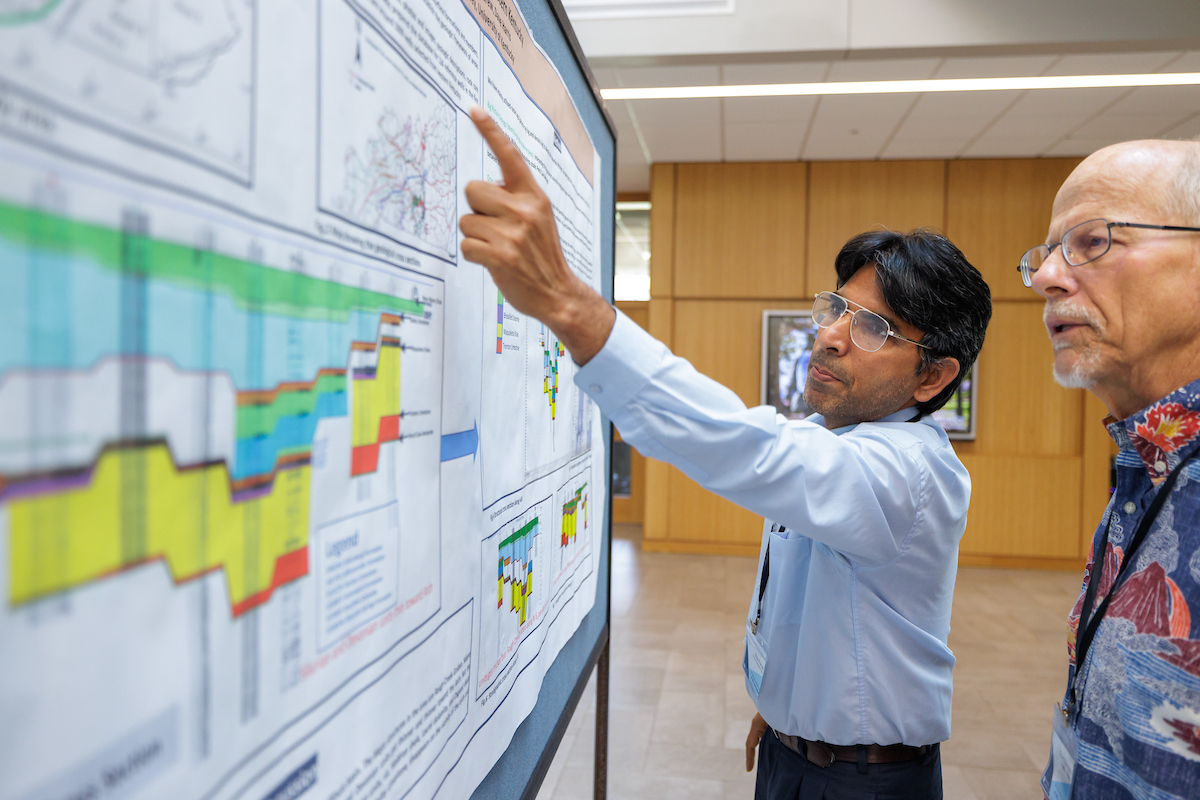 Other key events included the research poster session and digital Q&A opportunities after each presentation.