Meg Smath retires after 43 years of service to the Kentucky Geological Survey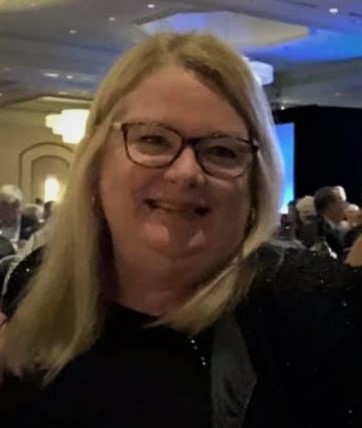 KGS editor Meg Smath retired at the end of September after 43 years of employment. Smath began working at KGS on July 5, 1978, as the assistant editor. She was the youngest employee and a recent graduate from Vanderbilt University with a bachelor's degree in English and a minor in geology. Prior to her retirement this year, she was the longest-serving KGS employee. It was at KGS where she met her husband, Richard, a geologist who retired from KGS in 2020. They have a son, Joey, who is in graduate school at the University of Kentucky, pursuing a master's degree in linguistics.

In the mid-1980s Smath became the editor and served in that role until her retirement. As editor, she edited anything people were writing, including KGS publications, peer-reviewed journal articles, the annual report, and news releases. Smath first became interested in geology because her father was a geologist who served as the state geologist for Tennessee. She'll miss the camaraderie she experienced at KGS and chats with colleagues about recent ball games.

Since 1996 Smath has been a member of the Association of Earth Science Editors. She served as chair of the awards committee, director in 2003-2006, vice president in 2009-2010, president in 2010-2011, and as past president in 2011-2012. She has just started a three-year term as secretary. She was technical program chair of the 2010 AESE annual meeting in Victoria, British Columbia, Canada, and host chair of the 2014 meeting in Lexington, Kentucky. Smath has been co-editor of the AESE Blueline since 2007.

She is a devoted swimmer and has been a member of U.S. Masters Swimming for over 35 years. In 2015, Smath won the Ransom J. Arthur award, given to a person who has done the most to further the objectives of U.S. Masters Swimming. The award is named for the founder of the organization and it is the highest honor a member can receive. During Smath's time as a member, she has competed in too many local meets to count, over 30 national championships, one world championship, chaired various USMS committees, and served as secretary of the organization from 2006-2009. Although swimming is her favorite sport to participate in, her favorite sports to watch are basketball and baseball, especially college baseball—her beloved Vanderbilt Commodores won the College World Series in 2014 and 2019.

Not only is Smath a competitive swimmer, but she also competed on "Jeopardy!" in June 2000. She won the first game and came in second for the following game. Smath wishes she had wagered money on the Final Jeopardy question. Based on the category, which was the Supreme Court, she didn't expect to know the answer, but she was correct when she answered that Ruth Bader Ginsberg and Sandra Day O'Connor were the two Supreme Court Justices who graduated at the top of their classes and were both first offered jobs as typist by the top law firms.

Smath will be missed and remembered by her colleagues for her technical writing and editing skills, making them better writers, and shared enjoyment of sports. Mike Lynch shared, "The best thing I remember about working with Meg is that I could always ask her a question about word usage or punctuation, and she would know the answer or know where to look it up quickly. She made my writing so much better!" Doug Curl "appreciates that Meg was always a consistently strict editor and that we agreed on things like Strunk and White rules and use of the Oxford comma." Curl added "he'll miss talking with Meg about 'Jeopardy!' and sports."

According to Steve Greb, "Meg has reviewed thousands of pages of my writing through the years. I used to joke that I would get an abstract through her review without any changes before she retired. That never happened, but it's a testament to the lessons she taught me that I came close a couple of times. She taught me to make my sentences shorter and get to the point, to limit jargon, and that hyphens are not all created equally! Her reviews made me a better writer, and a better technical reviewer. Meg has also been a good friend through the years, and I wish her all the best in retirement."

Dave Harris has worked with Smath since 1990 and says, "KGS will certainly not be the same without her. I always admired Meg's dedication to her profession, setting clear and consistent editorial standards for KGS publications. Even so, I never quite lost the trepidation I felt on opening a document she had edited to discover whether there was more red pencil than black ink (or tracked changes in the later years...). She made us all look good in print, patiently correcting the same errors year after year, while meeting the inevitable short deadlines. Her skills with the written word are only matched by her devotion to Vanderbilt sports, which in most years gave us long-suffering UK football fans something to feel a little better about."

In her retirement, Smath will continue to swim and officiate swim meets for the University of Kentucky, Transylvania University, and Asbury University. Smath is focusing on her training and aims to attend the U.S. Masters Swimming Spring Nationals in San Antonio next year, followed by a visit to her cousin in Arizona. She's eagerly waiting for it to be safe to go to Disney World so she can go to Galaxy's Edge and ride the new 'Star Wars' rides.