KGS Debuts a New Podcast: The Big Blue Rock Pod
Launching the Big Blue Rock Pod, a Kentucky-themed earth science podcast, was the natural evolution of years of 'rock talk' among colleagues during lunch or in the hallways of the Kentucky Geological Survey (KGS). As hosts Matt Crawford, Sarah Arpin, and Doug Curl discuss, most geologists have a common link, an experience with nature or a fascination with earth history, that triggered their passion for geoscience. While KGS is a research center, it is also a community of people with common threads of interest like caving, camping, hiking, travel, or outdoorsmanship. The Big Blue Rock Pod aims to connect those everyday experiences with big ideas in research and classic earth science topics.
Focused on the unique geology of Kentucky, currently available episodes cover the Red River George, glaciers in Kentucky, and the southern Appalachian Mountains. Formatted around monthly themed episodes and guest experts, the show explores what host Matt Crawford describes as "the tentacles of geology that reach out to all the other sciences." From bourbon to paleontology, the upcoming episodes will investigate how geology shapes the culture, economy, and history of Kentucky. The aim of the show is to invite the public into a relaxed, impromptu conversation between researchers and highlight how geology and earth processes impact daily life.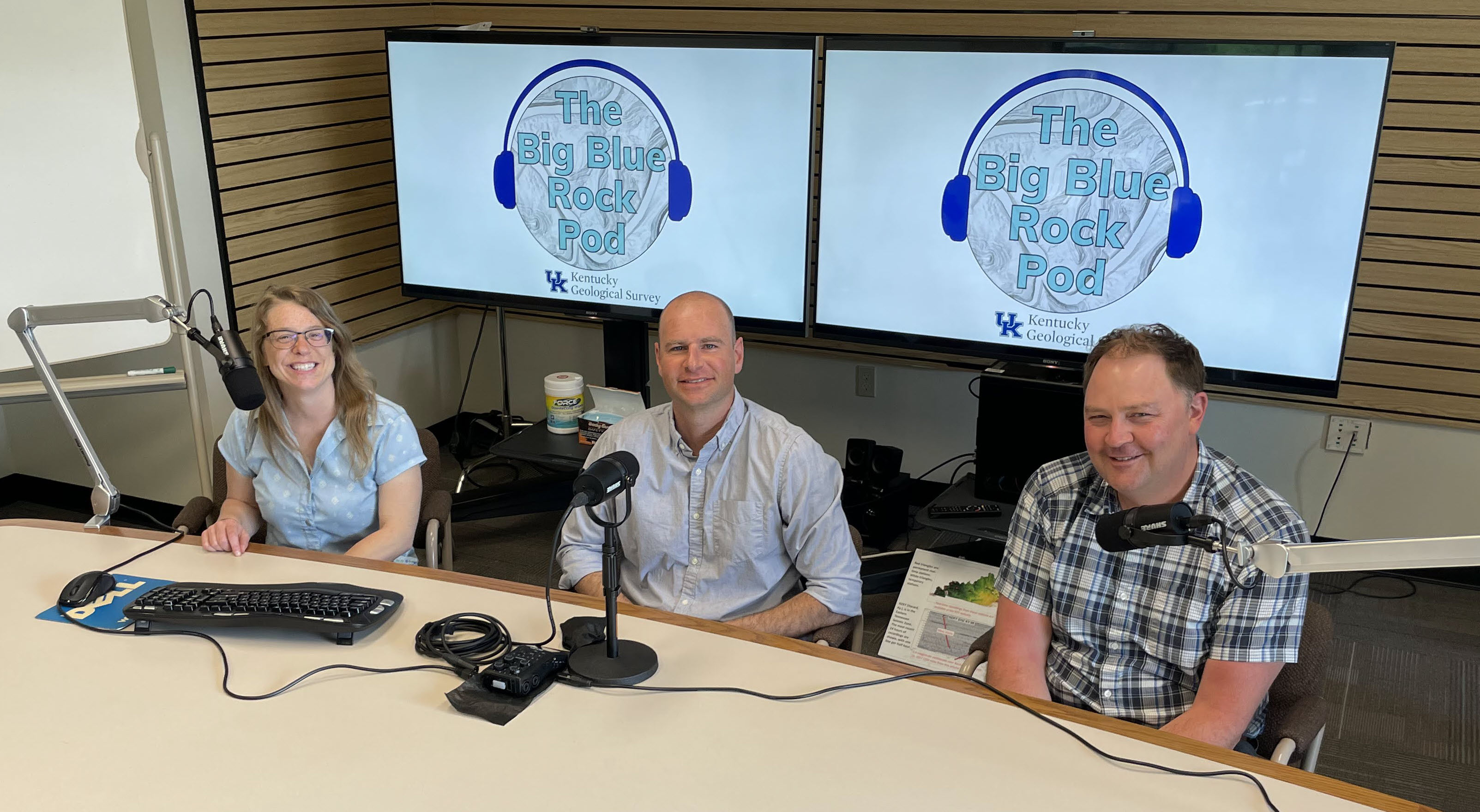 Along with having fun talking shop, the hosts of the Big Blue Rock Pod are serious about improving science communication and spreading awareness of geology. As Crawford shares in the introductory episode, despite a growth in science podcasts, the number of earth science podcasts trail far behind similar fields like physics, biology, and ecology. That's surprising, according to co-host Sarah Arpin, because "understanding the environment you live in, the geological, biological, and ecological processes, makes the world that much more exciting to experience."
Thanks to the support of the Office of Research Communications, specifically editor Ben Corwin and director Alicia Gregory, the first episode launched in January 2022. The Big Blue Rock Pod is hosted on PodBean and available on multiple applications, including Apple Podcasts, Amazon Music, Spotify, and Google Podcasts. The podcast series is also available for download from the KGS homepage: www.uky.edu/KGS/.
The Kentucky Geological Survey welcomes public feedback and suggestions for episode topics.