Roger Banks retires after 37 years at KGS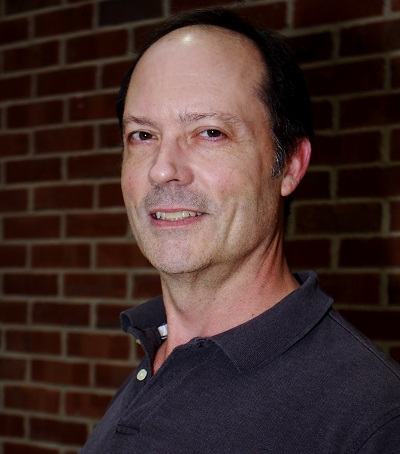 Roger Banks retired from KGS on Dec. 18, 2020. Banks grew up in Lexington, Kentucky, and received a bachelor's degree in mathematics from the University of Kentucky in 1975. In addition to mathematics, his favorite subject has always been physics, and he has watched many of the NASA launches over the years.
Banks first became familiar with KGS when he worked for an independent oil and gas operator in the 1970s. In this role he gathered data and plotted wells. Several years later, Banks learned about an opening in the KGS Publications Sales office and began working there in November of 1983. Richard Smath, another recently retired KGS employee, worked with Banks in the Publication Sales office for more than 20 years.
Smath says, "Besides taking care of the bookkeeping and selling the various maps and publications, he had a good understanding of the maps and publications; this was helpful in answering requests from the public and provided customers with the proper items they needed." Roger was also familiar with the workings of the KGS website and could easily guide customers through it, so that later they could navigate on their own. Smath says, "His attitude with the public was one in which he became friends with many people, and they would always ask for him on future calls."
Seth Carpenter will miss seeing Banks at work. Carpenter says, "Roger was a very warm and encouraging presence at the Survey. He was generous with his time, always willing to listen and lend a hand to help. I have good memories of talking with him about puzzling problems in geometry and physics, from projectile paths to energy and circuitry—and topics in philosophy and theology."
Mandy Long fondly recalls the first time she heard Banks' voice over the intercom—afterward, she referred to him as the "man with the voice" and told Banks he should have pursued a career in talk radio. When Long first started working at KGS, she learned she could depend on Banks for help with referral questions and appreciated his compassion toward those dealing with life's hardships. Smath says, "The customers will miss Roger almost as much as KGS will!"
Banks shared that "everyone, past and present, has been so nice to work with I simply stayed at KGS. I liked being in customer service, where I met many memorable characters and made some good friends and acquaintances." In retirement, he plans to enjoy the company of his cat, Boudica, and work on some home improvement projects. He also plans to visit family in Kentucky and overseas. Banks will continue to live in the moment, appreciating the wonder and beauty that surround him.