Ryan Dapkus receives KGS-EES Commonwealth Research Assistantship Award
6/3/2021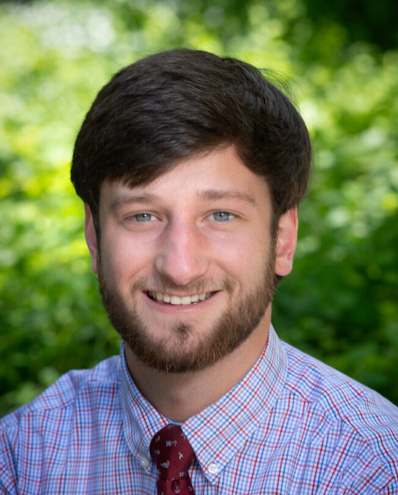 We are pleased to award Ryan Dapkus with this year's KGS-EES Commonwealth Research Assistantship in Earth and Environmental Sciences. The assistantship is awarded each year to a graduate student from the University of Kentucky's Department of Earth and Environmental Sciences whose research is of direct interest and benefit to Kentucky. Dapkus says, "This assistantship will allow me to grow as a scientist and a professional, and I'm greatly looking forward to the opportunities it will provide."
Dapkus is originally from Villa Rica, Georgia, and received a bachelor's degree in geology from the University of West Georgia. During his time at West Georgia, he gained experience working in a water-quality lab and did undergraduate research evaluating tufa depositional regimes in northwest Georgia.
He's pursuing a master's degree in geology from the University of Kentucky and is working on a project with his advisor, Dr. Alan Fryar, to monitor the tryptophan in central Kentucky. One reason Dapkus decided to pursue further education in Kentucky is because the state is rich in karst topography and he's particularly interested in environmental research related to karst. In karst settings, surface water can easily enter groundwater through karst features. Because of his interest in microbial and environmental processes in karst and how they affect human health, Dapkus is particularly interested in the outcome of the tryptophan project.
This study will help scientists understand if tryptophan-like fluorescence can be used as a proxy for fecal contamination and to determine if this method is applicable in karst settings. TLF could be a better proxy for fecal contamination than E. coli because no incubation time is required for measuring TLF. Dapkus and the research team are going to place in-situ fluorometers at Royal Spring in Georgetown, Kentucky, and at the University of Kentucky Animal Research Center in Woodford County, Kentucky. The team will collect samples to analyze for E. coli and TLF on a weekly basis and will conduct high-resolution sampling during a storm at each site. The samples will be analyzed at laboratories in UK's Department of Civil Engineering and the Kentucky Geological Survey.
When he's not working on his research, Dapkus enjoys spending time outside fishing or collecting rocks and fossils. He has particularly enjoyed finding nautiloid fossils while studying here in Kentucky. After completion of his degree at UK, Dapkus plans to pursue a career with an environmental consulting company or a federal agency.