KGS awarded funding from the U.S. Geological Survey's National Geological and Geophysical Data Preservation Program
The Kentucky Geological Survey was recently awarded $57,718 from the U.S. Geological Survey's National Geological and Geophysical Data Preservation Program. The funding supports the project objectives to digitally archive KGS laboratory documents dating back to 1992 and to assess a subset of the oil and gas well cuttings collection and associated data. KGS staff members Liz Adams and Sarah Arpin are leading the project, and according to Adams, "both objectives will increase our physical storage capacity while advancing data availability and access."
Arpin will lead the effort to digitize KGS Laboratory Services documents spanning environmental analyses of water, coal, rocks, minerals, and other natural resources. Arpin says that "once accessible, the results of many of these analyses can be added to several other KGS-managed databases, improving KGS resources for all users." The digital documents and associated data will be made available through a new online public search interface. Internal standard operating procedures for document and data organization will be established in concert with Laboratory Services staff. Other KGS staff involved with this part of the project include Doug Curl, Jason Backus, and Andrea Conner. An undergraduate student will be hired to perform project tasks from fall 2020 through spring 2021.
The second part of the project will be led by co-principal investigator Liz Adams and will evaluate approximately 5,000 sets of oil and gas well cuttings. The subset of cuttings selected for this project are either not suitable for analysis because they contain contaminants or are at risk of deterioration beyond the quality necessary for analysis. Data pertaining to each set will be collected and checked for accuracy and completeness prior to being deaccessioned, rescued, or flagged for future processing. During this project, the sets selected for deaccession will be photographed and a new Microsoft SQL Server database table will be built to house their data. These efforts will result in a sustainable, research-quality collection of well cuttings representing our state's energy resources and an approximate gain of 30 percent in shelving capacity. In addition to Adams, KGS staff members Carrie Pulliam, Gordon Dowell, and Clayton Gullett will be involved with this aspect of the project. This assessment will protect KGS's collection from further deterioration, increase the quantity and quality of data available to the public, establish quality standards for future collections, and improve storage capacity at the Earth Analysis Research Library.
This year's work is the newest addition to a list of projects funded by the USGS's NGGDPP over the past several years. Previous grants have funded scanning and database work contributing to the "Limestone and Dolomite Resources of Kentucky" map service and the oil and gas well document repository, the inventory and rescue of various physical collections, and the upload of KGS data to the USGS ScienceBase catalog. According to Adams, "KGS has been fortunate to receive funding from the NGGDPP for several projects since 2009. These grants have funded undergraduate and graduate student workers, temporary employees, new equipment and supplies for improved archiving practices, and professional development opportunities for KGS staff, including participation at USGS NGGDPP-hosted workshops." More information about the program can be found here: https://www.usgs.gov/core-science-systems/national-geological-and-geophysical-data-preservation-program/.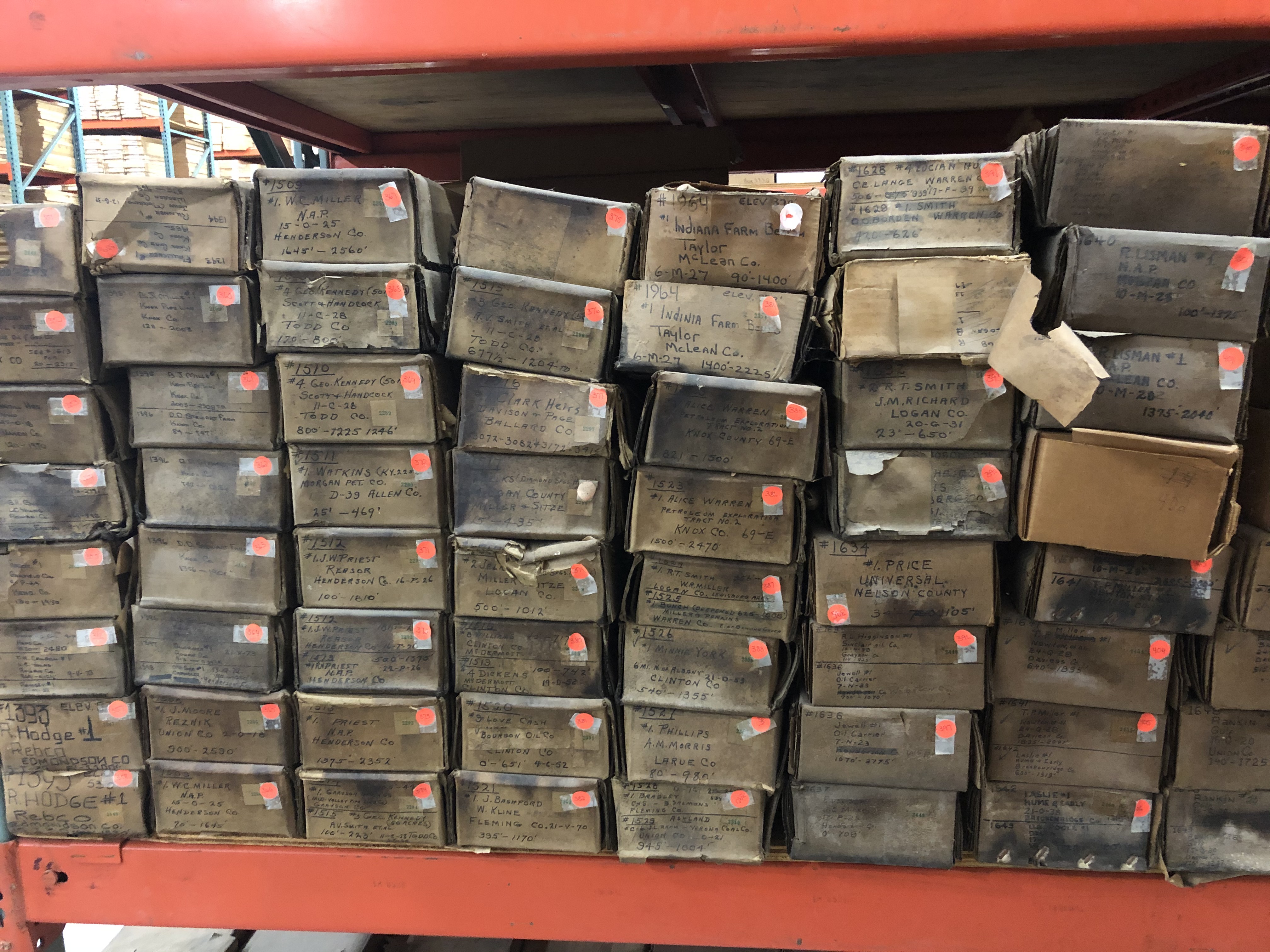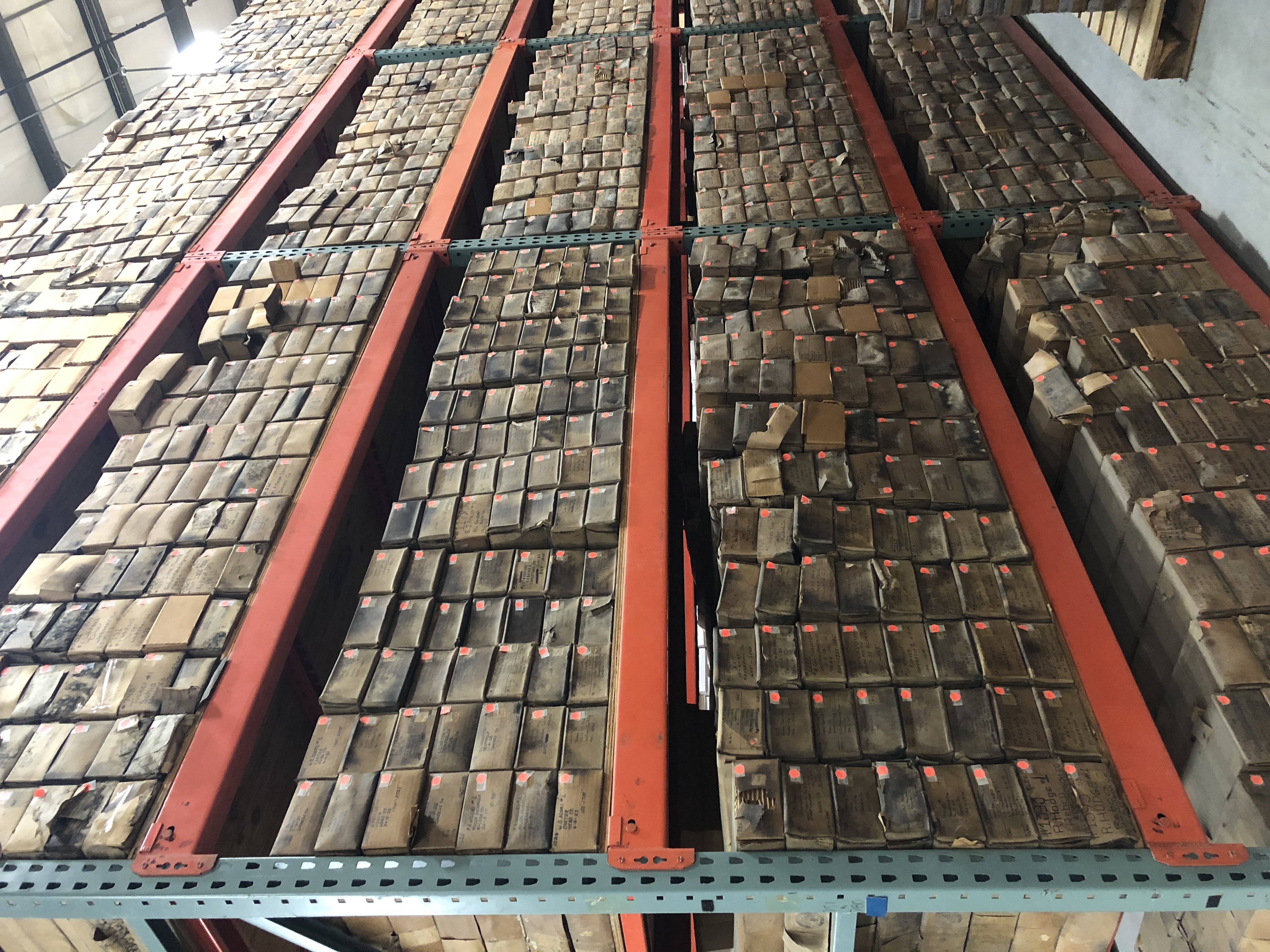 Pictured above are photos of the oil and gas well cuttings that Adams will evaluate for the project. Arpin will oversee the effort to digitize documents, some of which are in the boxes below.