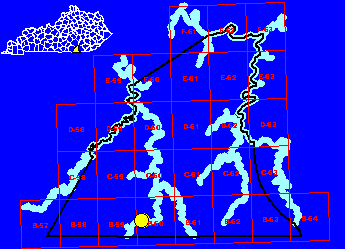 In 1818, Martin Beatty acquired property near the mouth of Oil Creek in what is now the Big South Fork National River and Recreation Area in McCreary County. He contracted with Marcus Huling and Andrew Zimmerman to drill a well in search of brine. The brines were evaporated to make salt, a valuable agricultural product. However, when drilled to about 200 feet, the well produced commercial quantities of oil, which were shipped in wooden barrels by barge on the Cumberland River.

For the complete story, see:

Jillson, W. R., 1952, The first oil well in Kentucky: Roberts Printing, Frankfort, 51p.

More historic photos are available.