Specimen of the month from the KGS collection: Pyrite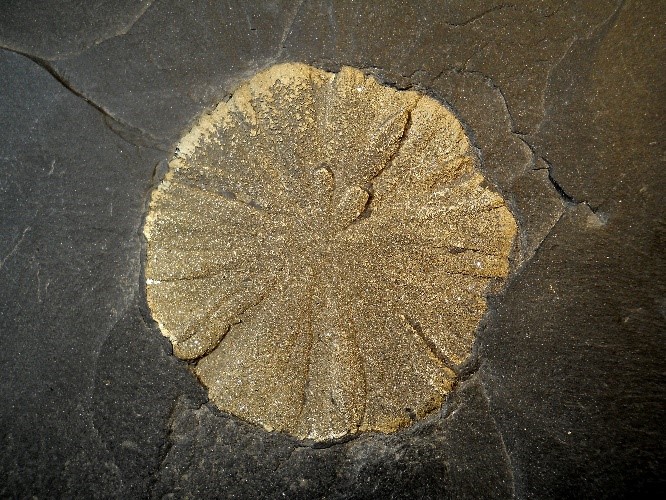 Pyrite, also called fool's gold, is an iron sulfide mineral related to marcasite, but it has a different general shape and arrangement of its atoms. Its circular shape is often mistaken for fossil sand dollars (echinoderms), and specimens are often called pyrite dollars. The one pictured at right is about 2.5 inches in diameter and came from the roof material of an underground mine in the Springfield coal of western Kentucky. Analysis of the specimens on this page show they are primarily pyrite with traces of marcasite, arsenic, clays and sulfate minerals.
Pyrite crystals have a yellow to bronze color and a hardness of 6.0 to 6.5 on the Mohs ten-point hardness scale. Marcasite, also called white iron pyrite, readily tarnishes to a yellow or brown color and decomposes to various white or yellow powders called sulfates. Immersion in epoxy will retard the decomposition process, but oxidation will decompose most pyrites and marcasites.
Both materials have been used in the past as a minor source of sulfur and for making sulfuric acid, and they are sometimes still collected as by-products of mining of other materials. Today, samples are mostly significant as collectors' items.
View all archived specimen of the month from KGS collection