Thailand, 2012
All images and associated pages copyrighted © by Don Chesnut, 2012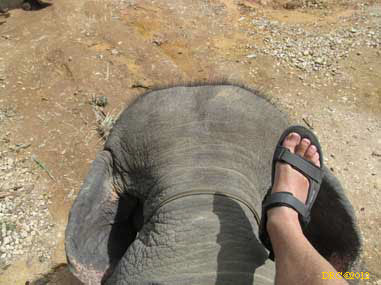 Riding on my elephant.
I went to Thailand to attend the "Tectonics of Northern Indochina" (their website) conference in Chiang Mai in February. After the conference I went to Phuket in southern Thailand. The following is composed of my daily journal entries and photographs taken during the trip (please excuse the tedious and poorly-written nature of the journal). Or you may rather go through my thumbnail catalog (page I).
21 February 2012, Tuesday
...We flew across India, Bay of Bengal, southern Myanmar and part of Thailand, of course. We landed in Bangkok by 1 PM. I made my way through immigration and passport control because I was given a priority pass. I had to go to the Thai Airways ticket counter and get my next boarding pass unfortunately, not in Business Class, but steerage, my usual mode of travel. I went through another suite of security and was in the gate area by 1:40. Not bad. I got a Singha (seeng, the ha is silent, it's the name for their mythical lion) beer at a Bill Bentleys and filled out my journal. One more leg to go. I like Thailand and I'm glad to be back. The airport is nice too. The domestic gate area is air conditioned and has a lot of shops. The international gate area is even better.
I got on the plane to Chiang Mai at 3 and it took off a few minutes later. We were served some sort of sandwich that I couldn't identify. After an hour, we landed at the Chiang Mai International Airport. The Empress Hotel (www.empresshotels.com) said that they would arrange transportation and I sent them my travel arrangements. However, they weren't there. I caught a cab for 120 Bahts plus some tip. I went to check in as part of the conference, however, I wasn't on the list. I went ahead and checked in. I had stayed at this hotel several years ago and it's very nice (Google Maps).
I went to my room on the eighth floor. I gathered some dirty laundry and carried it to a little shop down the street (it's a lot cheaper). I pick it up tomorrow night (est. 71 Baht for 4 or 5 pieces, based on weight). I went to a little semi-open market that I used to go to and bought two big bottles of Leo beer. I put them in the mini-box refrigerator in my room. I next carried my passport, folding money, and airline tickets to the lobby and put them in a free, individual lock box behind the reception desk.
I asked about the conference and they said it is from 8 to 5 for the next three days. Breakfast is included, but I have to mention that I'm in the conference. I went over to the conference area in the next building and saw that some of the posters had been put up, but not mine (I have three posters and one talk). I have no information about when my talk is scheduled either. Perhaps the information is on their webpage or facebook, but that doesn't do me much good, I have been without internet for awhile (except sporadically).
I didn't eat dinner because I wasn't hungry. I went to bed at 9:30 local time, I've been up since 2:45 AM Indian time. I'll have to figure out about the internet later.
22 February 2012, Wednesday
I woke up at 4, but got up at 6:30, took a shower, and also my anti-malarials. I went down to breakfast. This hotel has a very nice buffet and it was crowded. There are a number of tour groups staying here, maybe a couple of hundred or so. I had an omelet with bell peppers, onion and mushrooms. I also asked for spicy chilies and the chef went to another table and got some to add to the omelet. I also had a croissant, spring roll and cut fruit (mango, papaya, pineapple, watermelon, and apple), yogurt, and three cups of strong coffee.
A little before 8, I went to the conference building. My bank had wired money to the conference bank and it was received, but they didn't know who sent it for some strange reason. I was not registered as having paid. I talked to the fellow in charge and we determined that I was the mystery payer that they couldn't figure out. So then I got a conference T-shirt, abstracts with program, and a couple of doodads. Someone had put my posters up as well. According to the program, I was the first speaker after the keynote speaker. They downloaded my powerpoint onto their computer. The stage was covered with all sorts of beautiful flowers. I gave my talk and was not feeling all that well. The lady after me also talked about Myanmar. I had talked to her earlier in the morning. She was from the University of Yangon and invited me to come and give some talks. We'll see if that works out.
At 11:30, I went to the conference lunch, which was buffet style. I had rice, fish ball in sauce, a chicken and greens dish, a Chiang Mai special soup called Khao Soi, cut fruit and a small dessert. I also had beef salad, and another chicken dish. All the food was good, but the Khao Soi soup was my favorite. It was some sort of noodle, fried noodle, chicken, and tangy broth. Very good. I sat at a table of all Thai young people. Later the fellow in charge of registration and accounts sat next to me. Nice fellow. He told me what the soup was. After lunch, I carried my T-shirt and other paraphernalia back to my room. I also have to pay extra due to a difference in exchange rates between the two banks.
I started taking Pepto Bismol this morning, but should have started yesterday. I think I owe it to the homemade lime soda I had on Elephanta Island on Sunday. That may have been why I felt badly at the talk.
I went to the afternoon session. One of the speakers was Thasinee from Thailand. We met her at the meeting in Perth this last summer. She asked about my daughters. Her closing slide was of Shark Bay, taken this last summer. I also talked to a fellow from Krakow, Poland. He is giving a talk tomorrow. I told him about my travels in Poland and about staying in the Stary Miasto (Old Town) in Krakow. Later, he gave me a copy of his book on the Plate Tectonics of Southeastern Asia, because I was so enthusiastic about Poland. I asked him to sign it for me. It looks very useful.
The talks ended at three and the Welcoming Party starts at 4:30, so I went to my room for a nap and more Pepto Bismol. At 4:30, I went to the Welcoming Party, but my Delhi Belly was more robust, I dare not eat. I love Thai food and I saw many, many varieties of good Thai food that I could not eat. But I did have some nice conversations with two of the organizers and with Thasinee. I left at 6, and went to the laundry place, picked up my laundry, and returned to my room.
I filled out my journal, and typed it up. Then I went for a short walk. I returned to my room and watched a little CNN and had an early evening.
23 February 2012, Thursday
I woke up at 6, but got up at 7:30. I'm not eating breakfast this morning. I took a shower and my anti-malarials and watched a bit of the Republican debate, live on CNN.
I went to the conference area at 9:30 when the first talk starts. I drank about three cups of plain tea. The talks were very interesting and I've learned a lot. The talks ended about 12, and I went to the large lunch buffet in the conference building. My registration in the conference included all lunches. I had a plate of steamed rice and some more tea. I sat at a table of Thai geology students and two of the organizers. The students all have gray jackets with "Geology" on the back and Chiang Mai University on the front. The rice seemed to go down alright, so I thought I'd risk it and eat something else. One of the convenors was eating a special soup called Kuaw Teaw Sukhothai. It appeared to have chicken broth, freshwater shrimp, chilies, veggies, soft noodles and other things. So I tried some. It is a specialty of the Sukhothai region in northern Thailand. In fact the lectures frequently talk about the Sukhothai tectonic terrane. We made up names for food for other tectonic terranes as well. The soup was very good. I decided to try some food along the main buffet line. I had steamed rice, a chicken, mushroom coconut milk thin curry, a squid-cauliflower-broccoli dish, and a pork-mixed vegetable dish. It was all good. I went back to my room and had Pepto Bismol for dessert, just in case. I filled out my journal and then went back to the talks at 1:30. I checked on the internet at the reception desk on the way out, but they said that it was not working now.
I attended all three of the talks in the afternoon and drank lots of plain tea. The last talk ended at 3. I went to reception and they said that the WiFi was working, so I bought half an hour for 90 Bahts. I went back for the discussion part of the conference at 3:30. The panel discussion lasted about an hour and was very interesting. After the discussion, there were no planned activities. I went to the hotel restaurant-bar and had a beer. I won't eat tonight, I'm not at all hungry. I went back to my room and filled out my journal and typed it up.
I'm feeling better than yesterday, so I thought I'd get a Thai massage today. I walked down the street from the hotel and came across an Israeli restaurant/bar, it was open air and had fans going. I was their only customer. I had pita bread, hummus and a Leo beer. I talked a bit with Ezra, the owner. He was from Israel, which seemed to make sense. He said they also have WiFi. I wish that I had known eaarlier. After several minutes, the Polish geologist, Michaw, walked by and I flagged him in. He ordered a big meal and a Leo as well. We ended up talking for about an hour. He told many funny stories. We parted ways and I found a Thai massage place on the way back to the hotel. A Thai massage was 150 Baht for an hour which is very cheap by Western standards. It must have been the best Thai massage I've ever had (read painful). It's like doing yoga, but they do all the work (Wikipedia entry). It's not without some pain, some muscles just don't want to be stretched. My massage lady was from Chiang Rai in northern Thailand.
After the massage, I went back to the hotel, caught up in my journal and went to bed.
24 February 2012, Friday
I got up at 7, very sore all over. It was from the Thai massage yesterday. I took a shower and my anti-malarials. There are a few mosquitos, but not as many as in southern India and the few I've seen here were not aggressive.
I went down to breakfast and had the same thing that I had the day before yesterday (I skipped yesterday).
I went to the keynote talk at nine and the series of morning talks. Lunch was at noon and I started with very freshly made Phad Thai. I added lime, dried crushed chili, ground peanuts and a little fish sauce. Very good. Then I went through the buffet line and had steamed rice, fried chicken curry with mixed vegetables, a mixed vegetable dish (cauliflower, broccoli, mushrooms, etc.) and a bowl of Thom Yum soup with fish balls, small shrimp (Khoong), and some sort of fungus. I added a kind of green chili marinade. It was all good.
I went back to my room for a short spell, filled out my journal and typed it up. I'm guessing that there are 150 people attending the talks. It seems to be about 50% students, this is a great experience for them. It's so humid today that I can't see the mountains just to the west that I can normally see.
I went to the afternoon sessions with talks focusing on gold mines in old volcanic centers in central Thailand. The conference was closed by three, and I went back to the hotel. I stopped by the desk to schedule a shuttle ride to the airport for tomorrow.
I went to my room and logged into the WiFi account. Although I was able to connect to the strong signal of their router, their internet connection was terrible. It was worse than dial-up and my browser would time out before most connections could be made. I did manage to send out a couple of e-mail entries that I had typed out earlier (I think they made it out), but that used up all of my time. I went down to the lobby twice to try to figure out the problem, but they didn't understand anything about computers. They ended up refunding my money. Everyone in the hotel must be using the hotel's single dial-up connection. I think this is the case in many areas, just because they have a fast router, that doesn't mean that they have broadband (even though they say they do).
I remembered that the Israeli restaurant had WiFi, so I grabbed my little laptop and walked the half-mile to the restaurant. The owner, Ezra, and his Thai wife were there. I bought a Chang beer and asked about the WiFi. He showed me the log-in information. Another fellow came up and sat at the same big table that Ezra and I were at. They were speaking Hebrew and I was logging on. After a few minutes, the new fellow apologized for speaking Hebrew and introduced himself as Eli (pronounced "elly"). He said "Shabbat Shalom." Today is Friday, the Jewish holy day and it meant Peaceful Sabbath. Eli was about 55 and a big man. He had been a policeman and on the bomb squad in Israel. He was born in the US and had lived in Detroit before his family moved to Israel when he was young. He left Israel several years ago and had lived in Yangshou on the Li River near Guilin, China. He taught English there. He was a very entertaining fellow and we talked for about two hours, before he went to Sabbath service nearby. I have passed the synagogue. He bought me a Chang before I realized what he'd done, and I couldn't do anything in return.
Then I logged into Hotmail and sent out some e-mails. The internet connection here was fine. An Israeli couple asked to have their photograph taken with Ezra, a famous character here (he's always dancing near the front of his open-air restaurant), so I took their photograph and one for myself. I wish I'd gotten one of Eli before he left.
Ezra (in blue) and friends
I took my laptop back to my room and then walked to the night market. It's an entertaining place. It's a large, lit-up area with lots of restaurants, spice stands, craft shops, lady-boys dressed up in flamboyant costumes (advertising a nearby cabaret), and lots of souvenir kiosks. I got a couple of items and then I saw Michaw eating. I went over and sat at the table with him while he finished his meal. He was suffering from chilies in his dinner. We talked for awhile and then I headed back to my room.

I filled out my journal and did some packing, and then went to bed. I've been very tired all day for some reason.

25 February 2012, Saturday

Happy Birthday Donald! I got up about 7:30, took a shower, and then went down to breakfast. I had an omelet with chilies, bell peppers, mushrooms, and onions. I also had bacon (American-style bacon), an egg roll, a croissant, cut fruit, yogurt, and three cups of very strong coffee. The buffet is large and there are many options including Thai breakfast foods, but I never seem to be able to get to them.

I went back to my room and did some more packing. I also typed up my journal. And I took some more Pepto Bismol. I hope I don't run out.

I checked out at 10:40, after clearing out the contents of my lock box in the lobby. I sat outside with my pack in a shaded area while I waited for the airport shuttle. The temperature in the shade is a pleasant 72 degrees F. It is not hot yet, but it will get hot later. I loaded onto the shuttle with several other people and we went to the Chang Mai airport. I went through entrance security and then went to the check-in counter. I got my boarding pass and then went through a more rigorous security check point. I went to the domestic gate area and found a coffee shop with free WiFi. I bought a cup of coffee and logged into into the internet. There was a good signal and the connection was moderately fast. I was able to send out several e-mails before their internet connection failed (their router was OK). So I filled out my journal. Here, we are exactly 12 hours different in time zones.

I found a bookstore that had a nice selection of books on wildlife and plants of southeastern Asia. One that I especially wanted to get was Birds of Southeastern Asia, by Robson. It was a hardback and a bit too big and heavy for my backpack. So instead, I bought Birds of Malaysia and Singapore, a smaller paperback.

The plane to Phuket loaded at 1:20 and we took off at 2. On board, they served a snack box that included water, orange juice, a slice of cake roll, a small spoonful of potato salad and two slices of some kind of chicken sausage. It was about 2.5 inches in diameter and hollow. The hollow was filled with something like bean paste. We landed at 3:45 and I walked to the exit of the airport. I was looking for a sign with my name on it. There were about 30 people holding signs with names, but I didn't see mine. I went back and forth several times, but it wasn't there. I thought I'd have to get a cab. Then I saw a small lady holding my sign (she had just stepped up). Her name was Joy and she took me to my car and driver. It's about a 45-minute drive to my hotel. Joy was from Chiang Mai, but had gone to university in Chiang Rai, before she got the job here in Phuket (pronounced poo-ket).

The driver dropped me off at the Ibis Phuket Patong hotel (their website)(Google Maps), I checked in and got to my room a little before 5. The room is tiny but clean. And they have WiFi, it's free in the lobby.

I decided to go for a walk. If I had to have a focus, it was durian, the king of fruit (Wikipedia entry). It is hot and humid here. I headed toward the beach to the west, a couple of city blocks away and then walked south. The long beach is the reason most westerners come here, and it is densely packed, even after five. There must be tens of thousands of souvenir shops, Thai massage places, restaurants, bars, and hotels. I finally came across several fruit stands and they had durian flesh pods (there are several in a big spiky football-shaped husk). I got two big pods of durian and two mangosteens (the queen of fruit). So I walked around eating the durian with three fingers. If you want some cachet with the local Thai population, this is, apparently, one way to do it. I must have heard a hundred times, "Ah, durian, you like?" There is one street, Bangla Road, that is adult oriented. It is a couple of city blocks long and is filled with bars, go-go clubs (strip clubs, I think), lady-boy cabarets, and lots of prostitutes. The whole of Patong Beach (the area where I'm staying) is several square miles of carnival-like atmosphere, a blend of Gatlinburg and Myrtle Beach at the height of tourist season, but with the addition of a whole lot of sex. Plus, it's very hot and humid, even in the evening. This is not my kind of place, it's interesting for half a day, but gets old very quickly.

There are lots of Australians, Europeans, Israelis, Russians, and even families here. I walked around till I had eaten all the durian (you can't take it inside anywhere) and I was stuffed. They say that durian makes you hot. It has lots of calories and fat, apparently, not a good combination with the weather. I took an evening shower to cool down. I filled out my journal, and went to bed.

26 February 2012, Sunday

I woke up at 5:30, but got up at 6:30. I'm not having breakfast, it's not included and my tour has a prepaid lunch. I made coffee in my room and ate the two mangosteens I brought from the market. There were a lot of exotic bird calls at first light.

I went down to the lobby and typed out my journal. I then logged onto the free WiFi and sent the daily e-mail entry for yesterday. I returned the computer to my room and went back to the lobby. At 10, Joy met me in the lobby and we got into the van. We went to another hotel and picked up two ladies from Bali, Indonesia. They worked for a tourist-travel company.

As we drove across the Patong area, I was amazed at the extent and density of tourist places. It's an order of magnitude more than what I saw yesterday. We went to the Karon Overlook and I took photographs. Most of the rocks were crystalline and appeared to be granitoids, some with phenocrysts of feldspars as large as 3 cm. Some of the stones in man-made structures also included slates and limestons, but the granites were most common. We then went to a Buddhist temple complex, a gem store, a cashew processing store, an oriental buffet for lunch, and finally an insectoriam. At the buffet, I had four pieces of sushi, bowl of miso soup, Chinese pigs feet in red sauce, tom yum koong, chicken and ginger dish, chicken and black pepper sauce, steamed rice, dim sum, shrimp paste fried rice, spicy phad thai, other things I forgot, and ice cream for dessert. I would have tried the fish intestine curry, but just didn't have any room. I had lemon iced tea (without the ice) for drink. I was dropped back at my hotel by 2:30.

I went to my room and filled out my journal and then took a shower to cool down. It was in the mid-90's, I would guess, and sunny and humid. I've been wearing long pants ever since the mosquito episode in Pondicherry, India. I decided to change into shorts for the first time in several weeks. I thought I'd go check out the beach and hope for a breeze.

I walked down to the beach, took my sandals off and walked in the surf. It was as warm as bath water. Most all of the available space on the beach was taken by hardwood recliners covered with cushions and with umbrellas. I'm guessing that you rent them by the day or hour. I started to walk down the beach and several senior ladies crossed in front of my. That was when I realized it was a top-optional beach. There is only so much observing that you can do while trying to walk in a straight line. I decided to get back on the sidewalk where it was safer. I crossed the street and walked in a big loop back to the hotel.

As I was walking, I saw quite a few nice seafood restaurants with large tables in front filled with all sorts of freshly-caught fish packed in ice. The grills were firing up as I walked back. I saw many types of seafood including sharks, rays, shark-rays, barracuda, several types of snapper, parrotfish, one or two types of flatfish, and a large assortment of other fish I couldn't readily identify. There were also spiny lobster, slipper lobster, an assortment of crabs, all sizes and types of prawns and shrimp, oysters, mussels, clams, etc. I would like to try something, but I'm not at all hungry after the large buffet.

One comment I need to make, Phuket was hit hard by the tsunami in 2004 (Wikipedia entry), the same one that hit Banda Aceh in Indonesia. In fact there was quite a a loss of life in all the areas that I have been walking. Some of it, I believe, was caught on camera. Because it is such an economically important area, it was rebuilt quickly. The beach that I had been tripping over has been completely rebuilt. I didn't spot a single sea shell, which is unusual. Charitable organizations found ways to take care of the many children left as orphans by the tsunami. And there are signs everywhere pointing out the direction and distance to safe high-ground in case of a tsunami (e.g., to the east and 300m from my hotel). I took a photograph of one. I'm sure they must have tsunami sirens as well.

I got back to the hotel by about 5:30. I filled out my journal and tried to decide what to do next. I'm already getting tired and I have to get up early tomorrow for my day tour.

I left the hotel, crossed the street and got some Bahts from the ATM. I walked to the strip of seafood restaurants. I talked to several of the vendors/hawkers on the street side. I asked about the fish. The last fellow suggested certain fish for certain methods of cooking, snapper for BBQ (read 'grilling'), another for steaming, yet another for frying. I asked how much for one of the smaller snappers. He weighed it and showed me 280 Bahts and that included cooking and condiments. So I bought the snapper. I also bought steamed rice, and a large Singha. The fish came out looking much larger on the plate than I thought it would. I think they added a little salt and butter too. It was butterfly-filleted with the spine on one side of the fish and the other half without. I also got 3 different kinds of chili sauces and a bowl of cut, little green limes. It was delicious. I ate every morsel. It was one of the best meals I've had on the trip. I walked back to the hotel and got ready for tomorrow. I went to bed at 10.

27 February 2012, Monday

I woke up at 5:30, but got up at 6. I fixed some coffee in my room and then took my anti-malarials. I also took my morning shower. I went to the lobby at 6:45 to wait for my tour. The tour bus arrived at 7:40. Altogether, there were twelve of us in this all-day tour of northern Phuket island. We were fairly tightly packed. We had a 1.5-hour ride to our first stop, a coffee/toilet break at an overlook. We could see a nice beach scene, but this area suffered the brunt of the tsunami of 2004. I took several photographs. Our next stop was a tsunami memorial site, 2 km inland from the sea. Here rested a large police boat (PT style) that had been washed these 2 km by the tsunami.

After another 45-minute drive we got to a Sok elephant trek. I'm not crazy about riding elephants, but this is the only way to a waterfall. There were two people on top of each elephant. However, I was odd-man-out and the last in line, so I got a small elephant all of my own (with a mahout, of course). We strolled about a quarter of a mile on flat ground, and I thought this was easy enough. Things changed though. The creek bed we were walking in suddenly got much, much steeper and the rocks got bigger and the ledges got too high for an elephant to climb, I thought. I was wrong, the elephants slowly made their way up this series of steep cataracts. And we kept going up and up. It was quite scary to me because, if the elephant lost his footing and fell, I would be crushed to death, and there were some treacherous passages. But after a mile or two, we made it to the end station where we dismounted and the elephants were watered and washed. There was no waterfall, except perhaps in the monsoon. The elephants were turned around, we remounted, and we headed downhill. This was more scary than going uphill. We finally got back. I bought three baskets of bananas and fed them to my elephant. He ate them, peel and all, as fast as I could hand them to him.

We then went to a monkey park where there were lots of macaques (not rhesus though). They were entertaining enough, but what caught the show was a gibbon who would quickly swing arm over arm (brachiation) and pulling the tails of the smaller macaques. He had a lot of personality. He didn't bother the larger macaques though. The gibbon isn't a monkey, it's an ape, and it has no tail.

After the short monkey park stop, we went to an overlook with a view of a very picturesque pinnacle-karst landscape. I took photographs, of course. We then proceeded to our lunch at the Bare Essentials Resort in a nearby jungle setting. We were served fried fish, a batter-fried chicken(?), a roasted chicken, plus tom yum koong (shrimp coconut soup) served in a green coconut. We also ate the coconut jelly or meat from the inside of the shell.

Next, we drove to the Khao Sok National Park (website) till we stopped at our last place, the Sok River and Sok Cave. We walked through the short cave and came out on the other side to the small Sok River. We got into inflatable canoes, two per canoe plus a local paddler. I was in the canoe with a young lady, Anna, from the South island of New Zealand. It was very hot and the sun was intense. I used some sunscreen though. We were paddled downstream for what seemed to be ten or twelve miles from our starting point. But the remarkable thing was the towering karst landscape. I took plenty of photographs There was a little water in the bottom of my part of the canoe and my shorts got very wet.

After the canoe trip ended, we got back into the van and headed back to Patong Beach, about 2.5 hours away.

I got back to my room after dark, about 7. I took a shower and changed into some dry clothes. I am trying to dry them out, I have to pack them for my travels tomorrow.

My meal last night was so good, I decided to go to the same place tonight. I asked about the fish again. I wanted grilled again, but a different fish. The hawker suggested snapper again, but I asked for another type that would be good grilled. He pulled out a small grouper-like fish from the ice and weighed it. It came to around 280 Bahts-worth of fish and I bought it. I had steamed rice and a Singha as well. The fish was just a little smaller than the snapper last night and there were a few more bones, but it was good. I think the snapper was better.

This was also my last chance to get a Thai massage in Thailand. I found a place close to the restaurant for 200 Bahts for an hour. It was a pressure-type Thai massage (deep tissue) and not so much of the stretching. I think the stretching is better for me.

I went back to the room and packed. I also set my alarm. I filled out my journal and went to bed.

28 February 2012, Tuesday

I got up at 5:30, just before my alarm was to go off. I took a shower and my anti-malarials. I typed out my journal and finished packing. I went down to the lobby at 6:40 to wait for my cab. While waiting, I logged onto the internet and sent out two days of journal entries.

At 7:30 a van driver picked me up and drove me and a father and daughter from Adelaide to the air port. I had to stand in a very long and slow line at Malaysian Airlines check-in. I was able to get boarding passes for both of my flights, first to Kuala Lumpur and second to Kuching, Malaysia. I then went to immigration control and got into another long and slow line to leave Thailand. After that, I went through security which was relatively fast. In the gate area I went to a Dairy Queen and got a green tea and red bean shake. It was pretty good. There were lots of shops in the gate area. When they finally started boarding, after a delay, I had to stand in line again till my seat number came up. The plane took off about 10:40. I sat next to a young Russian couple. I took photographs of interesting karst islands as we flew over them. We were served a small pineapple waffle with maple syrup, a couple of pieces of canned fruit, a slice of cake that I didn't eat, three pieces of Cadbury candy that I didn't eat, orange juice and I had tea...

The next part of my trip,

Borneo