Enhance your expertise and develop the skills to provide patient-centered care in multiple settings with a bachelor's of science in nursing (B.S.N.). Learn from our faculty, who are clinical experts, and develop your existing experience to address a full-range of healthcare issues.
Program Summary
Spring 2024
Application Dates:
11/1/2023
Summer 2023
Application Dates:
03/15/2023
Fall 2023 (Upcoming)
Application Dates:
07/15/2023
Credits vary based on previous credits earned
Envision, Engage and Empower Your Future
Designed for Registered Nurses who have an associates degree or diploma in Nursing, this online program can be completed in as little as one calendar year. A graduate of this program will be able to:
Integrate knowledge, skills, and values from the arts and sciences in order to provide safe, effective, and patient-centered care.
Make independent and collaborative decisions that employ clinical reasoning and draw on your knowledge of complex healthcare systems.
Use evidence-based practice and systematic processes to prevent illness and injury; promote, maintain, and restore patient health; and support patient choices for a peaceful death.
Communicate effectively in oral and written formats in order to facilitate safe, high-quality care that improves health outcomes.

Program Highlights & Benefits
No requirements to come to campus
Clinical hours may be completed locally
Full-time and part-time student options.
See RN-BSN Sample Part-time plan of study.
See RN-BSN Sample Full-time plan of study.
Eligible for students outside of Kentucky.
Work at your own pace; no scheduled classes or meetings
Can work full-time while obtaining your RN-BSN degree
Innovative block scheduling, with seven-week courses*
CCNE accredited program
*This block scheduling may be helpful for students where if they missed the first start date, they can start in the second block. For example, there are two opportunities for start dates in each semester:
(i) The first seven weeks of the semester, then one week in between and then the last 7 weeks of the semester, (ii) Two start dates in the summer. First 6 week block and then second 6 week block.

Admission Requirements
• Graduation from an accredited nursing program with a minimum cumulative 2.5 GPA on a 4.0 scale for all college work.
NOTE: Students with a GPA of 2.0 to 2.49 may be provisionally admitted to the RN to BSN track with admission committee approval.
Contact Tara Grana at tara.grana@uky.edu for more information.

• Student statement of academic and professional goals. Essay Questionnaire (provided by the College of Nursing after initial application with the Registrar is processed)

• Students may register for NUR courses after graduation from an accredited Associate Degree in Nursing program once the College of Nursing has verified clear and unencumbered licensure.
IMPORTANT: The full number of credit hours required to earn the BSN is 120. While required credits will vary based on previous credits earned, many of our students come in having to complete 30 program specific credits. Interested students can reach out to Tara Grana (tara.grana@uky.edu) our Program Academic Advisor with questions.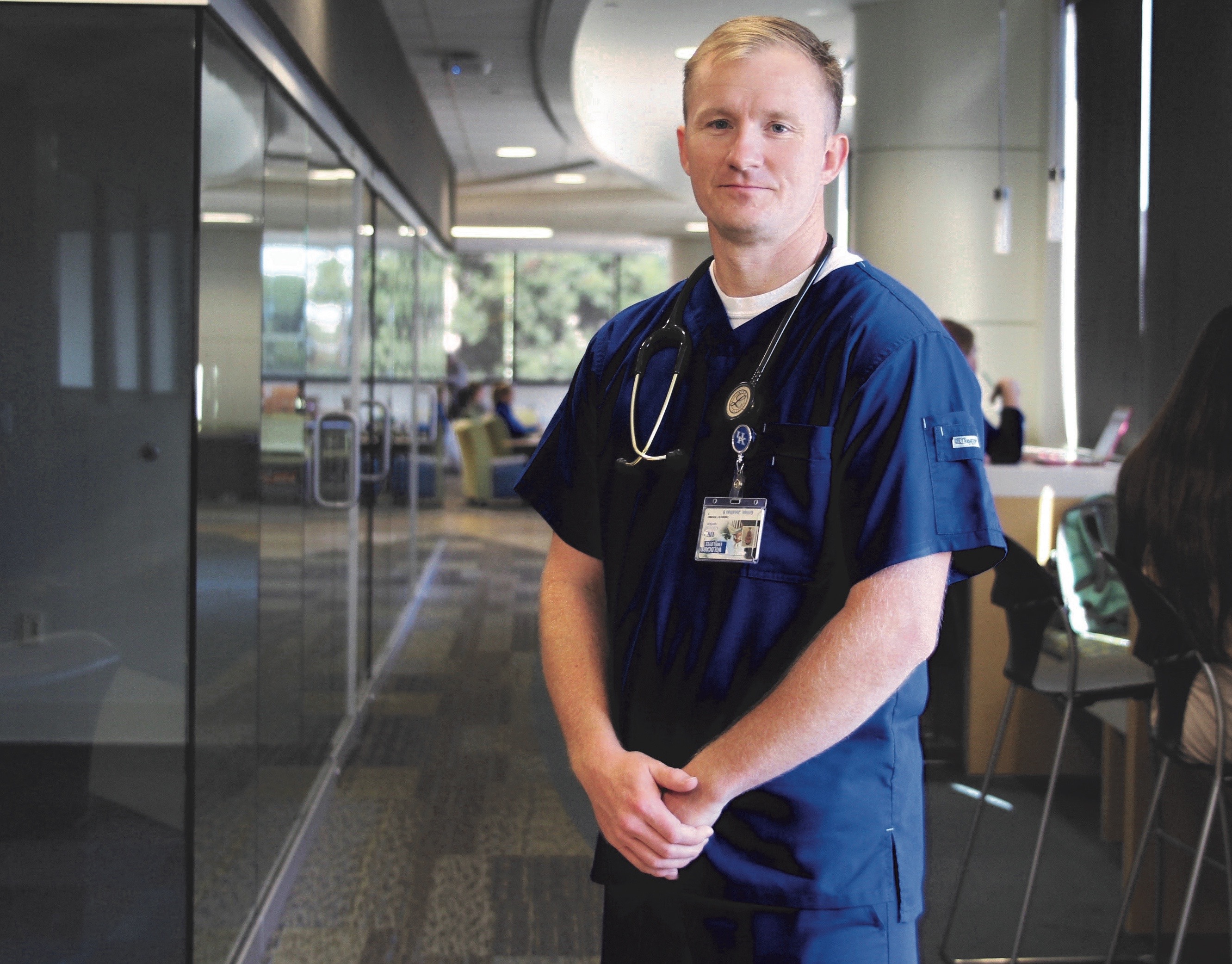 "Even though the program was online, the faculty members were very accessible, accommodating, and encouraging. They strengthened my leadership, research, and writing skills."
Neuroscience/Stroke ICU Staff Nurse
Imagine Your Future
Registered Nurses
Registered nurses (RNs) provide and coordinate patient care and educate patients and the public about various health conditions.



Source: Bureau of Labor Statistics | Click the link for more info.
Median Salary
$77,600
per year in 2021
Number of Jobs
3.13m
in 2021
10 Year Job Outlook
195,400
new jobs (average)
Work Environment
Registered nurses work in hospitals, physicians' offices, home healthcare services, and nursing care facilities. Others work in outpatient clinics and schools.
Source: Bureau of Labor Statistics
Read More
---
Students Residing Outside of Kentucky
If you will live outside of Kentucky while completing your program, please check the Out of State Student page to confirm that the program can be offered in your state, and if relevant, that it meets professional licensure requirements in your state.