Enhance your expertise and develop the skills to provide patient-centered care in multiple settings with a bachelor's of science in nursing (B.S.N.). Learn from our faculty, who are clinical experts, and develop your existing experience to address a full-range of healthcare issues.
Program Summary
Application Dates:
10/15/2020
04/15/2021
Start Dates:
01/13/2021
05/11/2021
Take Care of Your Future
Designed for working registered nurses, this flexible, online program can be completed in as little as one calendar year. As a student in our program, you will become familiar with concepts such as population health, healthy work environments, interprofessional collaboration, and evidence-based practice. As graduate of this program, you will:
Integrate knowledge, skills, and values from the arts and sciences in order to provide safe, effective, and patient-centered care.
Make independent and collaborative decisions that employ clinical reasoning and draw on your knowledge of complex healthcare systems.
Use evidence-based practice and systematic processes to prevent illness and injury; promote, maintain, and restore patient health; and support patient choices for a peaceful death.
Communicate effectively in oral and written formats in order to facilitate safe, high-quality care that improves health outcomes.
Admission to the program requires an associate's degree from an accredited nursing program with a minimum cumulative GPA of 2.5. Students must obtain R.N. licensure before beginning courses with clinical practice experience. Clinical practice experience will be completed at a geographically convenient location.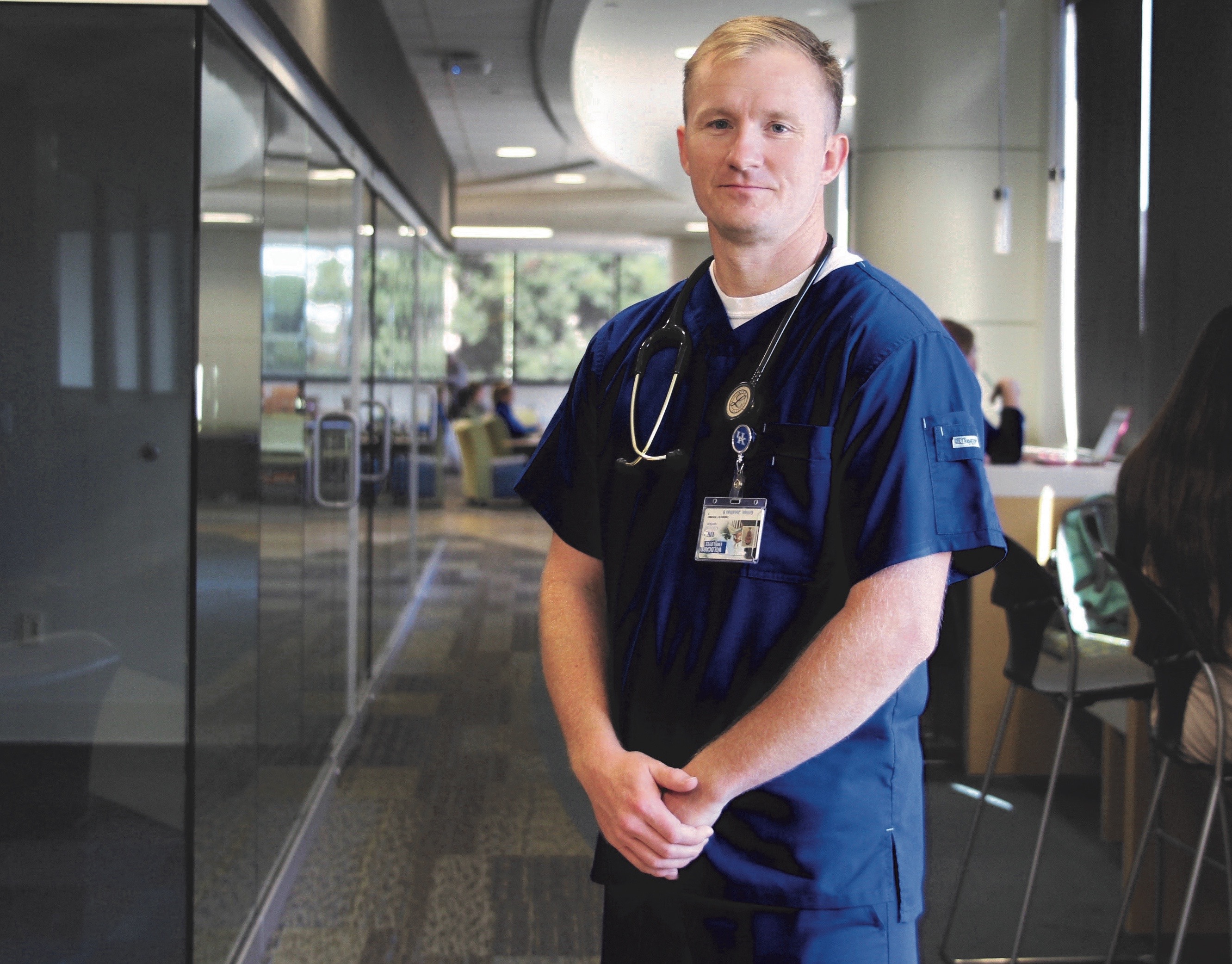 "Even though the program was online, the faculty members were very accessible, accommodating, and encouraging. They strengthened my leadership, research, and writing skills."
Neuroscience/Stroke ICU Staff Nurse
Imagine Your Future
Registered Nurses
Registered nurses (RNs) provide and coordinate patient care and educate patients and the public about various health conditions.



Source: Bureau of Labor Statistics | Click the link for more info.
Median Salary
$75,330
per year in 2018
Number of Jobs
3.1m
in 2018
10 Year Job Outlook
221,900
new jobs (average)
Work Environment
Registered nurses work in hospitals, physicians' offices, home healthcare services, and nursing care facilities. Others work in outpatient clinics and schools.
Source: Bureau of Labor Statistics
Read More
---
State Authorization & Licensure
If you plan to complete a University of Kentucky online program while living outside of Kentucky, you should check the Out-of-State Students page to determine if the University of Kentucky is authorized to provide this program in your state of residence. If you plan to use the degree to seek licensure, you should also determine if the degree meets the educational requirements for licensure in your state.