Notes from 2017 Summer Academy@UK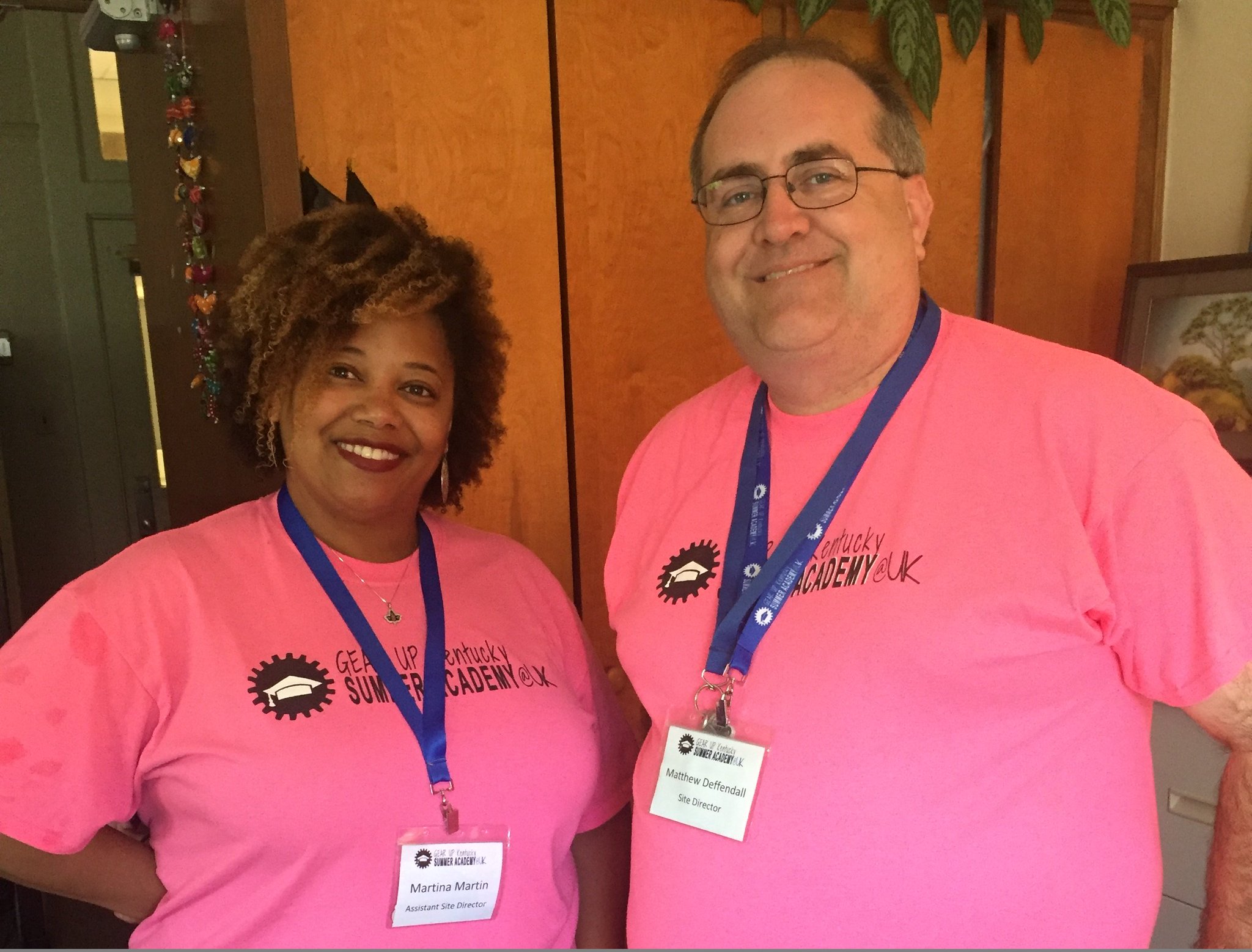 Here are updates from Matthew Deffendall, who is our Summer Academy site director - along with Martina Martin of the UK First Gen Initiatives. See more about the Summer Academy@UK 2017 here.
 
Today was Day 1 of the 2017 GEAR UP Kentucky Summer Academy at UK.  The week of training before the students arrived proved to be extremely beneficial in how smoothly things went today.  We only had 22 students show up for the Academy. Students are living on the 6th floor of Woodland Glen IV.  As they arrived, they received a backpack filled with their Academy swag (2 shirts, water bottle, name tag and lanyard, room and meal card), LA 111 textbook and classroom supplies (notebook, flash drive, eraser, and clipboard). 
After check-in, we held our orientation session in the library and after representatives from the UK Parents Association (Nancy and Nicki) provided a separate parent workshop while the students got a tour. Each family left with a goodie bag from the Parents Association. Students, parents and families ate dinner at The 90 and they got a glimpse of Coach Cal who was there with the John Calipari Basketball campers.
Once the goodbyes were said, students proceeded upstairs for our kickoff event facilitated by representatives from our Office of Transitions and First Year Programs (Lauren and Kasey) as well as our RA's. There were a lot of icebreakers to build community.  We ended the evening hearing from the students as they outlined expectations for themselves, their peers and the staff.  It was a wonderful example of student voice using what we learned at the GEAR UP Institute.
Our RA's ended the first night with a mandatory floor meeting where they outlined safety procedures, set hall expectations in partnership with the students and talked about the nightly room check process. 
Overall, it was a wonderful first day. Tony is the on-call, overnight director tonight. 
Day 2 - Monday, June 12
Our day began with our first trip to the Fresh Food Company in The 90 for breakfast. Campus was busy today with move in for 4-H as well as the Calipari basketball camps in full swing. After breakfast, our students went to the Johnson Center for a morning of activities with UK Campus Recreation. A big shout out to Ron Lee and his awesome team. They climbed the rock wall, participated in a yoga class, learned about campus recreation through interactive games and toured the JC. It's always a highlight of the program. 
For lunch today, students used their flex cards to explore the available on campus dining facilities in The 90 or Bowman's Den. Students really enjoy the freedom to choose their own food as well as the responsibility of budgeting their money for three weeks. 
After lunch, Tony and the GUK team facilitated the first Cafe College session. He reviewed the syllabus, explained the use of the composition notebooks for keeping their Academy journals, student code of conduct and developed expectations for staff from the students. Our entire team participated with the students in the True Colors activity facilitated by Victoria Andrew from CPE. Students took an assessment, participated in small group activities and then were sorted into their True Colors. This activity will be strengthened tomorrow when they take the Myers-Briggs Indicator and meet with the Stuckert Career Center team from UK.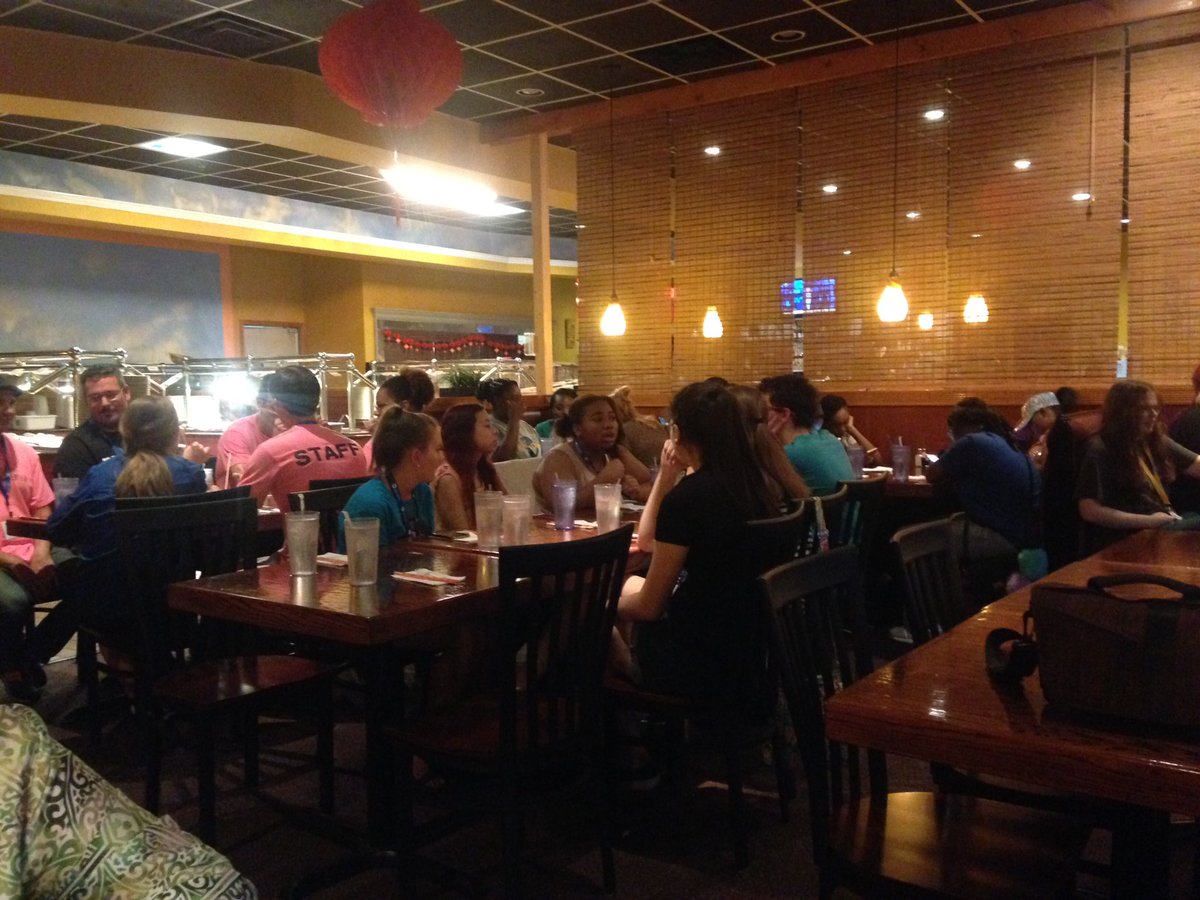 We ended the evening with an authentic Chinese buffet dinner at Panda Cuisine on Nicholasville Road in partnership with the UK Confucius Institute. After dinner, our residential team took the students to the Euclid Avenue Kroger for our shopping trip. The highlight is parking on the roof and Starbucks in the Kroger. It's a great night and students enjoy the experience. 
Our 22 students are respectful but definitely remind us that some of them are not minors. Residential and academic staff are establishing regular communication channels and methods to ensure we support each other throughout the process. 
Good night from the Academy!
Day 3 - Tuesday, June 13
Today we spent the morning in the large computer lab in the College of Nursing where students took the Myers-Briggs Type Indicator and activated their Link Blue accounts. In addition, Tony and Tonya from GUK reviewed the college application process, as well as how to research and compare colleges during the search process. 
We announced to our students they will get to observe a minimally invasive surgery with UK HealthCare on Tuesday, June 20th. 16 of our students volunteered for the opportunity. Carlos Marin from UK AHEC agreed to provide breakfast to our students who will need to be there at 7 am to observe the surgery in person. 
After lunch, students rotated between interviews with Bullhorn Creative, working on Cafe College assignments, and going to Bowman's Den to get their student ID's. Six of our students did not have a government issued ID and were unable to get a UKID card. We were able to have some good conversations with those students and unpack some of their challenges that have prevented them from getting an ID.
In anticipation of the rain, we drove the students to the Stuckert Career Center for a session at 3:15 pm with Reba Carroll from UK.  She reviewed the results of their Myers-Briggs types and connected it to their True Colors. It was a very informative session that provided the students with a way to connect the information from yesterday and today. 
After dinner, students enjoyed game night facilitated by the RAs including our giant Jenga. Tomorrow begins the first meeting of the LA 111 class and the end of our orientation/ mini K-week.
Day 4 - Wednesday, June 14
Today was the first day of the LA 111 class.  Dr. Hargrove and his co-instructors began with a fake quiz and icebreakers. He then explained how they were assigned to groups based on their MBTI and True Colors results. The class was divided into four groups with each group assigned an instructional leader.  Dr. Hargrove reviewed the principles of the class and expectations of the students. Then before lunch they were introduced to the project - "Designing a new or improved GEAR UP Kentucky Summer Academy."
After lunch, students went to the computer lab in the William T. Young Library for a tutorial on Adobe Spark, a program they will be using to capture their thoughts, photos and ideas. Students returned to their studio space in The 90 to discuss and diagram their perspectives of the GEAR UP experience and compare it with the GEAR UP mission, values, and programs as stated on the GEAR UP website. They compared student perspectives with stated GEAR UP goals. Students then were asked to have deeper conversations and break down the big question we are asking them to respond to over the next three weeks: "How might a secondary education program foster action-oriented behaviors, values and skills to enhance student opportunities post graduation?" The groups ended the day with the creation of Adobe Spark pages for each group and created a silhouette wall for expressing future research findings / thoughts / quotes / etc. Here's a quote from one of the instructional assistants. "Overall, we thought the day went great. Nearly all students seemed interested and engaged for the whole day. A few instances of distraction but was able to quickly steer back on track. Everyone seems really responsive to the idea of 'designing a new or improved GEAR UP' from their perspective. I think the students appreciate the openness of discussions and possible influence their opinions and eventual ideas might have on future students."
Tonight after dinner several students enjoyed trying out their new student ID cards by visiting the Johnson Center (UK's Campus Recreation Center).  At floor meeting each night, the RA's will recognize a "Student of the Day." Today they recognized Cassie Melcher for being a leader in class, within her group and for thoughtful contributions to the discussion. 
Tomorrow, the students have LA 111, resume Cafe College with a presentation from KHEAA, and return to LA 111 for a guest lecture from Emily Carlton on Visual Communication.  I will be out in the morning from 8-10 am because my youngest daughter is having outpatient surgery (tubes being removed). Robert Hayes is filling in for me as Martina Martin is in Washington, DC, to present at a NASPA conference on first generation student success.  
Day 5 - Thursday, June 15
Today was the first day tensions began to boil over.  This morning the RA's observed a roommate spat between Jay'Dah and Sandra. The central issue was who would take out the trash and when.  RA's listened and talked with each student. GUK staffer Tonya Smith later sat down with both students to help establish better communication.  Things cooled down quickly. 
In today's LA 111 class, they started in the computer lab at the library researching programs similar or relating to aspects of GEAR UP. Then each of the groups presented their findings. Every group member had to talk giving them practice at oral communication skills. After lunch, Tonya Smith led the Cafe College session on "paying for college" which featured a guest speaker from KHEAA.  Students were very engaged asking so many questions the session ran over time. In the afternoon LA 111 session, illustrator Emily Carlton conducted a three hour workshop on Visual Communication. 
After dinner, students enjoyed letting their hair down in the BOOIAKA class led by staff from GEAR UP Kentucky's central office. 
Day 6 - Friday, June 16
Today was "Stashtastique!" A special shout to our RA's Brittany and Victoria for sitting down with the residents to come up with a working solution for the trash issue between Jay'Dah and Sandra.
The day began with our first field trip - Frankfort.  We started at the GEAR UP Kentucky central office for a Q&A with Executive Director Bruce Brooks,  Director for Program Services Dawn Offutt, Bluegrass Regional Program Manager Tony Bartley, and Assistant Regional Program Manager Tonya Smith. Students were engaged and asked about GEAR UP specifics related to their LA 111 project.  The session could have lasted twice as long.  Triniti, Taylor, Cassie and Devin asked the most questions. Then we left for Kentucky State University where we joined the KSU Summer Academy students for lunch to discuss their Academy experience.  KSU has 39 students divided into three tracks: Forensic Science, Music Production, and Agriculture.   After lunch, we observed two of their tracks in class.  Our UK students ended their KSU day with a campus tour and brief history of our flagship HBCU. After a warm afternoon of walking, we stopped for Dairy Queen on the way back to Lexington.  It truly was a sweet treat.
We took a break to change for the baseball game.  Eating dinner first at the Fresh Food Company allowed the students to use their concessions money for snacks at the Lexington Legends game.  The Legends won 14-3 but the highlight was the 3-D Fireworks. Despite the heat, the students enjoyed getting out, singing, dancing, and seeing Lexington.  Upon returning to the residence hall, we sang happy birthday to RA Jerod Warren who turned 21 today. The students voted to skip breakfast on Saturday morning so we are departing at 10:30 am for the Farmer's Market.
Day 7 - Saturday, June 17
Today was the end of the first week. The students have truly connected with each other and are responding positively to the opportunities provided.  One student was overheard today saying "I am having so much fun already I can't imagine what Nashville will be like."
This morning students were allowed to sleep in to 10 a.m., then we visited the downtown Lexington Farmer's Market. They were amazed at the diverse array of products from your traditional fruits and vegetables to flowers, meat, beer cheese, rubs, breads, honey and jams.  Plus the local musicians performing  bluegrass, classical on cello and folk music on guitar.
We pointed out the various downtown murals even getting a group photo with the Abraham Lincoln one on Vine St. I pointed out several historical markers denoting the old courthouse location as a slave auction site.  I asked the students to think about the current national debate regarding monuments and history.
For lunch, we went to the Distillery District on Manchester for Goodfella's Pizza and Crank and Boom ice cream. We talked about the creative use of the old warehouse space and the reopening in a few years of the James Pepper Bourbon Distillery.  Students enjoyed some mid afternoon free time before loading the vans for the Movie Tavern.  We had our own private screening of "Wonder Woman" complete with popcorn, drinks and pre-set menu.
RA's tonight in floor meeting reminded the students about the expectations they created.  Dress for Sunday, as well as reminded to focus on reading student handbook. It was a great day and this movie quote matches our theme ... "choose love not hate." Good night from the Academy!
Week Two
Day 9 - Monday, June 19
After a weekend filled with community building, it was back to the classroom today. The LA 111 class began the day with a summary of the Frankfort trip. Groups reviewed case studies and then learned about divergent thinking, why is it needed, and why is it hard to truly think BIG. They discussed the importance of both fluency and originality and how they are linked.
After lunch, guest instructor John Nash led a session on brainstorming techniques. The groups then focused on what GEAR UP could be, generating as many ideas as possible. The class discussed and voted for narrowing into broader topics with shared themes. Finally, each group selected a single favorite topic for their group.
Tonight in the residence hall was Karaoke night and other groups continued with laundry.  Student of the day is April Collins.  "She is really stepping outside of her comfort zone and we loved how she stayed after to help another group on their spark page."
Unfortunately, a group from Upward Bound moved in today onto the other wing of the 6th floor.  Since they have an 11 pm room check it presented a challenge for our resident advisors.  I am going to talk their director tomorrow. We were unaware the floor was going to be shared during our stay. 
Student Issues:
One student got sick today in class. She went back to the residence hall to sleep and rest.  Her illness was due to too much sugar from Starbucks.
Another student had a talk with dad at lunch that left her feeling hurt and upset.  We chatted privately and it seemed to help. 
Two students received infractions for their tardiness on Sunday. They were 10 minutes late and vans were held for them. Staff talked to them about how it impacts others and is against one of the expectations they set for themselves.  
Two students asked multiple staff about going to the outdoor Woodland basketball court. They have been asking every staff member if they could go. Tony and I will review the options with them tomorrow.
Day 10 - Tuesday, June 19
Today was a busy and eventful day. Our morning began at 6:45 am as 16 of our students walked to the Wethington building to watch a live surgery with students from AHEC. Dr. Iocono performed a gall bladder removal on a 15 year old female.  He was teleconferencing our class and six others from AHEC sites across Kentucky. The surgery lasted an hour. Our students were very well behaved and appreciated the opportunity. Kudos to Carlos Marin and Michael Witt of AHEC for making this possible including providing breakfast. Thanks to RA Jerod Warren for walking with us this morning to observe the surgery.
During our morning meeting roundup, the overnight resident director shared that one student opened their door at 11 pm only to discover our RA's on night duty in the hallway. They quickly darted back into their room. Our RAs patrol the hallways until 1-2 am after room checks end at 9:45 pm. The student did not try to sneak out again.
The LA 111 class began with a discussion on their homework  Instructors presented on their creative process from a past project and how it is relatable to the current process students are engaged in (India playground project - divergent thinking, convergent thinking, becoming "experts" in something unfamiliar, pivoting initial ideas, finishing a product, etc) AND showed a video from the IDEO example of re-designing a shopping cart. Students then worked in their groups refining the ideas, then sharing with one other group to create feedback loops. Dawn Offutt from GEAR UP Kentucky visited and observed the class.
After lunch, students to Cafe College where Tony, Tonya, and Michael facilitated a discussion of "how's it going" to provide a forum for student voice. They had a lively discussion, and eventually everyone got to work on the FAFSA demo in the computer lab at the William T. Young library.
At 2:45 pm, students returned to the LA 111 class to discover the instructional staff switched to different groups and repeated the refinement and sharing process BUT with the implementation of a Forced Connection into the groups' initial ideas (i.e. Passion Projects being forced with Online Platform). Then the instructional staff returned to their original groups to generate one topic for each person to conduct further research. Each person started writing down/drawing individual thoughts/ideas/diagrams on a single sheet of paper (using Visual Communication techniques from Emily Carlton), then took that sheet to the computer lab and added to it once they began searching the web for more info on their topic. The research session in the computer lab lasted for about an hour. Students returned to the studio room to work on their Spark Pages and finish thoughts on single sheet of paper. Their homework is to refine/re-do their single sheet of paper into a more presentable form (so they can practice techniques used in future storyboarding and presentation boards).
Student of the day was Taylor Johnson. "She really turned it on after lunch and she stayed after to keep pushing ideas further. It was clear that she experienced a breakthrough moment through our discussions and let that carry on for a sustained period of time."
Outside of the classroom, the instructional team and I did a walk through with University Sound & Light at Kroger Field for the final showcase on June 30th from 5-7 pm.  We will be in the recruiting room in the east end zone. I also met with Laura Walters from EdR (our housing partner) to share my experiences with Summer Conference Housing as well as report one of the desk clerks who is spending too much time hanging around campus with our students including coming to our floor at 11 pm last night. He will no longer be assigned to our building. Laura was very understanding and we had a productive meeting covering a number of topics.
All students that needed or wanted to do laundry completed it tonight.  A special shout out to GUK Residence Director Michael English for donating a $50 pre-paid VISA card for students who did not bring a credit card with them for laundry.
Day 11 - Wednesday, June 21
We have reached the midterm point for our summer Academy. As Professor Hargrove shared with me today, "we had a fantastic day. Students broke through and sky is limit." As a midterm evaluation, the instructional staff assessed each student based on the five pillars of the class: enthusiasm, effort, openness, curiosity, and respect.Today in LA 111, the instructional team provided a brief presentation on the progress of the class and a  reminder that creative-thinking experiences are nonlinear processes - it is OK to get stuck, it is being aware of that, and digging out of that moment that matters.The class separated into groups to review their homework (single sheet of research topics for each student) and complete a trace paper exercise that asked students to make connections between the findings.
After lunch, students returned to the studio space for a 1/1/1 exercise: one paragraph (elevator pitch), one sheet (presentation board), one list (itemized list of topics that need more thought/research). Each group worked on this for the majority of the afternoon and class-wide presentations began at 5. The only break occurred when we asked student groups to engage in an activity that asked them to go outside and separate themselves from the classroom material (in short: findings letters in nature).
After dinner, the residential staff facilitated several evening activities.  One group went to the performing arts studio in Holmes Hall and participated in a dance class instructed by Kasey Borchardt. Another group was supposed to go to the Kentucky Theater to see "Mary Poppins" for the summer film series but after struggling to find parking downtown they decided to go the mall instead.  Others stayed in the residence hall to read or work on their project.
All of the groups made huge strides today, but the instructional team selected two students of the day: Ahenewa and Serenity. From David: "My whole group stepped up today, but Ahenewa put forth a lot of effort on the display part of the project and I'm excited to see it carry over to the presentation aspect." From Meg: "Serenity has stepped out of her comfort zone and is really accepting and building on new ideas/perspectives. She has also started to take initiative to help push the group forward as a whole."
This morning Bruce Brooks and Kim Drummond from GEAR UP Kentucky were on campus to observe.  Students are getting excited about our upcoming field experiences in Cincinnati on Friday and Louisville on Saturday.  
Day 12 - Thursday, June 22
This has been an intense week for the students as they dove into their projects. In LA 111, students worked on storyboarding and practicing the oral parts of their presentations all day. A brief presentation occurred in the morning but other than that the groups worked with limited guidance from the instructional team. Groups have been given more room to operate independently the last two days.
In Cafe College, UK Recruiter/ Admissions Representative Rachel Clark presented to the students and engaged in a lengthy Q&A.  Tonya Smith, GUK, reviewed the senior year timeline and completed the FAFSA conversation from Tuesday.
The student of the day is Katelyn Norris. "She has been kicking butt since day one but has really come through in the clutch the past couple days. She has definitely shown leadership qualities and constant engagement."
After dinner, students participated in another BOOIAKA class taught by Kim Drummond and friends. Tomorrow, we are headed to Cincinnati for students to present their work to Northlich and meet their creative professionals.
Day 13 - Friday, June 23
Today we ventured up I-75 to Cincinnati for another stop on our Creative Study Tour. In the morning, we visited Northlich, a creative advertising agency. They shared an overview of their business and some advertising campaigns. One that received the most attention from our students was "Scooter the Neutered Cat" (look it up on YouTube). Northlich treated us to lunch from Marco's Pizza (one of their clients). After lunch, each group of our students presented their storyboard ideas to the Northlich executives and received on the spot feedback.  It was a great session and wonderful dry run for next week's final showcase.
We ended our time there with a tour of their facility before heading to the University of Cincinnati.  At UC, we visited the College of Design, Architecture, Art and Planning (DAAP). First, the students heard an admissions overview from a UC recruiter.  Then the students received a tour of the eight story building.  Finally, a DAAP student panel answered questions from our GEAR UP students.  Unfortunately, due to the heavy rain and localized flooding, we had to skip the campus walking tour in lieu of a brief driving tour.   We finished the day with dinner at Montgomery Inn in Ft. Mitchell, KY.
We returned to the residence hall after 9 pm so students had a quick floor meeting then went straight to bed after room checks.  Tomorrow we leave for Louisville at 6:45 am. 
Day 14 - Saturday, June 24
Today was an early start as we left campus at 7 am headed to Louisville and breakfast at Churchill Downs. We had a backside tour before going to the Kentucky Derby Museum and taking a track tour. After our boxed lunches at the track, we did a driving tour of the University of Louisville on our way to downtown.  We went to Glassworks for a glass blowing class at Flame Run.  Each student got to go into the hotshop and create their own glass blown ornament. 
Next we went to water front park and Travis talked to the students about the redevelopment of the area. We walked across the pedestrian bridge to Jeffersonville. We had dinner at the Old Spaghetti Factory then two of our vans stopped at the Outlet Shoppes of the Bluegrass for a little shopping.
Week Three
Day 15 - Sunday, June 25
Today was a day of rest as students began their third and final week at UK. After a busy 48 hours, students were allowed to sleep in for breakfast and boxed lunches from UK Dining the were brought to the residence hall. Students went swimming at Lancaster Aquatic Center, did laundry and Bobby led a cooking class (caramel apples) on the 3rd floor kitchen.  In the afternoon, we went to Malibu Jacks Entertainment Center for a fun filled living learning community event with the GEAR UP Kentucky Summer Academy students at Morehead State University. Tonight was the last minute push to take care of things before leaving for Nashville on Tuesday. 
Day 16 - Monday, June 26
On Tuesday morning, we loaded our Blue Grass Tours bus for Nashville, Tennessee. Along the way, we made a brief stop in Bowling Green, KY, to visit Western Kentucky University (WKU). At WKU, our students received a campus tour and presentation from two WKU students. GEAR UP students asked several very good questions. Then, we had lunch with GEAR UP students attending the WKU Academy. 
We arrived in Nashville at the Gaylord Opryland Resort and Convention Center mid afternoon providing time for our students to explore, go swimming or take the Delta boat ride. For many, just finding their room was an adventure. Since some of our students came with little or no money, I arranged for food vouchers within the hotel that charge back to the master account. One student for example was being evicted while she packing for the Academy and does not know where she will be living after the Academy ends.
We concluded the day with dinner at the Rainforest Cafe and optional shopping at Opry Mills or others returned to the hotel to explore. Students especially enjoyed the 11 pm room check. However, my staff enjoyed the fact that we contracted with the hotel for a security guard to be posted on our floor of the Delta wing to ensure no students went exploring overnight.
Day 17 - Tuesday, June 27
Today was the student's last full day in the studio space working on their LA 111 final showcase projects.
Tonight in Cafe College, Tony and Tonya presented on Summer Melt, ACT prep and students had lots of questions.  After, students enjoyed an ice cream sundae bar. We leave for Nashville, TN, in the morning and a brief visit to Western Kentucky University.
Day 18 - Wednesday, June 28
Today focused on creativity in the music industry.  Students are truly enjoying this experience. Our day began with a breakfast buffet in the Magnolia meeting rooms before our speakers arrived. The first group featured singer/songwriters: Hannah Grey Ellis (UK Alum) and Justin Ebach. Fun fact: I was Hannah's academic advisor during Merit Weekend her freshman year at UK in 2009.  They talked about breaking in, struggles of songwriters, and answered questions. After their presentation, Keithan Melton and Tates Creek alum Kelly Bolton talked about music production from how a song gets pitched, demoed, recorded, marketed, and produced after its written.
Students enjoyed lunch at the Gaylord before departing for the Country Music Hall of Fame for a tour and songwriting class.   We worked with James Dean Hicks who helped the students write and record the "GEAR UP Kentucky" ballad.  After the class, students had a self-guided tour of the Country Music Hall of Fame.  We enjoyed dinner at the Hard Rock Cafe before touring Waterfront Park. Dr. Hargrove talked to the students about this recent award winning landscape architeure project. Afterward we returned to the hotel for free time before room checks at 11 pm. 
Day 19 - Thursday, June 29
This morning we checked out of the Gaylord and headed to Vanderbilt University   We ate lunch at The Rand in the Sarratt Student Center then went on a campus tour led by Dr. Hargrove.  He showed us the Wondry where some of his work is on display. After a brief stop by the campus Barnes & Noble, we went to Centennial Park to tour the Parthenon. Students were impressed with the 42 ft Athena statue inside. Unfortunately, the afternoon rain cut our landscape architecture tour of the park short.
We ended the day with Bryce McCloud at Isle of Printing. He showed the students his letter press for poster making and talked about the evolution of printing, described his community projects and the power of one person to make a difference in their community. After stopping for dinner in Bowling Green, KY, we arrived on campus at 11:35 p.m., ending our Creative Study Tour. Our final showcase is Friday at 5 pm in the recruiting room in the end zone of Kroger Field. Parking is available in the blue lot closest to the new football practice facility.
Day 20 - Friday, June 30
Today was the final day of the Academy. Students slept in and met in instructional groups to finalize their presentations. After lunch, Cafe College featured an admissions presentation from Morehead State University as well as the ability for students to complete the post-test and end of Academy feedback survey. Students returned to the hall to pack and prepare for the showcase.  All but four students checked out tonight after the showcase.
Thank you to Randolph Hollingsworth (UK Academic Excellence) and Dawn Offutt (CPE GEAR UP KY) for speaking tonight at the final showcase. The student groups presented their projects.  We watched the video created by Bullhorn Creative and heard the song our students recorded at the Country Music Hall of Fame. It was a beautiful night with a good turnout from our families.
I can't thank the staff enough for helping to retain 100% of the students who attended the Academy, visiting four campuses, and helping us during our creative study tour visits.  Overall, the Academy was a wonderful success.