Ray A. Daniels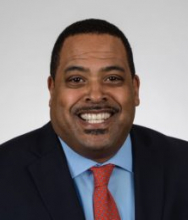 Offices/Positions Held on the Board:
Chair, Investment Committee; Member, University Athletics Committee; Member University Health Care Committee; and Board of Trustees Member, UK Gluck Equine Research Foundation.
Term:
September 3, 2020

to

June 30, 2025
Raymond Daniels is the former Owner and President of LexiDan Foods LLC, a franchise of Waffle House, Inc. In this role, he owned and operated 13 Waffle Houses in Lexington Kentucky. Raymond created a new venture, Equity Solutions Group (ESG) in 2017– a strategic sourcing company with an emphasis on reducing expenses while ensuring competitive participation from qualified diverse businesses. The company serves technology-based clients in 13 states. ESG also partners with corporations to ensure minority, female and veteran opportunities and inclusivity.
Prior to founding LexiDan and creating ESG, Raymond spent twenty-six years in the fast food industry, beginning his career in 1992 as Unit Manager for Waffle House, Inc. He served the company in several management roles over the next fifteen years as Disaster Relief Manager for Operations, Director of Diversity and Minority Affairs, and later culminated as Senior Vice President of Operations responsible for 105 stores, 3500 employees, and more than $200 million in annual sales. He departed the company in 2008 to pursue his entrepreneurial spirit, purchasing a Waffle House Franchise (LexiDan) in Lexington, KY.
Raymond is a consummate supporter of his community. He serves on multiple boards including the Kentucky Chamber of Commerce, Commerce Lexington (Chairman), Community Ventures Corporation, Urban League of Lexington, Kentucky, Fayette County School Board (Vice Chairman), and the Kentucky State Tourism Board.
Born in New York City, Raymond holds a B.A. in Management from Catawba College where he was a collegiate athlete on the football team. In 2019, Raymond received a tremendous honor from his beloved alma mater and was selected as a Prestigious Alumni Award Winner.  Raymond is married to Dr. Tiffany Daniels and has two children, Evan and Alana.