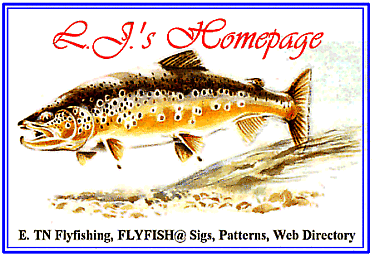 Fly Fishing, Flyfishing WWW Directory, Flyfishing in E. Tennessee, FF@ Info
---
Welcome to L.J.'s Flyfishing Page.
Click on the button below for items that you may be interested in checking out:
---
The long awaited (at least by me) flytying book by yours truly is FINALLY released!
Click on the title immediately above for more information.
---
Links to Over 1000 FF'ing Sites
on the WWW.
FF'ing in E. TN:
Frequently Asked Questions
Directory of FF'ing URL's
Arranged Alphabetically
Southeastern Flies:
Flytying Book by L.J. DeCuir
Fly Patterns From The Smokys
found in Southeastern Flies
The Fly Tyer's Desk:
Featured Patterns from Southeastern Flies
Info on FLYFISH@ Listserv
FF@ ASCII Graphics
The FF@ Terresterial Fly Swap:
Photos and Patterns
Theatrical Lighting Designs
by L.J. DeCuir
L.J. DeCuir's Vita
Photo of L.J.
The Sourmug Section:
Iris Bulldogs
Legal Disclaimer
Interspersed throughout are drawings of flies useful in E. TN.

My thanks to everyone who helped get this page up and running and to the gang from FLYFISH@ who inspired the whole thing.

---

This is cast number
to L.J.'s Flyfishing Page.
(Since 4/1/96)
Counter courtesy of Web-Counter.

---





---


This Fly Tying Ring site is owned by L.J. DeCuir.
[ Prev | Skip It | Next 5 Sites | Random | Next ]
---


The Fly Fishing Loop is sponsored by flydepot.com
[ Home Waters | Next | Random | List | Search ]
---

ldecuir@utkux.utcc.utk.edu