Brazil - January, 2007 (Joe Omielan) - Project Update
The plots in Londrina were planted on December 11, 2006 with 45 cm wide rows. BRS 154, a MG VII cultivar was used again.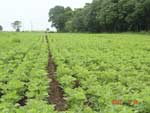 These are the plots at the V5 growth stage on January 14, 2007.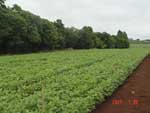 The plants were at R2 on January 30.
Here's a closeup of the plants at R2.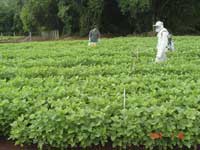 The first fungicide application is made. This year 100 g a.i.ha-1 tebuconazol (FolicurÒ) was used.