Brazil - March, 2007 (Joe Omielan) - Project Update
Dr. Cláudia Godoy sent some photos of the plots in Londrina.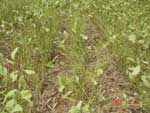 SBR became established in this treatment at R1 and has resulted in extensive disease and defoliation by March 13.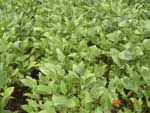 This treatment has been protected by fungicides and manually defoliated weekly to match the leaf area in the plot shown in the first photo. The photo was taken before the March 13 defoliation.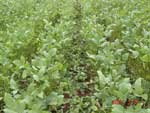 This is the same plot after defoliation to match (mimic) the leaf area remaining in the SBR-R1 plot shown in the first photo.