Brazil - April, 2006 (Joe Omielan) - Project Update
Dr. Joe Omielan traveled, from Kentucky, to Londrina to assist with harvesting and processing the Harvest Index (HI) samples. On April 3 (104 DAP) all the treatments were at least at R7 (see photo below). The only treatment with some leaves left was our "disease-free" control. The plants from a 1 m2 area were cut off at the soil surface and bundled up.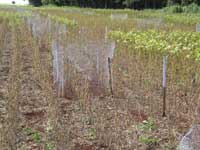 The pods were "stripped" from the plants and then dried along with the stems. After drying, the seeds were removed from the pods, by hand and weighed. The harvest indices were then calculated for each of the plots. The plots were combine harvested on April 24.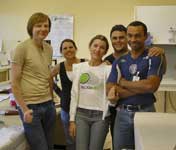 Here's a photo of Joe with Cláudia's crew. From left to right: Joe, Dr. Cláudia Godoy, Paula Felix, Cleber Mota, and Allan Flausino.