USA, Florida - July, 2007 (Joe Omielan) - Project Update
With funding from the Kentucky Soybean Board and the assistance of Dr. David Wright and Tristan Mueller, a trial to validate our SBR yield loss model has been established. It was planted on July 10, 2007 at the North Florida Research and Education Center in Quincy. The picture below shows the no-till drill planting the plots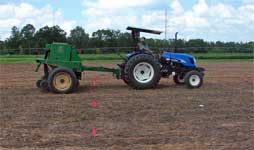 The trial includes two soybean varieties which are similar in maturity (MG V) but differ in their growth habit. One is determinate while the other is indeterminate. They were planted in both 15 and 30 inch rows (see photo below from July 26).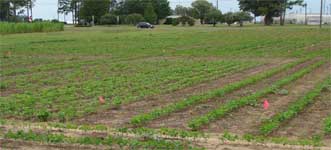 Other plots on the research station already have soybean rust, so the control plots will be sprayed with fungicide regularly. For the other disease treatments the spraying will stop to allow SBR to develop starting at R5 and R6. Parameters to be measured include soybean phenology, disease severity, LAI, photosynthetic capacity, and final yield.
Stay Tuned for future updates!