USA, Lexingtion Kentucky - May 24, 2006 (Saratha Kumudini) - Project Update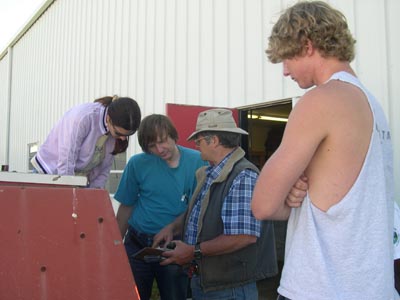 The location in Lexington, KY (Spindletop Research Farm) was planted on Tuesday May 23, 2006. We used maturity group III, and maturity group IV Roundup-Ready varieties. The test was planted in 14 inch rows using a Lilliston drill. Dr. John Grove, a soil fertility expert was kind enough to loan us his time and his equipment.
Going over the planting strategy with the crew (from left to right, Elena Prior, research analyst, Dr. Joseph Omielan, post doctoral scholar, Dr. John Grove, soil fertility research faculty, and undergraduate student, George Clements, not in picture are Praveen Pallikonda, graduate student and Dr. Saratha Kumudini, project PI).
The test was planted on a Maury silt loam at the Spindletop Research Farm in a randomized complete, split-plot design. Dr John Grove is driving the tractor (1st image below). Dr. Joseph Omielan (2nd image) and Elena Prior helped direct planting (3rd image).