USA, Lexington Kentucky - July 13th, 2007 (Joe Omielan) - Project Update
This year the plots were planted on May 14, 2007 in 15 inch rows. The same indeterminate varieties were used. They were AG3905 (Group III) and DP4331RR (Group IV). As always planting is a team effort to make sure the plots are straight and the correct seed is put in the ground. Here are some photos from planting.
Hereís the no-till drill in action.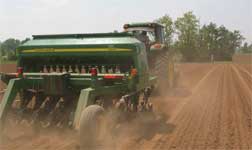 Dr. Joe Omielan was driving this year.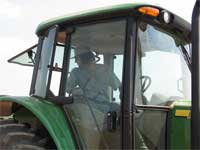 However, with a big piece of equipment the driver needs help getting lined up. Here, one of our summer students, Jonathan Riley is directing "traffic".

Here's Elena giving the driver a target to sight in on.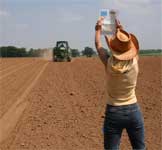 Here, Mee (Jakkapong Sukphan), an intern from Thailand, is staying out of harmís way after making sure the drill was centered on the flags marking the plots.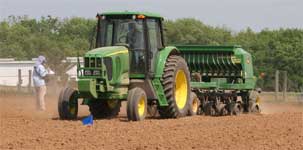 Elena and Saratha are cleaning the drill between cultivars.